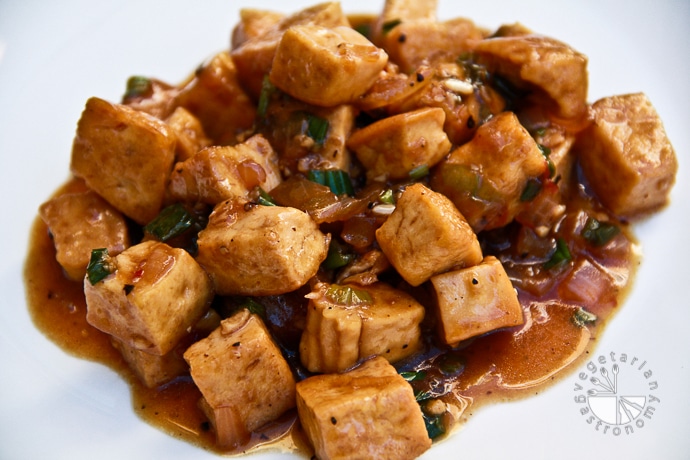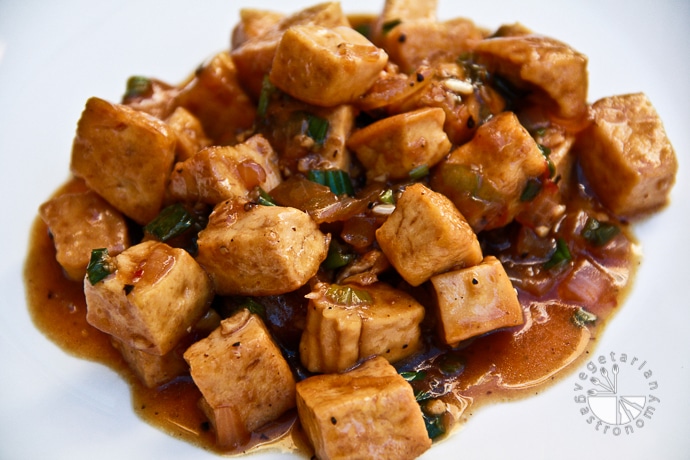 My husband had garlic pepper tofu at a Thai restaurant once and loved the dish. Not having tasted it myself, I tried to search for a recipe online to recreate it at home, but failed to find one which had all the ingredients I wanted to add. Therefore, I decided to try and create the dish myself. The outcome was savory and delicious! Since then, I've made this dish several times and it has become one of our staples when making Thai food at home. Hope you enjoy the dish as much as we do!
Garlic Pepper Tofu (vegan, gluten-free)
---
Ingredients:
2 14-oz Blocks Firm Tofu
3/4 cup white onions, finely chopped
3-4 cloves garlic, chopped
2 tsp. ginger, grated
1 Tbsp. vegetable oil
green onions, chopped (optional)

For the Sauce:

5 Tbsp. soy sauce (gluten-free: San-J gluten-free soy sauce)
1 1/2 tsp. ground pepper (preferably fresh ground pepper)
4 1/2 tsp. white sugar (or coconut palm sugar)
1 1/2 tsp. chili sauce (I use Huy Fong Chili Sauce)
1 Tbsp. corn starch
1 Tbsp. vegetable oil
5 Tbsp. water
Directions:
To Prepare Tofu:

Cut both tofu blocks in half. Place each half in a clean paper towel one at a time and squeeze to remove excess storage liquid (without breaking up the tofu). Cut the tofu into 1/2 to 1 in. cubes and pan fry on medium-high heat with 1-2 T vegetable oil, mixing and turning frequently until all the water is burned off and the tofu is lightly golden brown on most sides (be sure not to burn the tofu). While the tofu is cooking, continue on to prepare the sauce.

To Prepare Sauce:

Combine all ingredients listed under sauce above. Mix until all the cornstarch has dissolved. Add more chili sauce if you prefer more spice.
Once the tofu is done, set it aside in a separate bowl.
In the same pan, add 1 T vegetable oil and heat on medium. Add the garlic and ginger and fry in the oil till fragrant. Add the white onions and continue mixing until they are cooked (1-2 minutes).
Add the tofu, and pour sauce over the tofu. Mix on low-medium heat until the sauce slightly thickens and coats the tofu. Do not burn off all the sauce. This should only take a few minutes.
Taste the sauce after it is done. Depending on how sweet and spicy you prefer the dish, adjust as needed with soy sauce, sugar, pepper, and chili sauce.
(optional) Top with chopped green onions and serve hot over brown rice.
7.6.4
223
https://vegetariangastronomy.com/garlic-pepper-tofu-vegan-gluten-free/
www.VegetarianGastronomy.com
[subscribe_box]