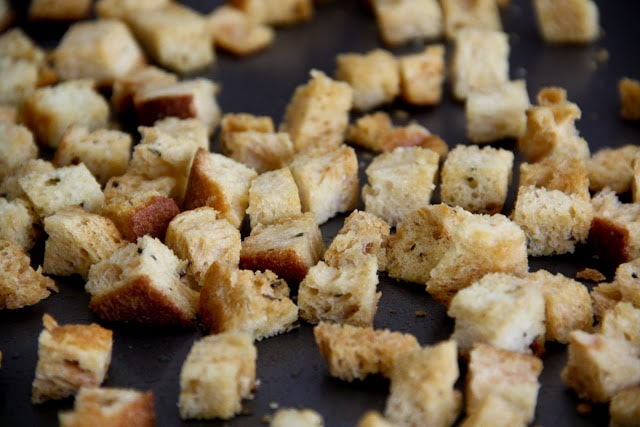 I never know what to do with left-over fresh bread I buy from bakeries that are 1-2 days old. I end up using what I need, and then can't seem to finish off the rest. I recently went into Baker and Olive (a local shop) to get some rosemary and olive oil bread and was contemplating whether I should get the entire loaf or just half. I did not want to waste it and only needed about a half for the panini I was making. The lady at the register commented on how easy it is to make croutons from left over bread and I was sold on the entire loaf!
Two days later, I cubed the left over bread and tossed it with some olive oil and salt. I baked them in the oven for about 30 minutes, and out came fresh hot croutons! They were so good that I finished 1/3 of them right when they came out of the oven. I used the rest with salads I made that following week. I don't think I'll be buying croutons from the store anymore!
HOMEMADE CROUTONS: (gluten-free, vegan)
Ingredients:
fresh or day old bread (any kind)
olive oil or butter
salt
garlic powder (optional)
dried herbs, such as parsley or rosemary (optional)
Directions:
Cube the bread. In a bowl, mix the olive oil/butter, dried herbs, and/or garlic powder. The exact amounts are to taste and add just enough oil or butter to coat the bread (no need for a lot).
Toss the mixture with the bread in a bowl until all the bread cubes are evenly coated.
Place on a baking sheet and bake at 300 degrees for 15min.
Check to see if they are dry, crispy, and golden brown.
Bake for an additional 15min until done (note that absolute time may vary depending on your bread and oven). Enjoy with your favorite salad or just as is! Store any left-overs in an air-tight container.
~ Anjali