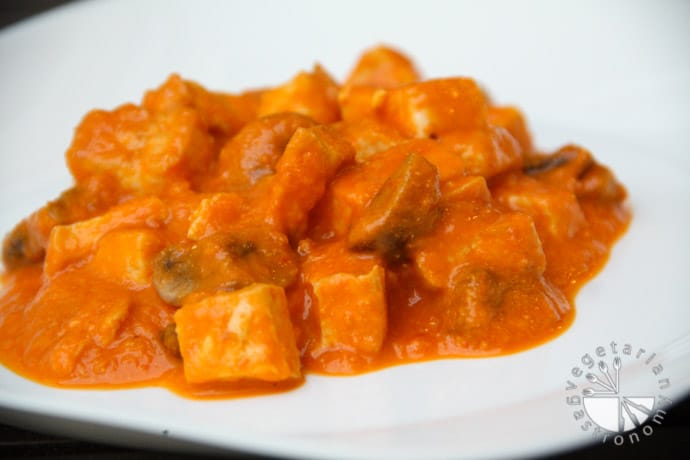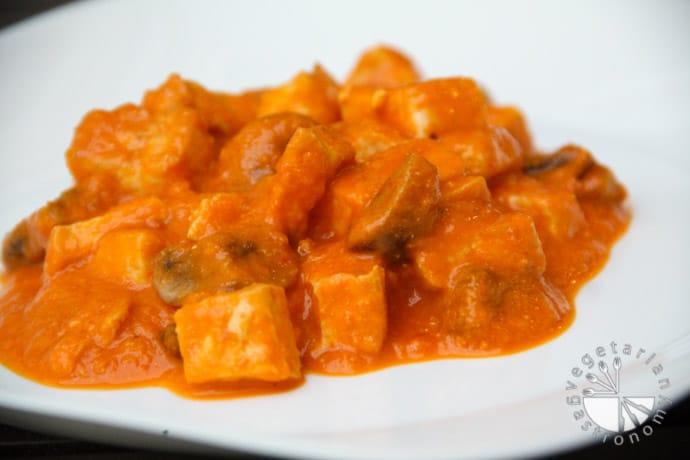 This Punjabi-style tomato-based curry is very easy to make, requires basic ingredients, can be made ahead of time, and is healthy. Although I enjoy eating Punjabi food out at restaurants, I always shy away because I know how unhealthy some of the dishes are due to the addition of heavy cream. I won't claim that this curry takes the place of any particular dish found in Punjabi restaurants, but I WILL say that it satisfies my craving of wanting to eat at those restaurants!
This recipe was inspired by my mom and makes use of the combination of yogurt and cashews to give it that "creamy" flavor. On a recent visit, she brought me a small sample of a tomato-based curry she had made at home. That very same day, I decided to saute some mushrooms, add the curry my mom made, and toast a piece of garlic Naan from Trader Joe's. It took me all of 10 minutes to do everything and I found myself having an amazing meal with bold flavors. She told me the basics of how she made the curry and immediately I was excited to create a version of it in my own kitchen for my family.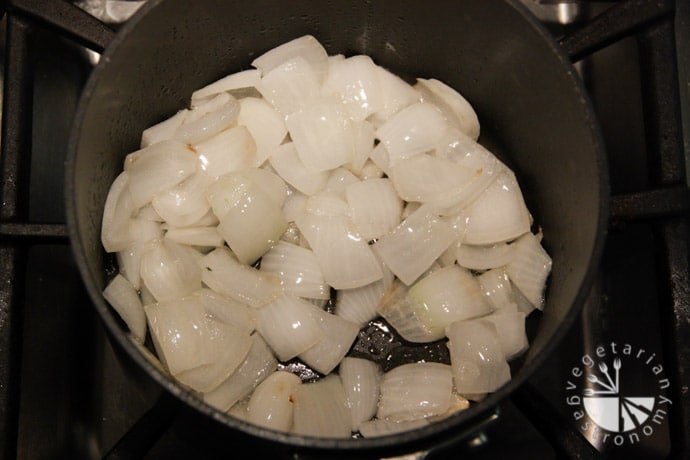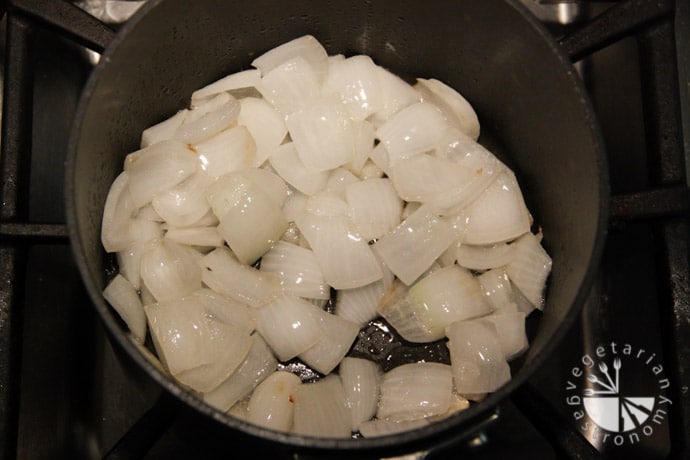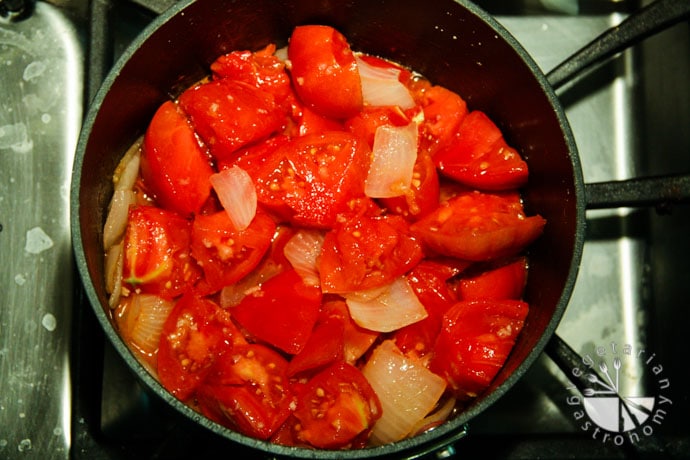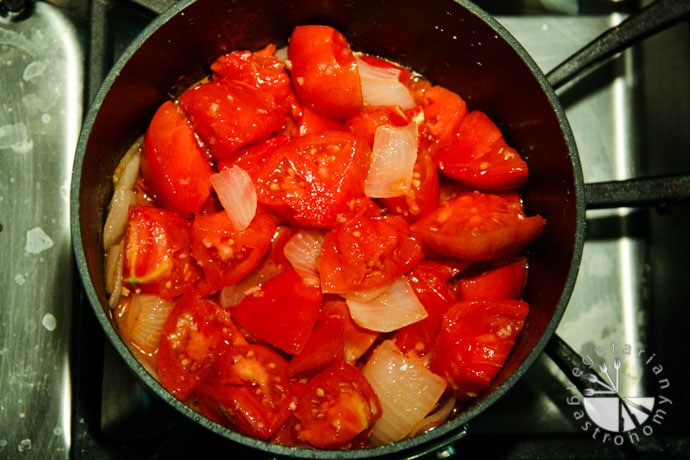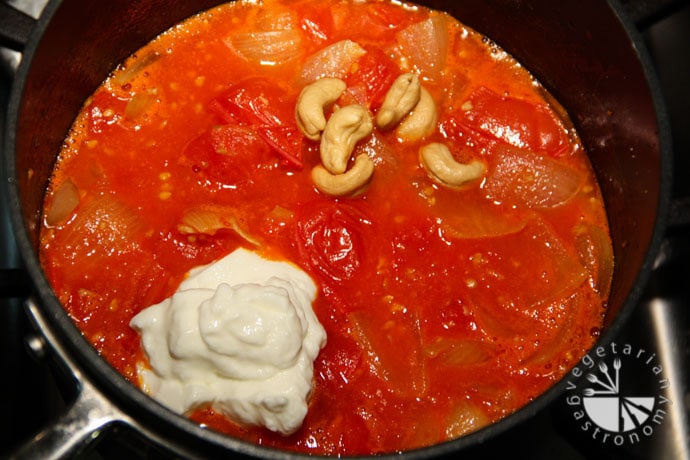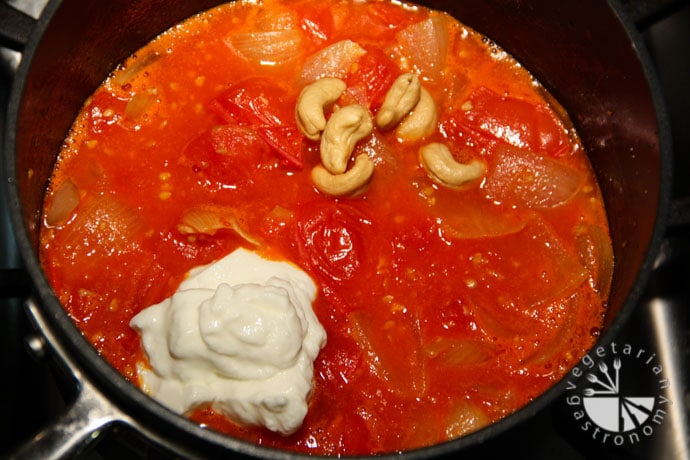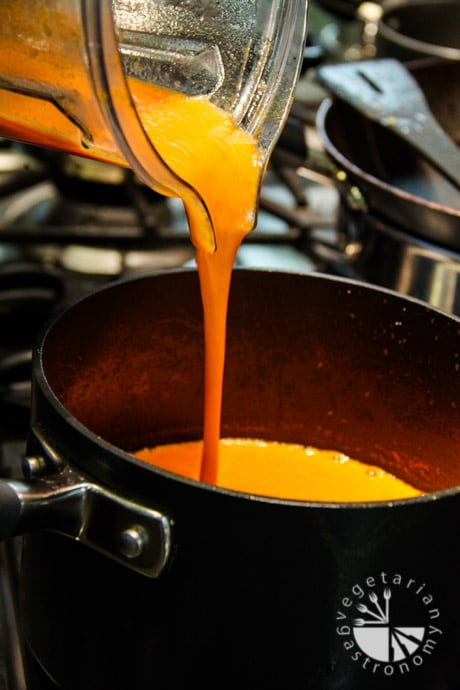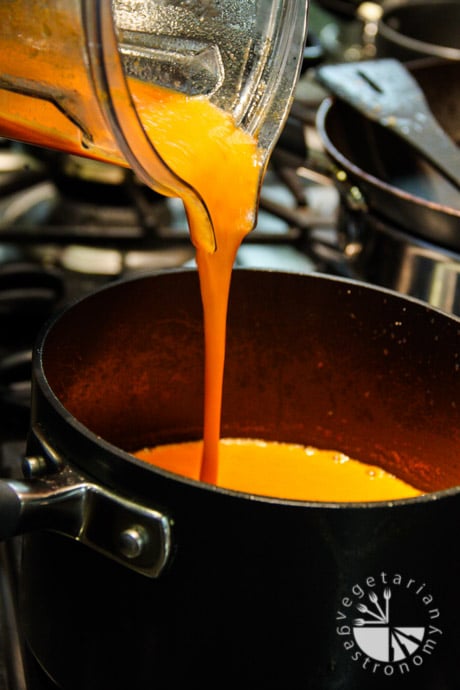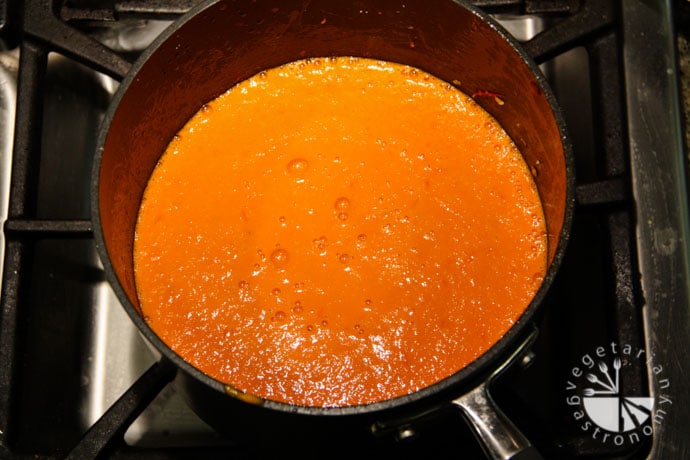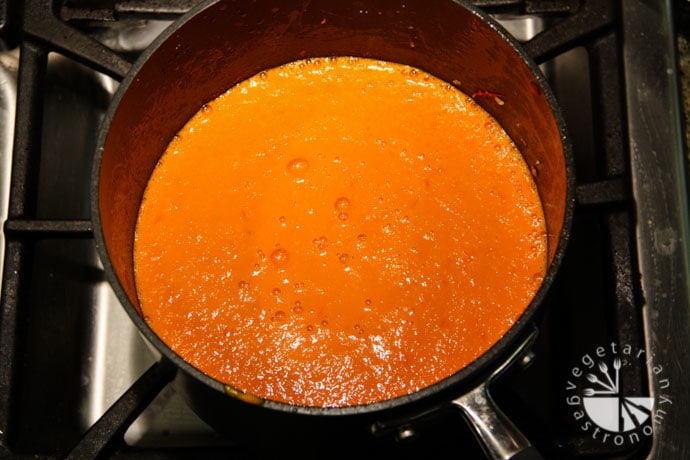 The following week we had 5 heirloom tomatoes in our garden ready to be eaten. We usually find ourselves enjoying these tomatoes sliced with some salt and pepper because they are absolutely delicious, but this time my moms curry came into mind and by the end of the day, I had a large container full of radiant, delicious, fresh curry. The next day, I decided to add some sauteed tofu and mushrooms to the curry. My 3 1/2 year old son and 15 month old daughter loved this dish with some brown rice and a side of yogurt while my husband and I enjoyed it with some garlic Naan from Trader Joe's (I had to mash up the tofu for my 15 month old). For my husband, this dish probably would not replace Punjabi restaurant food, but he said it came pretty close and devoured the leftovers for lunch the next day!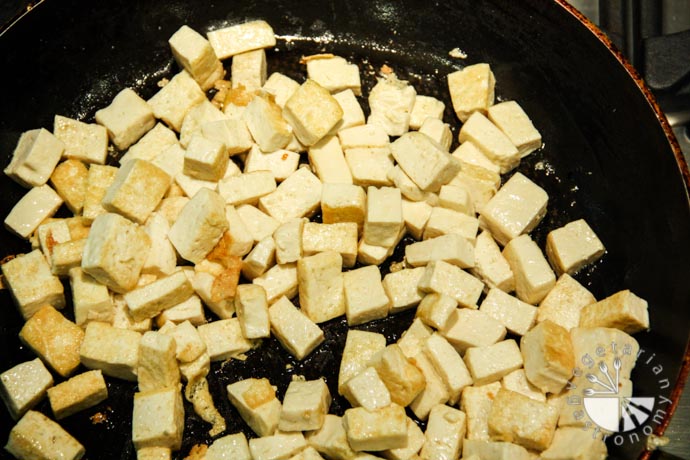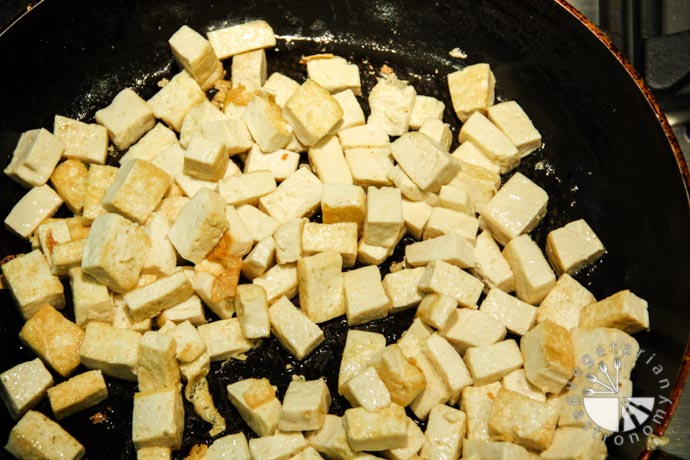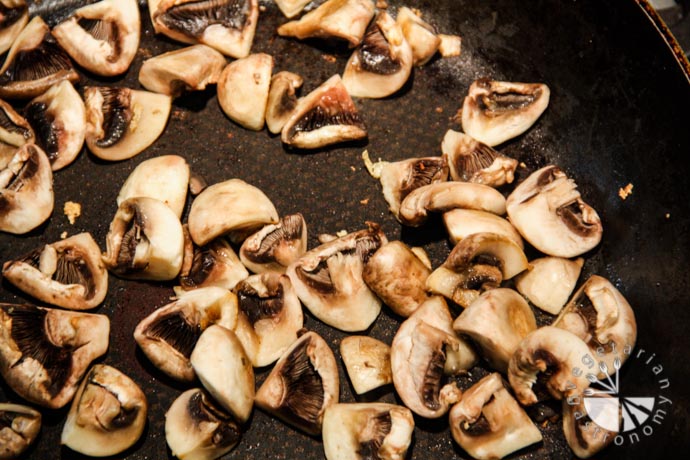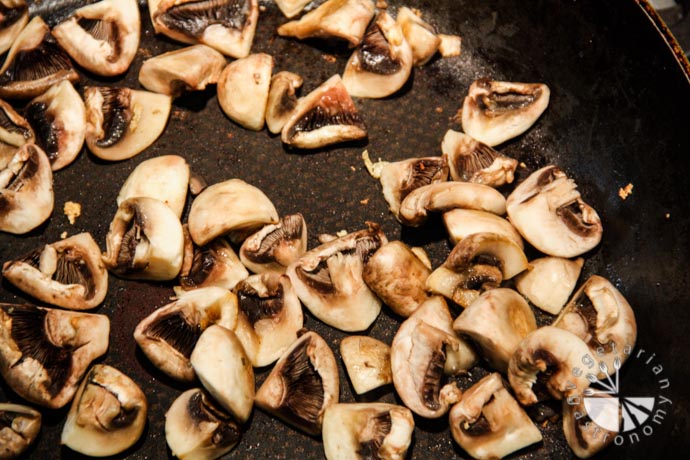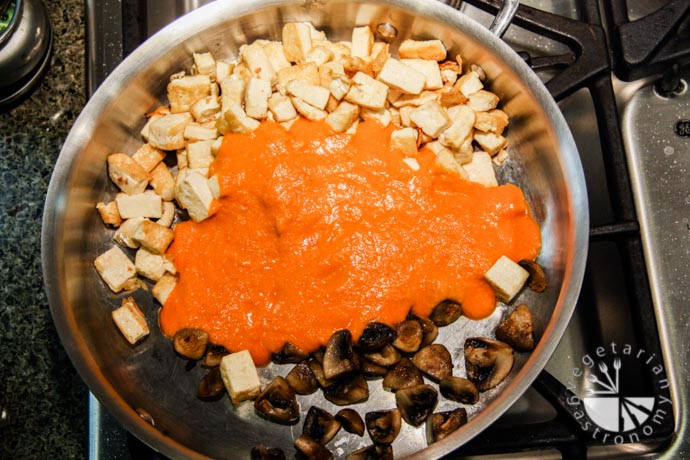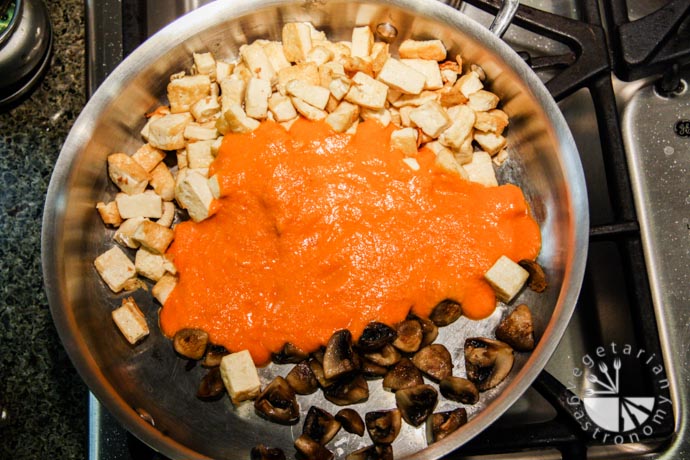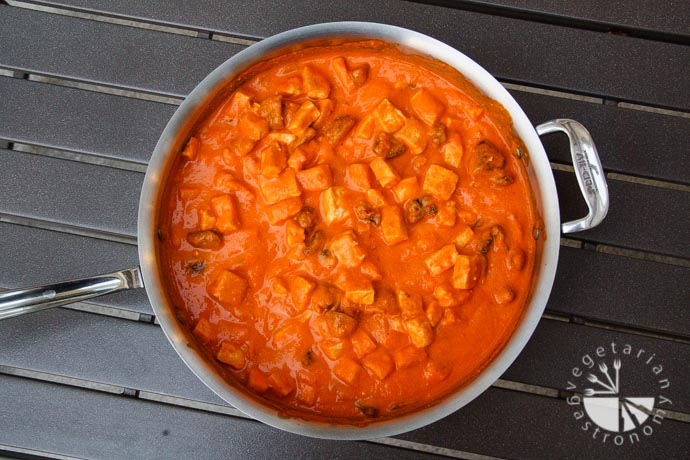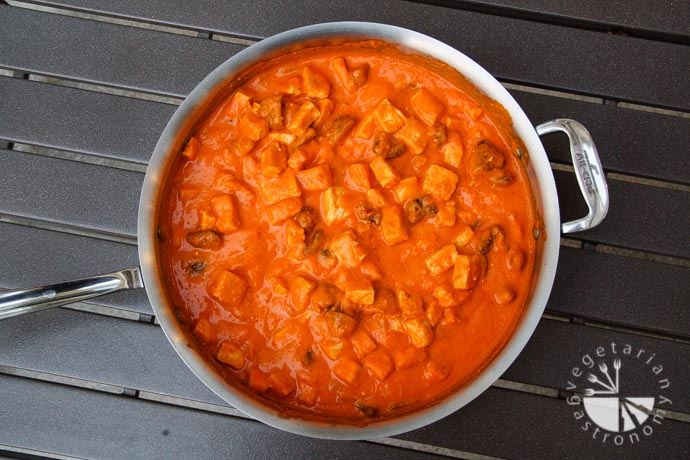 There are many variations of this dish. If you're not a huge fan of tofu or mushrooms, you can add any other favorite vegetable or protein. Next time around I plan on trying this dish with some potatoes instead of the tofu and mushrooms. I also used Heirloom tomatoes mainly because I had them readily available fresh from my garden. But on any other day, I typically use vine-ripe tomatoes. When you read the recipe, you'll notice that I have garam masala as an optional ingredient. I've made it with and without the garam masala and to tell you truth, it tastes great either way in case you don't have it readily available.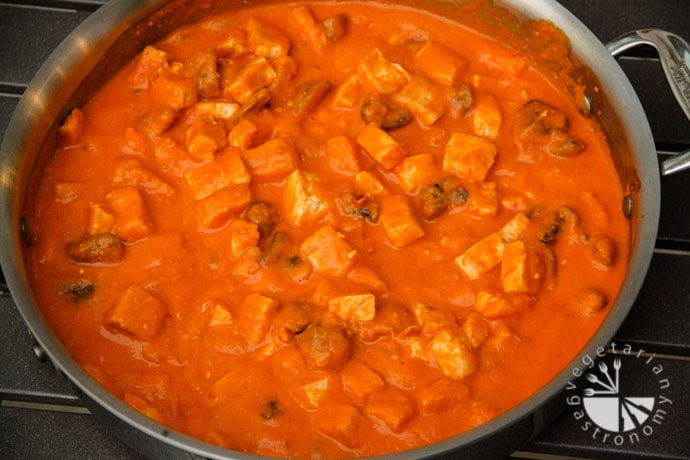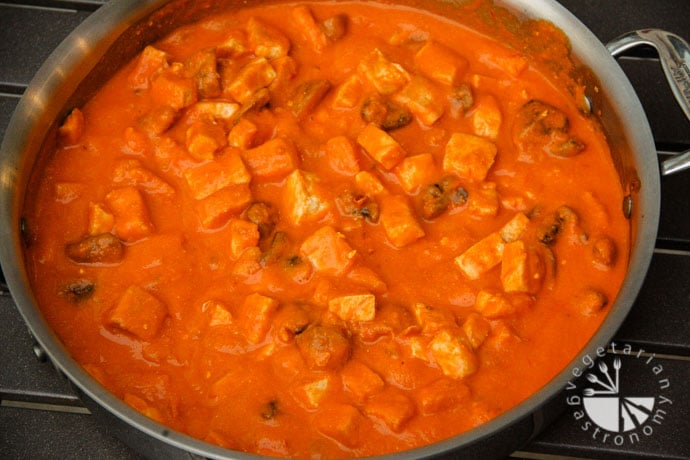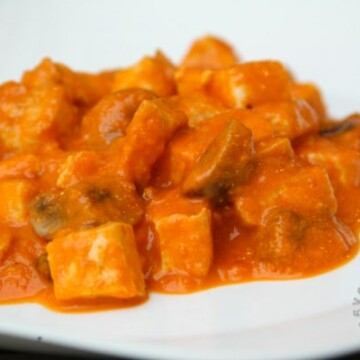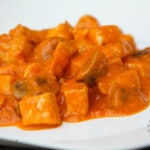 Print
Indian Tomato Curry
This flavorful tomato-based Indian Curry pairs well with any protein, lentils, or veggies. Serve it with a side of rice or Naan for a delicious meal.
INGREDIENTS
For the Tomato Curry
5

large

tomatoes

, vine-ripe or heirloom if possible, chopped into large sections

1

medium

white onion

, diced into large sections

4

cloves

garlic

, minced

1

teasp

fresh ginger

, minced

1/3

cup

vegan yogurt

, see notes below

13

raw cashews

1/2

teasp

turmeric

1/4

teasp

garam masala
chilli powder

optional, to taste

salt

8

oz.

mushrooms

19

oz.

firm tofu
Instead of mushrooms and tofu, you can add any assortment of mixed vegetables such as:
potato

peas

corn

broccoli

cauliflower

bell peppers

carrots
INSTRUCTIONS
In a large non-stick pot, heat

1-2 tbsp

cooking oil on medium heat.

Add the minced garlic and ginger and fry for a few seconds until fragrant (be sure not to let the garlic start browning or burning).

Add the diced onion. Saute until the onions start to become translucent (a few minutes).

Add the diced tomatoes. Add some salt. Cook until the tomatoes start to stew and the flavors start to combine, mixing frequently. For the next step, either use a vitamix or blender. Follow the recipe accordingly.

If Using a Vitamix: Add everything from the pot into the vitamix. Add the yogurt and cashews. Puree until completely smooth, making sure the cashews are completely blended into the sauce. Pour the sauce back into the pot.

If Using a Regular Blender: If you are using a regular blender, to be sure that the cashews are completely pureed into the sauce, soak them for 3-4 hours in water prior to making this dish. Then drain and add the soaked cashews to the blender, along with the yogurt and everything from the pot. Puree everything in the pot until completely smooth. Pour the contents of the blender back into the pot.

Heat the sauce in the pot on low-medium heat. Add turmeric, garam masala, and chili powder to taste (depending on how much spice you want).

Once the sauce starts to simmer, turn the heat on low and simmer for about 20-30 minutes in order to reduce and thicken the sauce. In the meantime, prepare the mushrooms and tofu (or any other veggie/protein you are planning on using)
To Prepare Mushrooms & Tofu:
To Prepare Tofu: Cut the tofu block in half. Place each half in a clean paper towel and squeeze to remove excess storage liquid. Cut the tofu into 1/2 to 1 in. cubes and pan fry on medium-high heat with 1-2 T vegetable oil, mixing and turning frequently until all the water is burned off and the tofu is lightly golden brown on most sides (be sure not to burn the tofu). Sprinkle some salt over the tofu. If the tofu is sticking to the pan, add some more oil. Set aside.

To Prepare the Mushrooms: Cut the mushrooms in quarters (or halves if the mushrooms are small). In the same pan, heat some vegetable oil on medium heat. Add the mushrooms and saute until all the water is released and the mushrooms just begin to brown/roast. Sprinkle some salt and set aside.
To Prepare the Dish:
Add the cooked mushrooms and tofu to the sauce and combine. Cook on low for another 5-10 minutes, being careful not to dry the sauce out. Season with salt to taste.

Serve hot and enjoy with some Naan, roti, or rice!
NOTES
Make sure the yogurt you use is thick and NOT sour (in other words, it should be pretty fresh).
Depending on how acidic and sweet your tomatoes are, you may need to add more cashews. After adding the amount recommended above, taste the sauce and if it tastes acidic, add a few more cashews.
As with most curries, the more you let it sit together in the fridge, the more intense the flavor is! So feel free to make this curry the day before!
NUTRITION
Calories:
141
kcal
|
Carbohydrates:
13
g
|
Protein:
11
g
|
Fat:
6
g
|
Saturated Fat:
1
g
|
Polyunsaturated Fat:
3
g
|
Monounsaturated Fat:
2
g
|
Sodium:
15
mg
|
Potassium:
541
mg
|
Fiber:
3
g
|
Sugar:
6
g
|
Vitamin A:
1264
IU
|
Vitamin C:
24
mg
|
Calcium:
138
mg
|
Iron:
2
mg