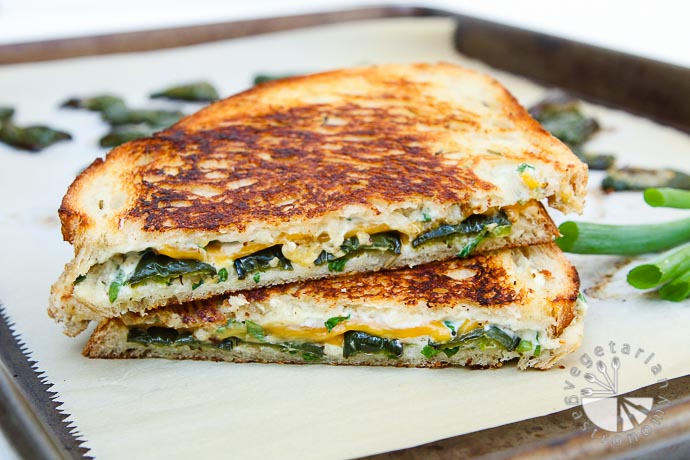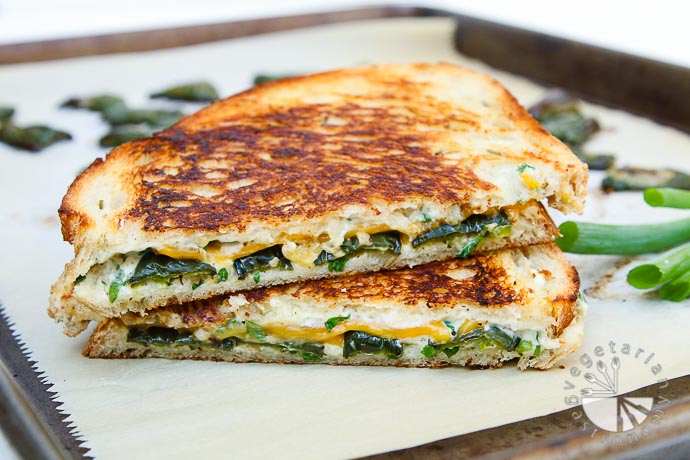 It's already Fall, yet it still feels like we're in the heart of summer with the hot and humid weather here in San Diego. Even though I enjoyed a day at the beach with my kids this past weekend, my mind is already into Fall and I'm ready for the cool weather to kick in. My husband finally took out all of our tomato plants and planted new Fall/Winter vegetables such as butter lettuce, broccoli, and Brussels sprouts. But due to the hot weather we've been experiencing, our Fall produce will definitely take some time to come in this year. That brings me to what we DO have growing in our yard, and the inspiration behind this recipe!
Fresh. Green. Jalapenos.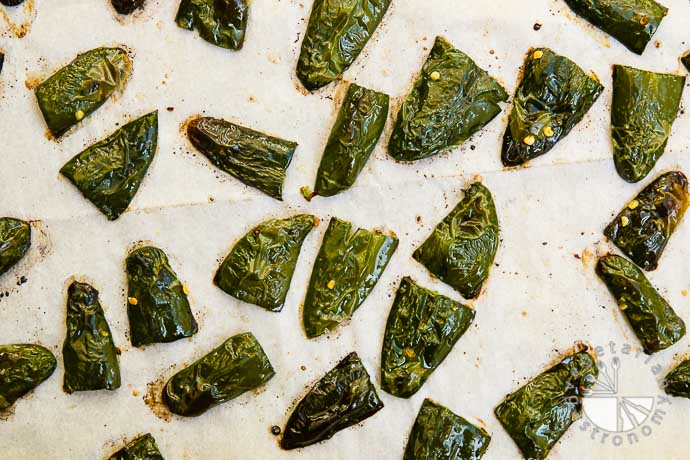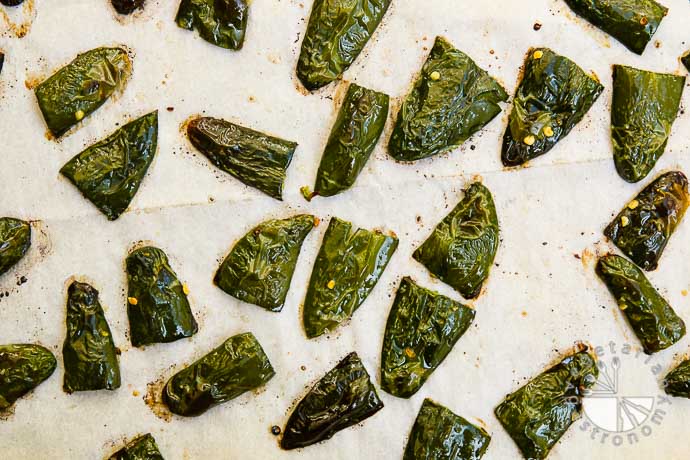 Along with bell peppers, our fresh green jalapenos have been growing year around. Although we love fresh jalapenos on a variety of different dishes, most of the ones growing in our yard are spicy! So we can only go through so many, especially since my son can't handle much spice. Last month, I ended up delivering bags of fresh green and red jalapenos to several neighbors since I didn't want them to go to waste. Well this time, I was intent on using them up. My husband was quick to request a vegan version of Fresh Jalapeno Poppers since it used to be one of our favorites. I love all the components and flavors that go into making fresh jalapeno poppers but wanted to create something slightly different and turn it into an actual meal instead of a side. I roasted some fresh jalapenos, used some of my favorite brands of vegan cheese, and enhanced the flavor profile with some fresh herbs to bring you this vegan Jalapeno Popper Herb Grilled Cheese Sandwich!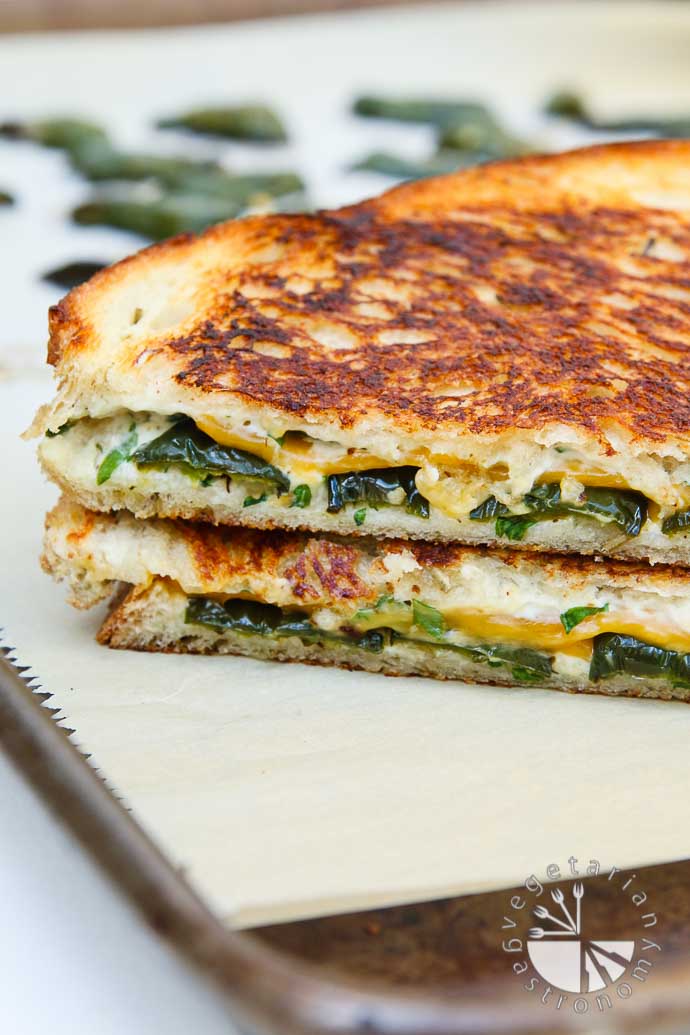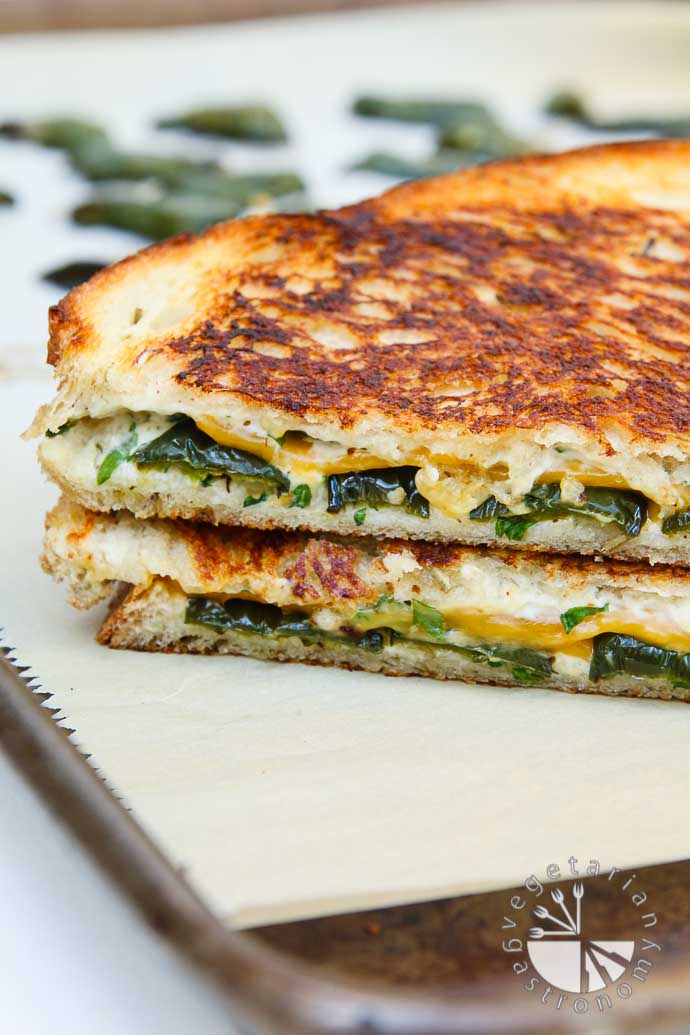 This sandwich is the best of both worlds! Contains spice from the fresh jalapenos, creaminess from the different types of vegan cheeses, has all sorts of textures, and the flavor of fresh herbs, sandwiched between two slices of sourdough bread, grilled and melted to perfection. It's very easy to make, and you can even prep the components of the sandwich ahead of time and simply assemble and grill when you're ready to serve. Now that is one awesome sandwich! Who doesn't want to take a bite into it?!?
If you don't mind the heat, you will LOVE this fresh jalapeno popper meets grilled cheese sandwich! It's to die for! I'm hooked and addicted, and you will be too if you try it out! Be sure to tag me on Instagram or Facebook, or comment below the recipe and let me know what you think! I'd love to see pictures of you devouring this Jalapeno Popper Grilled Cheese sandwich!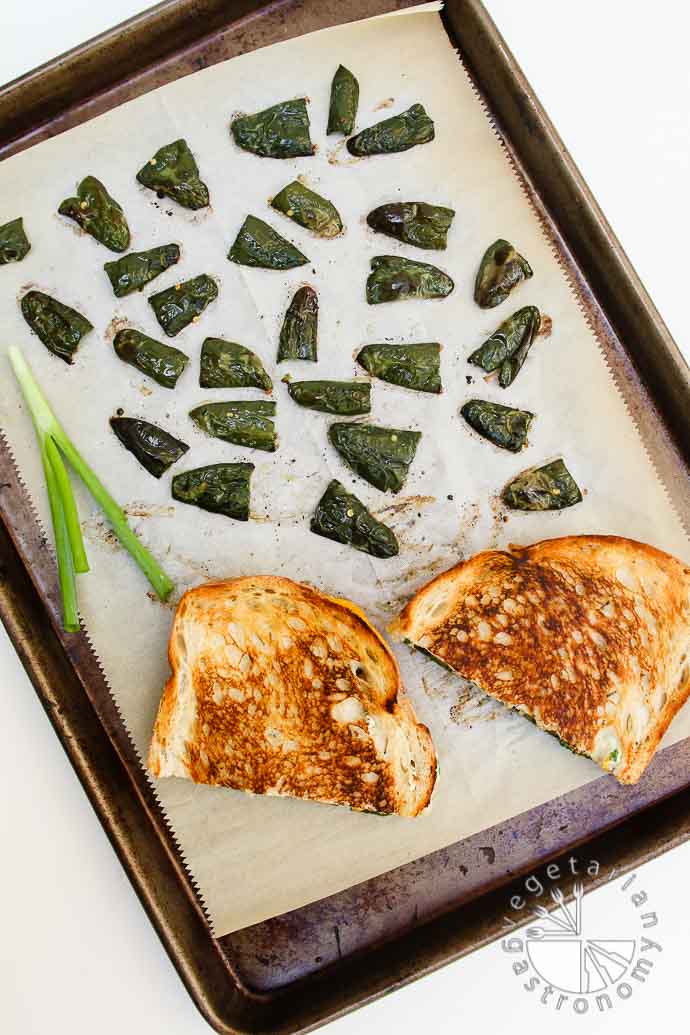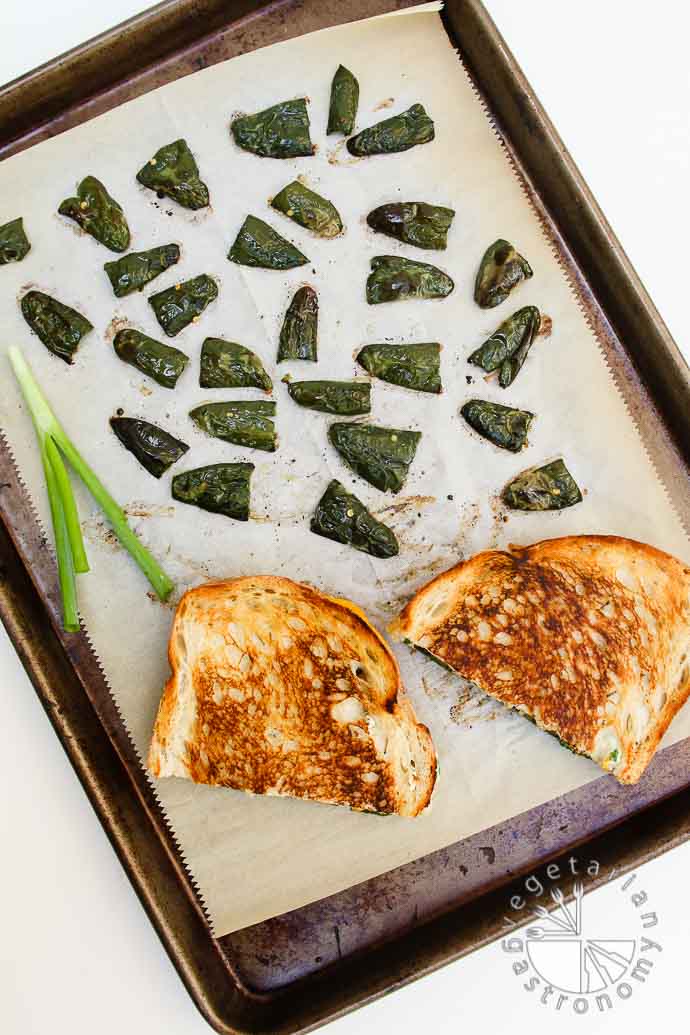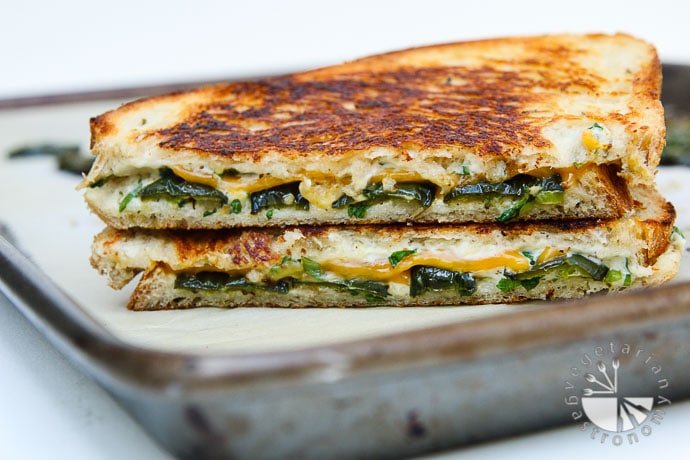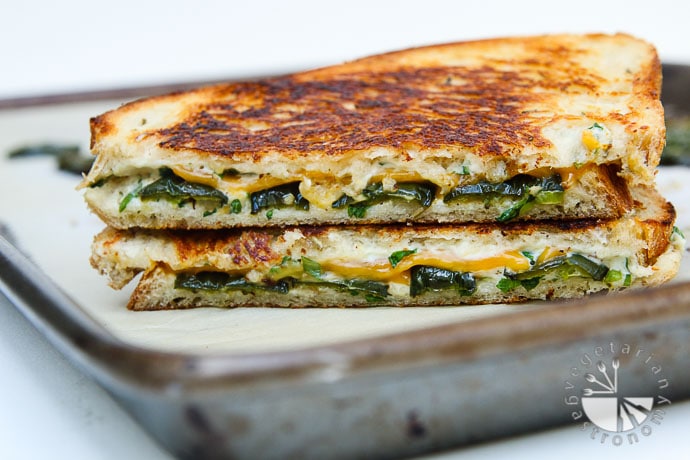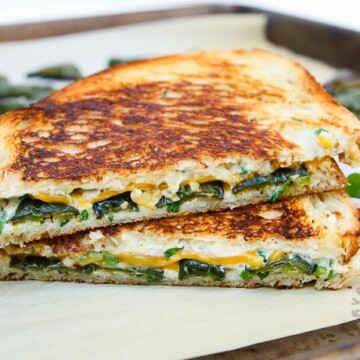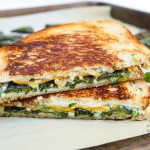 Print
Jalapeno Popper Grilled Cheese
The most indulgent comfort food there is! See how easy it is to veganize this popular favorite!
INGREDIENTS
For the Herb Cream Cheese
INSTRUCTIONS
Preheat the oven to 400 degrees F.

Slice the fresh green jalapenos lengthwise, de-stem, remove the inside white parts, and scrape off the seeds as best as you can.

Toss the jalapeno halves with a little olive oil to coat, a little salt, and freshly ground black pepper.

Place the jalapeno halves cut side face down in a single layer on the parchment paper.

Bake in the oven for 10-15 minutes, or until the jalapenos start to blister and blacken slightly. When they are done, remove them from the oven and let them cool completely.

While the jalapenos are baking in the oven, prepare the Herb Cream Cheese by combining all the ingredients listed above in a small mixing bowl and set aside or store in the fridge until ready to use.

To prepare the sandwich, spread a generous layer of the Herb Cream Cheese on two slices of sourdough bread. Cut the slice of vegan Follow Your Heart American Cheese Slice in half.

Working on one slice of sourdough bread, place/align half the slice of American Cheese on the right half of the bread. Next place a layer of the roasted fresh green jalapeno halves (~4-6 halves depending on size of jalapenos and bread). Next place the other half of of the slice of American Cheese on the left half of the bread on top of the jalapeno slices.

Close the sandwich by topping with the other slice of bread with the herb cream cheese spread on it. Note that the reason for slicing the cheese in half and it's placement is to help the sandwich stay together after grilling and melting the cheese.

Heat a pan on medium heat. Lightly butter one entire side of the sandwich. Once the pan is hot, place the sandwich, butter side down. Grill until bread is golden brown. Press down on the sandwich lightly, then butter the top side of the bread, flip the sandwich over and cook until second side is golden brown and the cheese is completely melted.

Repeat with the remaining slices of bread to make a total of 4 sandwiches.

Slice the grilled cheese in half, and enjoy with your favorite hot sauce or as is!
NOTES
Pre-Ahead Tip - Roast the fresh green jalapenos and make the herb cream cheese ahead of time and store in the fridge until ready to assemble the sandwich.
Vegan Cheese - I highly recommend using Follow Your Heart American slices (not the block) for the vegan cheese layer. If you have another favorite cheese slice, feel free to use any alternate brand/cheese. American, Cheddar, or Jack cheese would all work with this sandwich.
NUTRITION
Calories:
528
kcal
|
Carbohydrates:
82
g
|
Protein:
18
g
|
Fat:
14
g
|
Saturated Fat:
4
g
|
Sodium:
1040
mg
|
Potassium:
250
mg
|
Fiber:
6
g
|
Sugar:
5
g
|
Vitamin A:
475
IU
|
Vitamin C:
42.6
mg
|
Calcium:
93
mg
|
Iron:
5.3
mg
[subscribe_box]