I've always loved cookbooks and food magazines. I'm like a little kid at a candy store, checking the mail every day, waiting to get my hands on one and flip through it once the kids are sleeping. That way, I have uninterrupted time to drool over mouthwatering pictures and bookmark recipes I want to try. However, over the past year, although I still can't help buying and flipping through some great new cookbooks and favorite food magazines, it's been awhile since I've really fell in love with an ENTIRE cookbook… UNTIL NOW! That is why I'm so thrilled about today's post! Award winning Richa Hingle of VeganRicha.com came out with her first cookbook, Vegan Richa's Indian Kitchen, Traditional and Creative Recipes for the Home Cook! I'm excited to be reviewing this cookbook, sharing Richa's recipe for Mango Curry w/Tofu from her new cookbook, and offering YOU a chance to win your very own FREE copy of the cookbook or Bonus Recipe Bundle, courtesy of the Publishers, in a GIVEAWAY at the end of this post!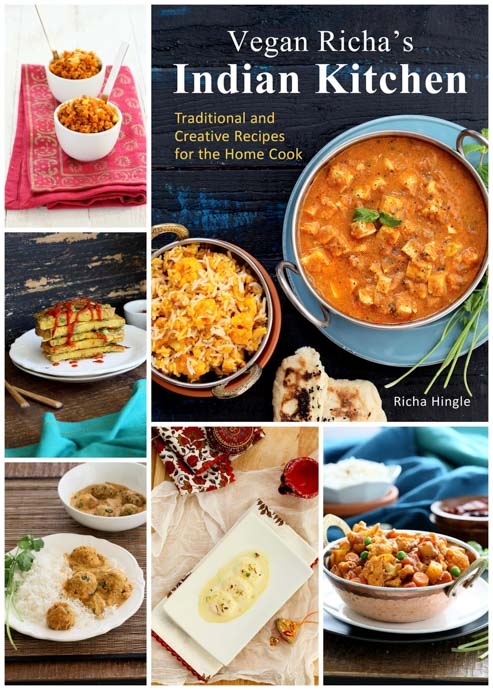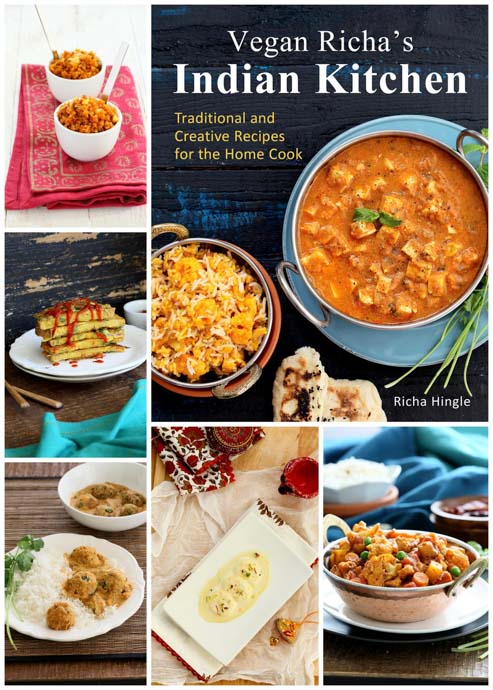 Photo from Vegan Richa's Indian Kitchen, Copyright © 2015 by Richa Hinge. Used by permission from Vegan Heritage Press, LLC.
Richa Hingle is the award winning recipe developer, blogger, and photographer behind VeganRicha.com. From her plant-based unique Indian dishes (Chickpea Quinoa Spinach Lentil Stew, Baked Samosas), to her twist on many other cuisines (Buffalo Chickpea Pizza w/White Garlic Sauce & Celery Ranch, Salted Caramel Date Pie, Sweet Potato Chickpea Peanut Burger), I absolutely fell in love with her site and the pure variety of recipes she develops. After a few email conversations, I realized that she is a genuine, kind-hearted, and positive person!
I had reached out to her with questions when I needed some advice about going vegan this past January. I can honestly say that she's been instrumental in guiding me through my vegan journey. She has some great information for the ethical vegan on her site, which really put things into perspective. They were things I already knew in the back of my mind, but it was nice to have it all in one place to read through. Needless to say, it inspired me even more to make the transition, and she's been a great support and friend since then. When she approached me to review her new cookbook, which I already couldn't wait to get my hands on, I was honored and thrilled!
Whether you are an expert in Indian cooking, a Vegan, an experienced cook or altogether new to cooking and are looking for new ways to enjoy lentils and vegetables, or healthy delicious plant-based meals for the entire family, Richa's new cookbook encompasses it all. She has developed veganized versions of traditional Indian Dishes where she's used her own unique twist on Indian Cooking. The chapters cover easy savory breakfasts and sides (Spicy South Indian Tofu Scramble, Street-Style Tempeh Wraps, Potato Quinoa Patties), sauces and spices you could put over everything (Mint Cilantro Chile Chutney, Tandoori Masala, Chickpea Tofu), to lentils and beans (Masala Lentils, Brown Chickpea Curry, Sprouted Mung Bean Curry), main dishes (Vegetables in Luxurious Royal Sauce, Vegetable Manchurian) and casseroles (Spicy Red Lentil Cauliflower Potato Casserole). She even has an entire section on flatbreads (Dosa, different types of Naan, Chia Flatbreads), which are a staple to the Indian cuisine, and has many gluten-free and grain-free options. Finally, she has managed to successfully veganize many Indian desserts (Rasmalai, Pistachio Cardamom Cookies) that are traditionally heavily dairy-based. In addition to her own unique name for every recipe in her cookbook, she has also included the traditional Indian name of the dish for reference.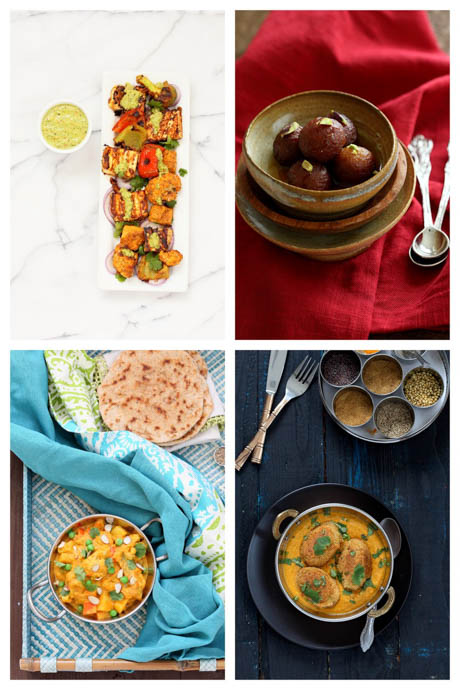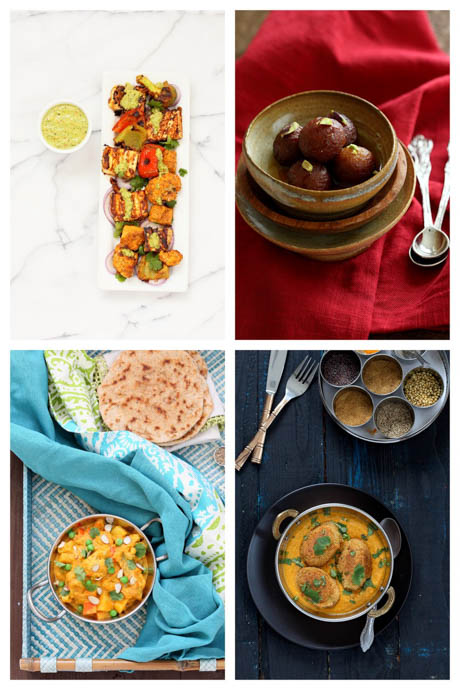 Photo from Vegan Richa's Indian Kitchen, Copyright © 2015 by Richa Hinge. Used by permission from Vegan Heritage Press, LLC.
Richa has always been able to capture anyone with her mouthwatering and stunning photographs on her blog, and I expected nothing less from her cookbook. In fact, one of my favorite parts about a cookbook is flipping through the photographs, and the pictures in her cookbook definitely do NOT disappoint!
Doesn't this Cauliflower Radish Roast and Malai Kofta from her book look fabulous?!?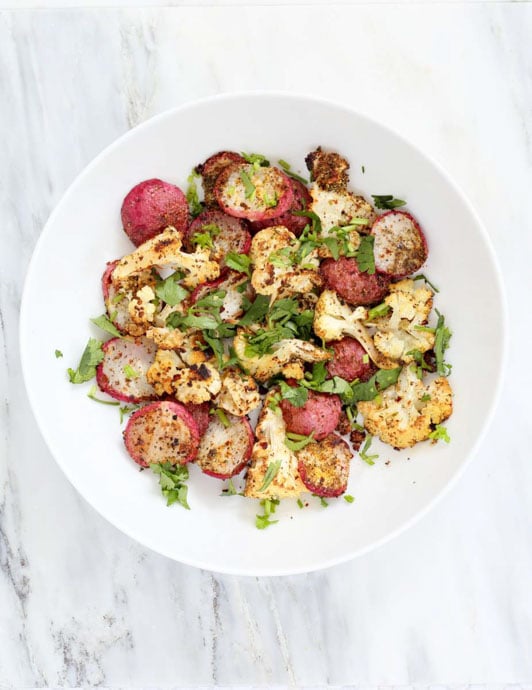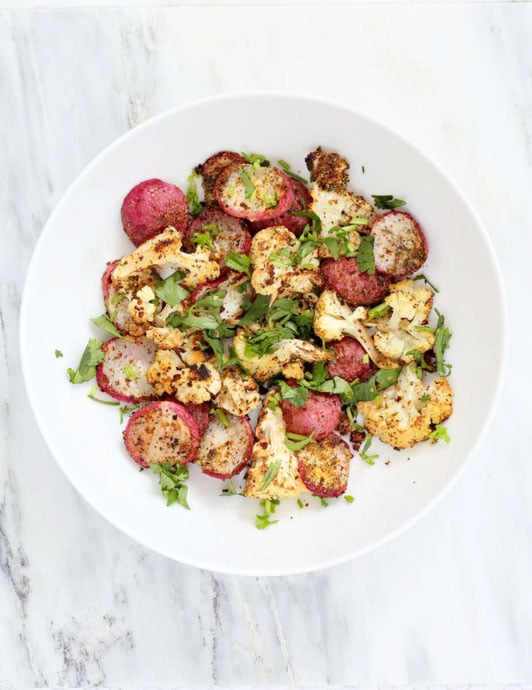 Photo from Vegan Richa's Indian Kitchen, Copyright © 2015 by Richa Hinge. Used by permission from Vegan Heritage Press, LLC.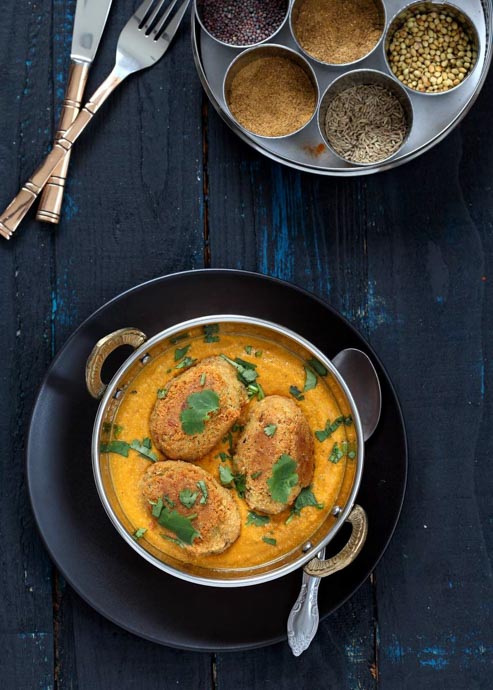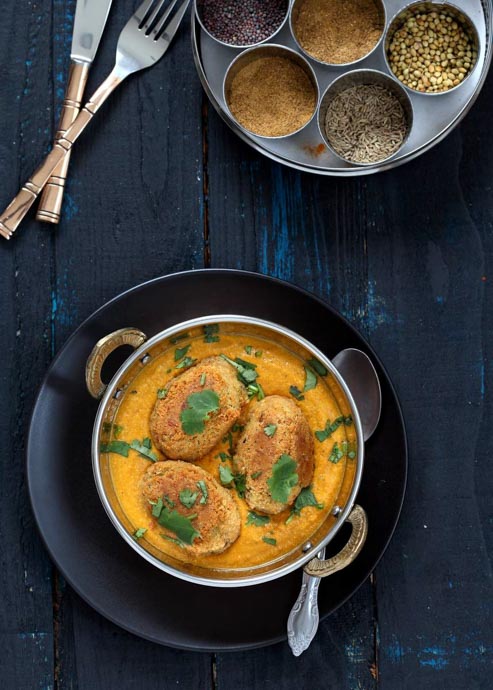 Photo from Vegan Richa's Indian Kitchen, Copyright © 2015 by Richa Hinge. Used by permission from Vegan Heritage Press, LLC.
Her recipes are simple to make and easy to follow, even to the novice cook or those are not familiar with Indian cooking. Don't let the long ingredient lists fool you. She does a stellar job going through all the spices you need in detail at the beginning of the book, and they are all readily available in grocery stores. It's a simple matter of getting your pantry ready, and creating those delicious Indian flavors that everyone craves.
I'm Indian myself, and in the past I've looked through my fair share of many Indian cookbooks, but none have come close to what this cookbook has to offer. You may think I feel this way because I'm vegan, but even before I became vegan, I've always tried to find easy healthier ways to enjoy my favorite restaurant-style Indian dishes and flavors at home without having to add dairy (i.e. butter, ghee, and/or heavy cream) and incorporate many additional ingredients into Indian cooking. This book does just that. Richa has managed to successfully veganize the Indian Cuisine and encompasses almost every Indian dish you crave, and more, all into this great cookbook.
If you're looking for easy to follow, quick recipes using Indian flavors that deliver amazing flavors, Richa's cookbook has it all. Enter the GIVEAWAY below for a chance to win your very own FREE copy or Bonus Recipe Bundle courtesy of the Publishers, or buy her book on Amazon right now if you can't wait!
I've tried many recipes from her cookbook already, such as her Royal Tofu & Cashews (Shahi "Paneer") and Mango Curry w/Tofu that my entire family (including my 2 and 5 yr olds) loved accompanied by naan and vegetable rice (Pulau). I've also made her Chile Garlic Coconut Chutney to go with our typical Dosa & Potato Masala dinner.
Mango Curry w/Tofu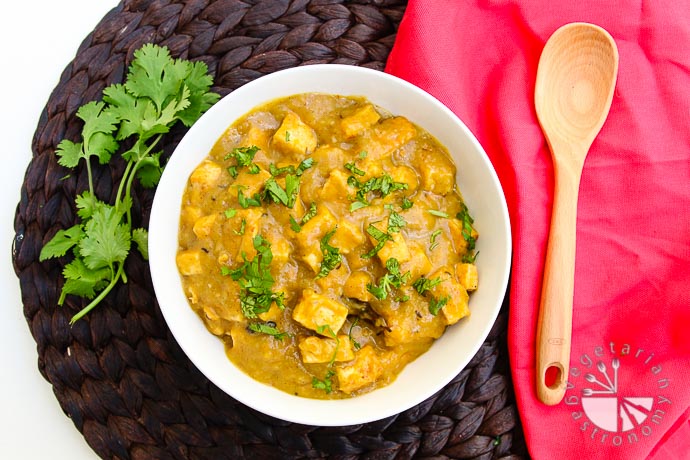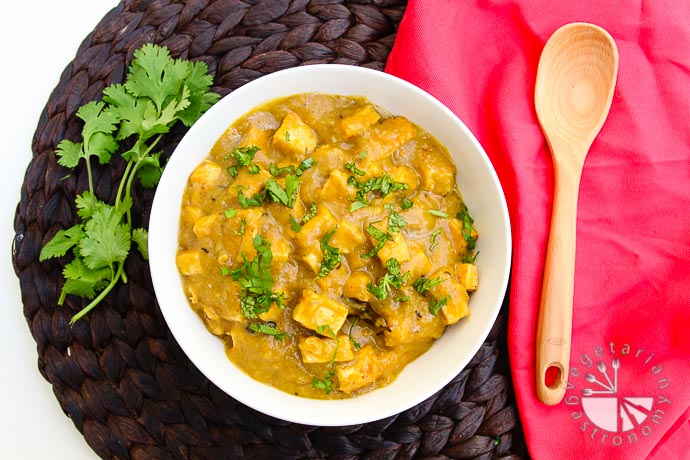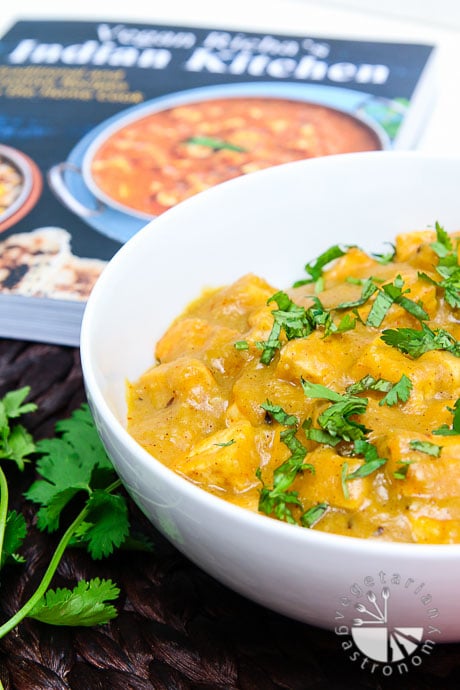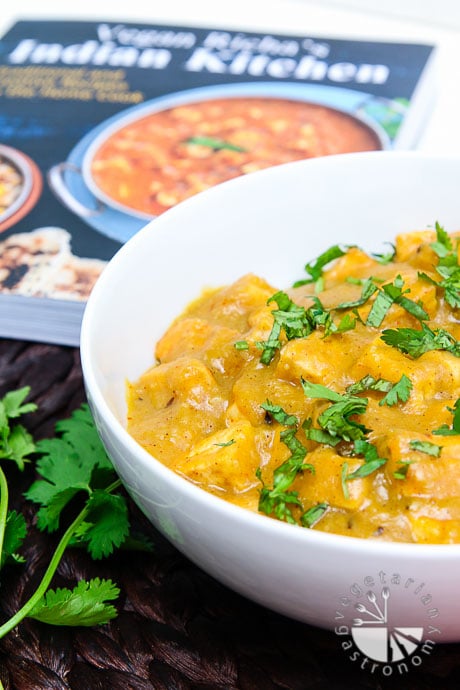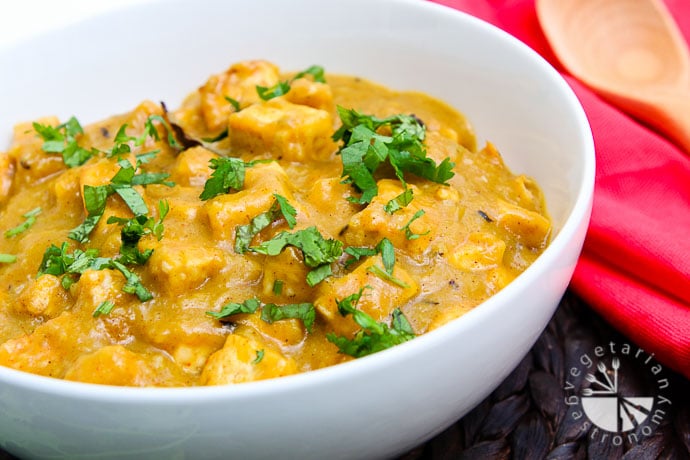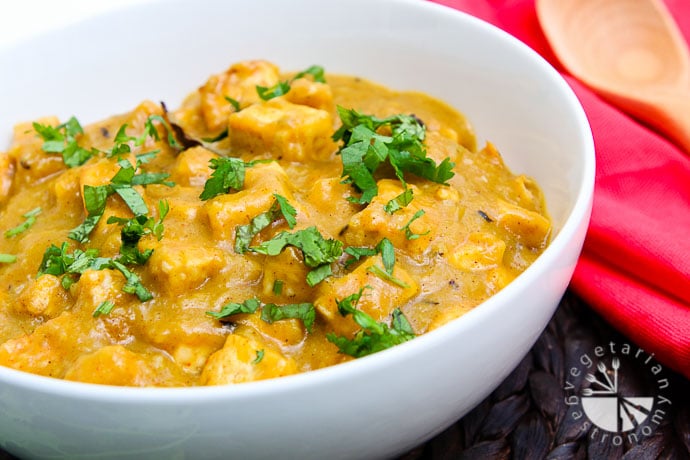 Royal Tofu & Cashews (Shahi "Paneer")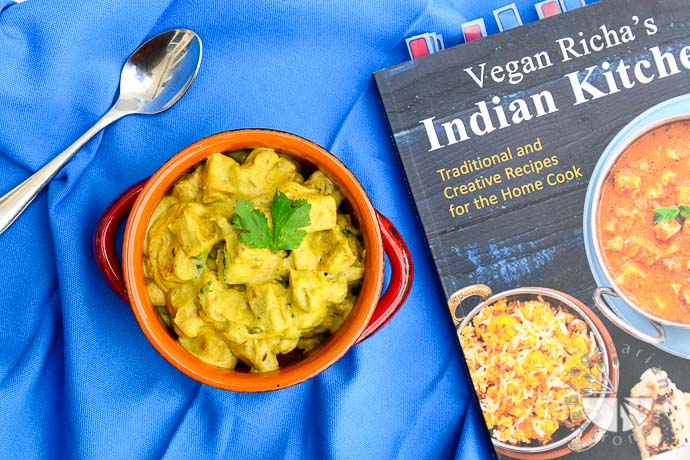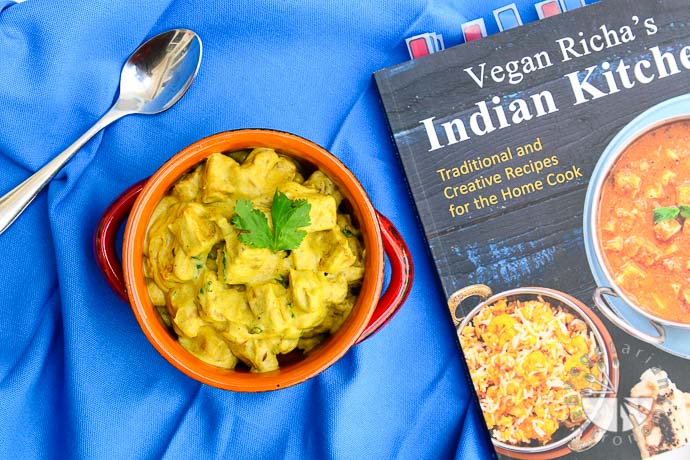 Richa has generously allowed me to share a recipe from her cookbook with all of you, so I wanted to share one of my favorites below: Mango Curry with Tofu.
Before I leave you with the recipe, don't forget to enter the GIVEAWAY below the recipe for a chance to win your very own FREE copy of this cookbook or her Bonus Recipe Bundle.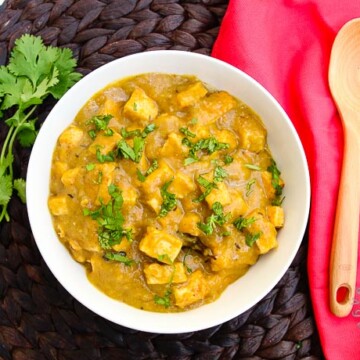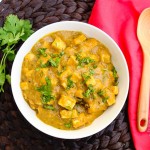 Print
Mango Curry Recipe
Richa says, "Mangoes are abundant in India, where they are always juicy and sweet. In the United States, mangoes can be a bit tart. For desserts or curries like this one, I prefer mango pulp or puree in canned or bottled form. You can use a ripe mango, if you prefer, but be sure to puree it well before using. This is a simple recipe but the resulting dish is very alluring with its sweet and spicy sauce. It can easily be made soy-free." (Recipe from Vegan Richa's Indian Kitchen Copyright © 2015 by Richa Hingle. Used by permission Vegan Heritage Press, LLC.)
INSTRUCTIONS
For Tofu:
Cut the tofu slab into 1/2-inch slices. Place them on a clean kitchen towel. Cover with another kitchen towel. Place a 10-pound (approximate) weight on top and let sit for 10 minutes. Alternatively, you can use pressed tofu. Cut the tofu slices into 1/2-inch cubes.

Heat the oil in a large skillet over medium heat. When the oil is hot, tilt the skillet so the oil coats it evenly. Add the tofu and cook until lightly brown on some sides, stirring occasionally, 4 minutes. Add the cayenne, cinnamon, garam masala, and salt and mix well to coat. Cook for another 2 minutes and set aside.
For Curry:
In a blender, combine the onion, ginger, and garlic and blend into a smooth puree with 2 tablespoons of water.

Heat the oil in a large skillet over medium heat. When the oil is hot, add the cumin seeds, bay leaves, and cloves. Cook for 1 minute.

Add the pureed onion and cook until the onion mixture is dry and does not smell raw. Stir occasionally to avoid sticking, 13 to 15 minutes.

Add the coconut milk, mango pulp, salt, and vinegar and mix well. Add the tofu and all the spices from the tofu skillet to the sauce skillet. Add a dash of black pepper.

Mix, cover and cook until the sauce comes to a boil, 5 minutes. Reduce the heat to low and cook uncovered until the sauce thickens and desired consistency is achieved, about 15 minutes.

Taste and adjust the salt and tang. Add 1/2 teaspoon or more sugar if the mango pulp was not sweet. Garnish with cilantro and a dash of garam masala and serve hot.
NOTES
Mango - I used fresh ripe mango when making this recipe.
NUTRITION
Calories:
311
kcal
|
Carbohydrates:
18
g
|
Protein:
9
g
|
Fat:
23
g
|
Saturated Fat:
16
g
|
Sodium:
494
mg
|
Potassium:
398
mg
|
Fiber:
2
g
|
Sugar:
13
g
|
Vitamin A:
1115
IU
|
Vitamin C:
8.9
mg
|
Calcium:
52
mg
|
Iron:
7.9
mg
UPDATE: This GIVEAWAY is now closed. The winner is Parinda S. Thank you to everyone for participating!
Here is your chance to win your very own FREE COPY of Vegan Richa's Indian Kitchen Cookbook or Bonus Recipe Bundle. See the rules below before entering the GIVEAWAY:
All entrants must SUBSCRIBE by EMAIL to Vegetarian Gastronomy. All entrants will be verified. Click here to subscribe, or there is a link to subscribe at the bottom of this post or in the sidebar.
All entrants 18 years or older are welcome. If the winner is a US resident, they will win a hard copy of Vegan Richa's Indian Kitchen Cookbook. If the winner resides outside of the US, they will win a copy of Vegan Richa's Bonus Recipe Bundle eBook (which contain recipes you don't want to miss either).
Click below to enter the GIVEAWAY. The giveaway will be open for one week starting NOW and close 6/25/2015. Winner will be notified via email and announced in this post and in the comments of this post. Good Luck!