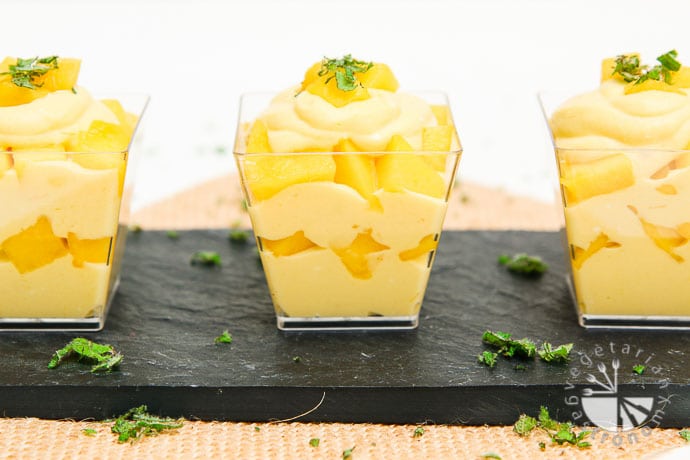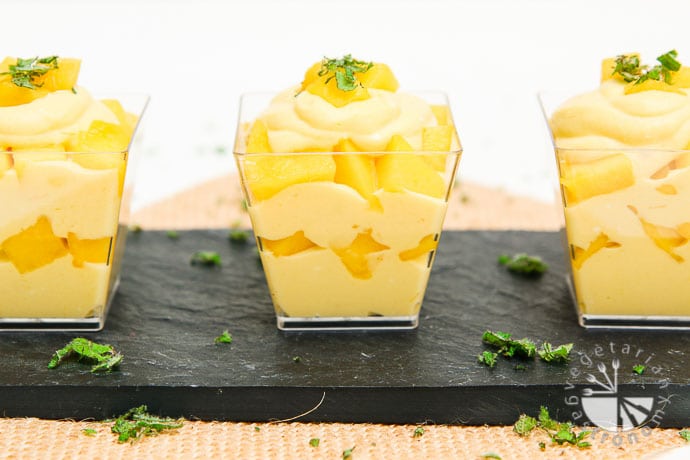 Being Indian, specifically Gujarati, mangoes have always been a huge part of our diet. Pickled mango, mango lassi, mango ice cream, to name a few.
Speaking of which, what a coincidence – I'm currently laughing out-load because as I'm typing this post at my in-laws house in palm springs while the kids are napping, a their friend literally just stopped by and dropped off 3 huge cases of large mangoes! Ha…what luck! So back to this post…
'Keri Ras' is a delicious pulp of mangoes made in every Gujarati's home during the mango season. It is my favorite. My mom would make it for us at least 2-3 times a week to have with our traditional Gujarati meal. Using good quality mangoes is key for making good 'Keri Ras'. You may be asking yourself, "what's so special about pure pureed mango? It's practically the same as eating mango pieces!" No, I promise you it isn't. I really can't explain the difference, but it's something about eating spoonfuls of home-made pure mango puree in a bowl, like a soup, that's just out of this world. My brother and I always thought of it as dessert everyday for dinner =) Traditionally people enjoy this fresh mango puree with some home-made Puri on the side, small wheat flour spiced tortillas deep fried in oil. The combination is a deadly, and is worth trying at some point if you haven't already.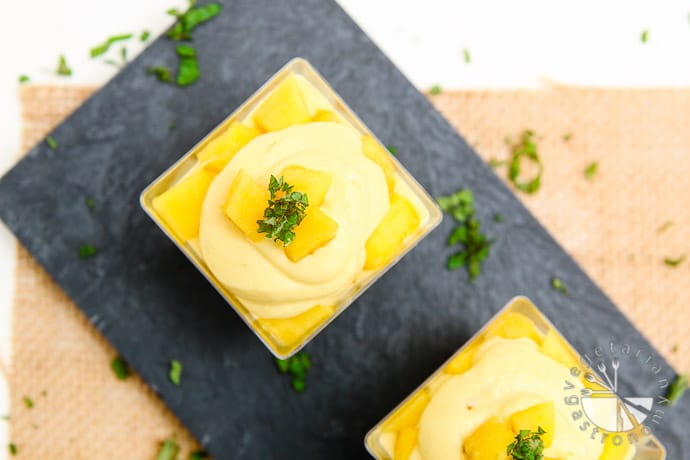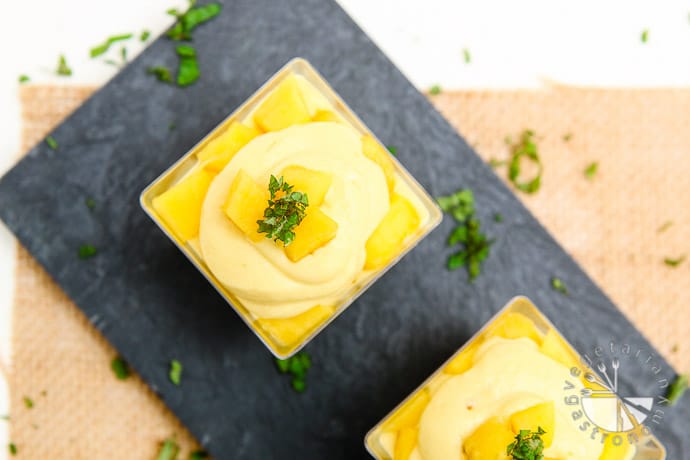 You can probably already guess that come mango season, we practically have mangoes pouring out of our house. Every time one of our parents come to visit, they bring cases of delicious mangoes. One day as I was pureeing some of these mangoes to enjoy with our Gujarati meal for dinner, I started to think of other possible uses for this Mango Puree. Of course you already know that Vegan Richa's Mango Curry was one dish that came out of it (which if you haven't tried yet, is delicious!), but I also started thinking of other desserts I could make. My Fresh Mango Coconut Chia Seed Parfait recipe has always been a huge hit, and I was craving another mango-based dessert. So for my first creation, I present to you my Mango Mousse Parfait!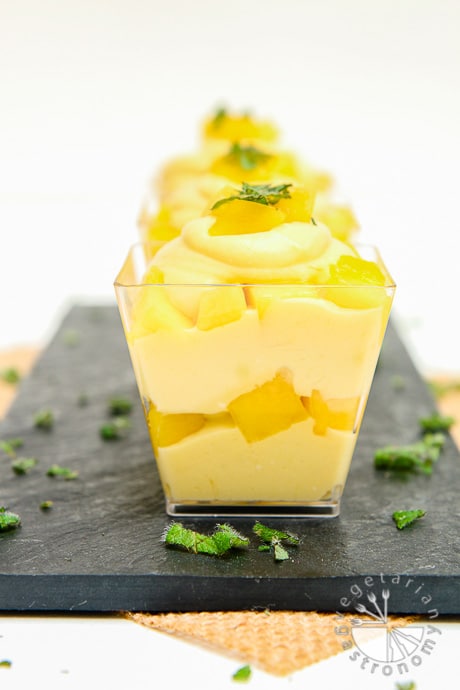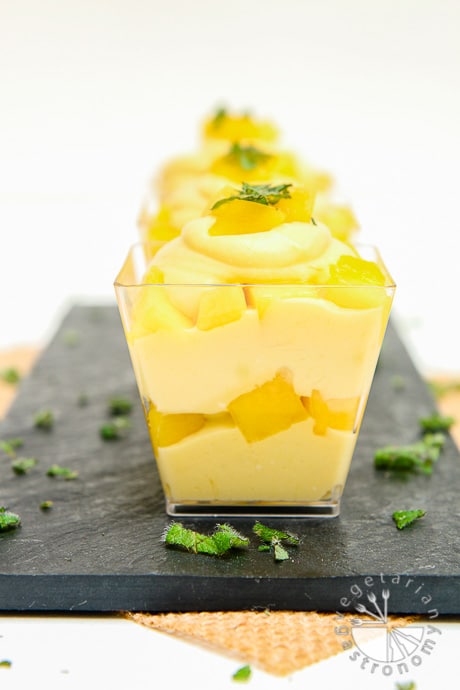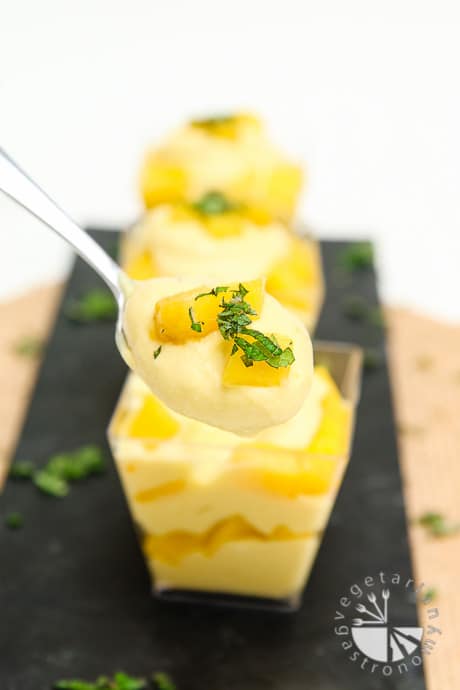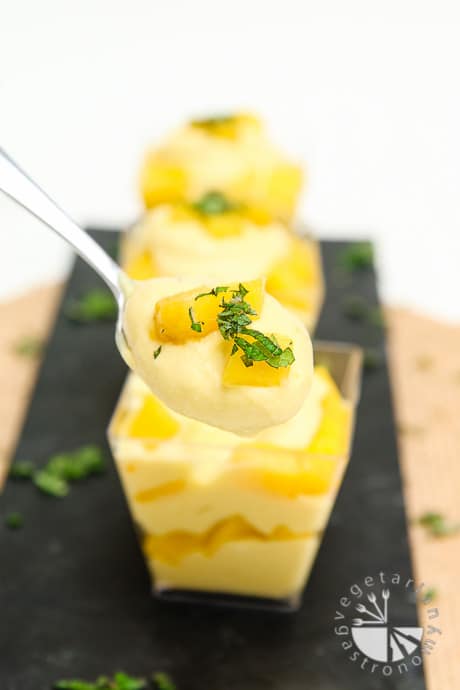 I kept the flavors pretty simple since I wanted to highlight the mango flavor as much as possible. The richness of whipped coconut cream, combined with mango puree, layered in between freshly diced mango pieces, and topped with a small amount of finely chopped fresh mint…I was in mango-coconut bliss once again!
In the process of developing this recipe, I also discovered that the Trader Joe's brand canned coconut cream works really well to make coconut whip cream! I typically use Thai Kitchen full-fat coconut milk, but the TJ coconut cream produces thicker coconut whip in my opinion. Since we now have a Trader Joe's that opened walking/biking distance away, I decided to try out their can of coconut cream for the first time, and it was awesome, to say the least! Thickened perfectly in the fridge with minimal liquid remaining. However, when I compared the ingredients of the TJ coconut cream to the Thai Kitchen Coconut milk, the Thai Kitchen brand does not have any preservatives and has fewer ingredients compared to the TJ coconut cream. I believe Thai Kitchen does make canned coconut cream, but I have yet to find some. So depending on your preferences and what you're using the coconut whip for, you may prefer one brand over another. Either way, both brands still work well in this recipe. Just be sure to use 2 cans of full-fat coconut milk for every 1 can coconut cream.
This Mango Mousse Parfait is very easy to make, requires simple ingredients, and tastes amazing! It's the perfect summer treat to make for your family, or to make ahead of time and serve as dessert for a dinner party. And if you're wondering where I got these super cute small square disposable mini party cups, it was here from Amazon.
Grab a mango and a can of coconut cream and make this today! If you do, be sure to let me know in the comments below, and tag me on Facebook or Instagram @vegetariangastronomy , #vegetariangastronomy, so I don't miss it!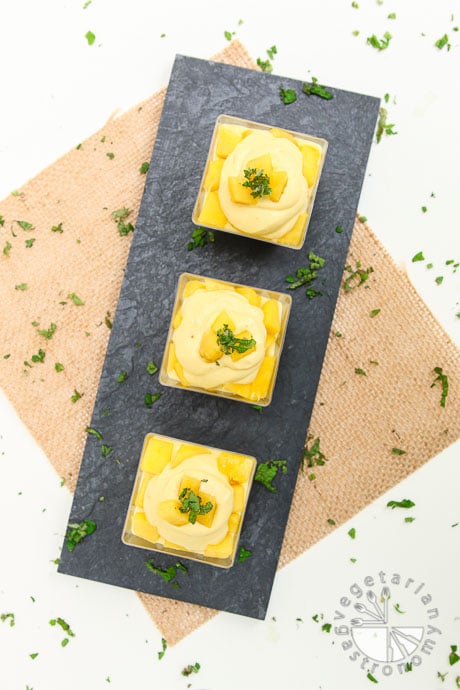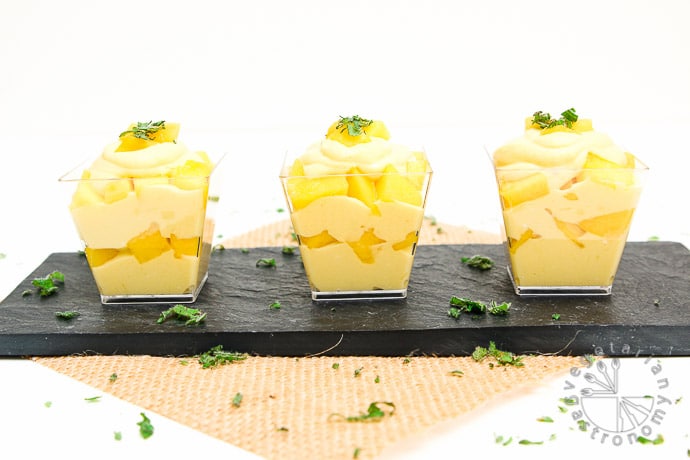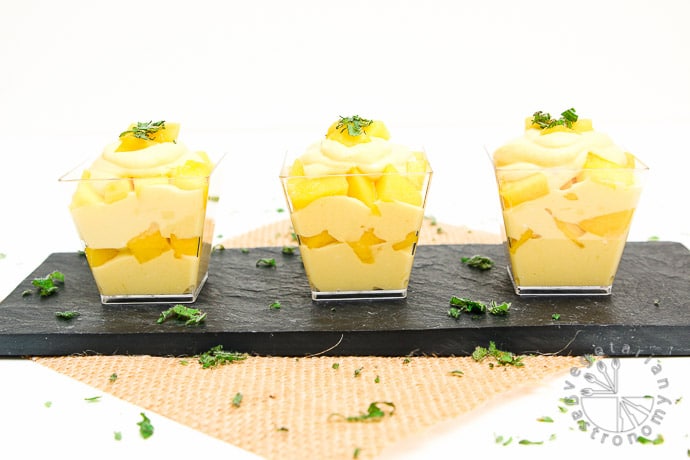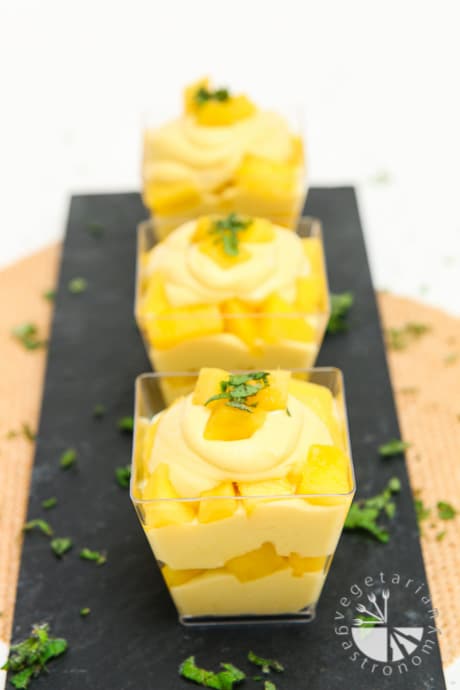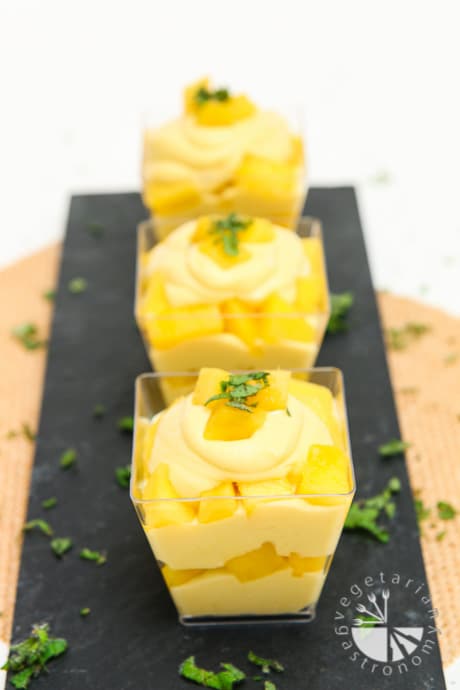 One year ago: Crispy Garlic Fried Brown Rice w/Kale (v,gf)
Three years ago: Greek Style Eggplant-Pita Sandwich (v,gf)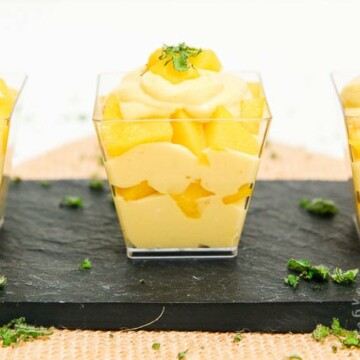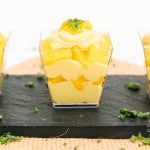 Print
Mango Mousse Parfait
Layers of creamy vegan mango mousse paired with fresh delicious pieces of mango!
Servings:
10
mini disposable square party cups
INGREDIENTS
14

oz.

coconut cream

, or TWO 14-oz. cans Thai Kitchen Full-Fat Coconut Milk (see notes below), placed in the fridge ahead of time for at least 24 hours

3

large

ripe mangoes

, should yield ~2 cups pureed mango pulp

1/4-1/2

teasp

lemon juice

2

tbsp

powdered sugar

, see notes below for substitutions

fresh mint

, finely chopped

fresh mangoes

, finely diced

mini square party cups

, optional for serving
INSTRUCTIONS
To Make Coconut Whip Cream:
Chill a small-medium size bowl in the freezer for a few minutes.

Once you are ready to whip, remove the can(s) of coconut cream (or

full-fat coconut milk

) from the fridge without shaking it. Slowly flip the can over and open it.

Remove any coconut water into a cup (the part that did not solidify), and scoop out the solidified coconut cream into the chilled bowl. The coconut liquid will not be used in this recipe.

If using full-fat coconut milk, repeat and scoop out the solidified coconut cream from the second can as well.

Using a stand mixer or a electric hand mixer and beat until fluffy. Start on low speed and work your way up to a higher speed until you start to see stiff peaks forming.

Half way through, add the powdered sugar and continue to beat. You should end up with about

2 1/2 cups

coconut whip cream. (Note - depending on how sweet your mangoes are, you may need more powdered sugar. I had sweet mangoes and therefore only needed

2 tbsp

of the powdered sugar.).

Place the mixing bowl with the prepared coconut whip cream in the fridge until the mango puree is ready.
To Prepare the Mousse:
Peel the three large mangoes and completely puree the pulp in a blender with the small amount of fresh lemon juice (I used my

Vitamix

). You should have about

2 cups

of pureed mango. Place in the fridge to chill for 10 minutes.

Remove the pureed mango and coconut whip cream from the fridge. In batches, slowly fold the mango puree (~

2 cups

) into the coconut whip cream (~

2 1/2 cups

) using a rubber spatula. Be sure not to whisk or mix fast.

Once the mango puree is completely folded in, refrigerate the mousse for a minimum of 2 hours in the mixing bowl.
To Make the Parfait:
Remove the mousse from fridge. Fill a ziplock bag with the mango mousse, and cut off one corner of the bag to create a pipping bag (or simply use a standard pipping bag with circular large tip).

In each serving cup, pipe a layer of the mango mousse, followed by a layer of freshly diced mango. Repeat with as many layers as you wish, ending with some diced mango. Top with some finely chopped mint. Repeat to make more servings of the parfait.

Enjoy immediately, or place the prepared mango mousse parfait back in the fridge until ready to serve!
NOTES
Coconut Cream - Trader Joe's Can Coconut Cream works great for making coconut whip cream, but does have a few more ingredients compared to Thai Kitchen brand full-fat coconut milk (which has no preservatives). Depending on your preference, both work just as well, just be sure to use TWO cans if you decide to go with Thai Kitchen full-fat coconut milk so that you have plenty of coconut cream (the thicker more solidified part).
Ratios - Be sure you have ~2.5 cups coconut whip cream and ~2 cups mango puree before you fold them together to make the mousse. If your amounts vary significantly from this, it may affect texture and taste.
Sugar - I prefer using powdered sugar for this recipe, but if you are looking for a no-refined sugar option, you can use pure maple syrup instead of the powdered sugar. If using maple syrup, it may affect the consistency of the mousse slightly since you are adding additional liquid into the mix, but this option should still work fine with this mousse.
NUTRITION
Calories:
137
kcal
|
Carbohydrates:
4
g
|
Protein:
1
g
|
Fat:
13
g
|
Saturated Fat:
12
g
|
Sodium:
1
mg
|
Potassium:
128
mg
|
Sugar:
1
g
|
Vitamin C:
1.2
mg
|
Calcium:
4
mg
|
Iron:
0.9
mg
[subscribe_box]