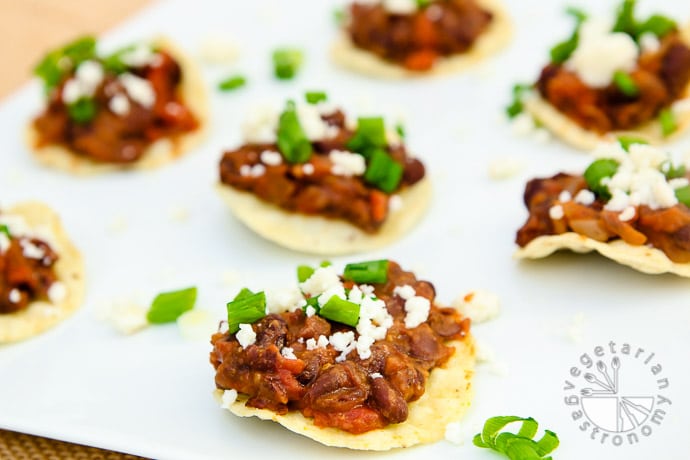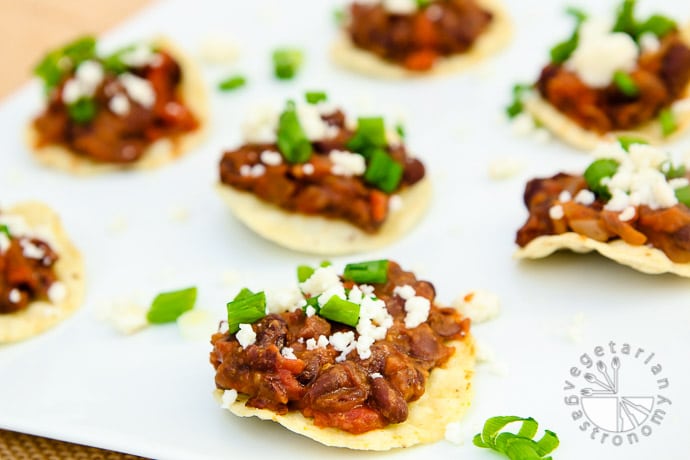 When I think of bite-sized appetizers, they need to be flavorful, encompass an assortment of textures, and be relatively mess-free. These Mini Tostadas are just that! I first came up with them when planning my menu for our annual Holiday Party, where we like to come up with an assortment of bite-sized appetizers from light to filling, and from a variety of different cuisines. In addition to my Freshly Baked Jalapeno Poppers, I needed to come up with another Mexican-inspired appetizer. Well these Mini Black Bean, Fire Roasted Tomato, Corn, & Spinach Tostadas made their way onto our menu for 2014, and they were such a huge hit that I decided they deserved a post of their own.
This recipe was inspired by the Black Beans and Roasted Onion/Bell Pepper Soft Tacos from Vegetarian Times that we make on a regular basis, although I needed to come up with something mess-free, with fewer ingredients and more flavor, that could be eaten in one bite. So I thought of making mini tostadas. I searched a few markets to try and find mini tostada shells, but had no luck. I found some mini corn tortillas, but didn't feel like frying or baking them myself. So, I decided to use yellow tortilla chips. I've worked with the cup-shaped tortilla chips before to create a bean-based appetizer with Indian flavors (recipe to come soon), but ended up going with some round yellow corn tortilla chips to stick with the tostada shape. I made sure to buy ones that were lightly salted, since I wanted most of the flavor to come from the toppings themselves. I wanted to keep my toppings to a minimum, so decided to focus on perfecting the beans. I adapted the Black Beans from the taco recipe and added a few more ingredients to up the flavor-profile and spice things up a bit. Instead of adding my favorite hot sauce, Cholula, on top, I simply added it directly to the beans which worked out perfectly. I also added freshly chopped spinach, sweet corn kernels, and some additional seasoning directly into the beans to up the texture and flavor, while keeping things mess-free.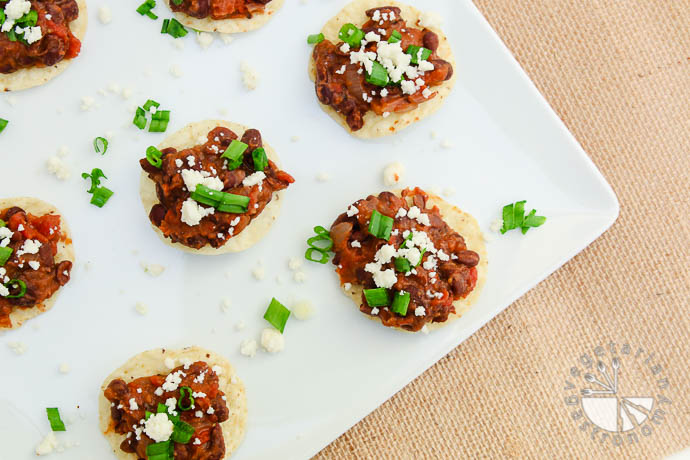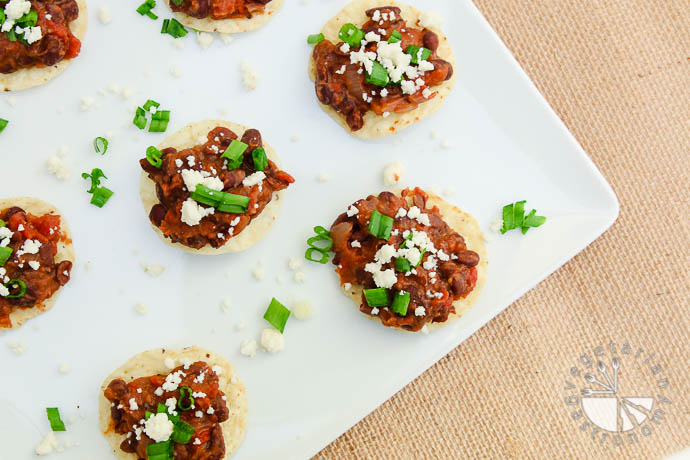 The beans themselves turned out exceptionally delicious! I can easily see myself satisfied by a simple layer of these beans, but I decided to top it off with some finely chopped green onions for color, raw flavor, and texture to go along with the chunky beans and crispy round chip. My husband enjoys these with some crumbled queso fresco or cotija cheese (the version we served at the party), but I actually love them without cheese. I also appreciate how you can make these beans and chop the green onions ahead of time and simply assemble when ready to serve.
Whether you're planning a Mexican-themed dinner party, serving an assortment of appetizers, need a quick and filling side-dish, making a light lunch for yourself, or taking an appetizer for a potluck, these Mini Tostadas are amazing and a definite crowd pleaser!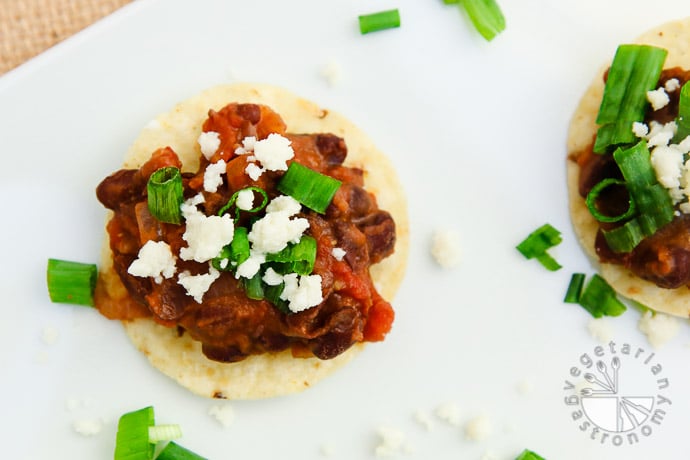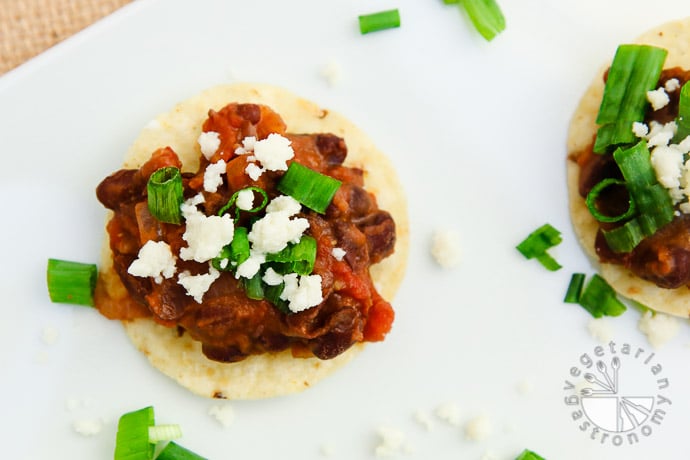 It's always wonderful to hear from my readers and followers in the comment section below. So if you make this recipe or even simply like the idea of the recipe, I'd love to hear from you. It's also a great way for me to get feedback so that I know how you like the recipes, whether you are eating or making them. You can give any feedback below, or you can also tag me on Instagram if you make one of the recipes @veggastronomy , #vegetariangastronomy, so I don't miss it.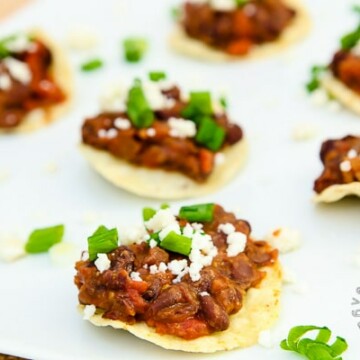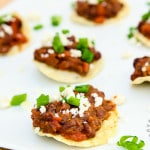 Print
Mini Black Bean, Fire Roasted Tomato, Spinach Corn Tostadas (vegan, gluten-free)
These mini bites are the perfect flavor packed appetizers to start the night off!
INGREDIENTS
For the Fire-Roasted Black Beans:
For the Mini Toastadas
round yellow tortilla chips

green onions

, finely chopped

vegan crumbled cheese

(optional) to top
INSTRUCTIONS
To Make The Beans:
In a medium non-stick pot, heat the olive oil on medium heat.

Add the minced garlic and saute until fragrant (~30 seconds). Add the chopped onions and cook until they start to become transluscent.

Add the black beans, fire-roasted tomatoes, ground cumin, water, and hot sauce (to taste). Add the smoked paprika (if using), a dash of freshly ground black pepper, and salt. Mix and combine well.

Bring the pot of beans to a simmer, then lower the heat, enough to maintain a gentle simmer.

Simmer and reduce the bean mixture until it is reduced by about a 1/3, most of the water has evaporated, and the beans start to become thick in consistency (~15 minutes). During this time, be sure to mix frequently.

Using a hand masher, mash the beans mixture in the pot to help thicken them, but be sure to keep the mixture chunky and most of the beans intact.

Add the freshly chopped spinach and frozen corn kernels.

Simmer again on low for about 10 minutes or until you reach a desired thickness and consistency for the beans and all the spinach has cooked in.

Season with freshly ground black pepper, salt, and Cholula hot sauce to taste.
To Prepare Mini Toastadas:
Prepare a serving tray with a single layer of yellow round in-tact tortilla chips (to act as mini-tostadas). Note that the tortilla chips do not need to be completely flat, but flat enough so that they can be layered on top.

Spoon about 2 tbsp of the bean mixture on top of each mini tostada shell.

Top each with chopped green onions and crumbled vegan cheese topping (if using).

Serve!
NOTES
Make-Ahead Tip - The beans can easily be made ahead of time (1 or 2 days prior to serving) and kept in the fridge.
NUTRITION
Calories:
63
kcal
|
Carbohydrates:
10
g
|
Protein:
2
g
|
Fat:
1
g
|
Sodium:
184
mg
|
Potassium:
142
mg
|
Fiber:
2
g
|
Vitamin A:
210
IU
|
Vitamin C:
2.3
mg
|
Calcium:
29
mg
|
Iron:
1.1
mg
[subscribe_box]