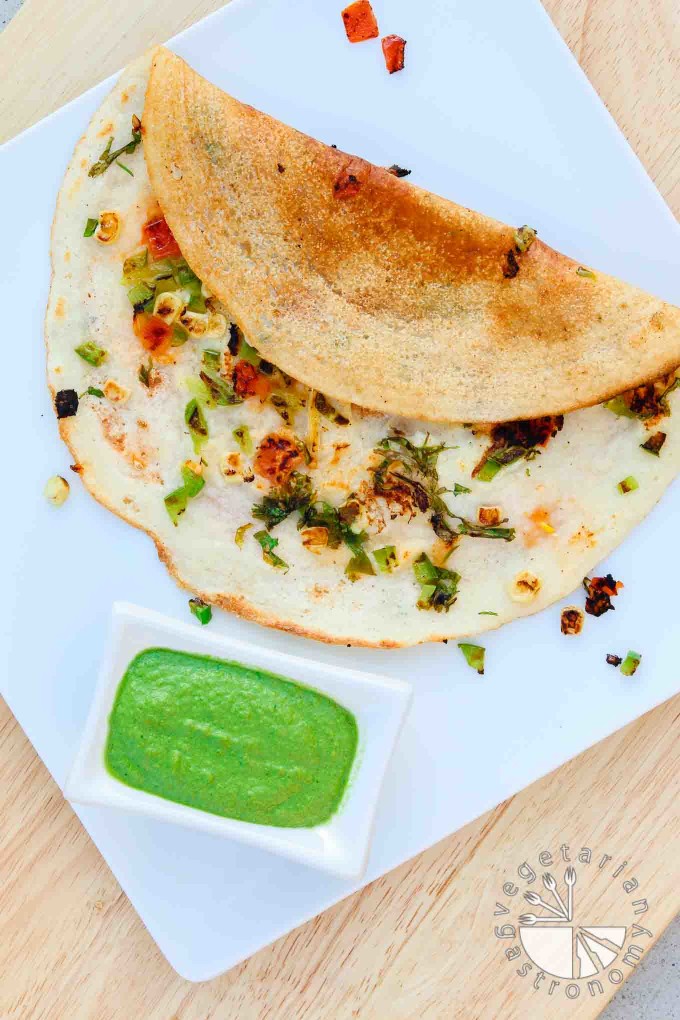 Hi Everyone! First off, I'm extremely sorry for the lack of posts over the past 2-3 weeks, but I had a really good excuse…you're looking at it! Vegetarian Gastronomy had a make-over, and I've been hard at work getting my newly designed site up and running. I'm excited to say that although it is definitely still a work in progress, the new site is LIVE and I hope you love it as much as I do. It is now much more functional, user-friendly, works great on mobile devices, and has a fresh clean new look. If you've been following me since the beginning, you'll notice that although it looks different, the overall structure of the site is still very similar. And if you're fairly new to the site, then welcome! There are a few features that are a work in progress (as you will see when you browse the site), and I hope to complete them within the next few weeks, if not sooner. Some of these include:
School Lunch Idea Gallery
SHOP Page (My favorite products, most of which you will find in my own kitchen)
Meal Plans
Monthly Newsletters
Until then, enjoy the new site! Browse through the different sections, check out my new RECIPES page, and let me know what you think about the new site in the comments below! I'd love your feedback and suggestions. And now I have to make it up to you guys for the 3 weeks I was out, so I hope you're ready for some amazing NEW recipes coming your way, starting off today with one of my favorites, and the dish many of you have been waiting for!
It's My Mom's Dosa Recipe! I am so excited to finally be sharing this recipe with you! If you follow me on social media, I'm sure you must have heard me mention it or share a pictures of this dish. It's very simple and I've been making it for YEARS, so I am not sure why it's taken me this long to post it. Dosa, a savory crepe made from rice and lentils. It's a traditional South Indian dish, and a favorite of mine since I was a child. This awesome recipe was passed along to me by my Mom. She's been making them at home for as long as I can remember, slowly changing the recipe along the way, making them healthier and perfect in taste and texture.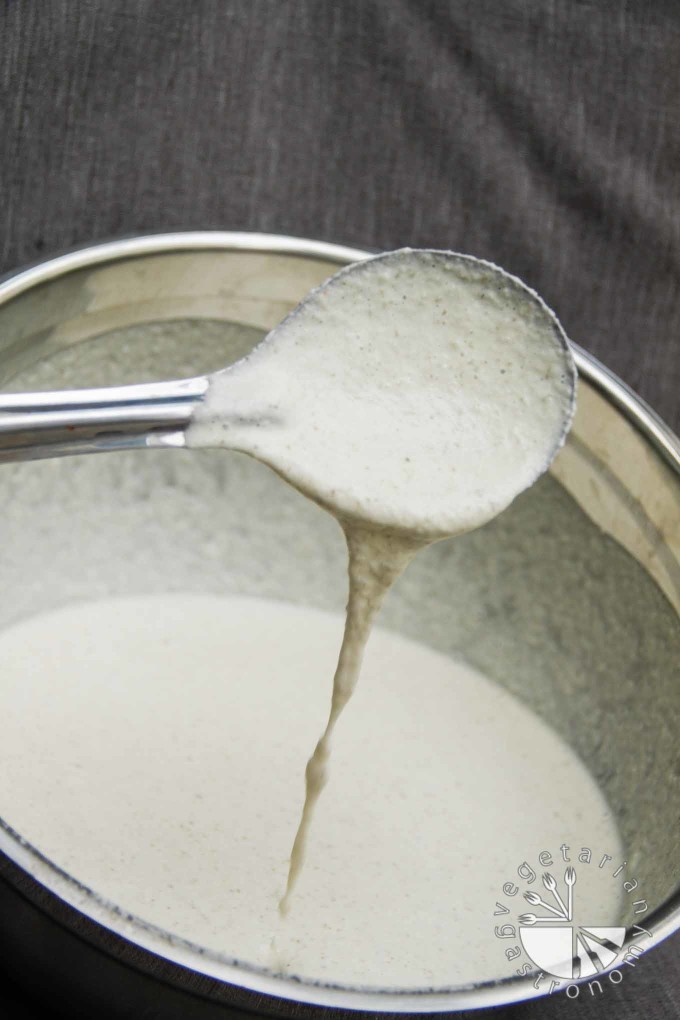 I really don't know where to start when talking about Dosa. I simply love it!
I love how quick and easy it is to prepare the batter, how healthy it is, and all the different ways in which you can enjoy it. But most importantly, I love how it's everyone enjoys it. To this day, I don't think I've met a single person who doesn't like Dosa (but if you are one of those people, I'd love to know why???). Did I mention that the batter is also freezable? Yep, it is. This is a great meal for the family, and if you ask my 3 and 5 yr old what they want for dinner, their answer will most definitely be, "Can you make DOSA?!".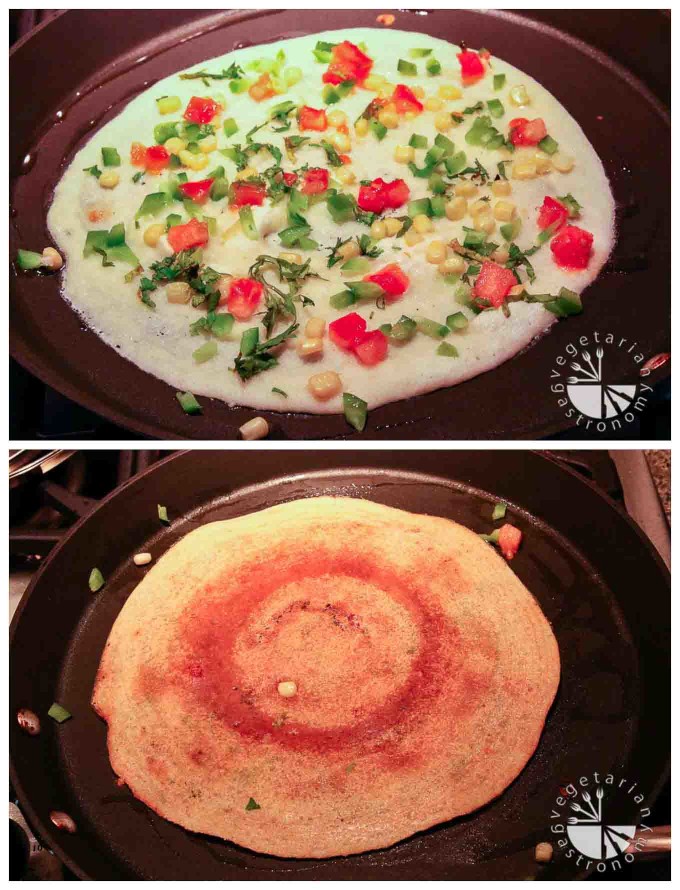 Once you have the basic Dosa batter made, you can do so many things with it:
Plain Dosa (shown below) – Thin Dosa served with a side of your favorite chutney (such as Cilantro Peanut Chutney), sauce, or vegan butter (which is what my kids enjoy).
For Kids – Shred some veggies such as zucchini/squash and carrots into the batter before making the Dosa to add more nutrition.
Masala Dosa – Stuff it or serve it with a side of Lemony Potato Masala. You can also stuff it with any of your favorite savory fillings and it should taste great (such as curried vegetables, sauteed purple cabbage with some tamari and hot sauce, etc.)
Uttapam Dosa (shown above) – Make a slightly thicker Dosa and top it with some finely chopped cilantro, jalapenos, bell peppers, tomatoes, onions, and/or corn while cooking on the pan.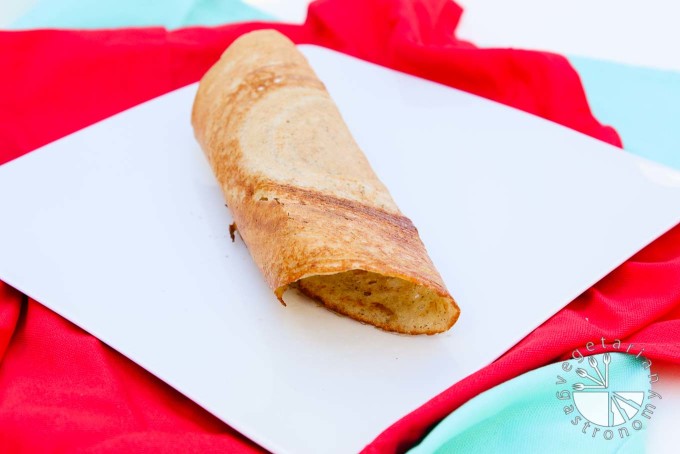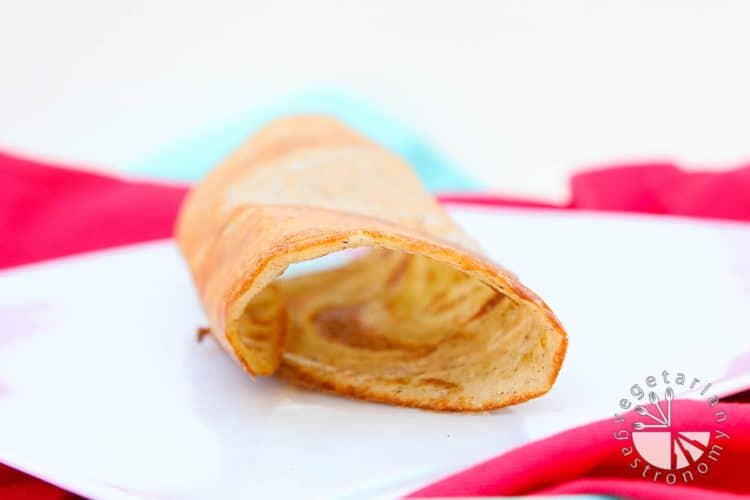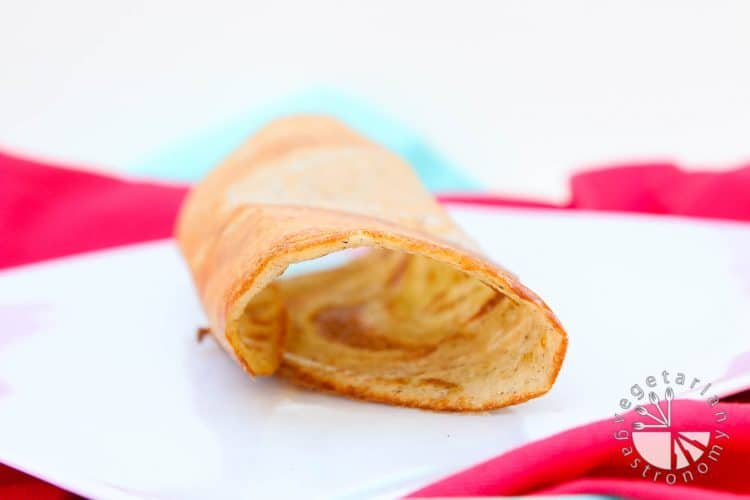 You can see that this dish is very versatile. I've had all the versions listed above, and enjoy every one of them. It's also perfect to pack for your kids lunches. I make the batter ahead of time with shredded veggies, cook the Dosa before school, spread a little vegan butter on it, cut it up into pieces or roll it up, and pack it for their lunch. It's always a huge hit! Whenever my kids take Dosa, I know they will come back with empty lunch containers, which makes a mom like me very happy.
If you're looking at the recipe and thinking that you won't be able to perfectly pour and shape the batter, don't worry. It's very easy and doesn't require any special cooking tools or skills, just may take a little practice and a good non-stick pan. You can check out the pan I've been using for years on my SHOP Page, or here. The recipe itself is very easy, and I've tried to be as detailed as possible below in the directions. Plus, I made a video below to show you how I spread the batter (my very first video!).
So get to it! If you're a pro at making Dosa, then take this recipe and run with it. If you're a first timer, then make a small batch of the Dosa mix, and try your hand at making your very own home-made Dosa. If you try out the recipe, I'd love to hear from you in the comments below. Or tag me on Facebook or Instagram so I can see your creations.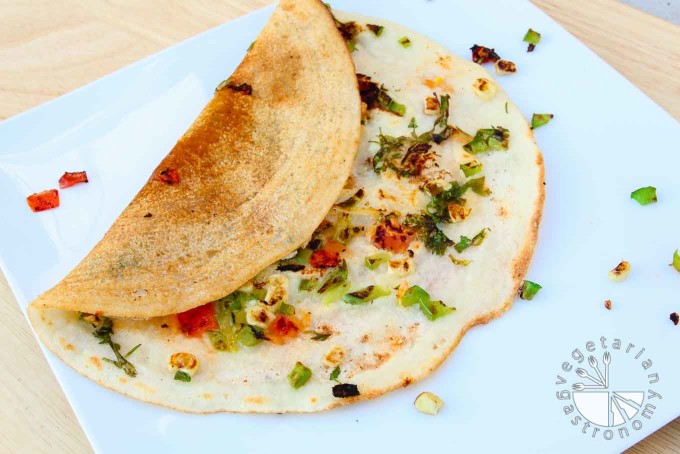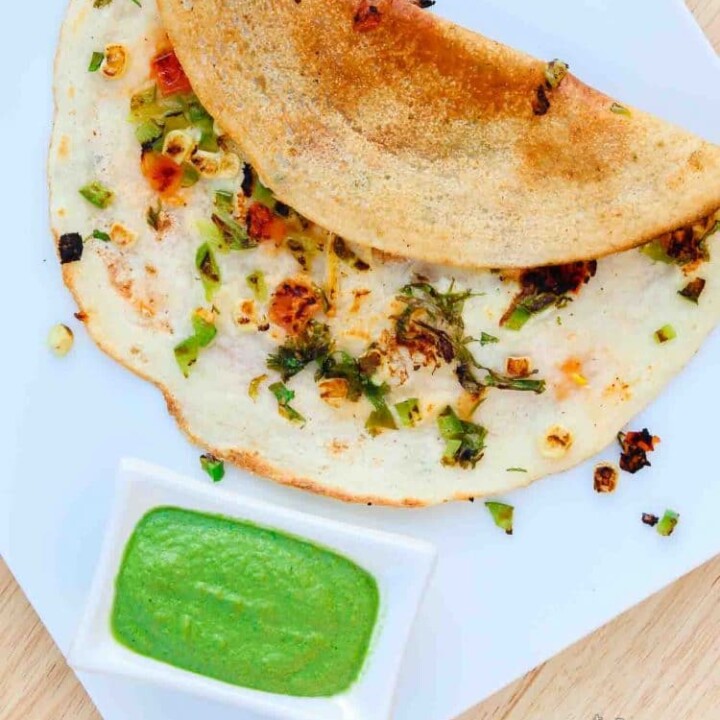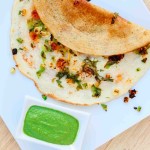 Print
My Mom's Dosa Recipe
3 ingredients and you have yourself a delicious healthy family-friendly savory dish! Enjoy it for breakfast lunch, or dinner, make it for school lunch, or freeze leftover batter for a quick meal!
INGREDIENTS
Optional Add-ins:
shredded carrots and zucchini or yellow squash

, for kids version

cilantro, onions, green jalapenos

, finely chopped
INSTRUCTIONS
To Make the Dosa Batter:
Combine the long-grain white rice, skinned and split urad dal, and green split lentils in a mixing bowl. Rinse them with water a few times, and soak them in enough water for at least 4 hours (I typically soak overnight if I remember).

After soaking, drain the lentils and rice and blend along with

1 cup

of water (I use my vitamix, but any blender will work just fine). Blend until mostly smooth but keep the batter a little grainy to give some extra texture when making the Dosa (if in doubt, you can just blend until completely smooth to be safe. Both ways will taste great as long as you don't have large pieces of rice and lentils still remaining in the batter).

You should have a medium-thick batter that is pour-able. If you feel your batter is too thick, add a little more water.

Transfer the batter into a deep bowl, add enough salt to taste (a good amount), and mix well.

At this point, most people will cover the batter and leave it at room temperature covered for 4-6 hours to allow it to ferment, but you can skip this step if you don't have time or care for the fermentation flavor. If you decide to ferment the batter, taste again for salt after it's done.

You now have the basic Dosa batter made. The key to making a good Dosa is working fast, having the right non-stick pan, and temperature control, otherwise your Dosa will stick to the pan. Read through the entire directions before starting.
To Make a Basic Plain Dosa (also see video in post):
Pre-heat your

large non-stick pan

on medium heat. Once your pan is pre-heated, sprinkle a little water on the heated pan and quickly wipe it off gently using a paper napkin (this step is very important).

Using a large spoon or ladle (make sure it's something easy to work with), pour a spoonful or two (more or less depending on the size of your spoon and pan) of the batter in the center of the pan. When you pour the batter on the pan, it should sizzle a little. But if the batter starts to bubble up quickly, the pan is too hot and it will be difficult to spread the batter out into a thin circle.

Using the bottom of the ladle, work very quickly and spread the batter outwards in a circular motion, starting from the center and working your way out to make a thin round dosa.

Drizzle a little cooking oil over the top and edges and a tiny bit in the middle of the dosa batter.

Cook on medium heat until the Dosa starts to brown and outer edges begin to look dry (about 2 minutes).

Using a spatula, carefully loosen the dosa from the pan, flip it over, and cook for an additional 1 minute. The bottom cooked part of the dosa (now facing up) should be nicely browned and crisp.

Repeat with the remaining batter to make 10-12 Dosas. Be sure to wipe the pan down quickly with a wet napkin in between each Dosa to control the temperature.

You can store any remaining batter the freezer and simply place it in the fridge 24 hours to defrost prior to using. Thin with water if necessary.

Here are several options on different types of Dosa you can make once you have your batter. Variations to this traditional Basic Plain Dosa recipe are outlined below.
Variations of Dosa:
For Kids

- Mix in some finely shredded carrots, zucchini, and/or yellow squash into the batter prior to making the Dosa. Depending on how many veggies you add in, you may need to spread the Dosa slightly thicker.

Utapam - Once you pour the batter onto the middle of the pan, make a slightly thicker Dosa. Immediately sprinkle some finely chopped onions, cilantro, corn, tomatoes, and/or fresh jalapenos on top before the Dosa starts to cook so that it will stick to the spread Dosa batter. Then continue to follow the instructions as indicated above.
NOTES
Making Dosa - If this is your first time making Dosa, you may have a few trial and errors before you perfect the process, but I promise it's VERY simple once you get it, and super easy to make!
Start off by making a small Dosa and work your way up.
This recipe is very simple and basic, but I've tried to be as detailed as possible in the directions above on troubleshooting and how to create the perfect Dosa.
The key is to work fast after you pour the batter, get a handle on pan temperature control, and dont' worry if you don't get it right on your first try!
Don't forget to check out my Dosa video embedded in the post above for reference.
Fermenting - If you are planning to ferment the Dosa batter, I recommend making it ahead of time.
Make-Ahead Tip - Make the batter ahead of time and store in fridge for up to 1 week! You can also freeze leftover batter and simply defrost in fridge 24 hours prior to using.
Nutritional Information - Correlates to a Basic Plain Dosa.
NUTRITION
Calories:
94
kcal
|
Carbohydrates:
18
g
|
Protein:
4
g
|
Sodium:
2
mg
|
Potassium:
17
mg
|
Fiber:
2
g
|
Vitamin C:
0.5
mg
|
Calcium:
12
mg
|
Iron:
1.1
mg