Bite into a gooey rich indulgent homemade date caramel, followed by a perfectly constructed pistachio chewy bar, all coated with dark chocolate. This easy vegan chocolate bar is made with only 5 ingredients, no-bake, and gluten-free!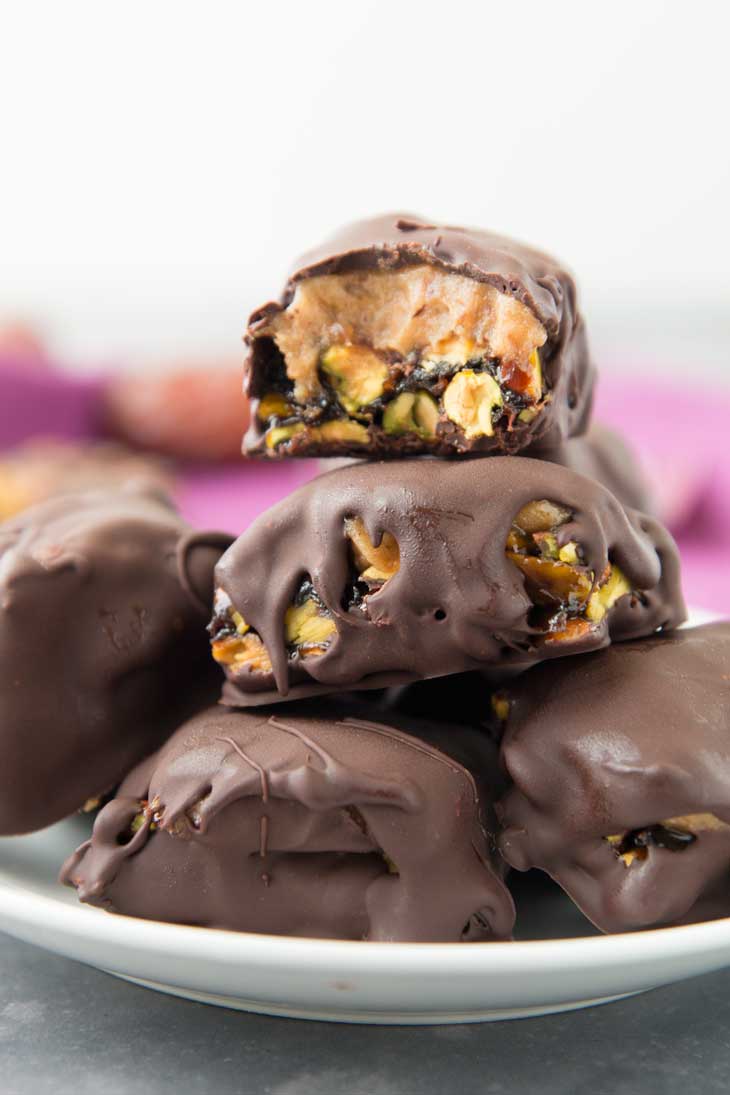 This post was sponsored by Setton Farms, but the opinions and text are fully my own.
Craving something sweet? A piece of candy perhaps?
Then you'll love this vegan chocolate bar, made with a simple homemade date caramel, dark chocolate, and one of my favorite combinations…Pistachio + Plum Chewy Bites by Setton Farms!
Imagine biting through a gooey rich indulgent homemade caramel, followed by a perfectly constructed chewy bar made from pistachios, dried plums, and dates, and finished with a rich coat of dark chocolate!
Pistachio Chewy Bites
Setton Farms approached me last year to try out their line of pistachio chewy bites. With their clean ingredients, travel size packaging, and delicious combinations, who could resist! Here's why I like them so much:
Contain over 50% pistachios
Individually wrapped
Bite-sized
Loaded with protein, fiber, potassium, iron, & antioxidents
Vegan
Non-GMO
Certified gluten-free
No additives/preservatives
All these things plus the fact that they're delicious, makes them the perfect on-the-go healthy snack!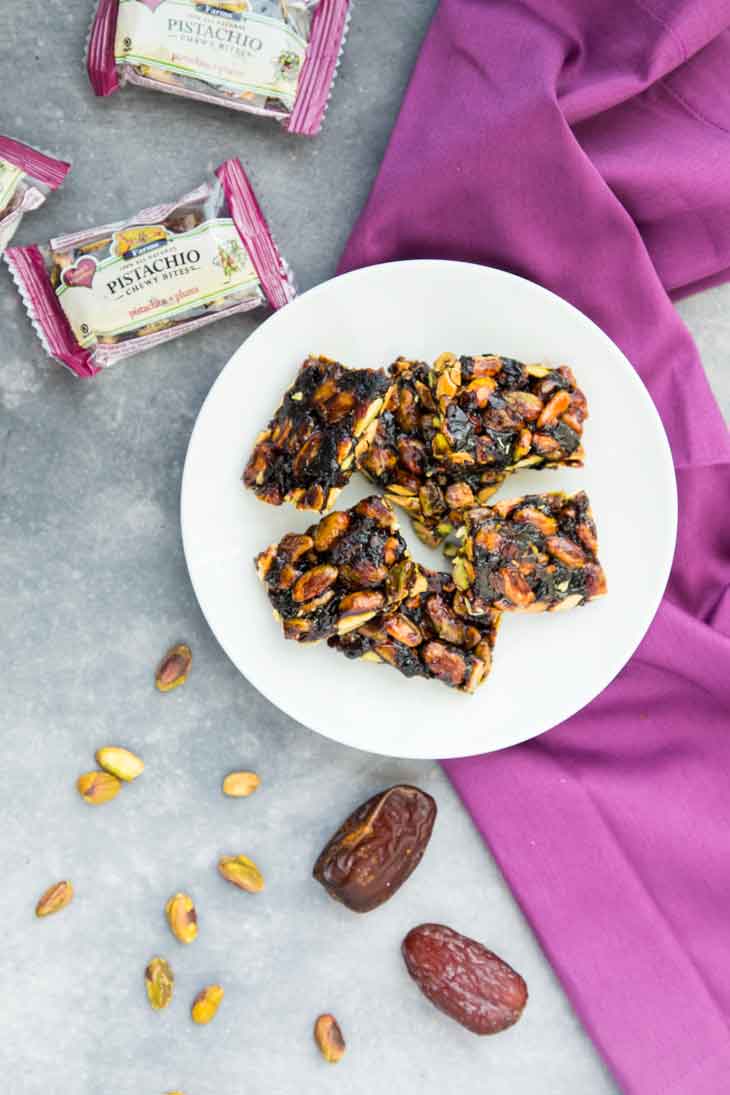 My family loves both previous varieties of the chewy bites…
Pistachio + Cranberries with agave nector
Pistachios + Blueberry Infused Cranberries with coconut
So when they came to me this year with their newest variety, I was excited to try them out…Pistachio + Plum chewy bites! They're are packed with pistachios, plums, date nectar, and a touch of lemon!
Although this time, instead of just enjoying them as a grab-and-go snack, I used them to create the most indulgent delicious healthy chocolate candy bar!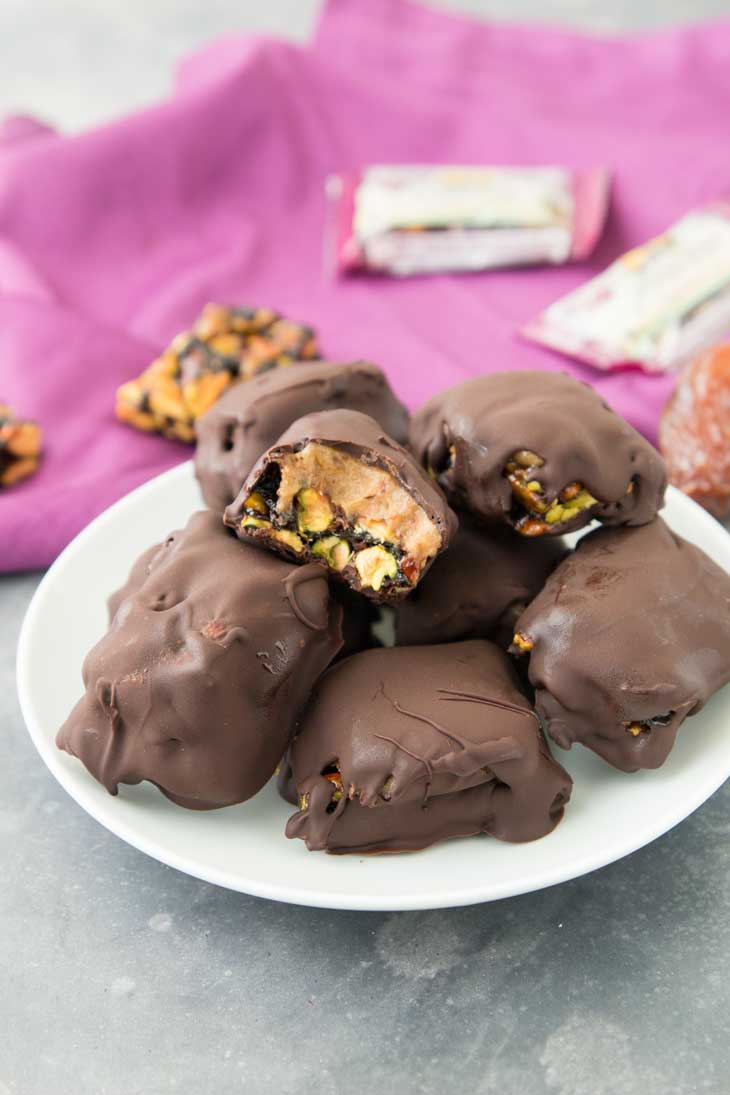 Chewy Vegan Chocolate Bar with 2-Ingredient Date Caramel
It's been awhile since I've had a chocolate candy bar that I love. And sine I've been loving Setton Farms Pistachio + Plum chewy bites, I thought why not make them into my own version of a vegan chocolate bar!
These bites are already quite chewy. And with the pistachios in them, I already had the nut element. So what would pair well with a chewy nut-based bite? A gooey delicious caramel layer of course!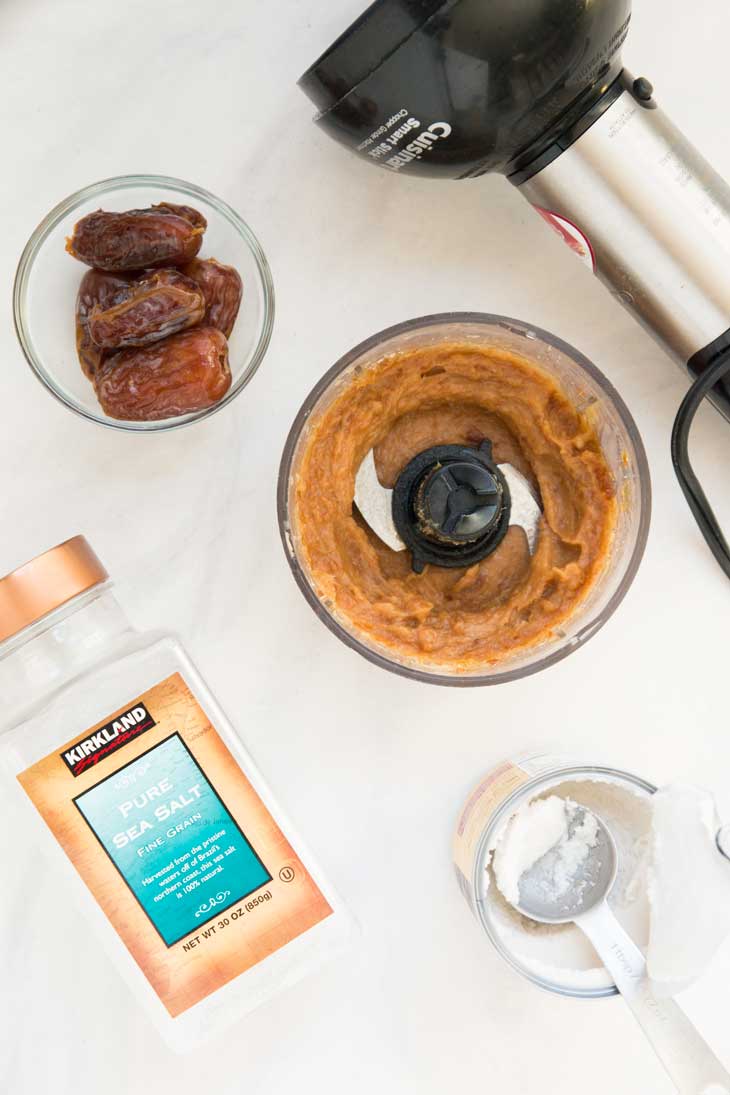 Since the chewy bites contained date nectar, I used a few home-grown dates to make a simple, yet delicious date caramel. This date caramel comes together with just 2 main ingredients and doesn't require any cooking.
How To Make No-Bake Vegan Chocolate Caramel Bars with Pistachios & Dried Fruit – Step By Step
To prove to you just how easy this vegan chocolate bar recipe is, here are the 5 ingredients you'll need:
dates
coconut milk
Setton Farms pistachio + plum chewy bites
dark chocolate
coconut oil
To make the date caramel, soak the pitted dates in water for 30-60 minutes, then blend with a little coconut milk, sea salt, and a tiny bit of water. Then spread the date caramel evenly into a parchment lined square dish and freeze until the caramel firms slightly and is easy to slice and work with.
Cut the date caramel into squares the size of the pistachio + plum chewy bites. Layer each date carmel square on top of the pistachio chewy bites and place in the freezer for another 30 minutes.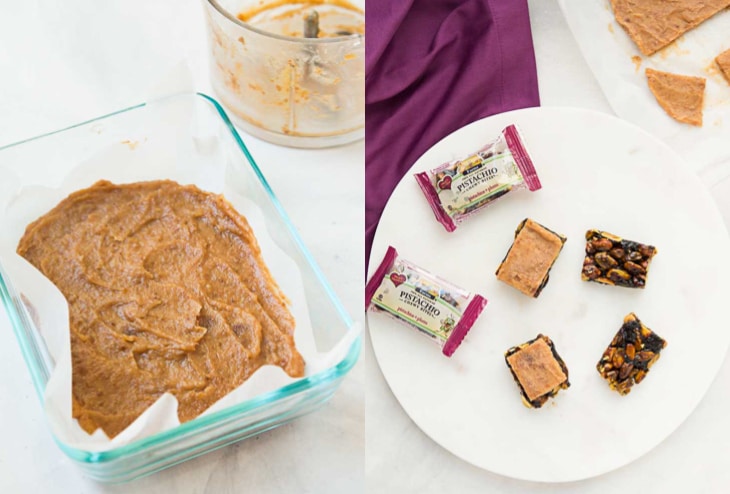 Melt some dark chocolate, and dip the chewy bites + caramel into the chocolate using a fork or spoon and refrigerate until the chocolate hardens.
Store in the fridge and try to keep yourself from devouring all the vegan chocolate bars in one day!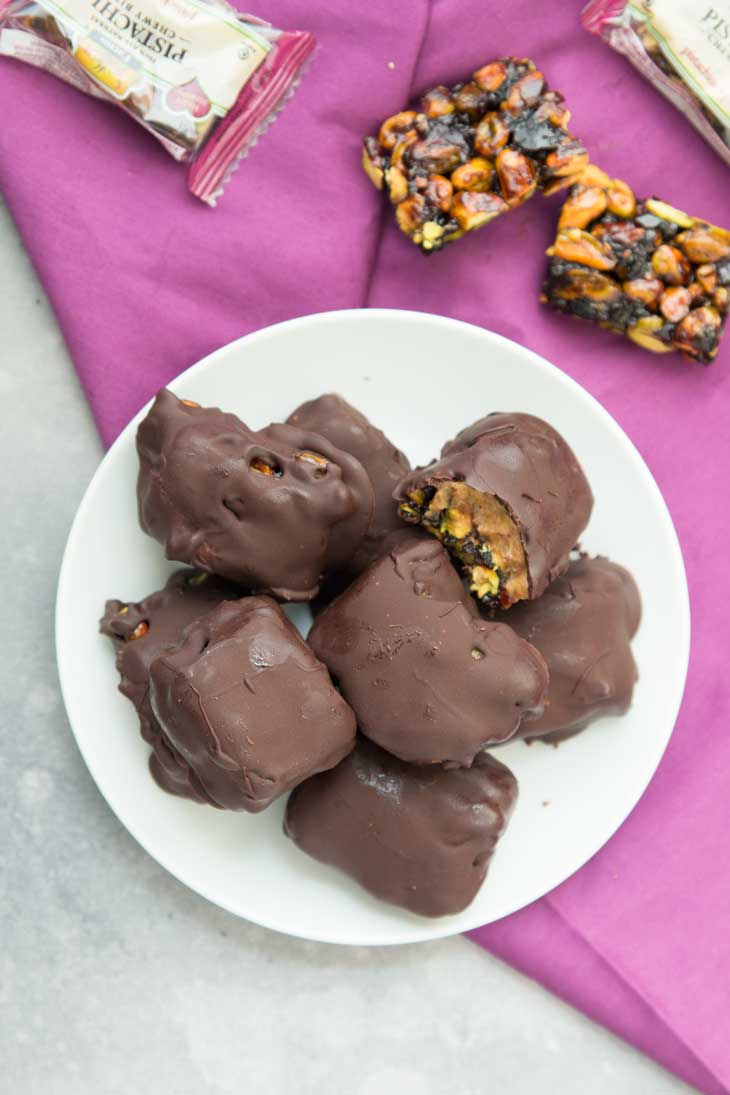 I devoured most of the first batch myself!!! Then I felt guilty for not sharing with my family and made another batch later that week. The kids loved them!
That gooey rich caramel, followed by the pistachio chewy bites, all surrounded by rich dark chocolate is my idea of the perfect vegan chocolate bar.
Grab any variety of pistachio chewy bites online or in select stores, enjoy them as a grab-and-go snack, and use the rest to make these homemade chocolate caramel bars! Setton Farms also makes the best flavored pistachios to snack on…chipotle BBQ, chili lemon, jalapeno, and my favorite…salt & pepper!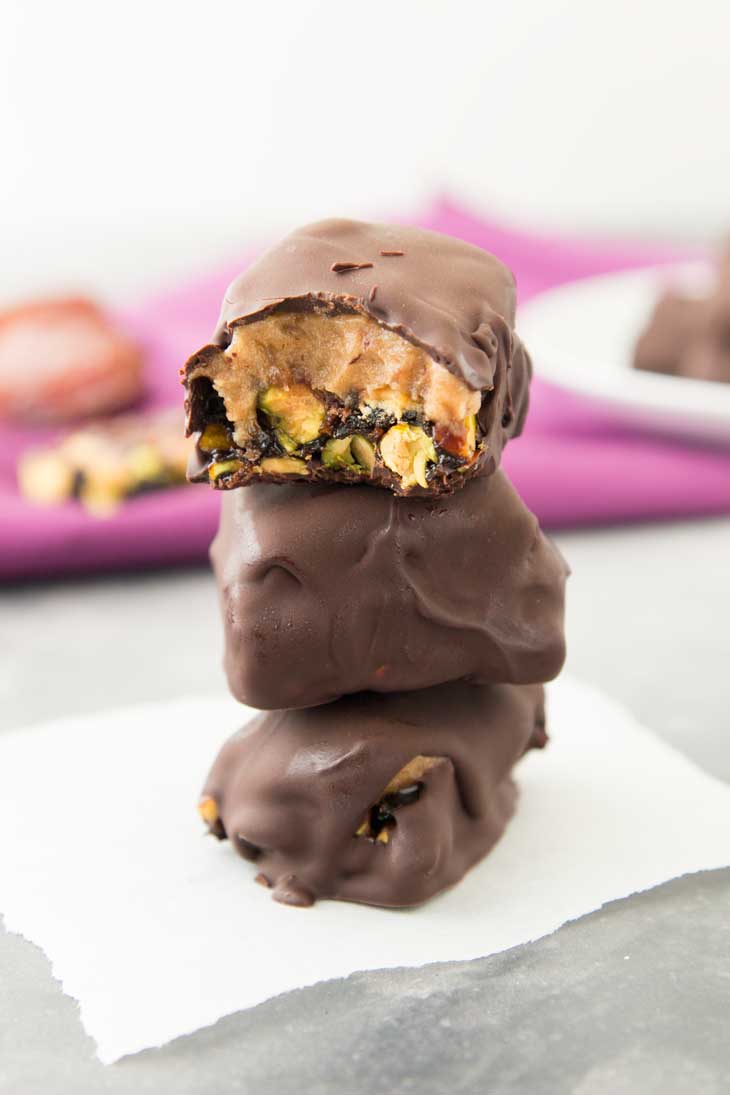 If you like this recipe or post, be sure to leave a comment and use the rating field! You can also tag me on Instagram with any re-makes, @vegetariangastronomy so I don't miss it, as I love sharing them on Re-Make Fridays! Or you can help me spread the word about my recipes on Pinterest and Facebook!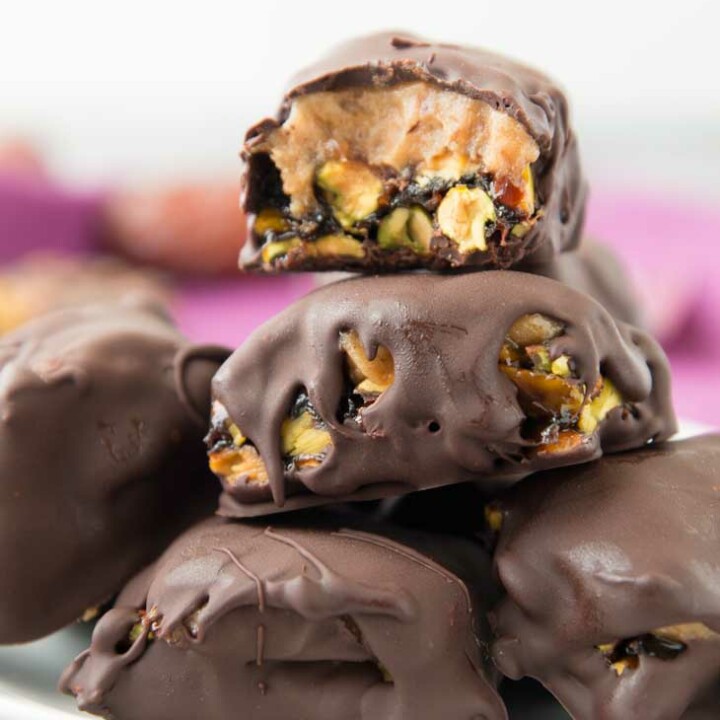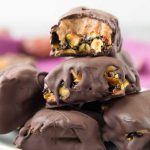 Print
No-Bake Vegan Chocolate Caramel Bars
Bite into a gooey rich indulgent homemade date caramel, followed by a perfectly constructed pistachio chewy bar, all coated with dark chocolate.
INSTRUCTIONS
To Make The Date Caramel:
Drain the water out of the pitted soaked medjool dates.

Add all the ingredients for the date caramel into a mini food processor.

Blend/pure until completely smooth. You will need to stop and push the contents down a few times to allow it to fully blend into a smooth date caramel-like paste.

Line a small square pan with parchment paper.

Empty the data caramel paste into the pan and smooth out into a thin layer about 1/4-1/2" thick.

Place in the freezer for 2-4 hours until it's solidified slightly, enough to cut into rectables and pick up.
To Make Chocolate Caramel Bars:
Open all the pistachio chewy bites and payer them on top of a parchment lined baking sheet.

Remove the date caramel from the fridge. Take out the parchment paper with the thin layer of date caramel. Quickly but carefully slice it into rectangles the size of the chewy bites.

Using a knife or spoon, pick up each rectangular piece of date caramel and layer it on top of each pistachio chewy bite.

Place the sheet in the freezer while you prepare the chocolate.

Using a double broiler, add the chocolate chips and coconut oil and stir with a spoon until the chocolate chips are close to melted.

Remove from heat and stir the chocolate mixture until it becomes smooth pourable melted chocolate.

Remove the baking sheet from the freezer.

Working quickly, place each pistachio chewy bite/caramel bar on a fork and dip into the melted chocolate while using a spoon to pour the chocolate on top. Cover the entire bar and place back on the baking sheet.

Repeat with the remaining bars until they are all coated with chocolate.

Place in the fridge until the chocolate solidifies.

Enjoy immediately or store in an airtight container in the fridge.
NOTES
You can use any variety of Setton Farms Pistachio Chewy Bites.
Date Caramel - This date caramel layer will become soft as it gets to room temperature so work quickly when cutting and layering them on the bar.
NUTRITION
Calories:
178
kcal
|
Carbohydrates:
24
g
|
Protein:
2
g
|
Fat:
9
g
|
Saturated Fat:
4
g
|
Polyunsaturated Fat:
1
g
|
Monounsaturated Fat:
1
g
|
Sodium:
5
mg
|
Potassium:
77
mg
|
Fiber:
2
g
|
Sugar:
18
g
|
Vitamin A:
40
IU
|
Calcium:
36
mg
|
Iron:
1.7
mg
This post was sponsored by Setton Farms, but the opinions and text are fully my own.