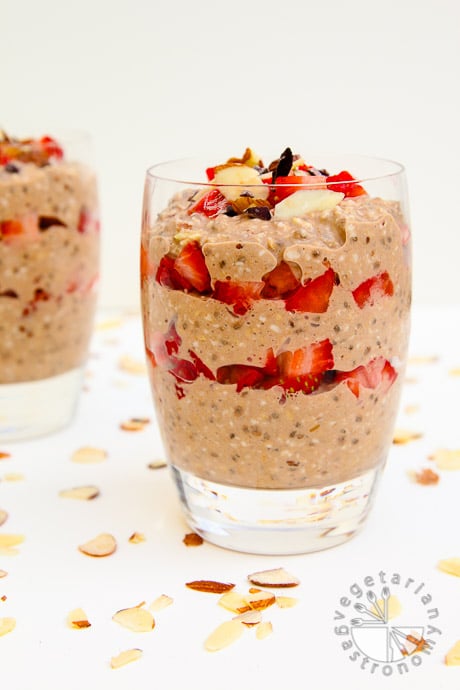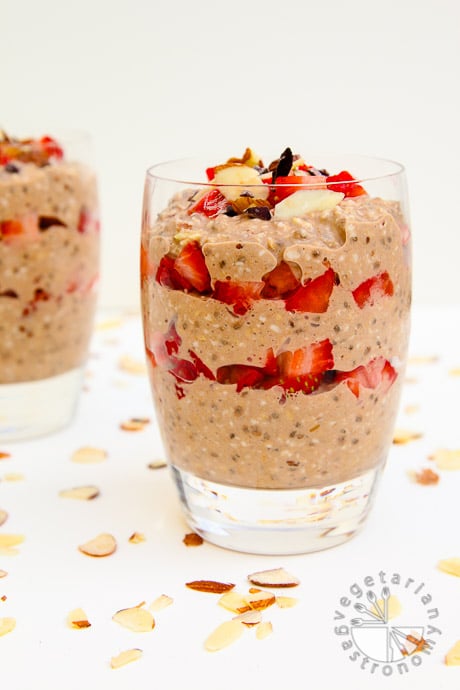 I've developed many delicious recipes over the past few weeks, but can't seem to find the time to push them out fast enough! It's a great problem to have, but I'm so excited to share the recipes that it becomes increasingly difficult to decide which one to post next. For now, one recipe a week will have to do, until I have more "work" time, once both of my kids are in school next year. I still love sharing these creations while cherishing the time with my little ones at home.
I hadn't planned on sharing this recipe right away, but due to popular demand on my Instagram and Facebook Page when I posted a picture of it, here it is… Overnight Chocolate Strawberry Almond Oats. I knew this recipe would be a winner when my kids said to me after having some for breakfast,
"Mommy…let's not tell Daddy that we got to have a treat for breakfast this morning!!"
I love it when a healthy morning breakfast turns into a treat for my kids and me!
Overnight oats are magical! Or at least that's what I think of them. Simple prep the night before resulting into an instant delicious dessert-like healthy breakfast the next morning. I am lucky to have an amazing husband who makes oatmeal for the kids almost every morning, while I work out, before he hurries off to work. For those other days when he's not around, or I don't have time to make my typical almond butter toast before rushing out the door, these oats are a life-savor and brighten up my morning when I see them in my fridge.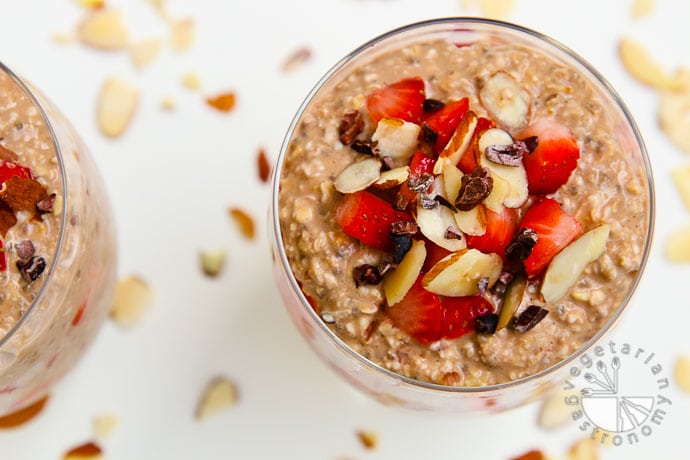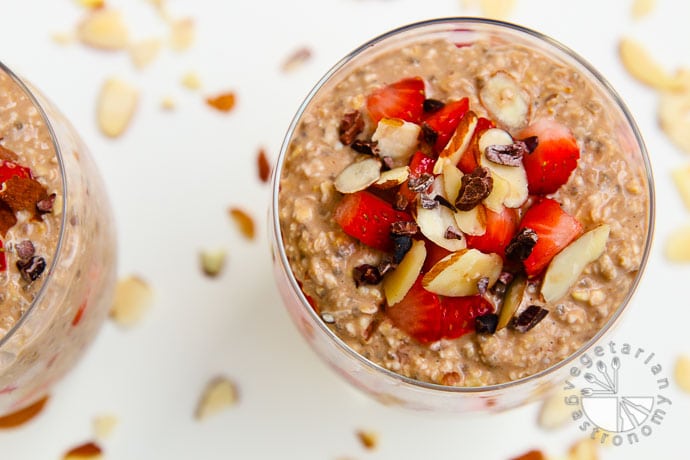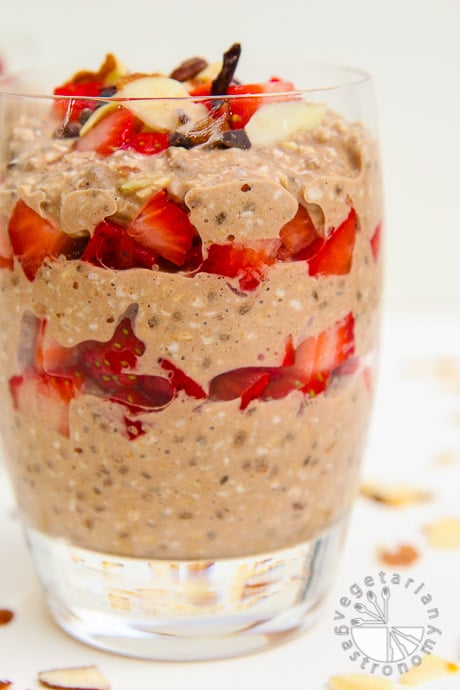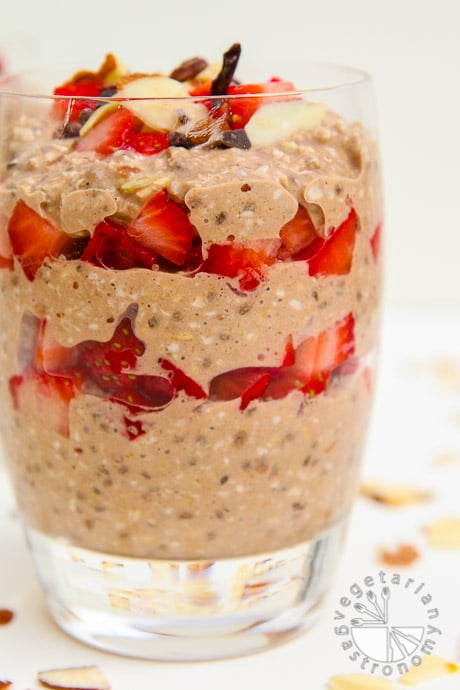 When it comes to overnight oats, the options are endless. You can add practically anything to the oats such as nuts, seeds, fresh or frozen fruit, cocoa nibs, chocolate chips, coconut, coconut whipped cream, granola, dried fruits, etc. You can also adjust the ratio of liquid to oats depending on how you prefer your oats (thicker or thinner) and enjoy them cold or warmed the next morning. As far as sweeteners go, I prefer to use natural sweeteners such as fruit, dates, agave nectar, or maple syrup. For liquid, you can use any type of milk you prefer, such as almond milk, soy milk, regular milk, or even a combination of milk and yogurt to make it slightly creamier. I also like to pre-process my oats in my Vitamix so that they are coarsely grounded. This, in combination with chia seeds, makes for a creamier texture. To make the prep easier, I typically process a bunch of oats at once and keep a stock of them in my pantry.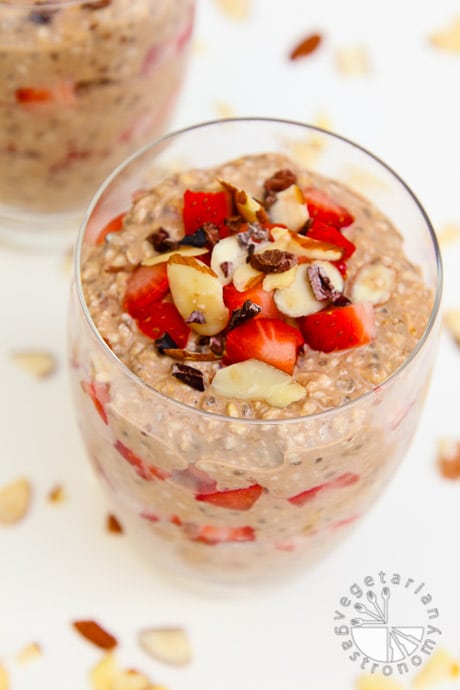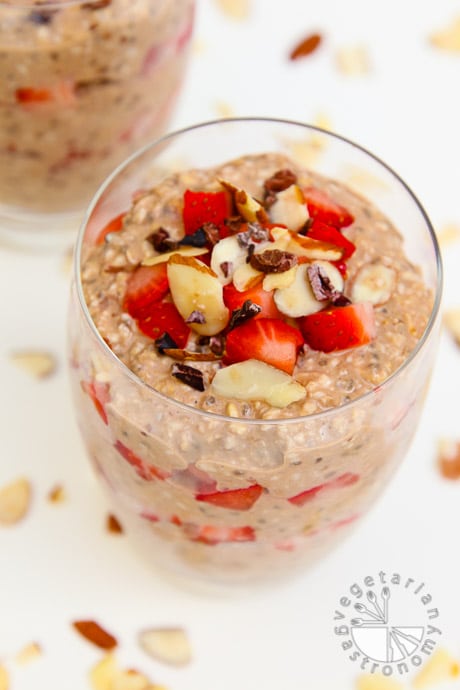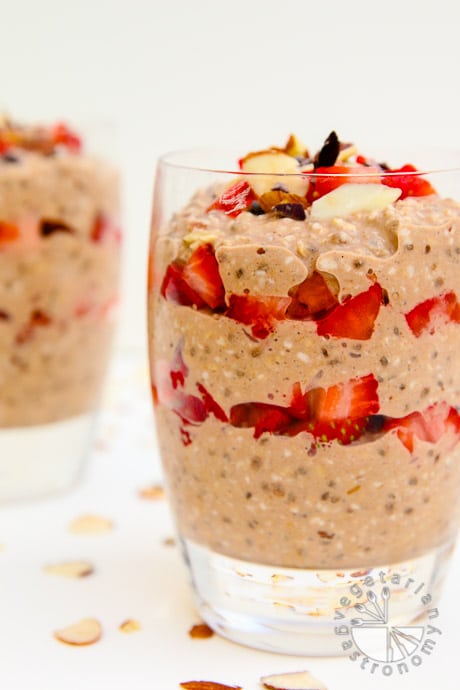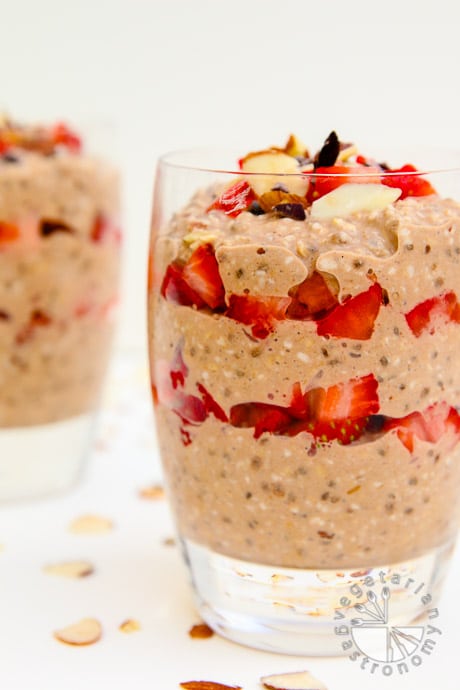 I've been making overnight oats for awhile now, but I keep finding myself coming back to this simple delightful combination, because the flavors and textures are my favorite. I'm hoping to share other variations soon. My main problem right now is having enough time to photograph them before my kids and I dig into them for breakfast prior to running out the door. =)
For those of you who missed my last post, I'm running my second cooking class at the Whole Foods Market in Del Mar, CA on November 8th 2014 from 9-10 AM at the Tavern inside. The class will be featuring some of my favorite simple, healthy, vegan Breakfast Foods. My last class was completely full, so RSVP for this FREE class today by commenting below or emailing me at vegetariangastronomy@gmail.com.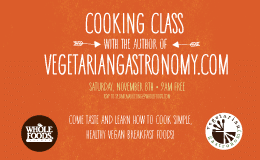 On a bit of a side note, I've recently spent a lot of time reflecting on the past few months. About 2 weeks ago marks 4 months since my Dad passed and of course I've been thinking about him everyday, all day, non-stop since June 22nd. I've shared some of my thoughts with all of you after the actual recipe.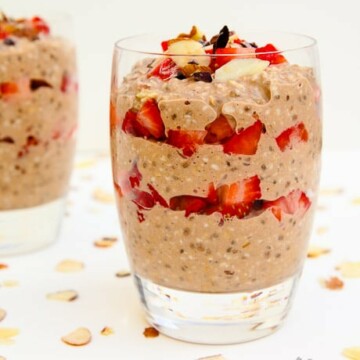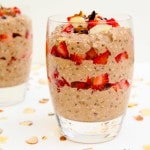 Print
Overnight Chocolate Strawberry Almond Oats
These vegan overnight oats are packed with flax seeds, chia seeds, hemp seeds, and so unbelievably creamy and dessert-like! 10 min prep the night before and you have yourself a healthy hearty delicious grab-and-go breakfast!
INSTRUCTIONS
In a mixing bowl, whisk everything together except for the strawberries, almonds, and cocoa nibs. If using maple syrup, you can add right now or the following morning.

Next, add in the chopped strawberries, almonds, and cocoa nibs and combine. Note: For a crunchier texture, add the freshly chopped strawberries and chopped almonds the following morning prior to serving.

If you are enjoying the oats at home the next morning, simply cover the mixing bowl and place in the fridge overnight. If you need a grab-and-go breakfast, divide the contents into two jars, cover, and place in the fridge overnight.

The oats should be ready the following morning!

Serve cold or warm them up. If you saved the toppings for the next day, layer or top the overnight oats with chopped strawberries, almonds, and cocoa nibs or dark chocolate chips. Feel free to adjust the sweetness (with additional maple syrup or mashed bananas) or consistency (with more almond milk to adjust thickness of oats). Otherwise simply mix once more in the morning and enjoy!
NOTES
Oats

- I've also used the rolled oats as-is when I don't have time or am on travel and it tastes just as great!! So for a quicker recipe, skip the step of making coarsely grounded oats. If you want a slightly creamier texture, make coarsely ground oats to use (make a large batch at once to keep around in the pantry).
To Make Coarsely Grounded Oats -
Place whole rolled oats in Vitamix or food processor.
Lightly pulse for a second, a few times to slightly process them or coarsely 'chop them up'. Be sure not to process them down into a flour-like consistency.
For the recipe above, measure out 1 cup of these processed oats.
To make things easier, I like to do this in bulk ahead of time and keep a stock of coarsely grounded oats for use in my overnight oats.
Maple Syrup -

Feel free to omit the maple syrup and simply sweeten the following day by using mashed bananas. You can also add maple syrup the following morning.
Toppings -

I have had these overnight oats both ways, adding the toppings prior to placing them overnight in the fridge, and fresh the next morning just prior to serving. Both methods taste great, depending on what type of texture you enjoy of your fresh fruit and nuts. If you plan on grabbing and going the next morning, I recommend adding them straight in the night before to save time the following morning. Adding them in the night before also provides for more flavor since the nuts and fresh fruit have a chance to soak along with the oats overnight.
Additional Toppings - Feel free to add any additional toppings, or even leave out the fresh fruit if you're traveling.
Traveling Tips - I've taken these oats with me traveling overseas and even in hotel rooms.
Make a large batch of the dry ingredients for this recipe and take with you in a ziplock bag or sealed container. Then scoop out 1:1 mix and non-dairy milk the night before.
If you're in a hotel room, ask for maple syrup to sweeten if you don't have access to fresh fruit
Make-Ahead Tips - Scale up and make a large batch of the dry mix. Then simply scoop about 1:1 mix and non-dairy milk the night before.
NUTRITION
Calories:
290
kcal
|
Carbohydrates:
46
g
|
Protein:
8
g
|
Fat:
9
g
|
Saturated Fat:
1
g
|
Sodium:
269
mg
|
Potassium:
284
mg
|
Fiber:
9
g
|
Sugar:
11
g
|
Calcium:
329
mg
|
Iron:
2.9
mg
This past week marks 4 months since my Dad passed. It feels like just yesterday. I still live in anticipation that I will see my dad the moment I step foot into their house, just to stare at the picture of my dad we used for his funeral service that is now hanging up in the house. I love that picture of him so much. Yet for some reason, I can stare at that picture of him forever and have no emotion. I'm still only able to think of and remember him during the final 2 weeks of his life, from the time I saw him in New York getting treatment until he took his last breath at home June 22nd, 2014. I remember every…single…detail…of every…single…day, and keep running through the sequence of events over and over in my head. I still cannot get his words out of my mind as he was pointing towards me… "I am going to miss her", and I don't think I ever will, or ever want to. I still find myself wandering around our house when I visit my mom trying to capture glimpses of him in every corner, finding items laying around that belonged to him, or trying to smell his clothes that still hang in his closet. It's amazing how many tiny details I now associated with my Dad, as opposed to before when he was still here, I would have never even thought twice of associating them to him. For example, my dad loved Sunkist, which I would've never touched had I seen at a party before, but now this past weekend felt like I had to drink because it reminded me of him. Simple things such as cleaning the kitchen floor or doing the dishes at my moms place made me tear up because he used to always help my mom doing those specific tasks after dinner. My dad loved so many of my cooking creations, especially my grilled veggie pesto sandwich, which has now become difficult for me to make again. It's amazing how many of these little thoughts and memories you store away unknowingly while spending your entire life with someone…they pop up left and right, all day long, and I am grateful for these simple things that remind me of him.
My kids have been a true inspiration during these times and have really helped me through it. My 4 yr old talks about my Dad (who he call 'Nana') everyday. Which makes my 2 yr old talk about him as well, even though she most likely only remembers him through his picture. I told my kids that their grandfather became a star in the sky, and it's probably the best thing I could have said. I literally have found them on several occasions yelling at the top of their lungs outside our house up into the sky, as if they were trying to tell their grandfather something. My son writes letters and tapes pictures against his window behind the blinds on his own. He tells me that he does it so that "Nana can see them". My kids live and breathe tiny bouncy balls… to the point where we probably have 100 of them lost around our house. He yelled up to the sky one night asking my Dad if he could send them some bouncy balls, a card, and a picture of what he looks like. Of course, I had to package it up for them as if it was from him and the looks on their face brought instant tears to my eyes. Tears of not only happiness, but such sadness that my Dad is not here to experience them and their warmth. I'm so grateful for the way in which my kids perceive my Dad after he has passed, but at the same time it's a constant reminder to me that he is no longer with us. I still get questions from my 4 yr old asking me when my Dad will come back, whether he is still in his hospital-bed in the living room of his house, and why he cannot come back. This past weekend driving home from my mom's both the kids were staring out at the moon, telling me that Nana must have landed on the moon because the moon is following them everywhere, even home. My 4 yr old constantly tries to explain to my 2 year old, "when we be big, we can become astronauts and go up into the stars and see Nana and be with him, but we have to wait until we are bigger". A few days ago, we also put glowing stars up on the ceiling of their rooms, and my son said they are there so that Nana can be even closer to them. My daughter points to all the stars on her walls and says "nana, nana, nana, nana". My dads favorite vacation spot was Hawaii… a place he talked about visiting one final time with the kids as soon as his treatment was done. He always made the "Aloha" sign with his hands and taught it to my son, who just recently decided to teach his little sister how to make the sign, what it means, and who he learned it from.
All of these amazing things that my kids do in remembrance of their grandfather, they do on their own without any extra reminder from me. My kids truly amaze me everyday! I'm extremely grateful that his presence is constantly around all of us, and am confident that they will remember him forever (something I was extremely worried about when my Dad passed).
It was my birthday mid-October, and of course both my parents were always the most excited to call and wish me Happy Birthday. He was always so excited that another great year had gone by for me. I have never been a birthday person, never really cared to celebrate my birthday or do anything special. I didn't realize until this past birthday of mine how much it really meant to me to get that phone call from BOTH my parents every year, listening to the excitement in their voices that another wonderful year had gone by for their daughter. I've recently found myself being upset and angry that my Dad was taken away from me. I know too well that many others have it worse, and try to keep that in mind to give some perspective, but ultimately but I only truly know the life I have lived. I continue to have many happy moments in my life (especially when I'm with my family, brother, and mom), but they are now also associated with a small amount of sadness, lurking in the background, wishing my Dad was here to experience this happiness with all of us.
There will always be an immense amount of sadness associated with knowing that my Dad was taken away earlier than he should have been; but somehow on my birthday, I actually spent the majority of the day reflecting on how LUCKY my family was, is, and always will be with everything we've gone through together in life. We have had many wonderful experiences and many great happy memories with him. He has always taken care of us, and continues to do so constantly even though he is no longer with us. We will continue to cherish life and be grateful of everything we had with him, everything we do have now, and continue to make even more happy memories always having him in our thoughts…trying to make the most out of life, knowing it's what he would have wanted for us.
"Daddy… it's amazing how you are here for us even when you are physically not."
[subscribe_box]