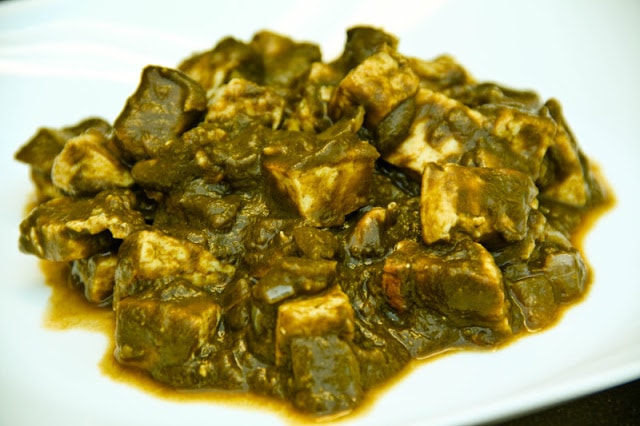 This recipe is my version of Palak Paneer, a traditional Indian dish containing spinach and Paneer (cheese) in a thick curry sauce based on pureed spinach and tomatoes. Instead of using Paneer, I use tofu because it's healthier and tastes good! I started blending cooked spinach and tomato into a smooth puree as a dish for my son. I added a little salt and mashed some soft tofu inside for my toddler. One day I was tired of making different dishes for my toddler and for us and thought I could just add some more flavor and make a Palak Paneer dish for my husband and I at the same time! So I added some garlic, ginger, and onion and pan-fried some firm tofu to make a tasty, healthy dish! We usually eat it alongside some rice, Naan, and yogurt.
PALAK (SPINACH) TOFU: (vegan, gluten-free)
(makes 4-6 servings)
Ingredients:
10 oz. baby spinach leaves, washed
4 medium tomatoes, cut in half
19 oz. firm tofu
4-5 cloves garlic, minced
1 1/2 tsp. ginger, minced
1 small white onion, finely chopped
3/4 tsp. salt
1 tsp. ground roasted cumin
1/4 tsp. garam masala
1 T salted butter (optional, omit for vegan option)
vegetable oil
Directions:
To Prepare the Spinach/Tomato Mixture.

Steam all the spinach leaves and tomatoe halves together. I always do this using my pressure cooker because it cooks everything very quickly, but feel free to use whatever method you prefer.
Once the spinach and tomatoes are steamed, take a hand blender and blend together until it is a smooth puree. If you are having trouble blending it, add a little bit of water to help the process, but be sure to add only a small amount necessary to blend thoroughly.


To Prepare Tofu.

Place tofu block in a clean paper towel and squeeze to remove excess storage liquid. Cut the tofu block in half if you have a 1 large block you are working with to avoid breaking up the tofu. Cut the tofu into 1/2 to 1 in. cubes and pan fry on medium-high heat with 1-2 T vegetable oil, mixing and turning frequently until all the water is burned off and the tofu is lightly golden brown on most sides (be sure not to burn the tofu). If the tofu is sticking to the pan, add some more oil.
Set the tofu aside in a bowl.
To Prepare the Dish. In the same non-stick pan you used for the tofu, heat some vegetable oil on medium heat. Add the garlic, ginger, and onions and fry until fragrant and onions are translucent, making sure not to burn them (few minutes).
Add the pan-fried tofu and combine. Add the ground roasted cumin and garam masala and mix. Cook for a few more minutes to combine flavors.
Add the blended spinach/tomatoe mixture to the pan.
Continue to simmer on medium-low heat until some of the liquid boils off and the sauce thickens. Of course be careful not to burn off all the liquid.
(optional non-vegan option) Add the salted butter and melt into the dish to add a small creamy flavor.
Lastly season with some salt if needed. Serve hot with some rice or Naan!
~ Anjali