Pav Bhaji is one of my favorite Indian dishes. It's loaded with veggies, healthy, vegan, gluten-free, and of course, flavor. This easy-to-make Pav Bhaji Masala recipe consists of a thick vegetable curry served with grilled bread, and is a great meal for the entire family!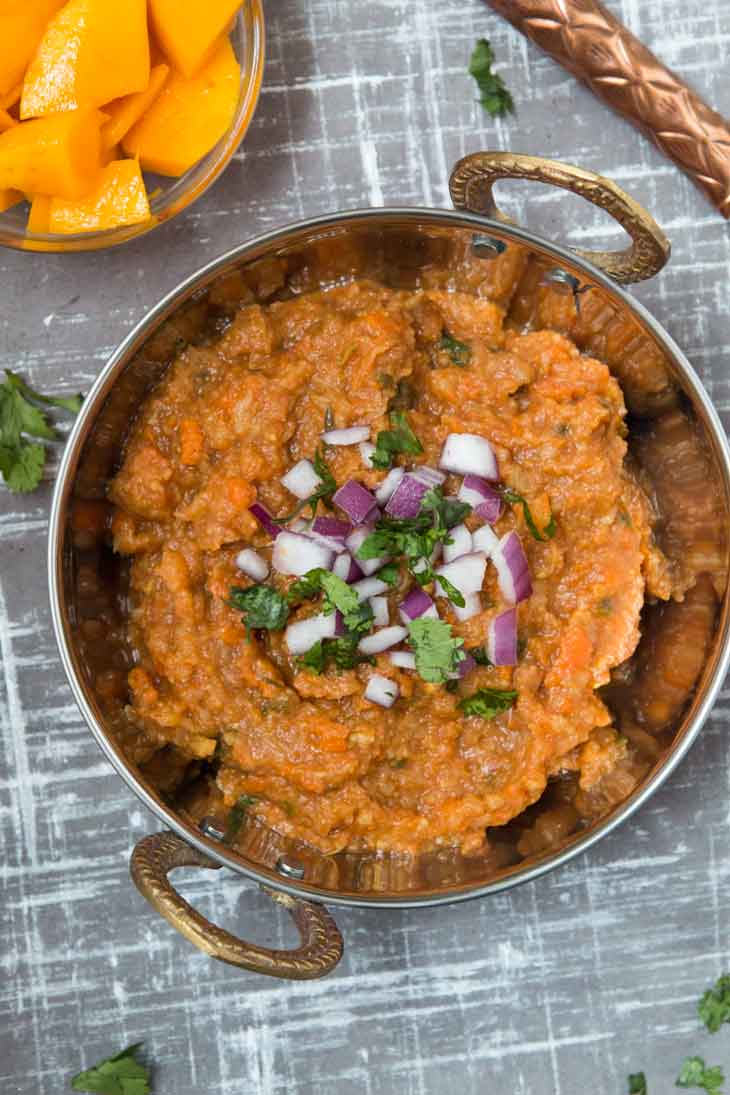 Pav Bhaji is one of my favorite Indian dishes to make, and the first thing I crave when I haven't had enough veggies throughout the week. I've watched my mom make it growing up and have since then adapted it to my own taste using my favorite ingredients. I typically make this at least 2-3x a month because my entire family loves this dish.
Before I dive into this recipe, let me tell you a little more about Pav Bhaji. It's a famous popular 'fast food' dish from India, and literally means bread and mixed vegetables. Pav Bhaji basically consists of a thick vegetable curry served with grilled bread. In today's world, you can find it everywhere…from formal restaurants to food carts strolling down the streets of Mumbai.
If you're not familiar with Pav Bhaji, you may be thinking that this is just another "Indian vegetable dish." What's so special about it? Well let me tell you…
Pav Bhaji Masala is not just cooked diced vegetables mixed in with some spices. Instead, the flavor comes from having cooked all the mashed veggies together. The veggies are all steamed, mashed, and cooked with several spices making it one of the best thick vegetable curries ever! Add in the grilled bread and you have yourself a perfect meal!
Also, it's a great dish for picky eaters since there are no large pieces of vegetables to deal with, and you can modify it to your liking. My kids started eating this pav bhaji masala recipe when they were 2 years old and have loved it ever since. They particularly enjoy scooping the thick curry onto the grilled bread before taking a bite.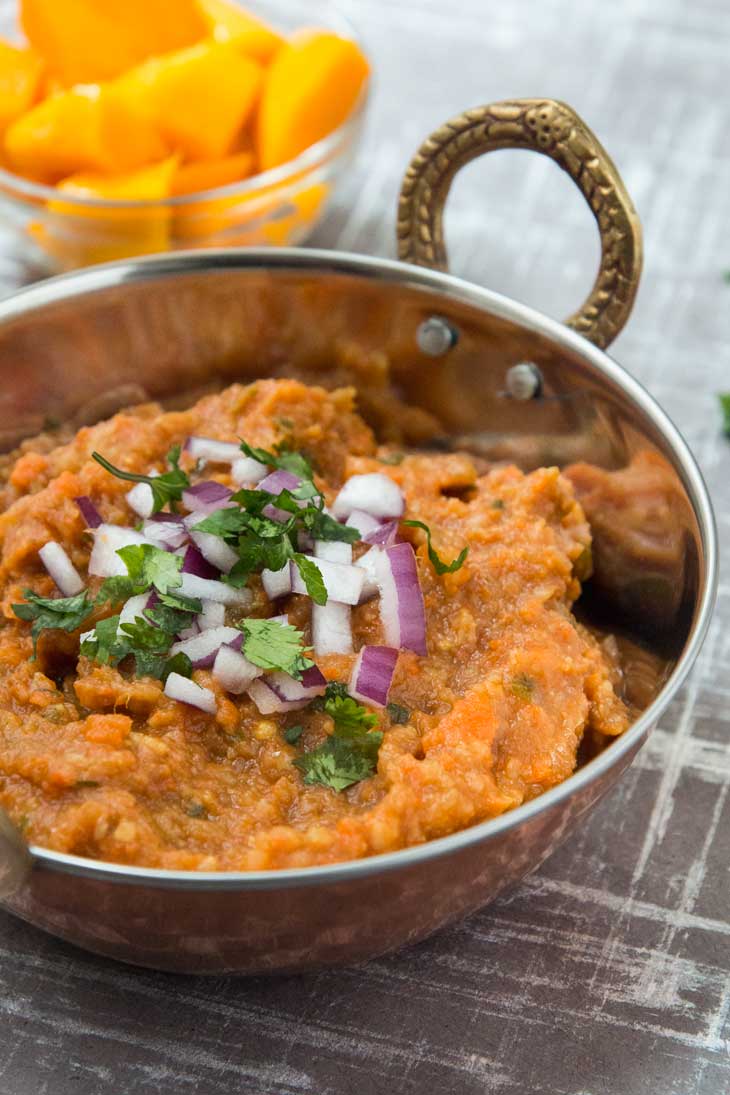 My Pav Bhaji Masala Recipe
I've enjoyed several versions of Pav Bhaji at restaurants or other people's homes, but they're either too bland, missing some of my favorite veggies, too unhealthy because of all the oil and butter they use, heavy on the store-bought seasoning packets, or not vegan (because of the butter). I've literally seen people throw entire sticks of butter into the mix after the pav bhaji is done cooking!! Why?? I have absolutely NO idea other then the fact that they think it adds flavor. I'm not against a little oil or butter, but that to me means that your initial pav bhaji masala recipe needs a little work 🙂
My pav bhaji masala recipe is healthy, made with fresh and simple ingredients, and avoids any seasoning packets. So let me tell you how easy it is to make!
I typically use 4 basic veggies:
…did I mention how I love that this dish is veggie loaded?!?
Steam the veggies (I love using my large pressure cooker for this), mash them all together, and pan fry the thick veggie mixture with tomatoes, garlic, onion, and a few spices! I absolutely love using roasted ground cumin. I always have it on hand and it's a great alternate to garam masala. As much as I love garam masala, depending on which you buy, it can be spicy for the kids. So if you can't handle the heat, use roasted ground cumin to keep the flavor. I typically do this and then add in a little garam masala for my husband and I (after serving my kids).
Garnish with your favorite toppings such as freshly diced onions, jalapenos, and cilantro. Grill up some of your favorite bread and enjoy! That's it! Oh and don't forget to make double the batch so you have leftovers (tastes even better the following day).
If you're looking for an easy and delicious way to introduce more veggies into your diet, want to enjoy a restaurant favorite at home, or need comfort food, try out this Pav Bhaji Masala Recipe below! Don't forget to comment and let me know if you do…I love the feedback! If you decide to share a re-make on Instagram, don't forget to tag me @vegetariangastronomy #vegetariangastronomy so that I don't miss it! I love seeing and sharing all your lovely re-makes on "RE-MAKE FRIDAY" over on IG!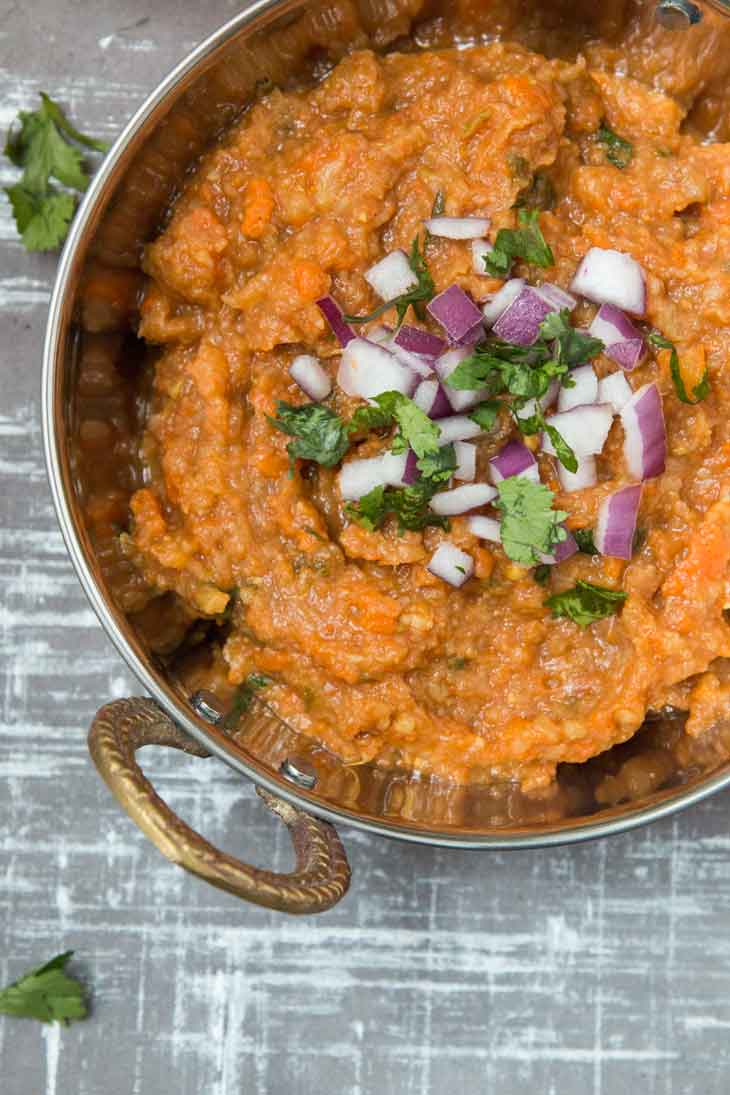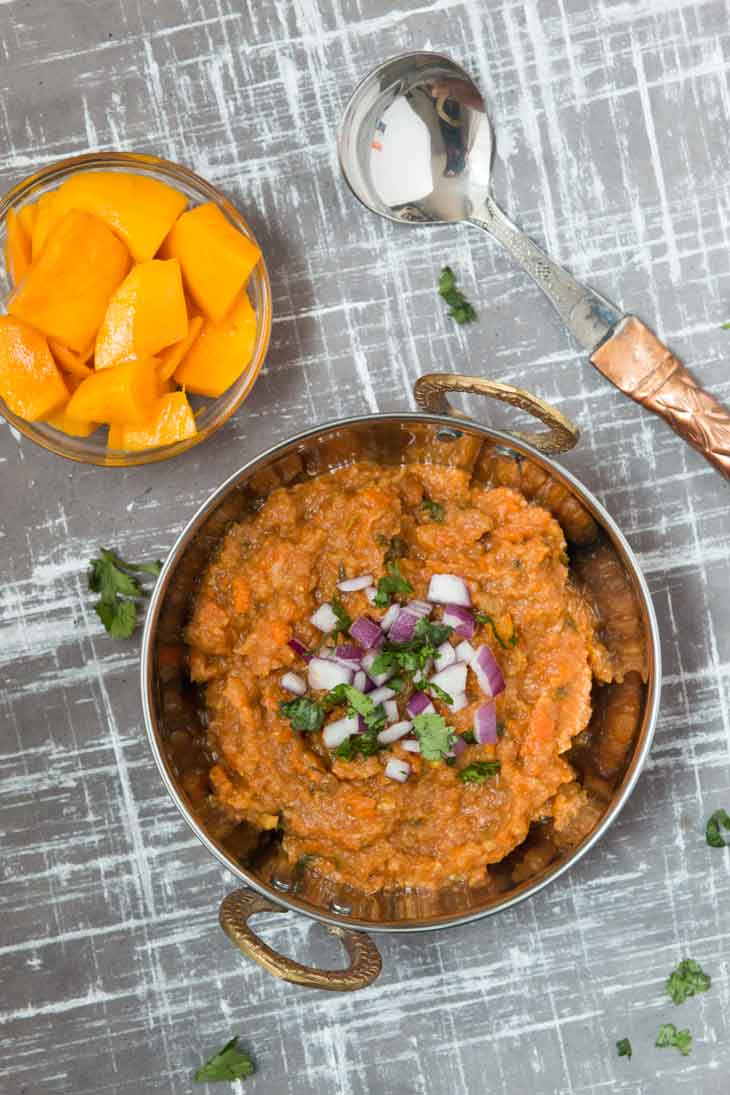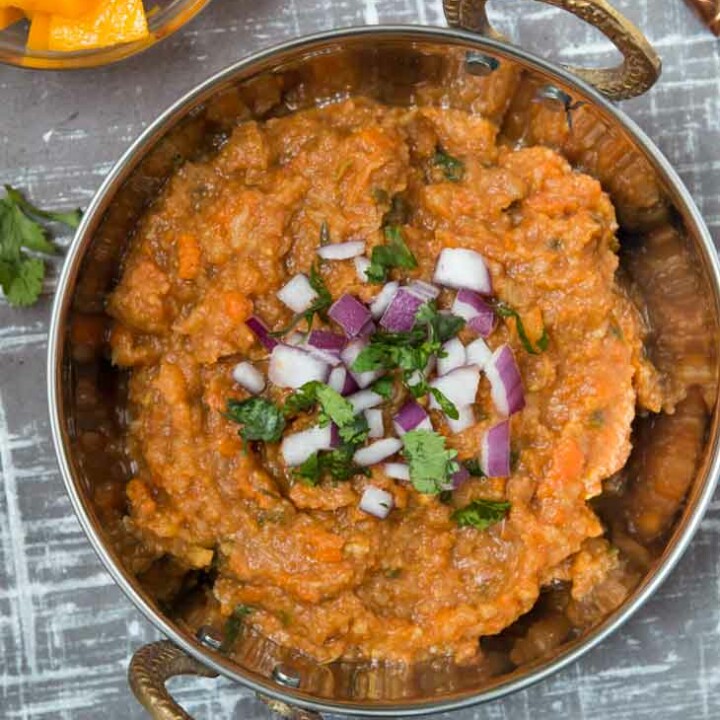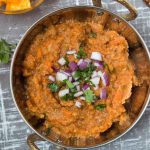 Print
Pav Bhaji Masala Recipe
Pav Bhaji is one of my favorite Indian dishes. It's loaded with veggies, healthy, vegan, gluten-free, and packed with flavor in every bite! This easy-to-make Pav Bhaji Masala recipe consists of a thick vegetable curry served with grilled bread, and is the perfect meal for the entire family!
INGREDIENTS
2

medium

carrots

, peeled and diced into large pieces

1/2

large

cauliflower

, diced into large pieces

2

medium

russet potatoes

, peeled, cut into 4 pieces

1

large

Italian Eggplant

, peeled, diced into large pieces

5

medium-large

roma tomatoes

, finely diced

1/2

large

white onion

, finely diced

6

cloves

garlic

, minced

fresh jalapeno

finely chopped (amount depends on your preferred level of spice)

1

teasp

fresh ginger

, grated

1/4

teasp

mustard seeds

1/2

tbsp

roasted ground cumin

, or garam masala or ground cumin

1 1/2

teasp

ground corriander

, ground

1/2

teasp

ground turmeric

2 1/2

teasp

lemon juice

, freshly squeezed

garam masala

, to taste (optional)

2

t

salt

2

tbsp

cooking oil

, or vegan butter

1/4

bunch

fresh cilantro

, finely chopped

water
For Garnish:
onions

, finely chopped

fresh cilantro

, finely chopped

jalapeno

, finely chopped

vegan plain yogurt

(optional)
Grilled Bread:
sourdough bread slices

, or gluten-free bread, french buns, burger buns, whole wheat bread, etc.

vegan butter

earth balance

fine black salt

(optional)
INSTRUCTIONS
To make the Vegetable Curry (Bhaji):
Steam the carrots, eggplant, potatoes, and cauliflower by your preferred method. I always use my pressure cooker, but you can also use a steamer, instant pot, or boil the vegetables until mashable. While the vegetables are cooking, prepare the gravy.

In a medium non-stick pot, heat thecooking oil (or vegan butter) on medium heat.

Once the oil is hot, add the mustard seeds. Fry for a few seconds.

Add the onions, garlic, ginger, and fresh jalapenos (if using). Saute until fragrant and the onions start to become translucent. Be sure not to burn the garlic or onions. If you find this happening, either add some more oil or turn down the heat.

Add the roasted ground cumin and mix for another minute.

Add the tomatoes, turmeric, ground coriander-cumin, and salt. Turn the heat down to low-medium. Mix and continue to stew the tomatoes into the other ingredients until pasty and softened.

Once the vegetables are cooked, completely mash them together with a potato masher (if you need, add a small amount of water).

Add the mashed veggies to the gravy and mix completely.

Cook covered for another 15 minutes, stirring occasionally.

The consistency should be that of a thick vegetable curry. Cook for additional minutes if needed to burn off excess liquid, or feel free to add a little water while cooking if needed.

Add the lemon juice, season with salt to taste, and add 1/4 bunch freshly chopped cilantro. If using, add a few pinches of garam masala at this time. Mix thoroughly for another 3-4 minutes.
To Serve The Dish:
Choose your favorite bread (my personal favorite to go with this dish is sourdough, but traditionally people use buns). Spread butter on both sides and grill on the pan until crispy.

(optional) Sprinkle some black salt on one side of the bread.

(optional) Garnish the bhaji with freshly chopped onions, jalapenos, and/or cilantro.

Serve the Bhaji HOT with the grilled bread and vegan plain yogurt on the side (if using).
NOTES
Make-Ahead Tip: Chop all the ingredients & steam the veggies ahead of time. Then it'll take a quick 15-20 minutes to finish the rest of the dish.
Vegetables: Feel free to omit any vegetables you do not like or add others that you do enjoy (such as peas). If you omit the potatoes, the consistency will not be as thick. The carrots add a hint of sweetness to the dish, but I've omitted them several times and it still tastes great (no sugar needed).
Roasted Ground Cumin: This is one of my favorite spices to have on hand! It's definitely different in flavor than it's non-roasted counterpart and allows me to keep this recipe spice-free for those of you who do not like the heat. It's available at most stores, but if you don't have it on hand, I'd recommend using plain ground cumin and some garam masala.
For Toddlers/Kids: Omit the spice if needed. Some garam masala are spicy, so just use roasted ground cumin instead. You can also drizzle some of your favorite vegan plain yogurt (my current favorite is Kite Hill almond milk plain or Forager cashew milk plain yogurt) on top or mix it into the vegetable curry for a milder flavor.
NUTRITION
Calories:
132
kcal
|
Carbohydrates:
20
g
|
Protein:
3
g
|
Fat:
4
g
|
Saturated Fat:
4
g
|
Sodium:
815
mg
|
Potassium:
600
mg
|
Fiber:
3
g
|
Sugar:
3
g
|
Vitamin A:
3420
IU
|
Vitamin C:
41.7
mg
|
Calcium:
40
mg
|
Iron:
1.1
mg
Nutrition Facts
Pav Bhaji Masala Recipe
Amount Per Serving
Calories 132
Calories from Fat 36
% Daily Value*
Fat 4g6%
Sodium 815mg35%
Potassium 600mg17%
Carbohydrates 20g7%
Protein 3g6%
Vitamin A 3420IU68%
Vitamin C 41.7mg51%
Calcium 40mg4%
Iron 1.1mg6%
* Percent Daily Values are based on a 2000 calorie diet.