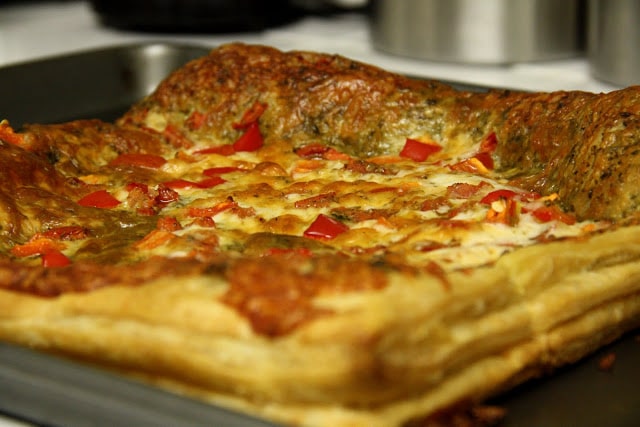 It was Wednesday night, 7:30pm, and I still had NO idea what to make for dinner. I was searching through my fridge when I saw the Phyllo Sheets and some pesto I had made earlier that week. At that point, I remembered reading a Phyllo Pizza recipe in some magazine and decided that was going to be dinner!
I quickly searched a few recipes online to get a general idea of how to make the pizza, but didn't quite follow any given recipe since I didn't have all the right ingredients. I decided to use Pesto sauce, smoked mozzarella cheese, and top it with roma tomatoes and bell peppers. I would have preferred to use orange or yellow bell peppers, but all I had in the fridge were red ones. So as you probably figured, you can get creative and create your own Phyllo Pizza with basically any ingredients you want!
Not sure now the phyllo pizza would taste, we were surprised at how great it was! And it was a nice change in taste to traditional pizza. The smoked mozzarella made was a great combination with the pesto sauce and tomatoes. We will definitely be making this pizza again for dinner sometime soon.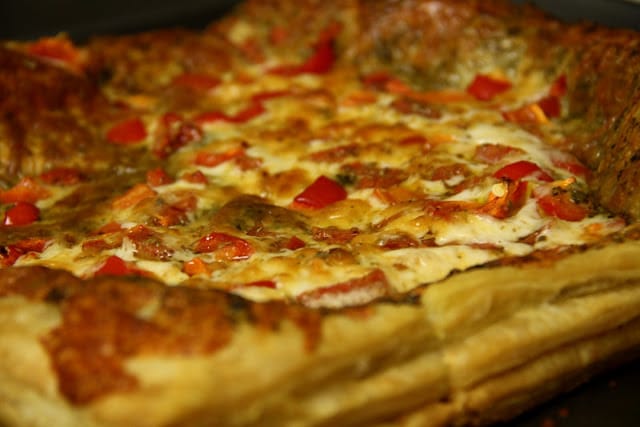 PHYLLO PESTO PIZZA w/SMOKED MOZZARELLA:(contains dairy)
Ingredients:
(9 pieces)
2 Ready-to-Bake Puff Pastry Sheets (17.3 oz.), thawed
3/4 cup smoked mozzarella cheese, grated
1/2 medium roma tomato, finely diced
1/2 red or yellow bell pepper, cubed
pesto (recipe)
1 T finely grated Parmesan cheese
1 T salted butter, melted
dried oregano
salt
(optional) red crushed peppers
Directions:
Preheat oven to 400 degrees.
Combine the chopped tomatoes, oregano, and salt in a separate small mixing bowl. Set aside.
Brush a large baking sheet with some melted butter.
Place 1 phyllo sheet on the baking sheet. Brush lightly with melted butter. Sprinkle with 1 T Parmesan cheese. Place the second phyllo sheet on top of the first. Brush with melted butter.
Spread the prepared pesto on top of the stacked phyllo sheets, leaving a small plain border.
Sprinkle stacked sheets with grated smoked mozzarella chese.
Top with tomatoes and bell pepper.
Bake the pizza until the phyllo is crisp (about 25 minutes).
Loosen pizza from the sheet with a large metal spatula and slide it onto a cutting board.
Cut the pizza into 9 squares and serve immediately (note: this pizza is best served hot right out of the oven).
(optional) Top the pizza with red crusted peppers.
[subscribe_box]