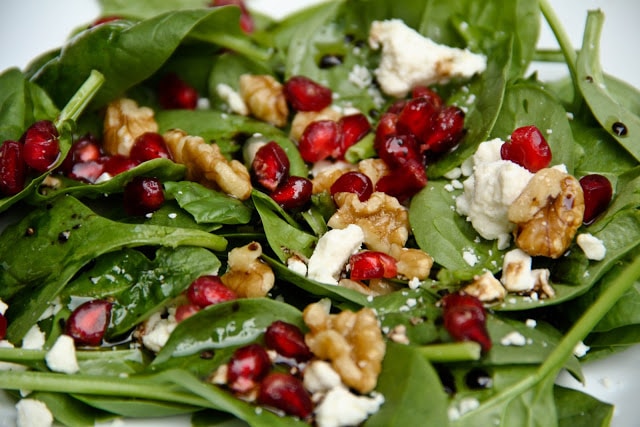 My father-in-law came to visit and brought some home-grown pomegranates from their backyard in palm springs! When we opened them up, they were bright red and luscious! Before I single-handedly finished all of them with a spoon, I had to use some in a salad. So here is yet another one of my favorite spinach salad combinations – pomegranate, Feta cheese, and walnuts. To go with this salad, I made my traditional sweet balsamic vinaigrette, except for instead of using sugar, I added either honey or agave nectar (see below for recipe).
Enjoy!
POMEGRANATE, FETA, & WALNUT SALAD: (gluten-free, contains dairy)
The amount of ingredients will depends on how many people you have and how much salad you tend on serving them. The important thing for me is that this is a good combination of flavors. I only toss all these ingredients into one large salad bowl if I'm serving more than 4-6 people. If I'm serving less, I like to compose each salad bowl individually.
Ingredients:
spinach leaves (or fresh spring mix), washed
walnut halves
Feta cheese, crumbled
red pomegranate seeds, washed and dried
(dressing for about 3 individual salad bowls)
2 T extra-virgin olive oil
1 T balsamic vinegar
1 teasp. honey OR agave nectar
salt/pepper to taste
Divide the spinach leaves into the salad bowls/plates.
Sprinkle some pomegranate, walnuts and crumbled Feta cheese on top.
In a small bowl, whisk together the olive oil, balsamic vinegar, honey or agave nectar, and salt/pepper (the measurements given are for about 3 bowls of salad, so adjust amounts accordingly). Drizzle each plate with some of the dressing and serve.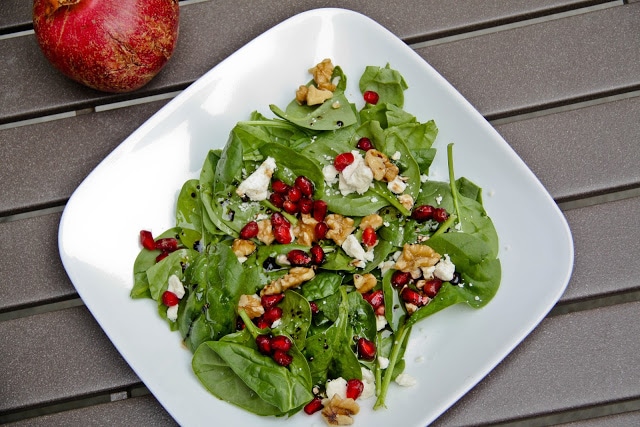 ~ Anjali