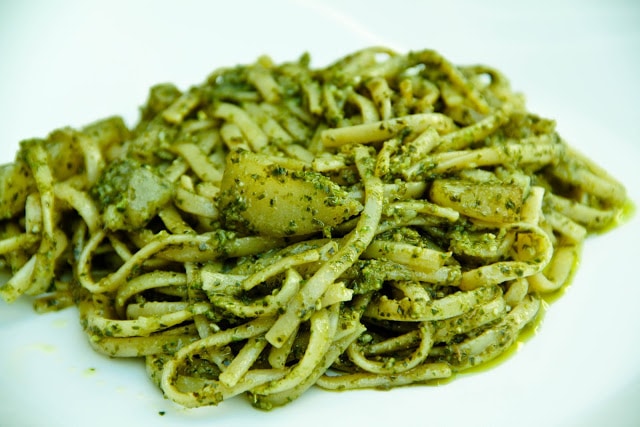 After the long day I had with my kids, I wanted to cook something that did not require much prep work for dinner. I looked in my freezer and saw some prepared pesto I had made and had some russet potatoes sitting out on my counter that I've been wanting to use. So I decided to recreate a pasta dish we had awhile back at a local Italian restaurant containing pesto, potatoes, and linguine. When I checked my pantry, I realized I did not have any linguine, angel hair, or spaghetti. I had some penne and rigatoni, but thought those pasta shapes would not go well with the potatoes. I also found a box of cut spaghettini and decided to use it since it was the closest shape without having to make a trip to the grocery store.
The potatoes do a great job absorbing the flavor of the pesto! The dish was very similar to the one we had at the restaurant and tasted great. The cut spaghettini was not ideal, but it did the job. When I made this dish for the second time, I used linguine, and it tasted even better (picture above)…so if you have some in your pantry or can make a trip to the grocery store, linguine is the way to go!
For those of you who read my blog often, you know how much I love freshly made pesto! And you also know that I always have some in my freezer, especially now that we have basil growing in our garden outside. I highly recommend having pesto around in your freezer…you can use it in many dishes for a quick and tasty meal!
For the gluten-free option, simply use your favorite gluten-free pasta!

POTATO PESTO PASTA: (gluten-free option, contains dairy)
Ingredients:
0.5 lb. Pasta of your choice (linquine, angel hair, spaghetti, etc.)
1 2/3 cup prepared pesto (recipe)
2 medium russet potatoes, washed and peeled
(optional) toasted pine nuts
(optional) grated Parmesan cheese
olive oil
salt
Directions:
Cook the pasta al dente in a pot of boiling water with some salt and olive oil. Once done, drain, and set aside.
In the meantime, slice the potatoes lengthwise into ~1/4 inch slices. Then slice each piece again width-wise ~1/4 inch slices so that they look like small french fries. In a non-stick skillet, heat some olive oil over low-medium heat. Add the potatoes, cover, and cook for 15-20 min or until they are tender. Mix frequently so that the potatoes do not stick to the pan. If needed, add some more olive oil to keep from sticking. Add some salt to the potatoes half-way through cooking them. (Note: be sure not to over-cook the potatoes so that the pieces start to break apart).
After the potatoes are cooked, add the pasta and pesto. Toss together over heat.
Season with some salt and pepper if needed. Top with toasted pine nuts and some freshly grated Parmesan cheese before serving. This pasta will taste good either hot or cold! Enjoy!
Toddler Variation:
If your toddler has trouble eating pasta shapes such as spaghetti or linguine (like my son does), you can use orzo pasta or the small star shape pasta instead.
~ Anjali