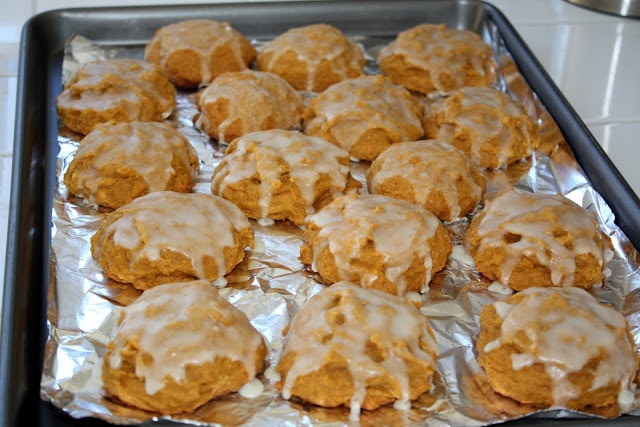 What better than Pumpkin Cookies to make for Halloween! My sister-in-law passed along this a written recipe from a co-worker, and I modified it to be eggless.  After a few trials, I came up with the perfect eggless pumpkin cookies. They are soft, delicious, and almost taste like cake in the form of cookies! My family and friends love theme so much that I'm always getting requests for the holidays!
I've had these cookies with and without the frosting, and honestly they taste great both ways (although if you ask my sister-in-law, she eats these cookies for the frosting they come with haha)! For a vegan option, use vegan unsalted butter and omit the frosting (again, these cookies are sweet enough on their own without the frosting). For a gluten-free version, I've tried substituting several gluten-free flours 1:1, but the only brand I found comparable was Cup4Cup Gluten-Free Baking Flour (although the version I used is not vegan). Using Cup4Cup, we could not even tell the difference in texture or flavor. You should be able to find Cup4Cup at Whole Foods, Sprouts, or other markets (check the website for a list of stores).
Pumpkin Cookies (vegan-option, gluten-free option)
---
Yields makes ~13-15 cookies
Ingredients:
Wet Ingredients:

1 cup pumpkin puree (from a can)
1 1/2 cup sugar, white granulated
1/2 cup unsalted butter (or vegan butter)
2 tbsp cornstarch
1 teasp vanilla extract

Dry Ingredients:

1/2 teasp salt
1/2 teasp nutmeg
1 teasp cinnamon
1 teasp baking powder
1 teasp baking soda
2 1/2 cup flour (or 1 cup whole wheat flour + 1 1/2 cup all-purpose white flour),

gluten-free option:

use Cup4Cup GF Flour

For the Glaze - omit for vegan option

2 Tbsp unsalted butter
1 teasp vanilla
3-4 tbsp milk
2 1/2 cup powdered sugar
Directions:
Preheat the oven to 350 degrees.
To make the cookies. Separately mix the wet ingredients and dry ingredients in two bowls with wooden or steel mixing spoon.
Slowly combine the dry ingredients into the wet ingredients while continuing to mix with a mixing spoon.
Spoon out 2-inch round balls of dough onto a baking pan lined with foil (I prefer to use a cookie scoop with a dispenser). Note that the dough mixture may be loose. In this case, spoon out the dough as evenly as possible. Each cookie dough does not need to be smooth.
Bake cookies for about 16-17 min (for gluten-free option, bake a few minutes extra - 17-18min).
Place the finished cookies on foil and let them cool at room temperature. Note that the cookies will continue to cook until completely cooled.
To make the glaze: Whisk all the glaze ingredients together in a mixing bowl. Let the glaze sit for about 10 minutes to thicken.
Frost the cookies once they are completely cooled. After 15 minutes the frosting should solidify and create a glaze on the cookie.
Notes:
All ovens are not the same. If using standard baking, the cookies should be slightly browned at the bottom but not burnt. If you are using a convection oven, the cookies will NOT brown on the bottom. If at all doubtful about the timing, put a small batch in the first time around to check. But be sure to let them cool completely before determining how long to bake the cookies since they will continue to cook until cooled.
7.8.1.2
246
https://vegetariangastronomy.com/pumpkin-cookies-vegan-option-gluten/
www.VegetarianGastronomy.com
[subscribe_box]