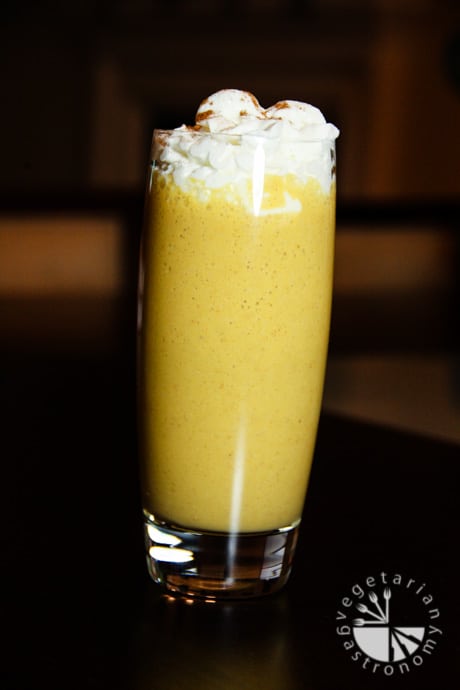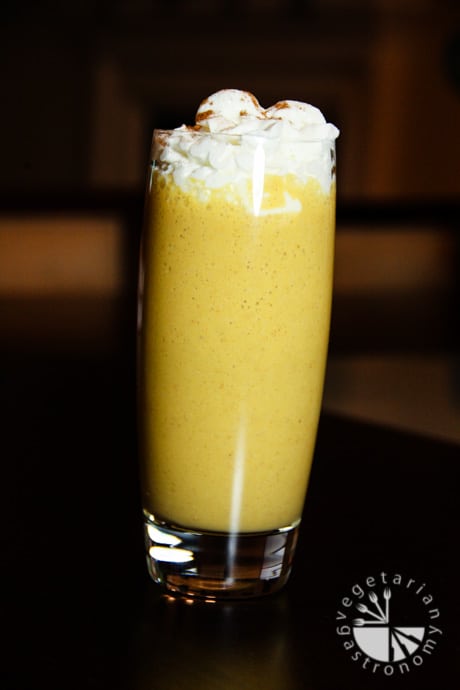 Do you have pumpkin puree left over in the fridge from baking a pie or some cookies and don't want it to go to waste? Or do you want the quick, refreshing, taste of pumpkin pie without having to wait an hour to make it?
Make this delicious refreshing pumpkin pie smoothie! For those of you who follow my Facebook Page, you know I already jumped the gun and posted this recipe on the page right after having it.
This recipe is from Vegetarian Times magazine. The only change I made was to use light soy milk (I'm not a fan of the taste of regular soy milk in drinks) and the addition of some whipped cream to make it resemble pumpkin pie! You can use which ever type of base you prefer: regular milk, vanilla soy milk, almond milk, etc. I was reading through last months issue and saw this simple recipe to use the extra pumpkin puree I had in my fridge after making some Pumpkin Walnut Bread. My husband has been craving pumpkin pie for awhile now and I haven't had a chance to make any, so I thought what a perfect way to temporarily quench his craving with this pumpkin pie smoothie! My son helped me add all the ingredients in our Vitamix and within 5 minutes we had a delicious cold treat! Top it off with some nutmeg and whipped cream and you have yourself a perfect afternoon delight!
For the recipe, head on over to Vegetarian Times website – Pumpkin Pie Smoothie (vegan, gluten-free). I used light soy milk and topped it off with some nutmeg and coconut whipped cream.
[subscribe_box]