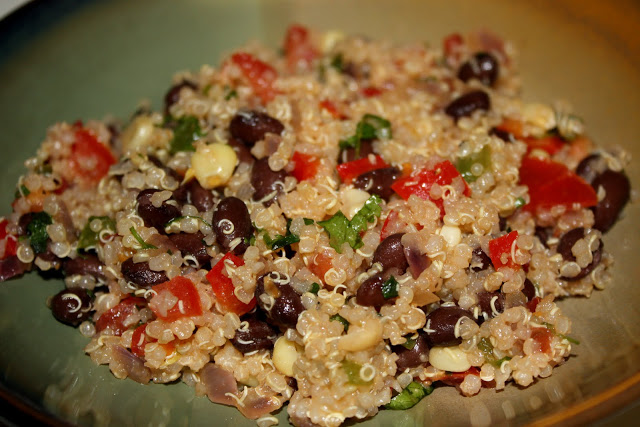 Quinoa is a great source of protein which I've recently added to my diet. Technically, quinoa is not a grain, but the seed of a leafy plant. Surprisingly, it's been a staple food for thousands of years in the Andes region of South America.
This recipe was my first attempt at making a dish with quinoa at home. I decided to start off with a salad and ended up adapting a recipe from Epicurious. At first, I was skeptical about the recipe because I tried the dressing by itself and it did not seem very flavorful. But the key to this recipe is combining all the ingredients and letting the fresh flavors of all the veggies blend and marinade together with the quinoa. I also added some additional vegetables and seasonings to enhance the overall flavor of the salad, and ended up with an amazing quinoa salad dish. This dish can be served as a side, salad, or even as a main entree. I personally prefer this dish served cold.
QUINOA w/BLACK BEANS & TOMATOES: (vegan, gluten-free)
(makes ~4-5 servings)
Ingredients:
1 cup quinoa
1 (14 oz.) can black beans, rinsed and drained
2 medium tomatoes, diced
4 scallions or 1/2 white onion, chopped finely
1/4 cup cilantro, chopped finely
1/2 red bell pepper, chopped finely
1/2 green bell pepper, chopped finely
1/4-1/2 cup corn kernels, frozen or fresh
salt/pepper (to taste)
garlic powder (to taste)
2 teasp grated lemon zest
2 Tbsp fresh lime juice
2 Tbsp salted butter, melted and cooled (vegan option: use earth balance)
1 Tbsp vegetable oil
1 teasp sugar
Directions:
Whisk lime zest and juice, butter, oil, sugar, 1/2 teasp. salt, and 1/4 teasp. pepper in a large bowl.
Wash the quinoa in cold water and drain. Cook the quinoa in a rice cooker (note: there are many ways to cook quinoa including in a pot of boiling water, so which ever method is best for you). If cooking in a rice cooker, add 2 cups of water for 1 cup quinoa.
For the vegetables you can do either of the following (1) keep the shallots, red bell pepper, and green bell pepper raw, OR (2) cook the chopped onion, red bell pepper, and green bell pepper in a non-stick pan over medium heat using some vegetable oil (do not over-cook them). I've made this dish both ways and they both taste great.
Let the quinoa cool slightly. Add quinoa to the dressing and toss until the dressing is absorbed.
Stir in the remaining ingredients and add salt/pepper to taste. Garlic powder is optional.
Refrigerate before serving if you prefer this dish cold.
(note: for best results, prepare this salad ahead of time and let the flavors marinate together in the fridge prior to serving)
~ Anjali
[subscribe_box]