This year when looking for desserts to make for our Christmas party, I made these raspberry layer bars. They are the perfect holiday treats. The tart flavor of the raspberry preserves, sweet taste of coconut/milk layer, and chocolate drizzle combine to form a delicious bar that tastes and looks great. It was perfect for the holidays!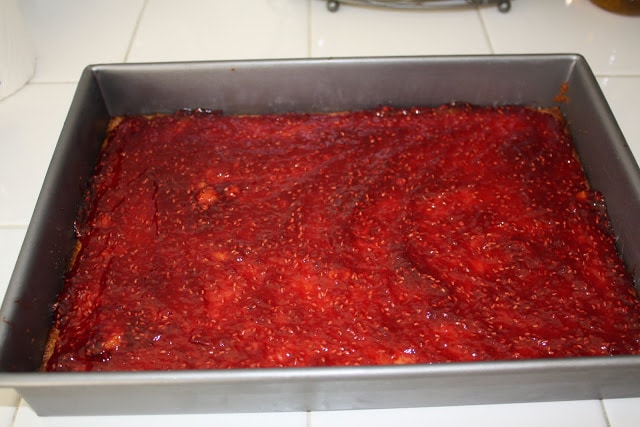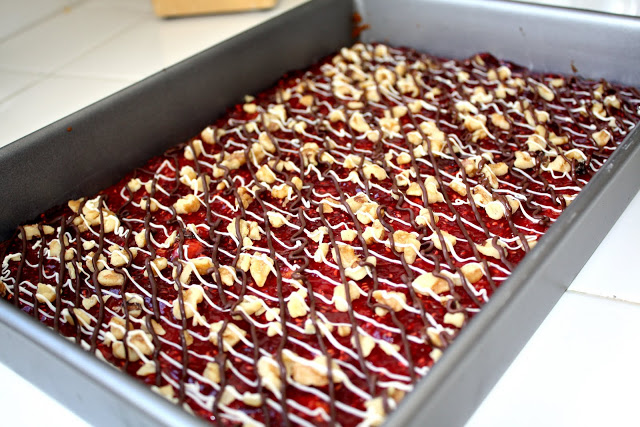 I'm not quite sure where I originally found the inspiration behind this recipe, but I believe I came across it many years back in the newspaper.
I have not tried making a vegan version of this dessert yet, but hope to have an update soon.
To make this dessert gluten-free, I can imagine you can take any gluten-free cookie similar to graham crackers and make the crumbs to use as the base of the bar. All other ingredients can be found gluten-free.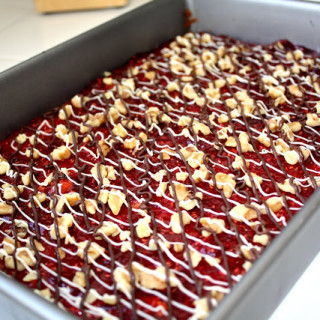 Raspberry Coconut Layer Bars (contains dairy, contains gluten)
Instructions
Preheat the oven to 350 degrees.

In a bowl, combine the graham cracker crumbs and butter. Spread evenly on a 9x13 inch pan.

Sprinkle coconut evenly over the crust.

Pour the condensed milk evenly on top of the coconut layer.

Bake for 20-25 minutes and cool.

Spread the raspberry preserves over the layer and chill in the fridge for 3-4 hours.

Sprinkle with walnuts and drizzle melted chocolate over the top.

Chill in the fridge until the chocolate is solidified and cut into squares.
Recipe Notes
To drizzle chocolate, you can melt the chocolate and pour into a plastic zip-lock sandwich bag and cut a small hole on one corner. Use as a cone and drizzle the melted chocolate on top of the walnut layer. Or you can just use a spoon to drizzle the melted chocolate.
[subscribe_box]