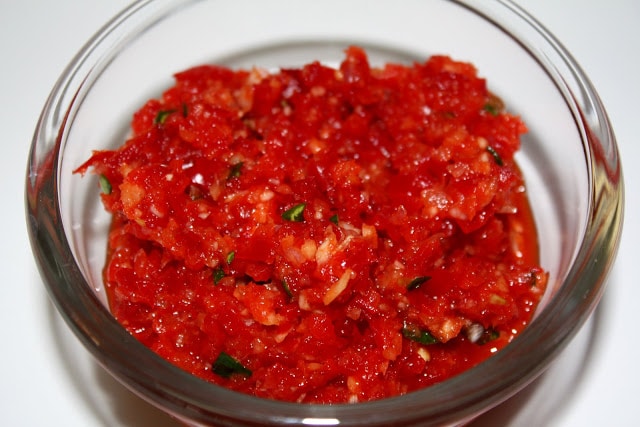 Even though you can buy red curry paste from any store, it's nice to be able to make it fresh from scratch. The great thing about this paste is you can make it ahead of time and keep it refrigerated for 1-2 months or even freeze it to use in all your Thai dishes at a later time.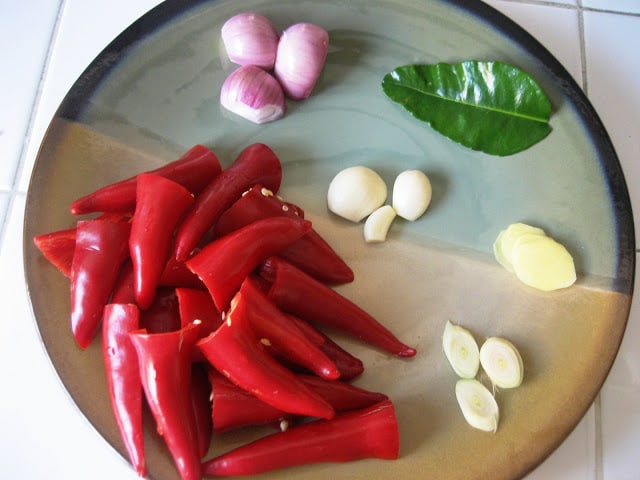 This paste can be used for most any Thai dishes including tom yum soup, pad thai, massaman curry, and red thai curry (to name a few).
RED CURRY PASTE: (gluten-free, vegan)
Ingredients:
10-11 red chili (medium)
2-3 shallots (medium)
2-3 garlic cloves
4 small slices Galangal (Thai ginger – regular is fine as well)
3 slices lemon grass
1 big kafir lime leaf
1 t salt (or more to taste)
3-5 T water (optional)
Directions:
Put all ingredients in a blender and blend until it turns into a nice thick paste. Add minimum water needed to blend all ingredients.
If using a mortar to mix, you do not need to add water (the paste will be thicker than in the blender).
(note: this paste can be stored in the refrigerator for 1-2 months, or stored in the freezer for later use)
[subscribe_box]