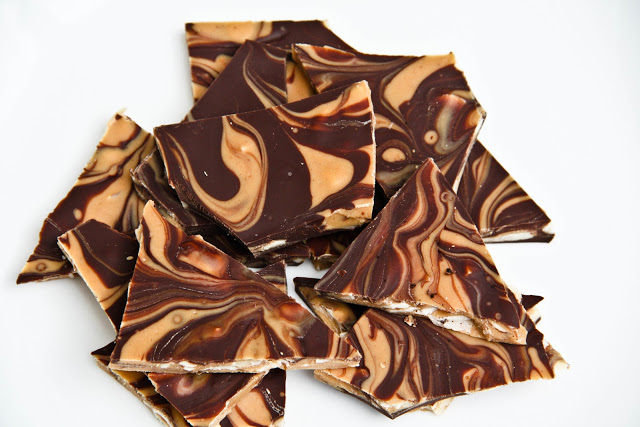 This bark was by far one of the favorites of the night during our Holiday Party this year. So very simple and so very inviting in taste and appearance! Not only does this bark have a blend of two great flavors, dark chocolate and reese's peanut butter, it's marble-like appearance is very eye-catching and great to display at any party or give out for the holidays!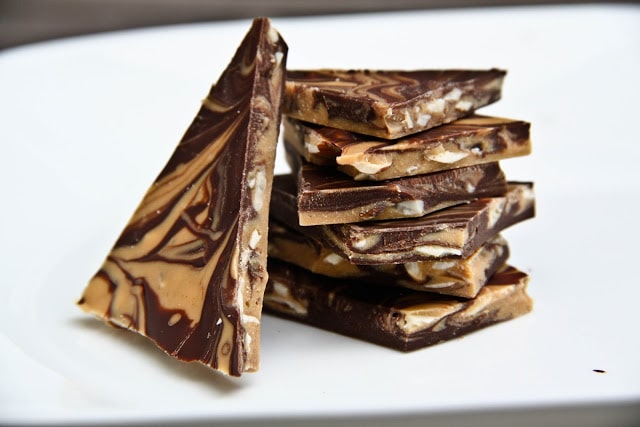 REESE'S PEANUT BUTTER DARK CHOCOLATE BARK (gluten-free, contains dairy):
(makes 1 pound of candy)
Ingredients:
8 oz. dark chocolate chips (I personally like Ghiradelli)
1 T shortening
10 oz. package reese's peanut butter chips
1/2 cup roasted peanuts or almonds, coarsely chopped *
* To toast the almonds or peanuts, use a small amount of oil to toast the nuts on a skillet stove-top, stirring occasionally until light golden brown, and then cool.
Directions:
Cover a cookie sheet or tray with wax paper.
Using a double broiler, melt the dark chocolate chips until compleltely smooth.
In another bowl, completely melt the reese's peanut butter chips and shortening until completely smooth and combined. To do this, either use a double broiler, or microwave on medium for 1 minute and then an additional 30 seconds at a time, stirring in between, until completely melted and smooth. Stir in the peanuts or almonds.
Alternately spoon the above mixtures onto the prepared tray. You can use a knife or toothpick to swirl the dark chocolate and reese's peanut butter in order to create a marbled effect.
Gently tap the tray on the countertop to even out the thickness of the mixture.
Refrigerate for about an hour until completely firm. Peel from the wax paper and break apart into pieces. Store in a cool, dry place.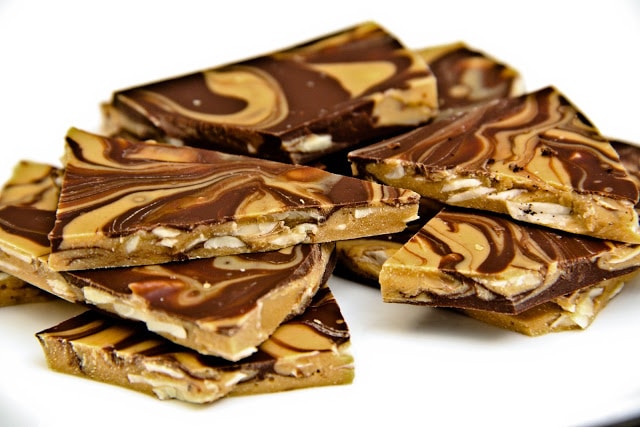 ~ Anjali