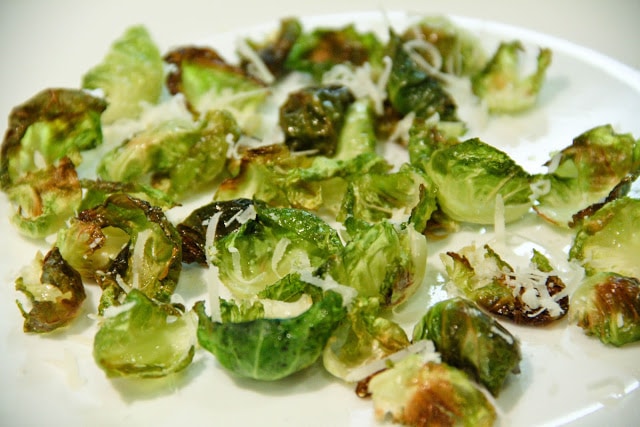 For thanksgiving this year, I wanted to use Brussels Sprouts as one of my sides and decided to make them two-ways: Brussels Sprouts w/Garlic and Butter (a recipe I posted awhile back), and some Roasted Brussels Sprout Chips. These chips are very addicting! They are crispy, thin, and so delicious that I guarantee you will end up eating the entire tray right after you pull them out of the oven. I also topped the dish off with some grated Parmesan cheese, but you can easily omit this for a vegan-option.
ROASTED BRUSSELS SPROUT CHIPS: (vegan, gluten-free)
Ingredients:
Brussels sprouts, washed and dried
olive oil
salt
pepper
(optional) Parmesan cheese, grated
Directions:
Position rack in the top third of the oven and preheat oven to 325 degrees F.
Keep the outer leaves of the brussels sprouts. In order to do this, first trim off the very bottom of each brussel sprout. Then start pulling off the outer leaves. Trim off the very bottom again and pull off a few more leaves. Once they become difficult to remove, discard the the remainder of the brussels sprouts stem.
Line a baking sheet with foil.
In a bowl, combine the brussels sprout leaves, a splash of olive oil, some salt, and pepper. Toss everything together so that the oil disperses uniformly over the leaves. (note: the spray olive oil may be ideal for this step).
Spread the leaves in a single layer on the baking sheet. Roast for about 15 minutes. Rotate the baking dish in the oven and roast for another 5 minutes.
Transfer any crispy leaves to a sheet of foil. If some are not done, keep roasting and removing the leaves in 5 minute increments until all of the leaves are done.
(optional) Sprinkle with freshly grated Parmasan cheese and serve hot!
~ Anjali