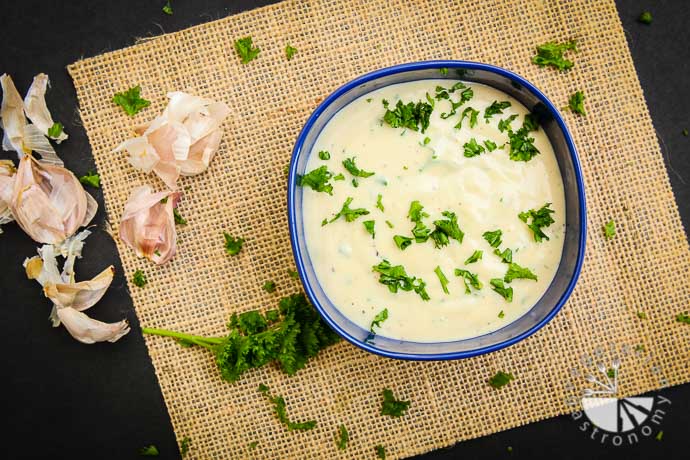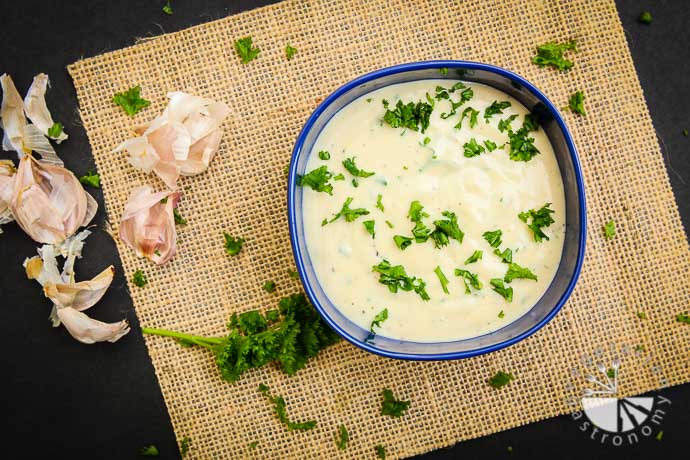 If you read my previous post of my first vegan aioli recipe, Chipotle Aioli, you already know that aioli is one condiment I had a difficult time staying away from after I gave up eggs. So you can imagine my excitement after having come up with a fantastic vegan aioli recipe the first time around! I've already used my Chipotle Aioli to create many favorite dishes, such as my Potato Fritter Sliders & Crispy Mushroom Avocado Sandwich. You were also warned that you'll be seeing a few more vegan aioli flavors coming out of this blog. Well, here is my next creation, a vegan Roasted Garlic Tuffle Aioli!
Two of my favorite flavors were combined to produce this delicious spread and condiment…garlic and truffle oil. In my opinion, there are very few dishes where the addition of garlic would not enhance the flavor. Yes, I am in love with garlic, as stated on my "50 Facts About Me" section. Truffle oil is one of those things that I always enjoyed at resturants, but never at home. I always loved the smell and taste it had when drizzled on pastas, pizzas, and even popcorn. Since I loved it so much, I found it sort of ridiculous that I've never bought any myself to experiment with. To my surprise, you can't find truffle oil in common grocery stores such as Ralphs, Vons, and even Trader Joe's! So I had to go out to my local Whole Foods or Sprouts to search for some. The guy at Whole Foods convinced me to buy the much smaller bottle, and since it's not the cheapest oil around, I agreed. He said it would last me an entire lifetime…but low and behold, after having made my aioli and some truffle popcorn, I've already emptied half the bottle. So you can be sure I'm buying the larger one next time =)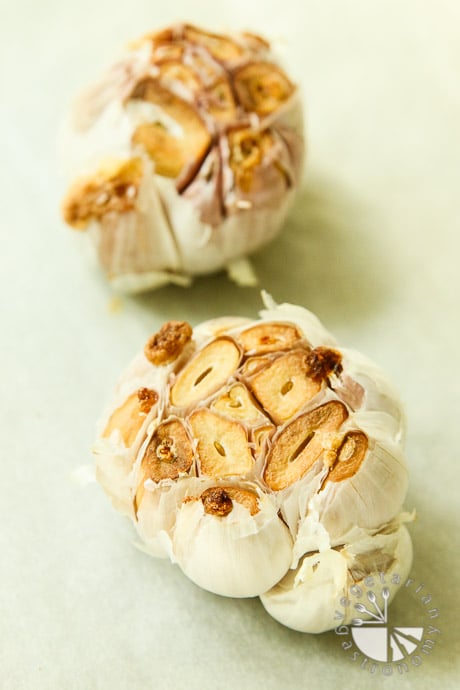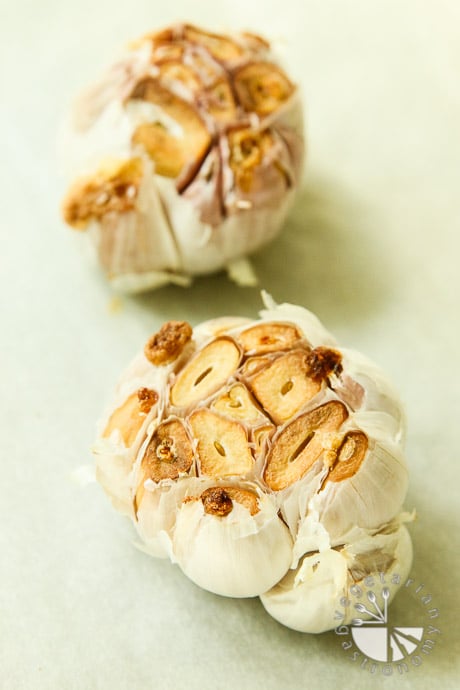 The idea of making a truffle aioli came from a recent visit to what is now one of my favorite vegan eateries, Free Soul Cafe in Tustin, California. Their entire cafe uses only plant-based ingredients, and has plenty of gluten-free options. Although as a side note, if you have Celiac Disease, be sure to ask them about cross-contamination in some of their dishes since they are not completely a gluten-free restaurant. Everything from their sandwiches, burgers, pastas, appetizers, soups, to desserts is delicious! Although I'm far from having tried their entire menu, I have yet to find something I haven't thoroughly devoured and enjoyed. So, back to my aioli. During my first visit there, I had ordered their Truffle Burger, and it was delicious! So delicious that after finishing my burger, I wanted more. The burger was lathered with a truffle aioli, and I knew I had to recreate a version at home. To deepen the flavor of the aioli, I decided to add one of my favorite ingredients, roasted garlic, to the aioli. Out came another delicious vegan aioli, as promised!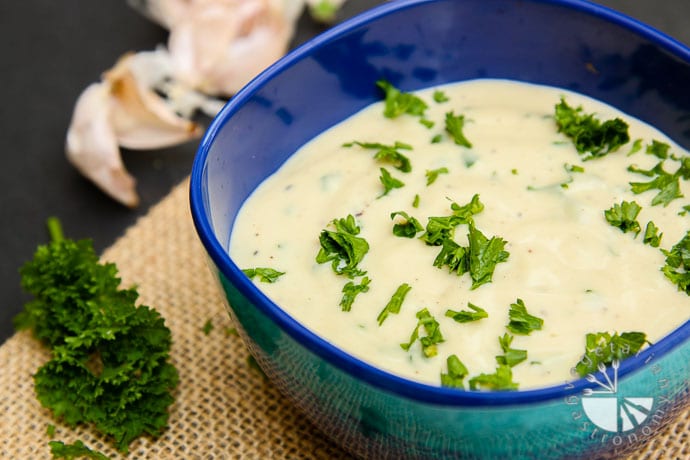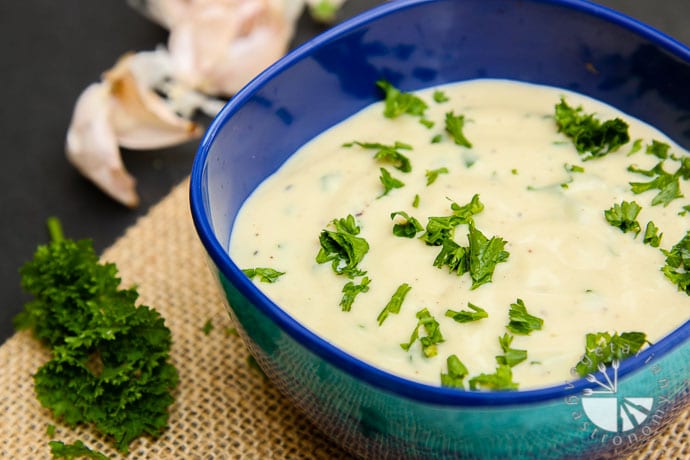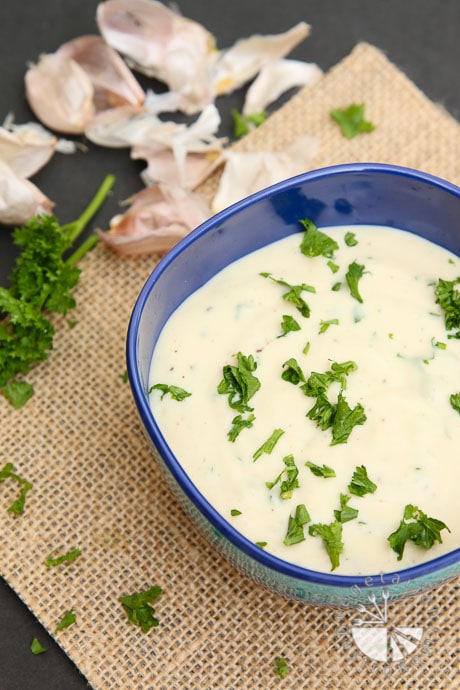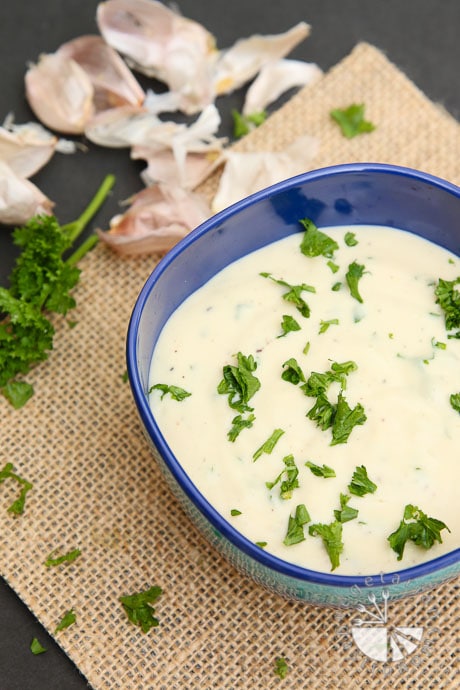 I already have a few recipes in the works using this aioli, one of which is coming your way soon! In the meantime, you can enjoy this aioli as a dip or spread. If you follow me on Instagram or Facebook, you've seen me incorporate this aioli into one of my go-to quick lunches, a Veggie Wrap. Simply spread a thin layer of this aioli onto your favorite grilled tortilla, add fresh spinach, cucumbers, tomatoes, bell peppers, avocado, and top it off with some crumbled Way Better Snack Tortilla Chips (Which by the way, if you've never had, are delicious. I typically purchase them online or from my local Sprouts Market. My favorites flavors are the sweet potato, simply blue, black, and sweet chili). I made this again last week for a good friend, and she couldn't believe how amazing the wrap was and loved the flavor of this Aioli. More ways on how to use this Aioli coming to the blog soon!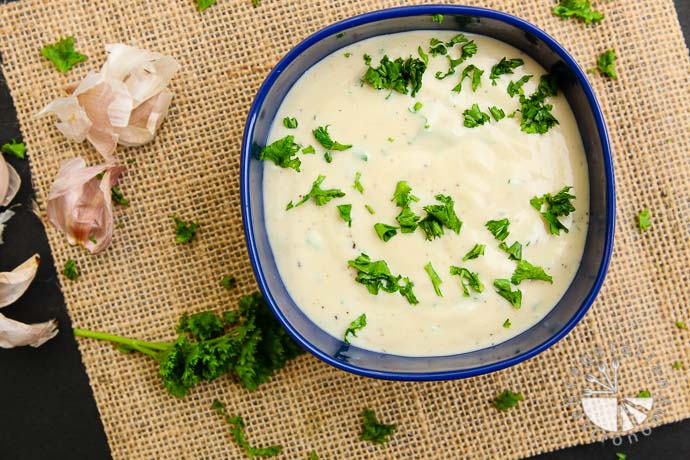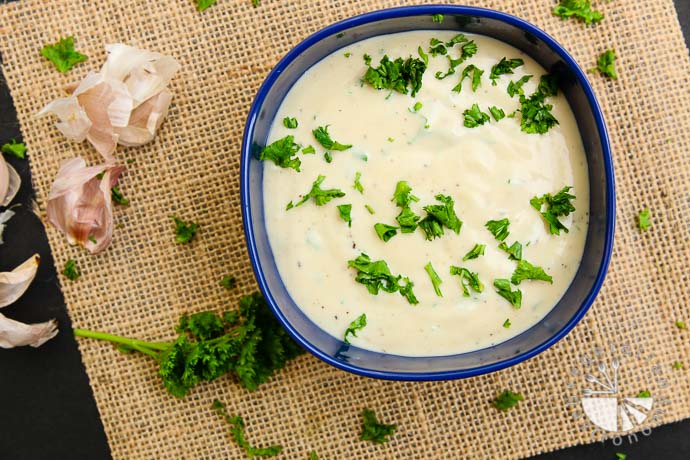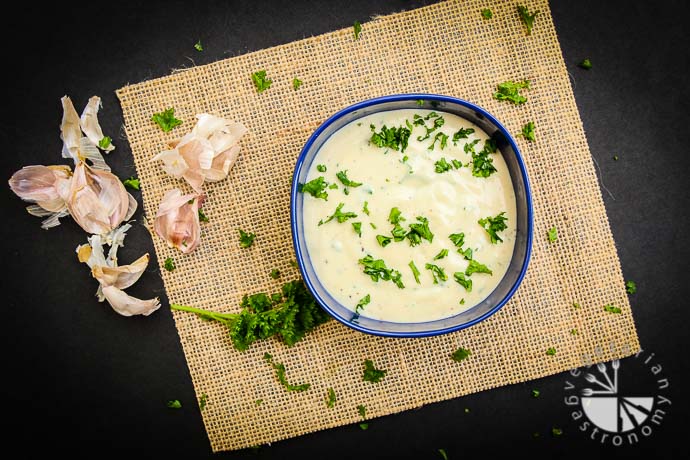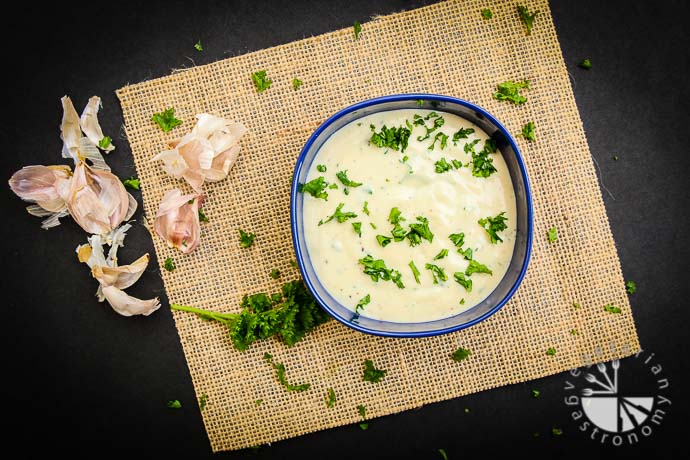 It's always wonderful to hear from my readers and followers in the comment section below. So if you make this recipe or even simply like the idea of the recipe, I'd love to hear from you. It's also a great way for me to get feedback so that I know how you like the recipes, whether you are eating or making them. You can give any feedback below, or you can also tag me on Instagram if you make one of the recipes @veggastronomy , #vegetariangastronomy, so I don't miss it.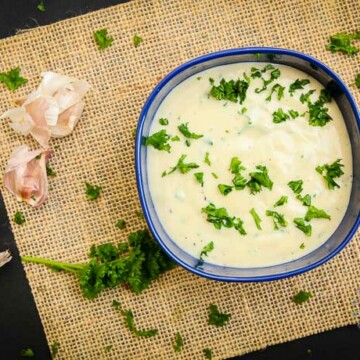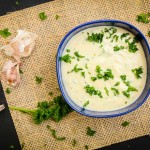 Print
Roasted Garlic Truffle Aioli (vegan, gluten-free)
Roasted garlic and truffle combine to give this creamy delicious vegan aioli. It's perfect to use as a sandwich spread or dip.
Servings:
4
servings (2 cups total)
INGREDIENTS
3

whole heads

garlic

1/2

cup

vegan mayo

, such as Nasoya brand

1/2

cup

silken soft tofu

, Morinu brand OR 1/2 cup additional vegan mayo

1/4

teasp

salt

3-4

teasp

fresh lemon juice

1

tbsp

white truffle oil

, + 1/2 T more if needed

fresh black pepper

fresh parsley

, finely chopped
INSTRUCTIONS
To Roast the Garlic:
Preheat the oven to 400 F.

Leaving the head intact with all of the garlic cloves attached, peel off as much of the outer loose layers of the garlic head.

Trim off the top of the garlic head, making sure to expose as many garlic cloves as possible.

Wrap each garlic head in a small amount of foil and bake on a baking sheet for 35-40 minutes until the exposed garlic looks slightly browned and is completely soft. If needed, you can check this by using a knife to pierce through.

Once the garlic is roasted, remove from the oven and let them cool until easy to handle. Open the foil and remove all the roasted garlic cloves with a knife or with your hand.
To Make Aioli:
In a blender, such as a Vitamix, combine the roasted garlic, vegan mayo, silken soft tofu, salt, and fresh lemon juice (start lower and add more as needed).

Blend until completely pureed into a thick and creamy aioli. Pour the aioli into a bowl.

Add more lemon juice and/or salt to taste and whisk. I always recommend starting off with less lemon juice. Depending on how sour your lemons are, you can easily add more to taste.

Add the white truffle oil and completely whisk into the aioli. The amount of the truffle oil depends on the amount of truffle flavor you prefer.

Add and combine some freshly ground black pepper and minced fresh parsley.

Chill in the fridge and use as a spread for sandwiches or wraps, or as a dipping sauce!
NOTES
Tofu - The soft silken brand of tofu is what I prefer for this recipe to give it that ultra-creamy aioli-like texture. I use tofu to cut down on the amount of vegan mayo used, but you can also simply use more vegan mayo for a completely soy-free option.
NUTRITION
Calories:
218
kcal
|
Carbohydrates:
2
g
|
Fat:
21
g
|
Saturated Fat:
2
g
|
Sodium:
305
mg
|
Potassium:
18
mg
|
Vitamin C:
1.7
mg
|
Calcium:
3
mg
|
Iron:
0.1
mg
[subscribe_box]