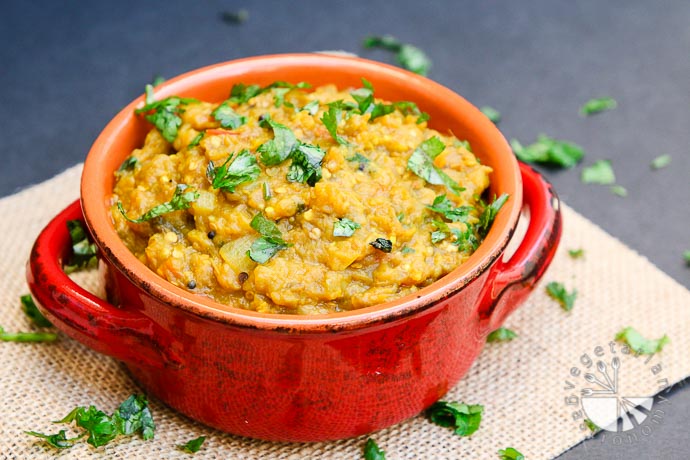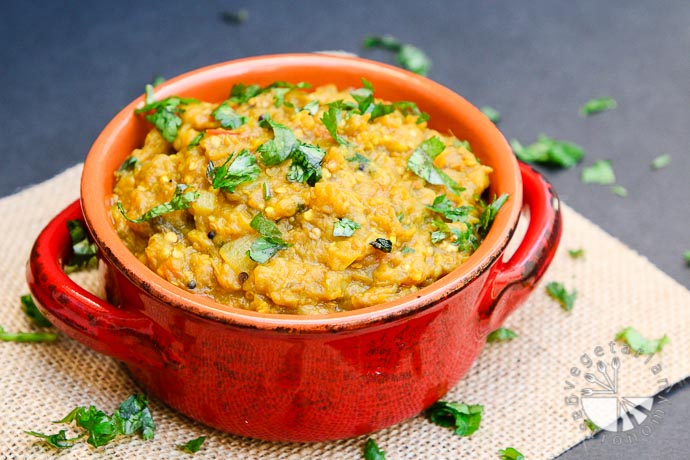 Meet one of my favorite Indian Dishes…Roasted Smoked Eggplant Curry, otherwise popularly known as Baingan Bharta. My mom rarely made this dish growing up, so it really wasn't until college, when one of my roommates made it, that I had my first real experience with this dish. I had seen it at Indian restaurants before, but had never bothered trying it. So when I realized how easy and unbelievably tasty it was, it quickly became a favorite of mine.  I've now created my own version of this dish.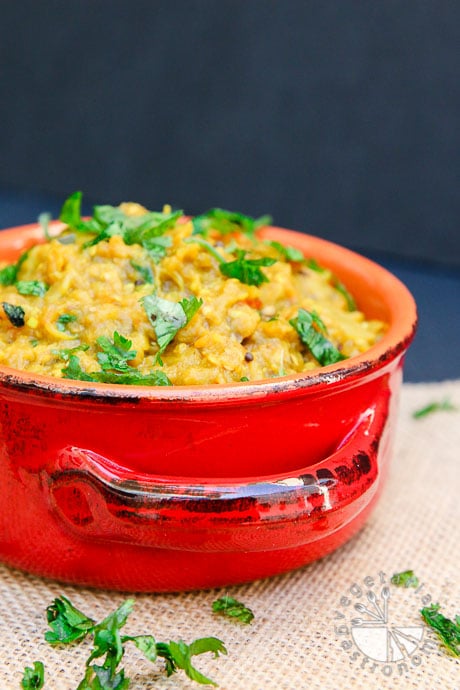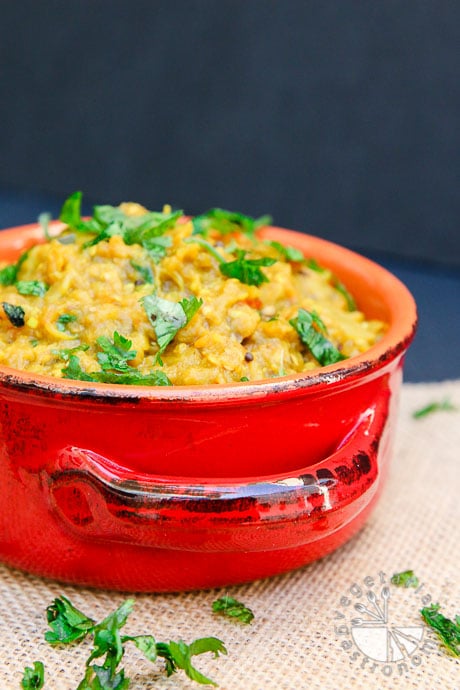 If you're not familiar with this traditional Indian dish, you can think of it as an Indian version of Baba Ghanoush. The meat of the eggplant, after it has been smoked and roasted, is pureed/mashed with a lot of tomatoes, garlic, onions, herbs, and spices to create a delicious creamy Eggplant Curry. You can enjoy it with some home-made whole wheat tortilla, Naan, rice, or serve it with pita chips and use it as a hot or cold dip.
I wasn't planning on posting this recipe this week, but it was high in demand when I posted a picture of it on my Facebook Page awhile back, so here it is. To those of you who were desperately waiting, sorry it took me so long to get it posted. Before I leave you with the recipe, I have one piece of advice… be sure to make double the recipe, because you'll definitely be wishing you had leftovers. =)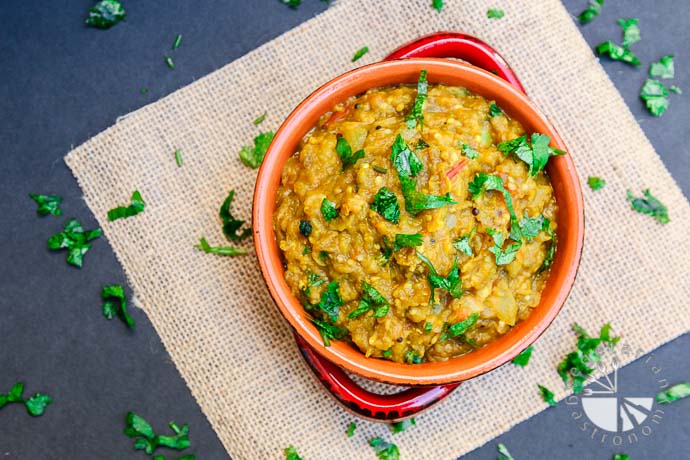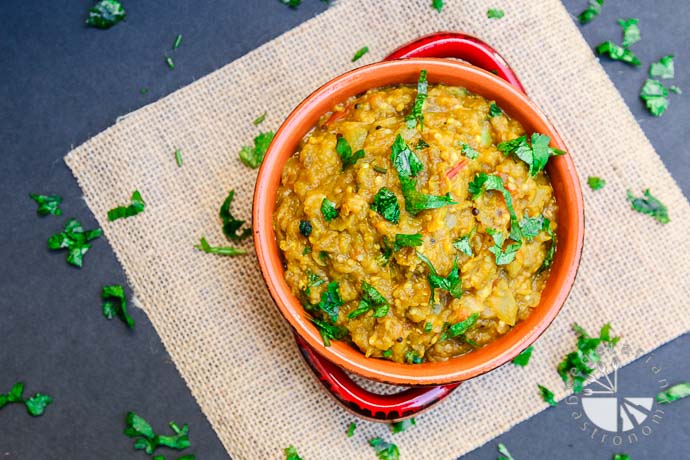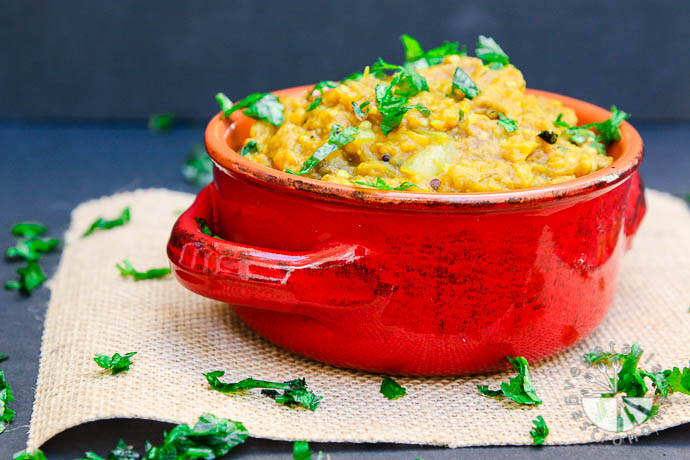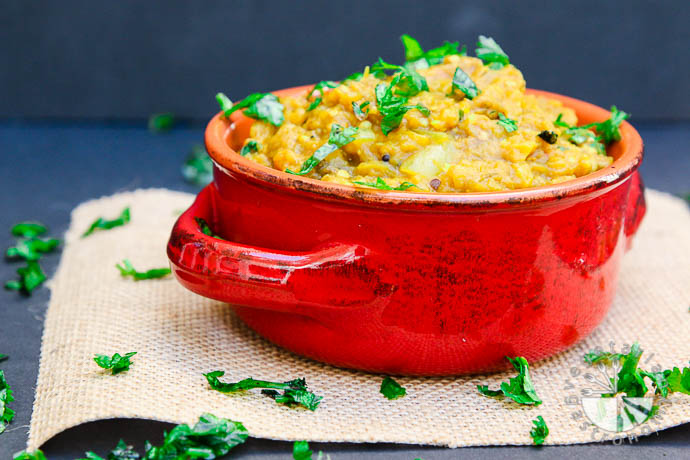 It's always wonderful to hear from my readers and followers in the comment section below. So if you make this recipe or even simply like the idea of the recipe, I'd love to hear from you. It's also a great way for me to get feedback so that I know how you like the recipes, whether you are eating or making them.  You can give any feedback below, or you can also tag me on Instagram if you make one of the recipes @vegetariangastronomy , #vegetariangastronomy, so I don't miss it.
Roasted Smoked Eggplant Curry (vegan, gluten-free)
---
Ingredients:
3 large eggplants
1/2 white onion, finely chopped
3 large vine-ripe tomatoes, finely chopped
7-9 cloves garlic, finely chopped
1 teasp ginger, minced
fresh green jalapenos, minced (amt. depends on desired level of spice)
black mustard seeds
(optional) 1/4 teasp. asafetida (hing), omit for gluten-free option
1 teasp turmeric
1/2 tbsp ground coriander powder
1/2 tbsp ground cumin powder
1/2 teasp garam masala
1/2 teasp freshly squeezed lemon juice
1 teasp salt
1/4-1/2 cup fresh cilantro, chopped
1 tbsp cooking oil
Directions:
Preheat the oven to 375 degrees F.
Prick the outside of each eggplant a few times all the way around (I used a skewer).
Smoke each eggplant. To do this, char the outside skin of each eggplant by placing them directly on the open flame of a gas burner. After 2-3 minutes or as the outside skin starts to char, rotate the eggplant so that it is evenly charred on all sides. Alternatively you can grill or roast the eggplant alone, but then you will NOT get the smokey flavor of the eggplant.
Place the smoked eggplants on a lined baking sheet (I used a silpat ) and place in the oven to roast for 20-30 minutes, or until they are completely soft. When they are done, you should easily be able to pierce a knife or poke a metal skewer into the core of the eggplant without any resistance.
Remove the eggplant from the oven and allow it to cool.
Split the eggplants in half lengthwise and scoop out the meat. Or simply peel the outer skin of the eggplant so that you are left with the inside meat. Discard the outer skin.
Place the meat of the eggplant into any blender (such as a vitamix). Pulse to chop/mash or roughly puree the eggplant. Note - I prefer to roughly puree the eggplant to have more of a smooth creamy texture, but I've also simply chopped and mashed the eggplant down with a masher or fork (instead of using a blender) and it tastes great either way, just depends on your preference.
In a non-stick pan, heat the cooking oil on medium heat. Add the black mustard seeds and asafetida (if using). Cook just until the seeds start to fry.
Add the finely chopped garlic, minced ginger, and minced fresh jalapenos (if using). Cook, mixing frequently, for ~30 seconds until fragrant. Be sure that the contents do not stick to the pan. If this happens, simply lower the heat or add more oil.
Add the chopped onions and saute until the onions start to become translucent, mixing frequently.
Add the chopped tomatoes, turmeric, coriander powder, cumin powder, garam masala, fresh lemon juice, and salt. Combine and saute until the tomatoes and spices start to cook in (a few minutes).
Add the roughly pureed or mashed eggplant. Combine and mix well with the tomato-onion mixture for 1-2 minutes.
Taste and adjust the amount of salt or lemon juice if necessary. Saute for another 3-4 minutes, mixing frequently.
Add the freshly chopped cilantro. Turn off the heat and serve hot with you favorite whole wheat tortilla (home-made or store-bought), Naan, or rice. Enjoy!
7.6.4
346
https://vegetariangastronomy.com/roasted-smoked-eggplant-curry/
www.VegetarianGastronomy.com
[subscribe_box]