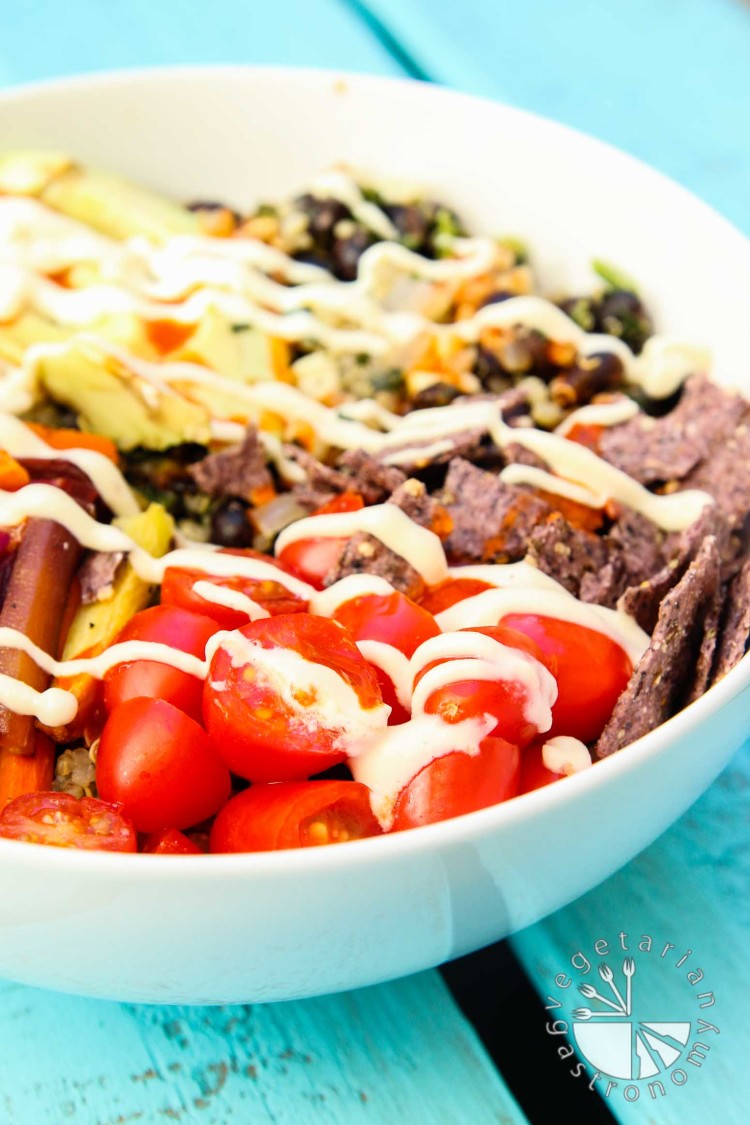 Do you find yourself scratching your head sometimes not knowing what to make for lunch or dinner? I do, believe it or not, ALL the time, especially for lunch during the weekdays since my kids typically eat leftovers and I'm left to fend for myself. I'm usually craving something satisfying, tasty, and healthy, but don't really want to think about what to make or spend a ton of effort. When this happens, I typically always turn on the toaster oven and start grabbing things from my fridge to turn into a quick meal. This Roasted Veggie, Quinoa, Mexican Bowl is one of my typical meals.
Some veggies, beans, protein, and a delicious sauce to go with it. My meal prep goes something like this –
Turn on the toaster oven
While it's heating up, grab some veggies to roast
While the veggies are roasting, prep the rest of the ingredients for the bowl
Make a delicious sauce in my vitamix
Put it all together
Eat
About 15-20 minutes later and you have yourself one delicious meal. Easy to make, satisfying, and healthy.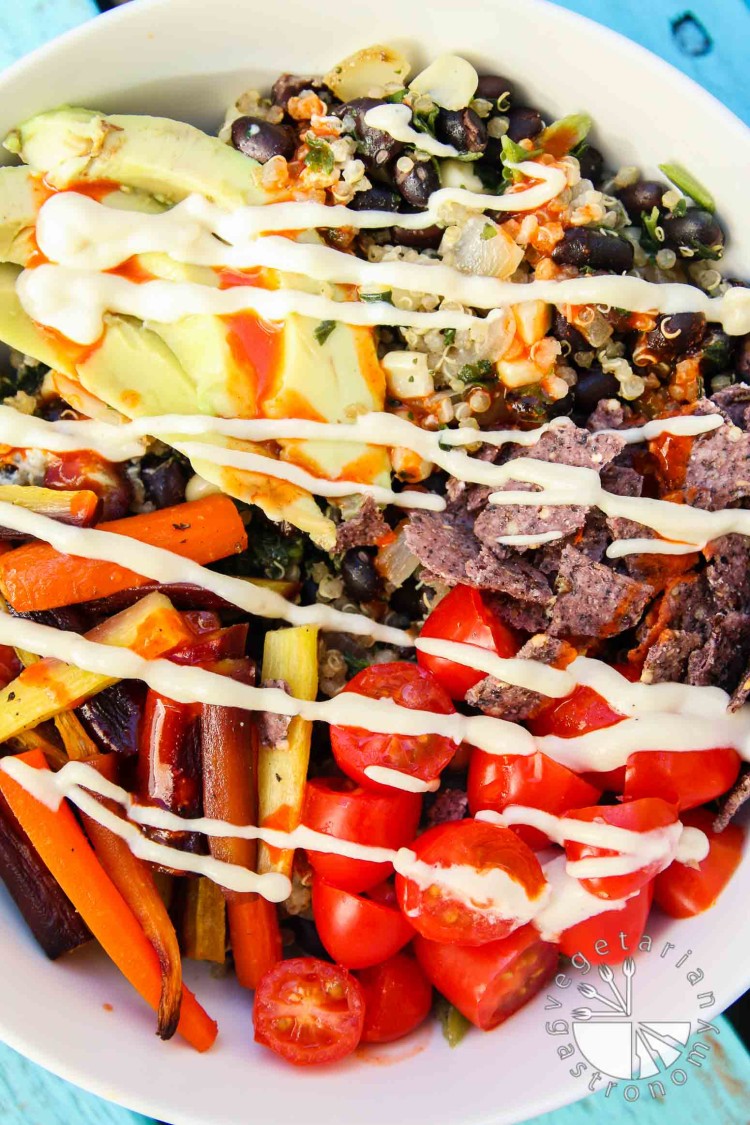 I'm a sucker for roasted veggies, especially colored carrots, mushrooms, and broccoli. I also typically cook a batch of quinoa in my rice cooker and store it in my fridge for use throughout the week. It's such a universal ingredient to have ready to go.  The kids love it as a side with some mango balsamic vinegar, and I love throwing it into salads, mixing it with beans, or serving it instead of rice with Thai food, etc. I make a quick black bean/quinoa/frozen spinach and corn mixture, throw in some avocado for some healthy fats and creaminess, some crushed chips for crunch and texture, and drizzle on a delicious creamy sauce coupled with a few drops of my favorite hot sauce. Your meal is served. It may seem complicated, a lot of steps/prep-work, but after you do it once, you realize it really is very easy to throw together a delicious bowl. What are some of your favorite bowl-combinations?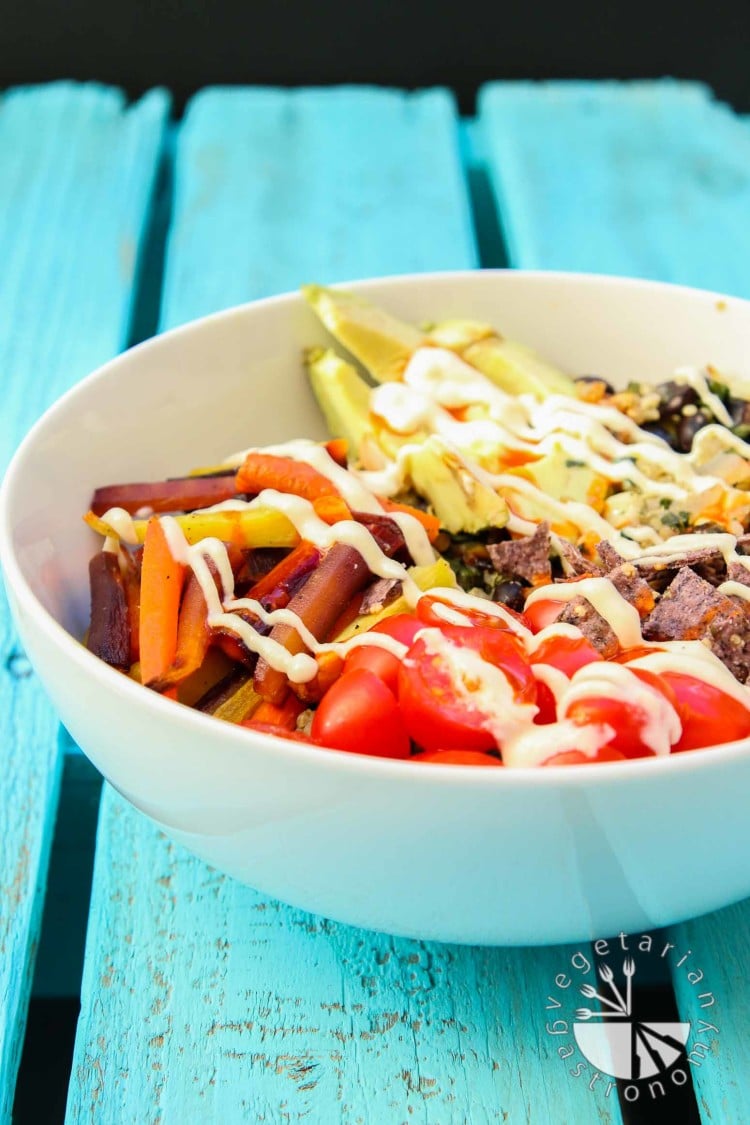 Roasted Veggie, Quinoa, Mexican Bowl
---
Ingredients:
tortilla chips (your favorite variety)
cherry tomatoes
avocado
fresh cilantro, chopped (optional)
hot sauce (optional)
Maple Roasted Colored Carrots or any other favorite veggie to roast (such as broccoli or mushrooms)

For the Bean Mixture:

black beans, cooked (fresh or from a can)
red or white quinoa (or a blend of both), cooked
frozen spinach
frozen corn
salt
freshly ground black pepper
Directions:
To make this meal in 15-20 minutes, first prep the carrots for the Maple Roasted Colored Carrots . Instead of carrots, you can also use broccoli or mushrooms - Simply wash, cut into large pieces, toss with a little olive oil/salt/pepper, and roast in the toaster oven at 400 degrees for about 15 minutes. While the veggies are roasting in the toaster oven, continue to prep the rest of the ingredients.
Cut the cherry tomatoes in half, slice the avocado, and prepare the Sweet Jalapeno-Lemon Cream Sauce (if you did not make this ahead of time).

To Prepare the Bean Mixture.

Combine the cooked black beans, some frozen spinach, and frozen corn in a glass bowl. Add a small amount of water and microwave for 2-3 minutes until the corn and spinach defrost completely. Toss in some some cooked quinoa, and season to taste with salt, freshly ground black pepper, and a few drops of your favorite hot sauce (optional).
In each bowl, add some of the Bean Mixture. Then place some cherry tomato halves, sliced avocado, roasted veggie (carrots or other veggie of choice), and tortilla chips on top.
Drizzle on some Sweet Jalapeno-Lemon Cream Sauce and add a few drops of your favorite hot sauce (optional). Garnish each bowl with some freshly chopped cilantro and enjoy!
Notes:
VEGAN, GLUTEN-FREE
This is a general guideline on how to create a bowl. Exact amount of ingredients may vary depending on your preference.
7.6.2
391
https://vegetariangastronomy.com/roasted-veggie-quinoa-mexican-bowl/
www.VegetarianGastronomy.com