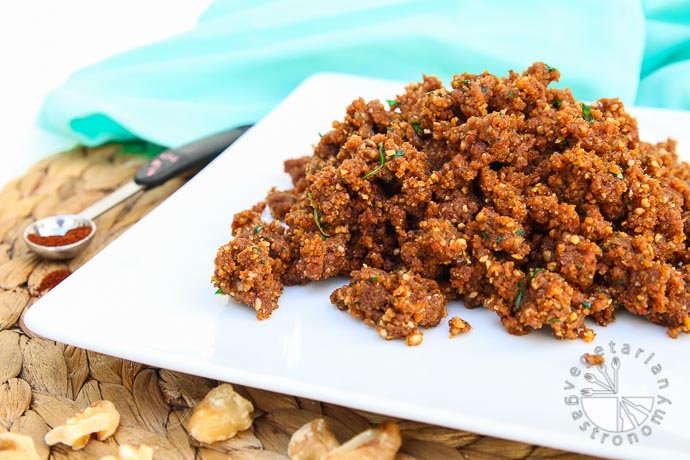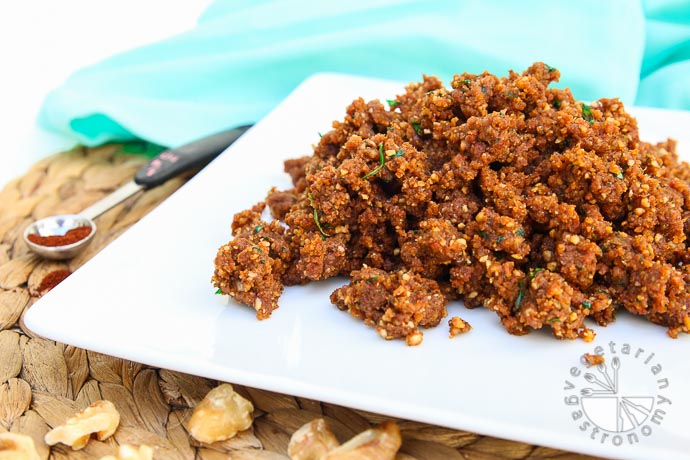 Have you ever tried the store-bought soy crumbles or the faux meat "chorizo"? Well I have, and I've never been a huge fan. I know a few friends who love the stuff and add it to burritos, breakfast scrambles, tacos, salads, etc. I've always liked the concept of a savory crumble you can add to a variety of different dishes, but the flavor/taste, texture, and long list of ingredients in the store-bought packages always kept me away. Not to mention, most of the store-bought brands aren't the healthiest. Well after being inspired by a recent taco salad I picked up from a local juicery, I thought why not make my own version of a savory crumble. That's exactly what I did with this Savory Walnut & Sun-Dried Tomato Crumble recipe, and I can honestly say I'm in LOVE with this stuff!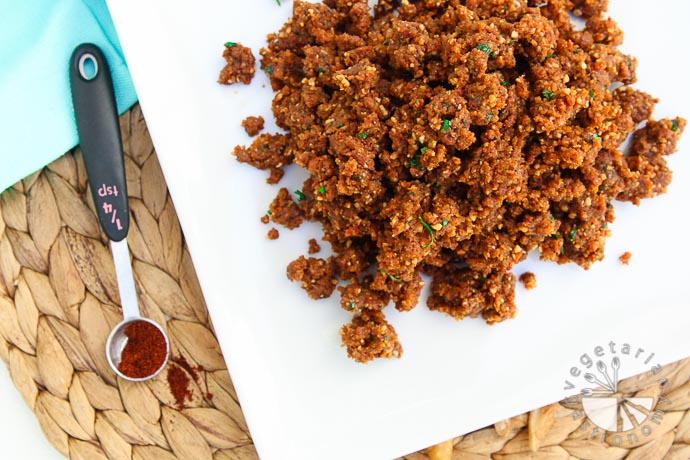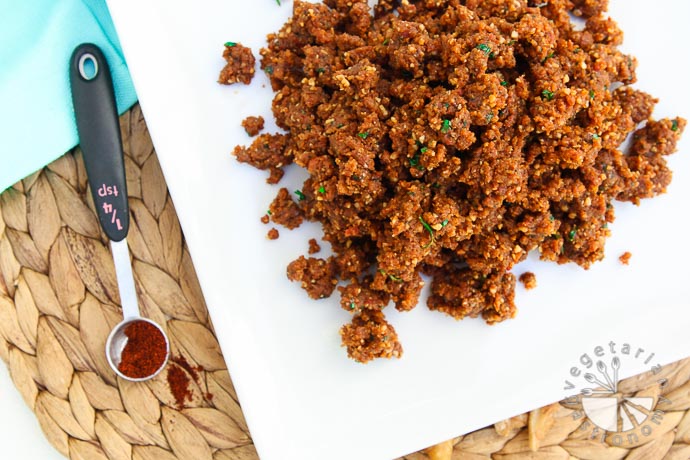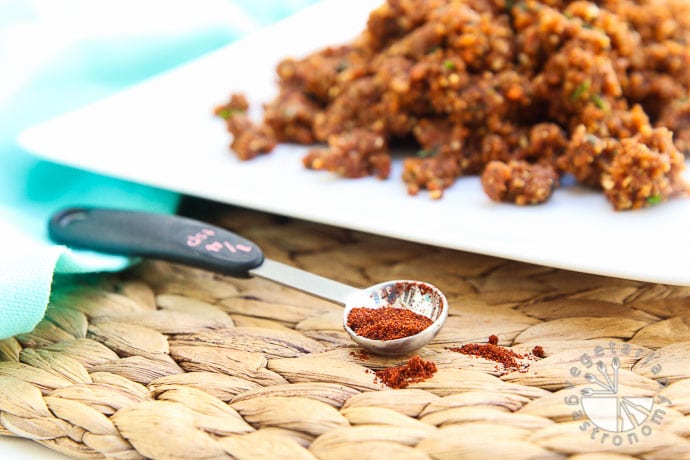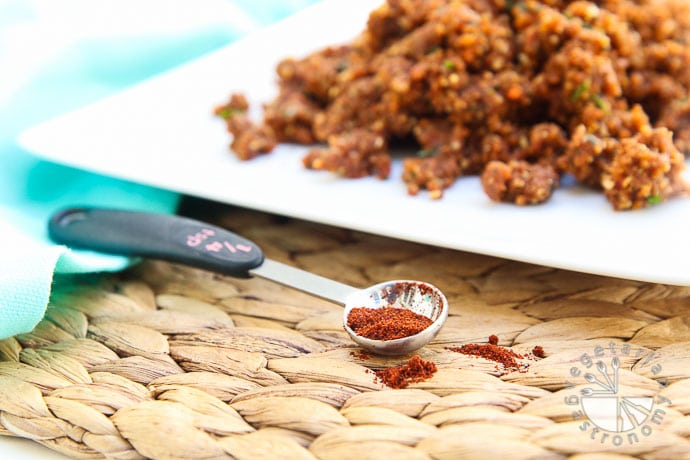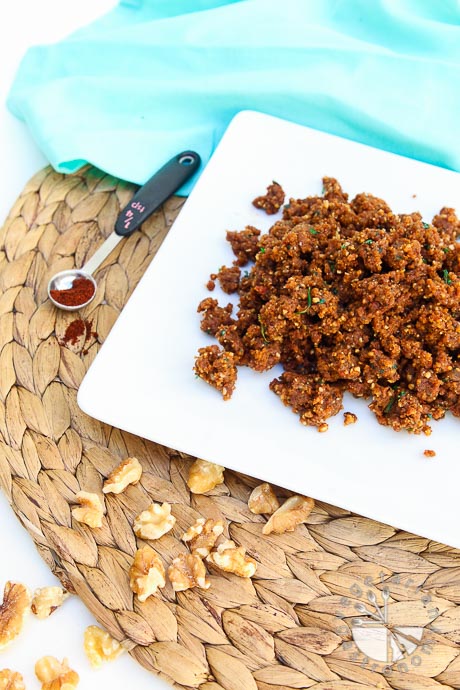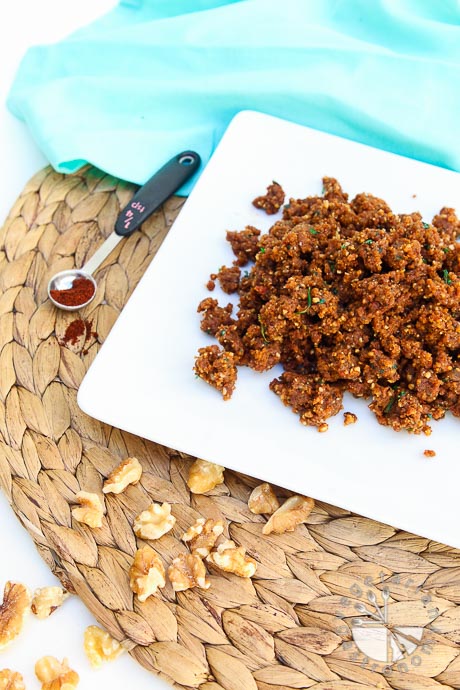 This Walnut & Sun-Dried Tomato Crumble is EVERYTHING I've been looking for…easy to make, made with healthy and good-for-you ingredients, crumbly for easy use in a variety of different dishes, very flavorful, and just delicious! Simply grab all the ingredients, add into your food processor, and pulse until it reaches the crumbly consistency. You can think of this savory crumble as a vegan "chorizo", but since I've never been a huge fan of fake-meat products and labels, to me it's really just one of the BEST nut-based savory mixes I can crumble onto or stuff into a lot of different types of dishes. If you're looking at the ingredients and thinking you don't have all the spices at home, I highly recommend going to the store and buying them because I guarantee that once you make this once, you won't be able to stop, and so those spices will be used. Or if you're thinking that you already like the store-bought soy crumbles, then you definitely need to try my version – it tastes much better, is very easy to make, and is clean.
Coming up are two recipes using this Walnut & Sun-Dried Tomato Crumble, ones you definitely won't want to miss. But until then, gather all the spices and ingredients, and make this crumble. You can add it to just about anything – burritos, tacos, breakfast scrambles, salads, etc. If you make it, be sure to Tag me on Facebook or Instagram @vegetariangastronomy , #vegetariangastronomy, so I don't miss it! I love seeing and sharing all your re-creations.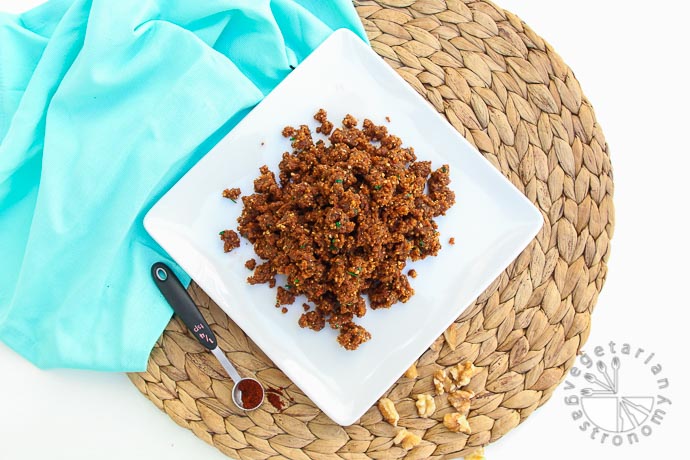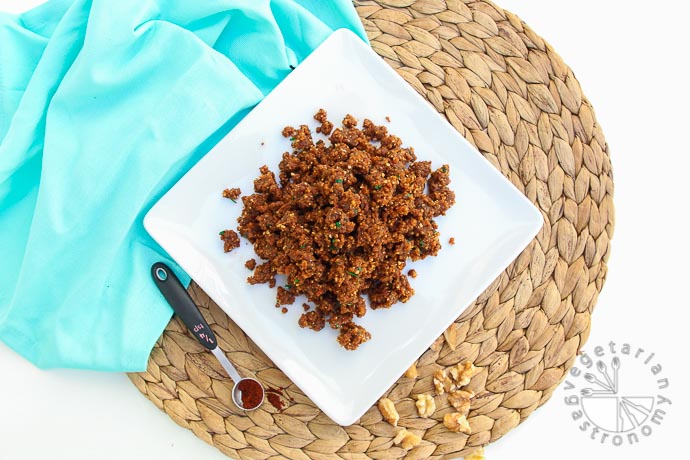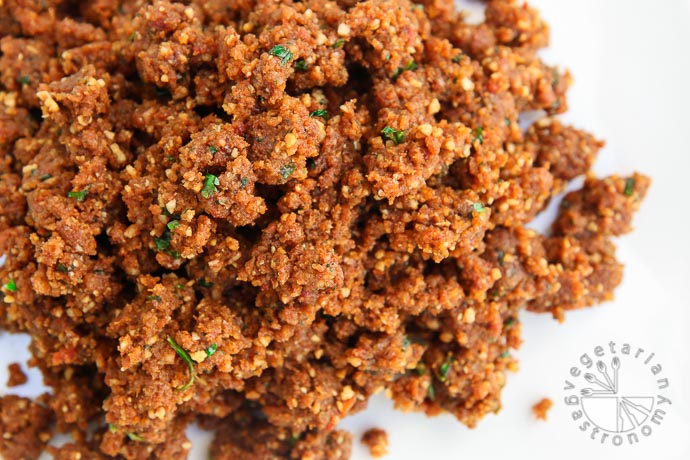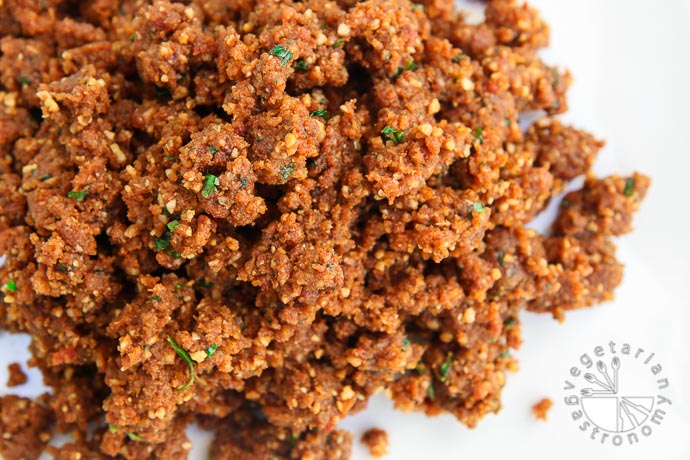 One year ago: Creamy Chocolate Fudge Popsicles (v,gf)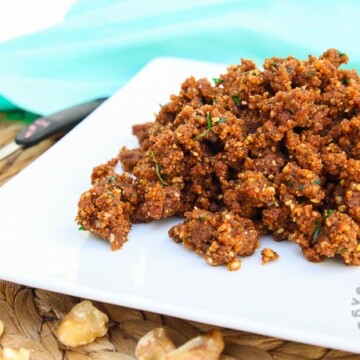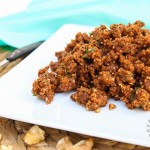 Print
Savory Walnut Sun-Dried Tomato Crumble
This vegan crumble is the best taco "meat" to add to everything! Made with whole ingredients, flavor-packed, and the perfect way to add in that protein!
Servings:
4
servings (2 cups crumble total)
INSTRUCTIONS
Pulse 10-15 times in the food processor until all the ingredients are well combined and the mixture becomes crumbly in texture. Be sure not to simply turn on the food processor, but rather to make quick pulses until you achieve the desired consistency. The finished product should be able to stick together, but at the same time easily separate and crumble onto different dishes.

Add additional salt and/or lemon juice to taste if needed.

Store in the fridge in an airtight container for a few days. Enjoy over salads, in burritos, tacos, tofu scrambles, etc.
NOTES
Sun-dried Tomatoes - I used

Julienne sliced sun-dried tomatoes in olive oil

. Scoop the sun-dried tomatoes out of the jar, and place in a small strainer over a cup or bowl. Allow the olive oil to drain out as much as possible (save oil for cooking or discard in trash). Pat the drained sun-dried tomatoes with a paper towel and use 1/4 cup packed of these sun-dried tomatoes in the recipe. You can also used dried tomatoes (not in olive oil) and simply add oil if needed for consistency.
NUTRITION
Calories:
257
kcal
|
Carbohydrates:
8
g
|
Protein:
6
g
|
Fat:
24
g
|
Saturated Fat:
2
g
|
Sodium:
270
mg
|
Potassium:
284
mg
|
Fiber:
3
g
|
Sugar:
1
g
|
Vitamin A:
175
IU
|
Vitamin C:
9.3
mg
|
Calcium:
40
mg
|
Iron:
1.6
mg
[subscribe_box]