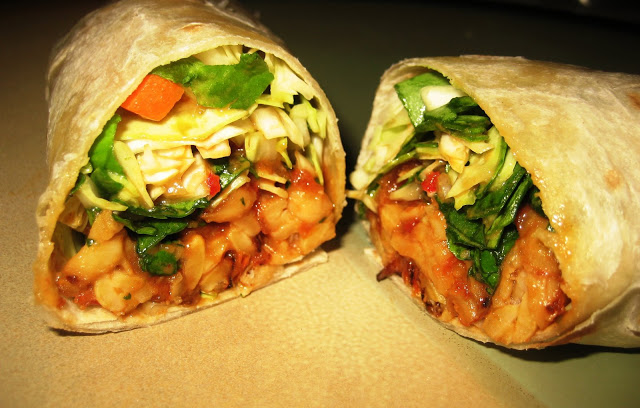 Tempeh is made from cooked and slightly fermented soybeans which bind into a cake form. I first discovered tempeh at Veggie Grill, a casual place in Irvine which serves great sandwiches, burgers, and salads. If you've never been, I highly recommend going and getting their special wrap with tempeh and avocado.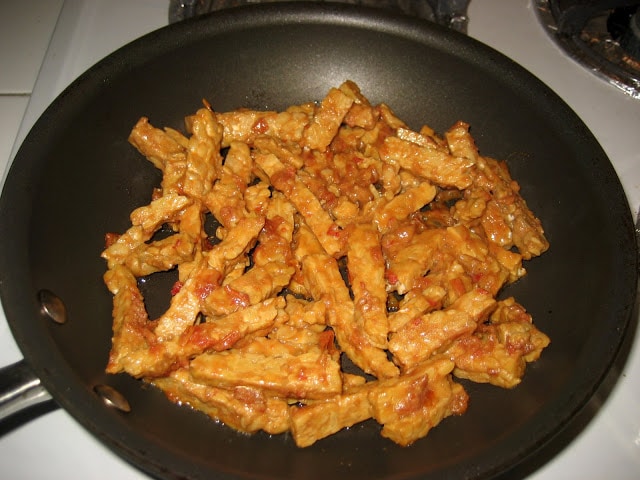 Tempeh alone is similar to tofu but better textured. And if marinated, flavored, and paired right, it can make for a savory dish. This was my first attempt to make something with tempeh, and going from my last experience at veggie grill, I decided to try and make my own wrap which consisted of tempeh marinated and seared with my Thai Peanut Sauce, a recipe which I learned from my trip to Thailand. The end result tasted great and was very filling!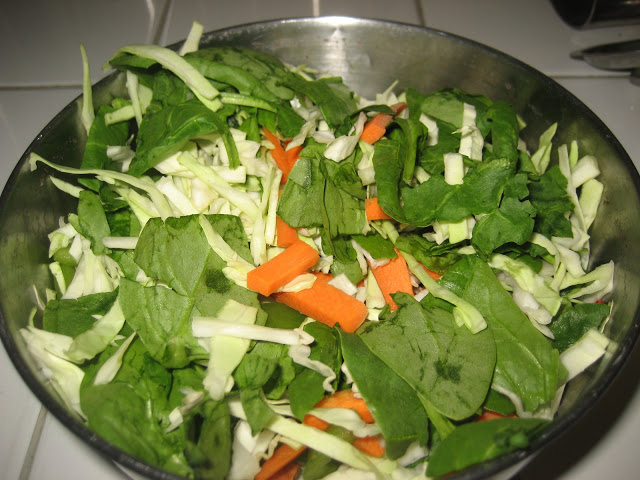 For the gluten-free option you can buy gluten-free tortilla. Or, if you're not a huge wrap fan, you can mix the greens with the tempeh and add some peanut sauce for a great salad.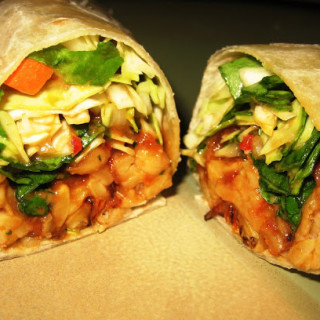 Seared Tempeh Wraps w/Thai Peanut Sauce
Ingredients
8

oz.

tempeh

2

servings home-made Thai peanut sauce

or your favorite store-bought brand

tortilla for wraps
For the Salad Filling:
cabbage

shredded

carrots

shredded

bell pepper

sliced thinly

spinach

leaves or chopped

avocado

sliced thinly (optional)

add any additional vegetables you wish to include
Instructions
To Make Tempeh:
Take the tempeh out of the storage package, rinse with water, and dry. Thinly slice the tempeh into 1/4" thick strips about 2" long. Place all the cut pieces in a bowl.

Pour the peanut sauce over the cut tempeh and toss. Be sure to pour enough such that all the tempeh is evenly coated (note: leave about 1/2 for the wrap assembly).

Marinate tempeh for ~20min and toss a few times in between. You can prepare the salad filling while waiting.

After ~20min, heat a small amount of vegetable oil in a nonstick pan. Add the tempeh and cook, turning the pieces of tempeh several times until all the tempeh is grilled and browned on both sides (5-10min).
To Make Mixed Greens/Veggies:
Chop all the veggies for the salad filling and toss in a separate bowl.
To Assemble Wrap:
Warm the tortilla and lay flat on a plate. Add chopped salad, and top with peanut sauce. Add the tempeh mixture, and again top with peanut sauce. Add avocado (optional).

Roll the tortilla into a wrap, cut in half, and serve!
Recipe Notes
For the gluten-free option, use your favorite gluten-free tortilla, OR make a great salad by mixing the greens/veggies with the tempeh and topping with additional peanut sauce.
[subscribe_box]