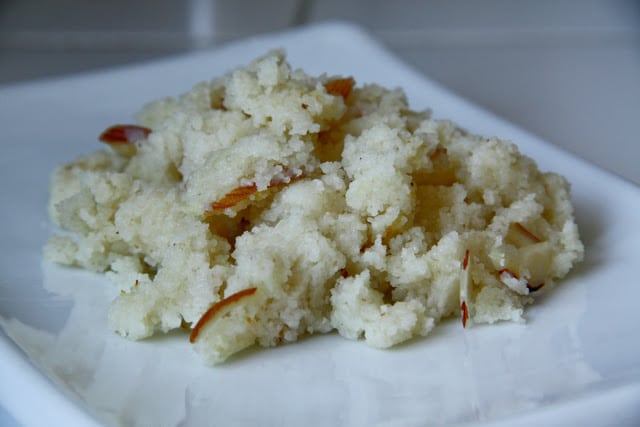 For Diwali this year (Indian Festival of Lights holiday) I decided to try and make an Indian dessert. I've never been a huge fan of Indian desserts, but I remember enjoying my moms Shiro when I was young. So I gave her a call for the recipe and decided to give it a try. I knew my husband would be happy since he loves most Indian desserts.
Shiro is basically roasted cream of wheat with sugar, milk, nuts/raisins, and a few spices. It ended up being extremely easy to make and my husband and I enjoyed it during dinner. So here is my first post on Indian desserts.
SHIRO:(contains dairy)
Ingredients:
(~6 servings)
1 cup cream of wheat
3 cups milk (2% or whole)
2 T clarified butter
1 cup sugar
1/2 teasp. pinch ground cardomom (brown)
2 T sliced almonds
2 T golden raisins (optional)
pinch ground saffron (optional)
Directions:
Add the clarified butter in a large sauce pan on medium heat until melted. Add the raisins and cook for a few minutes.
Add the cream of wheat and roast, stirring frequently with the butter, until it turns into a light brown color. Be careful not to burn the cream of wheat by letting it sit there.
Add the milk and sugar. Whisk to blend and make sure there are no lumps in the mixture. Stir continuously. The mixture should start to thicken and reduce.
Keep stirring until the mixture is not liquidy anymore. Stir in the saffron, cardomom, and almonds. At this point, turn off the heat, cover with the lid slightly open, and let it sit for 10-15 minutes.
Stir and transfer to a serving dish. Serve hot.
[subscribe_box]