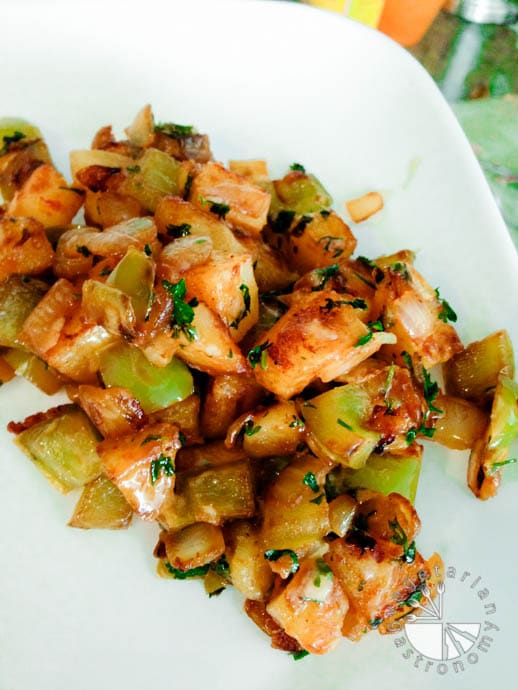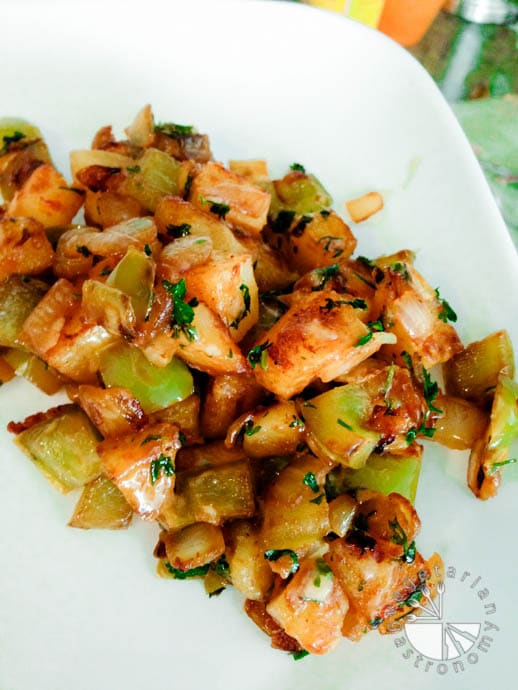 Being vegetarian and not eating eggs makes for a difficult time when going out for brunch or breakfast with friends at most restaurants. Very rarely do you come across a place that serves eggless pancakes or waffles unless the restaurant is vegan itself. However, the one dish my husband and I enjoy eating is breakfast potatoes with any type of vegetables. Here is my version of simple, yet delicious breakfast potatoes. The potatoes are tender on the inside, and crisped to perfection on the outside. Toss them with some sauteed onions and bell peppers, fresh herbs, and spices and you have yourself a great breakfast!
SIMPLY BREAKFAST POTATOES: (vegan, gluten-free)
(makes 4 servings)
Ingredients:
4 red potatoes
2 T olive oil
1 T butter, salted (vegan, earth balance)
1 onion, chopped
1 green bell pepper, seeded and chopped
3/4 teasp. paprika
1/4 cup fresh parsley, chopped
salt/pepper
hot sauce (such as Cholula)
(optional) cheddar cheese, grated (omit )
Directions:
Bring a pot of salted water to boil. Add the red potatoes whole with skin and cook until the potatoes are tender but firm (about 15 min). Drain, cool, and cut the potatoes into 1/2 inch cubes with the skin attached.
While the potatoes are boiling, heat 1 T olive oil over medium/high heat in a skillet. Add the onions and green peppers. Cook, stirring frequently, until soft. Set aside on a plate.
Add the remaining 1 T olive oil & 1 T butter into the skillet and turn the heat to medium. Add the potatoe cubes, salt, paprika, and black pepper. Cook covered, stirring occasionally, until the potatoes are tender, browned, and slightly crispy on the outside. This may take 10-20 minutes.
Stir in the onions, green peppers, and parsley and cook for another few minutes.
Season with hot sauce and additional salt and pepper if needed.
(optional) Turn the heat off and add shredded cheddar cheese on top and mix with the potatoes and vegetables just until the cheese starts to slightly melt.
Serve hot.
Note: I enjoy these potatoes with hot sauce or ketchup.
[subscribe_box]