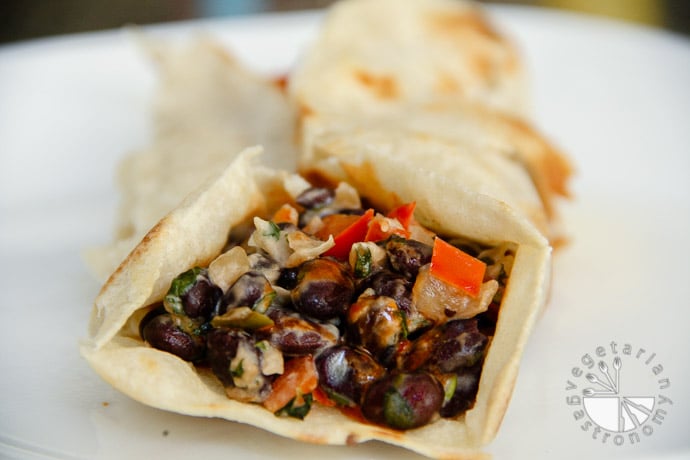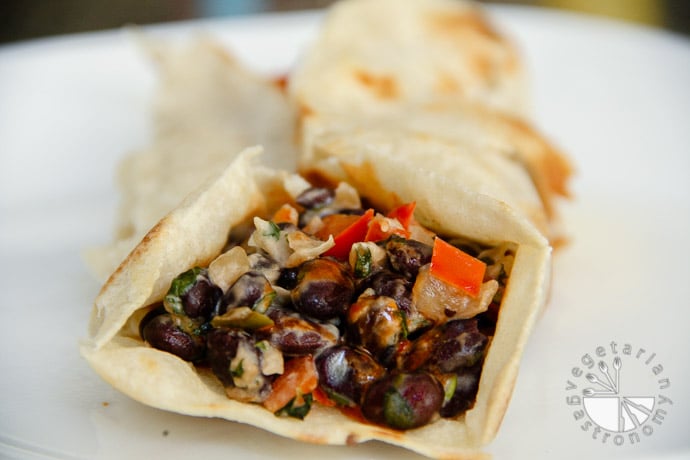 This simple dish is a surprisingly delicious twist on a classic black bean burrito. The special ingredient? Cream Cheese! You may think cream cheese does not belong in a burrito, but it's creamy texture creates a delightful tasty addition to an otherwise normal burrito!
This recipe was adapted from my Body Back recipe booklet (if you're curious about what Body Back is, read my post on Oatmeal No-Bake Bites). The recipe caught my attention mainly because of it's ingredients. Most of them were ingredients I would normally add to a burrito – beans, onions, bell peppers, garlic, cilantro, and jalapenos. But I was curious about the addition of cream cheese and the flavor it would add to the burrito. And after trying out the recipe, I do have to say it was surprisingly amazing! The creaminess made for a great flavor addition to the black beans and veggies! It was very easy to make and I was so excited for leftovers the next day! I ended up changing the amounts of each ingredient to fit my taste.
The burrito definitely needs the addition of some type of hot sauce as the recipe indicates below, my favorite being Cholula Hot Sauce (which I eat with EVERYTHING). I've eaten this burrito filling with both flour and wheat tortilla…both tasted great. If you've never tried uncooked flour tortillas from Canasta, they taste so much better than any other packaged flour tortilla brand I've tasted so far. You can find these uncooked flour tortillas at Sprouts and Ralphs. You can also purchase these tortillas directly on the Canasta Uncooked Flour Tortillas website or on amazon.
If you're looking for a simple, easy, tasty, and slightly different meal than your standard black bean burrito, grill some tortilla and try out this recipe!
UPDATE: I've updated the recipe below to include a vegan option.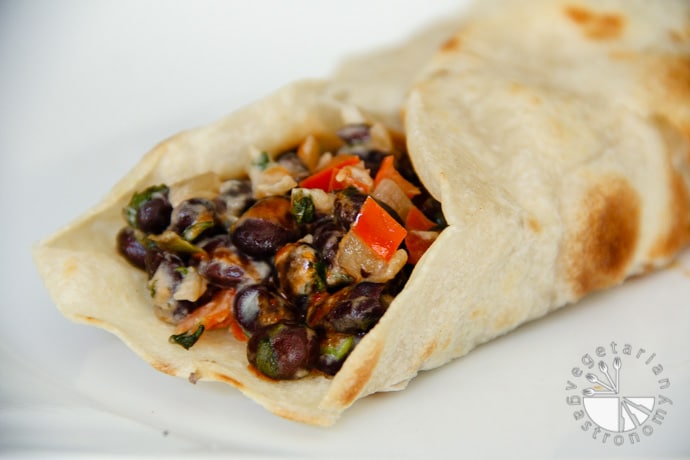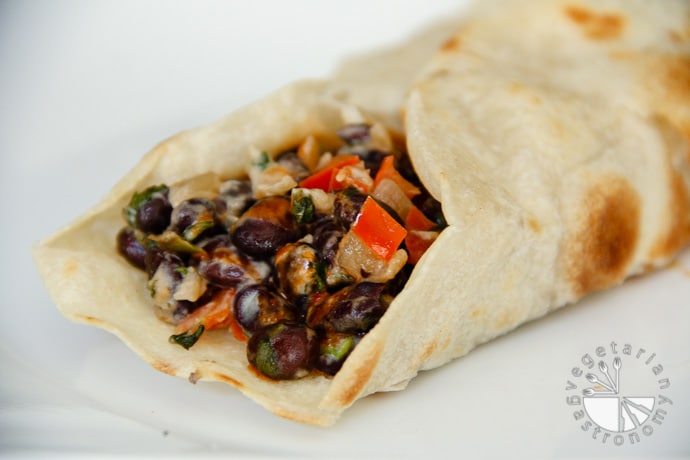 Special Black Bean Burritos w/Veggies (gluten-free option, contains dairy)
---
Yields makes ~ 4-5 burritos
Ingredients:
5 tortillas (whole wheat, flour, corn, or gluten-free)
3-4 Tbsp. olive oil
1 large onion, chopped
1 1/2 red bell pepper, chopped
3 garlic cloves, minced
1 1/2 - (15 oz) can black beans, rinsed and drained
2 teasp. fresh jalapeno peppers, minced
1/3 cup cream cheese,

vegan

use Tofutti brand cream cheese
4 Tbsp. fresh cilantro, chopped finely
Cholula hot sauce (or your favorite hot sauce)
salt
Directions:
Heat the olive oil on medium in a large non-stick pan. Add the minced jalapenos, garlic, onions, and red bell pepper. Saute for a few minutes until fragrant and the onions are starting to become translucent. Be sure to mix frequently.
Mix in the black beans and cook for another 3-5 minutes. Add some salt for flavor.
Cut the cream cheese into cubes and fold it into the mixture and cook for 2-3 minutes stirring occasionally.
Turn the heat off. Mix in the freshly chopped cilantro. Season with salt to taste.
Heat or grill your tortilla of choice (feel free to use some butter to grill the tortilla).
Fill the middle of the tortilla with the black bean mixture. Add Cholula hot sauce (or your favorite hot sauce) and fold the tortilla into a burrito. Serve immediately.
7.8.1.2
277
https://vegetariangastronomy.com/special-black-bean-burritos-gluten-free-option-contains-dairy/
www.VegetarianGastronomy.com
[subscribe_box]