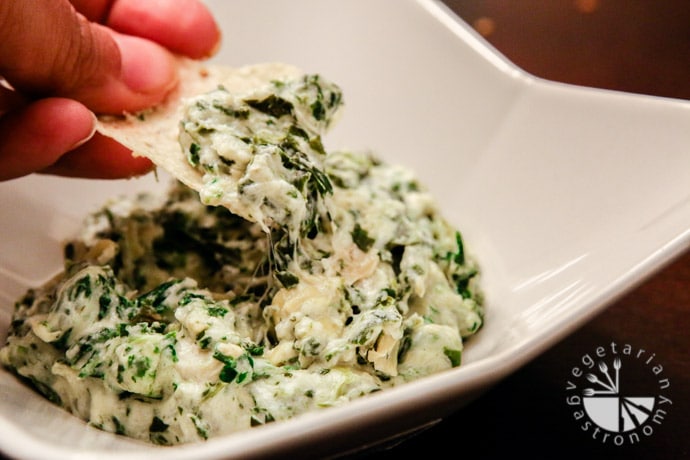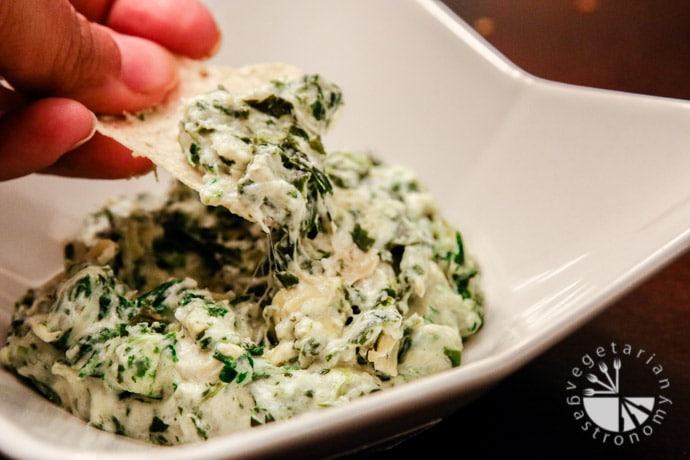 Many of you have asked me for this recipe after I posted my menu for our Holiday Party this past year on my Facebook Page, so finally here it is…Spinach Artichoke Dip! Traditionally, Spinach Artichoke Dip contains mayo, so I was looking to create a version without it when I came across this recipe from Momables. I was intrigued with the original recipe because it was baked in individual won ton wrappers to create bite-sized cups, which was perfect for my Holiday Party theme! The recipe was extremely simple to make and the dip itself tasted perfect! The only issue I had was using the won ton wrappers as cups. The actual won ton wrapper itself tasted pretty dry overall. It was also a little too crispy on the top sides, but a little under-cooked on the bottom. So the second time I made this dip, I decided to omit the won ton wrappers and bake it straight into a dish. I topped it with some finely chopped tomatoes and served it with some tortilla chips and french bread. Now that I could finally concentrate on the actual taste of the Spinach Artichoke Dip, it tasted delicious! I even had to walk away from the table to keep myself from finishing it off! You can serve it as an appetizer the next time you host a dinner party, take it to a potluck, or simply make it for your own family as a special snack or side dish.
There are a few versions of this dip I have on my mind that I hope to experiment with sometime soon! The idea of serving this dip in bite-sized individual cups was great. So instead of won ton wrappers, I want to try showcasing them in cups using puff pastry. I also have several ideas on how to make a vegan versions of this dish. I hope to have these updates to you sometime in the near future, so keep an eye out!
Spinach Artichoke Dip has always been one of my husbands favorite appetizers. If it's on a restaurant menu and does not contain mayo, you can guarantee we're ordering it! So for my husband to say he loves this recipe, you know that it must taste really great!
For the recipe, head on over to Momables website – Spinach Artichoke Dip (gluten-free, contains dairy). I preferred to enjoy this dip without the wonton wrappers, baked in a casserole dish, topped with tomatoes.
Spinach Artichoke Dip (gluten-free, contains dairy)
---
Ingredients:
6oz. jar marinated artichoke hearts, drained and chopped
10oz. package frozen chopped spinach, thawed and squeezed dry
1 cup Monterey Jack cheese, shredded
1/2 cup Parmesan cheese, grated
1/4 cup sour cream
1/4 cup light cream cheese, softened
1 garlic clove, finely minced
(optional) finely chopped tomatoes
Directions:
Preheat the oven to 350 degrees.
Add everything except tomatoes into a mixing bowl and combine well using a fork.
Transfer the mixture to a baking dish and bake for 10-15 minutes until hot, bubbly, and slightly brown on the edges.
Top with chopped tomatoes if using.
Serve hot with pita chips, toasted pita bread, tortilla chips, or bread!
7.8.1.2
292
https://vegetariangastronomy.com/spinach-artichoke-dip-gluten-free-contains-dairy/
www.VegetarianGastronomy.com
[subscribe_box]