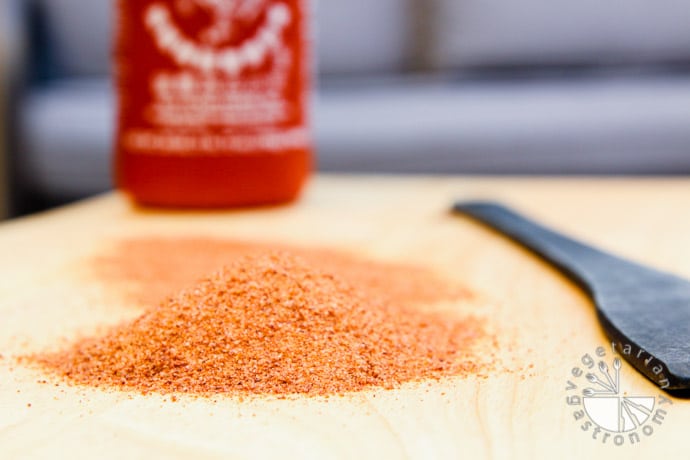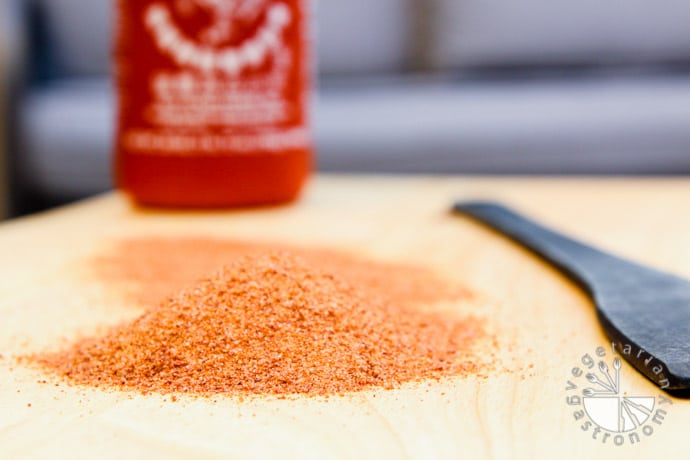 If you liked my original recipe for Sriracha Salt, then you'll absolutely love this recipe. This is a modification of the original with the addition of lime to the mix, and it tastes even better!
This Sriracha Lime Salt is made using a two step drying method. First, dry out the Sriracha, then add the salt, lime, and lime zest, and then dry it out one more time in the oven at really low temperatures. Overall it takes a little more time, but it's definitely worth the wait.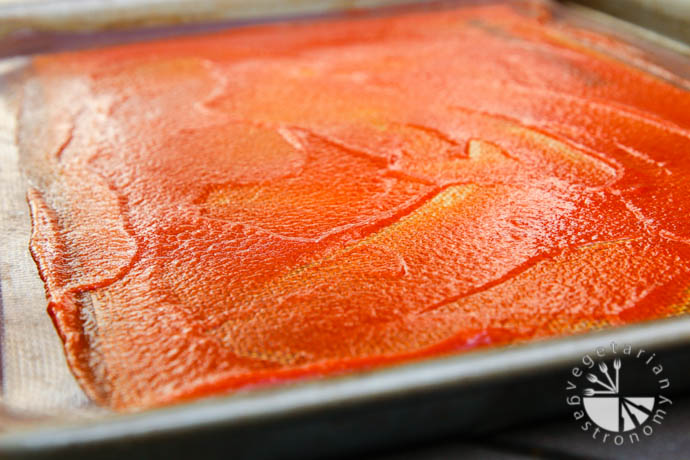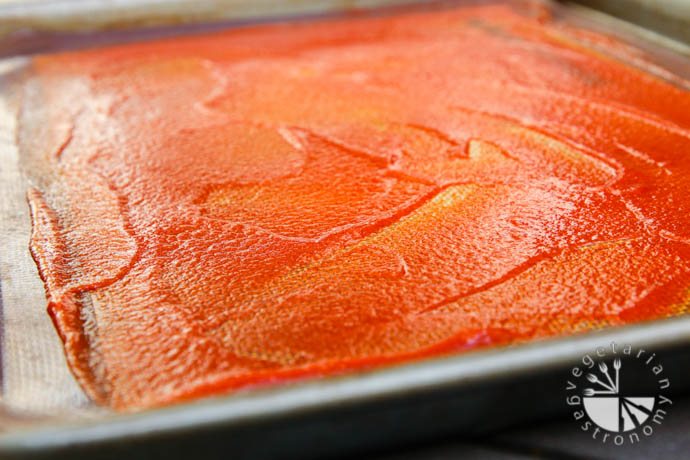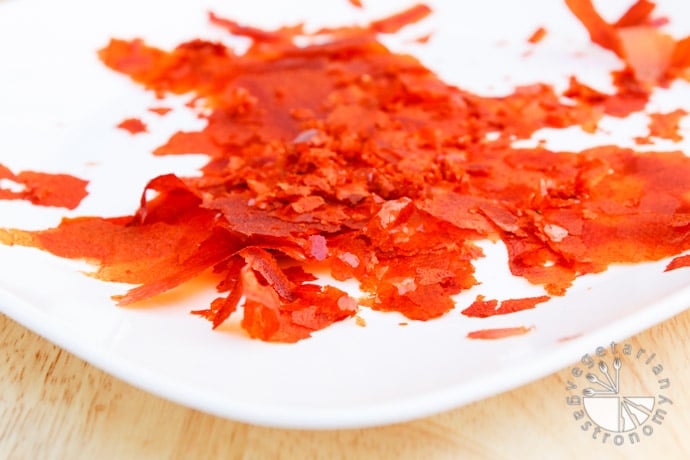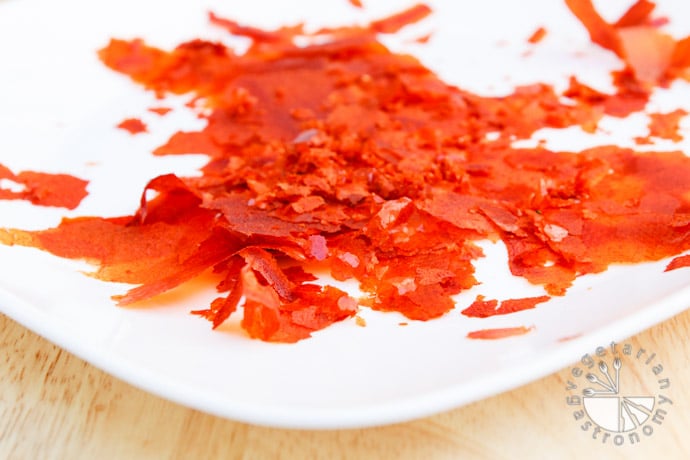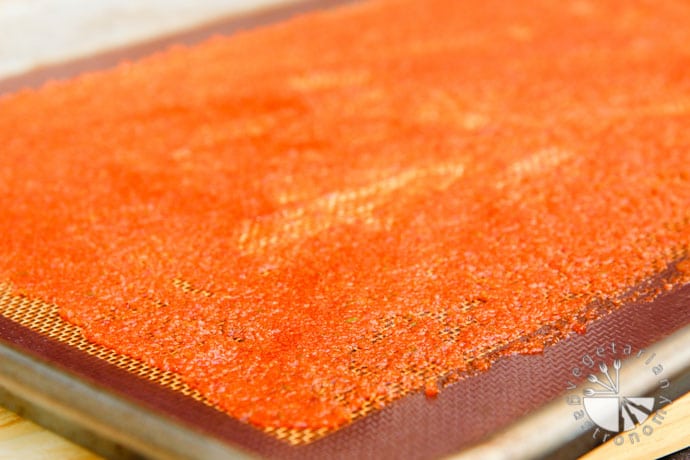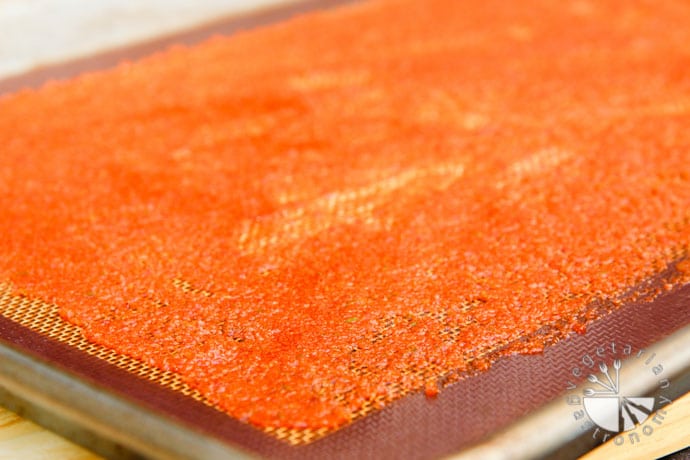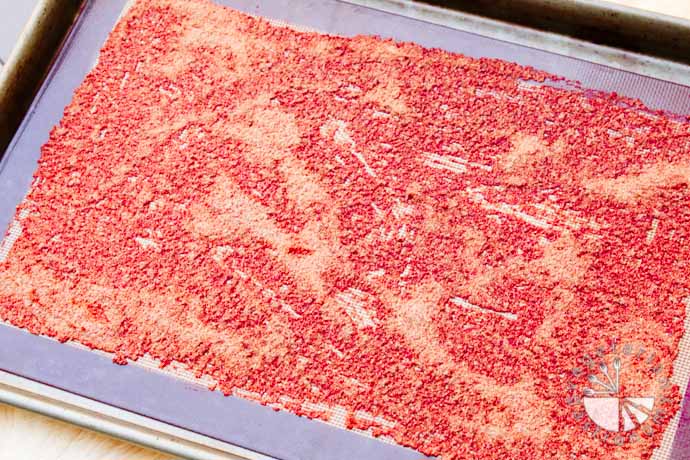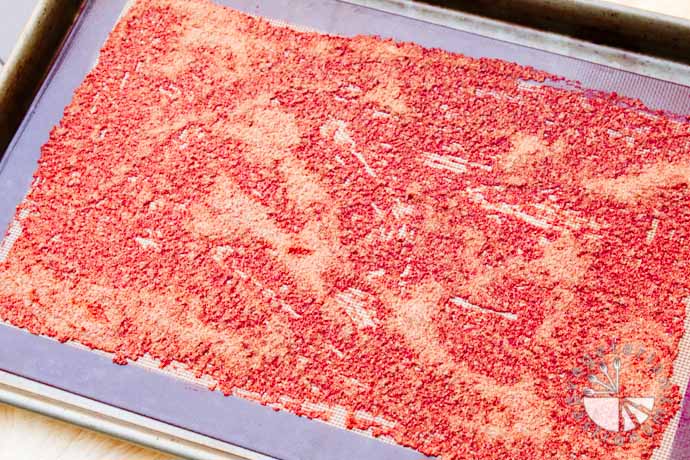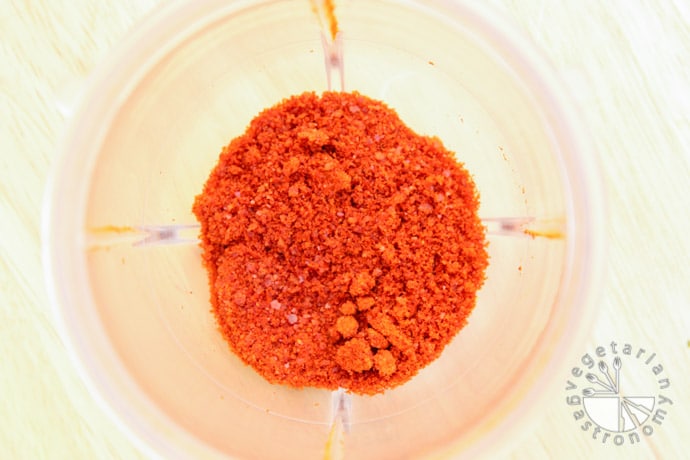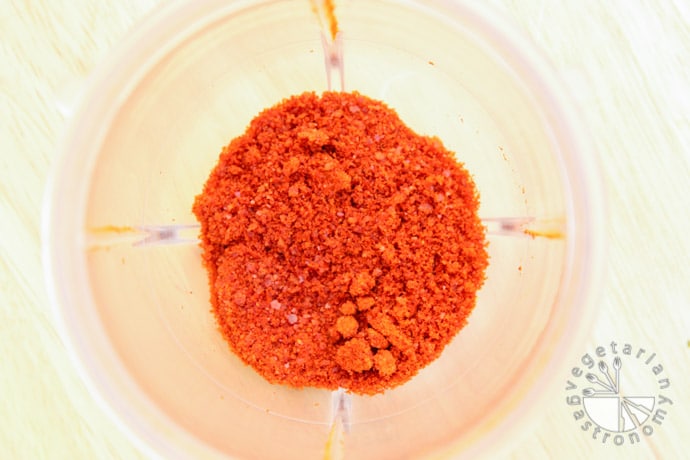 I typically keep both Sriracha Salt and Sriracha Lime Salt on hand in my fridge. Even though they are very similar, they both are unique in flavor. I prefer this Sriracha Lime Salt on popcorn and avocado tomato toast because of that sour element. I would imagine that Margaritas with a Sriracha Lime Salt rim would taste great.
If you liked my original Sriracha Salt recipe, give this one a try. If you haven't tried making either, then you're definitely missing out! Who wouldn't want a dry form of Sriracha laying around in their fridge?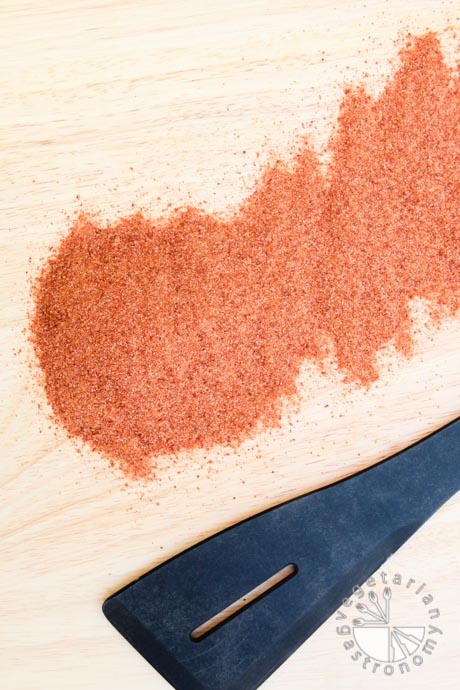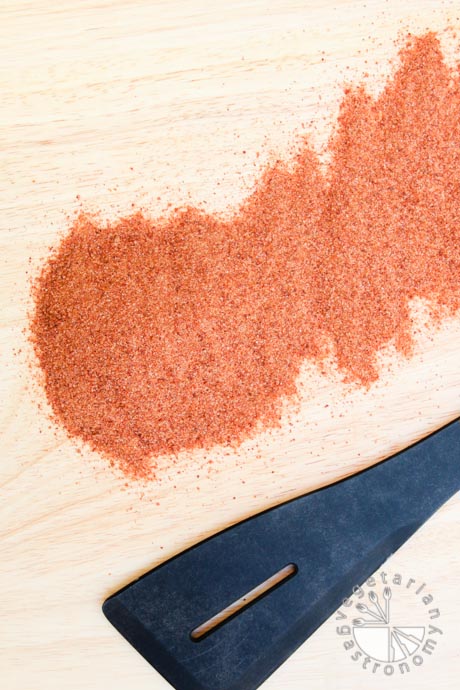 Also, if you haven't heard already, I'm teaching my very first cooking class at the Whole Foods Market in Del Mar, San Diego this Saturday, August 9th, 2014 at 9am! These classes are FREE and open to the public, so if you live in the San Diego area, I would love for you to attend. For my first class, I will be running a demo featuring three of my favorite Vegan, Gluten-Free, Mexican-Style recipes. At each event, you will also receive recipe cards for each featured recipe. To sign up for this FREE class, RSVP to sp.dmr.marketing@wholefoods.com or vegetariangastronomy@gmail.com by Friday, August 8th, 2014. Space is limited, so sign up today!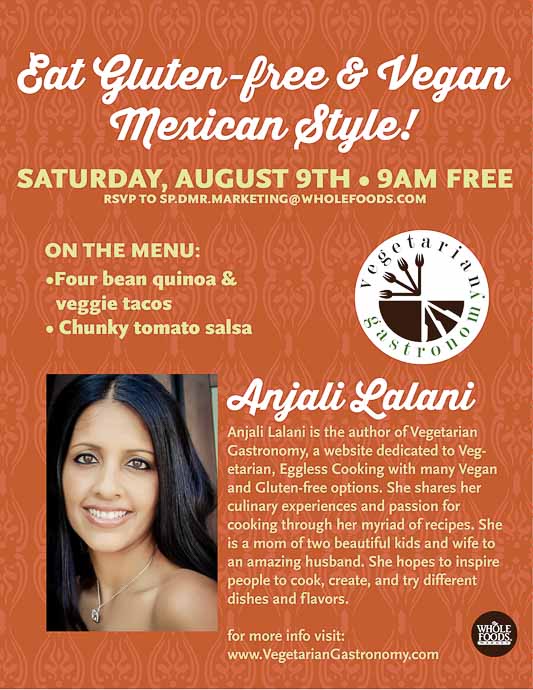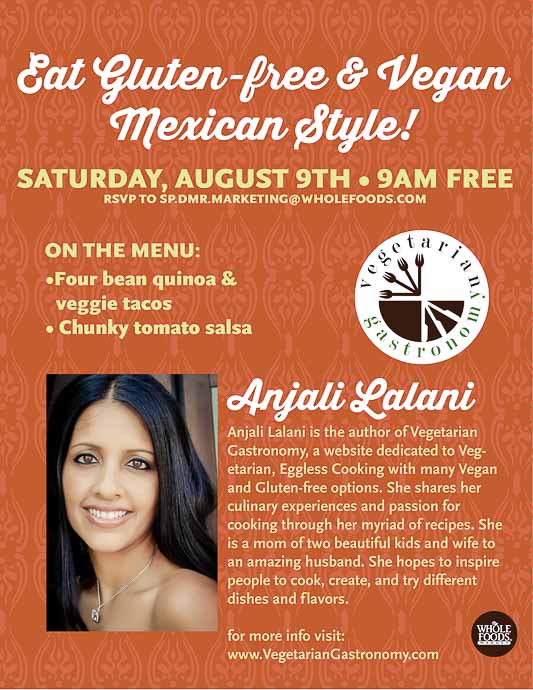 Two years ago: Dark Chocolate Cake w/Dark Chocolate Ganache Frosting
One year ago: Lentil Brushetta Feta Dip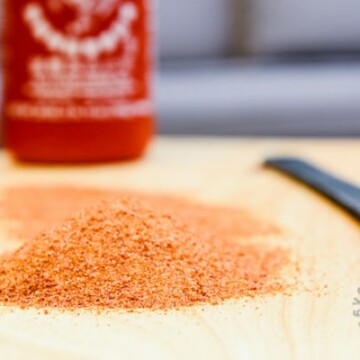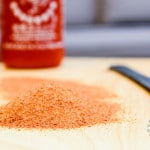 Print
Sriracha Lime Salt
If you enjoy heat and love sriracha, this salt is a condiment you need on hand. Sprinkle it on your favorite foods and salads, or rim your drinks!
INGREDIENTS
3

tbsp

sriracha sauce

4 1/2

tbsp

sea salt

2

limes

limes zest

3 1/2

tbsp

lime juice

, juice of ~1 lime
INSTRUCTIONS
Heat the oven to 200 degrees.

Spread the sriracha very thinly on a baking sheet lined with parchment paper or a silpat (I prefer the latter).

Heat in the oven at 200 degrees for about 1 1/2 hours until completely dry.

Remove from the oven and cool.

Peel or scrape off the dried sriracha into a bowl. Gently grind to a powder in a small mini food processor or blender (I used my bullet for this step). Be sure to pulse while grinding.

Add the salt, lime zest, and lime juice. Crush with a mortar and pestle or pulse again to combine.

Spread the mixture back on the silpat in a thin layer and heat in the oven for another 1 1/2 to 2 hours until the mixture is dry. Remove from the oven and cool completely.

Pulse again or crush to salt consistency (using your bullet or mini food processor).

Store in the fridge in an air-tight container.
NUTRITION
Calories:
4
kcal
|
Carbohydrates:
1
g
|
Protein:
1
g
|
Fat:
1
g
|
Saturated Fat:
1
g
|
Polyunsaturated Fat:
1
g
|
Monounsaturated Fat:
1
g
|
Sodium:
8106
mg
|
Potassium:
31
mg
|
Fiber:
1
g
|
Sugar:
1
g
|
Vitamin A:
22
IU
|
Vitamin C:
11
mg
|
Calcium:
7
mg
|
Iron:
1
mg
[subscribe_box]