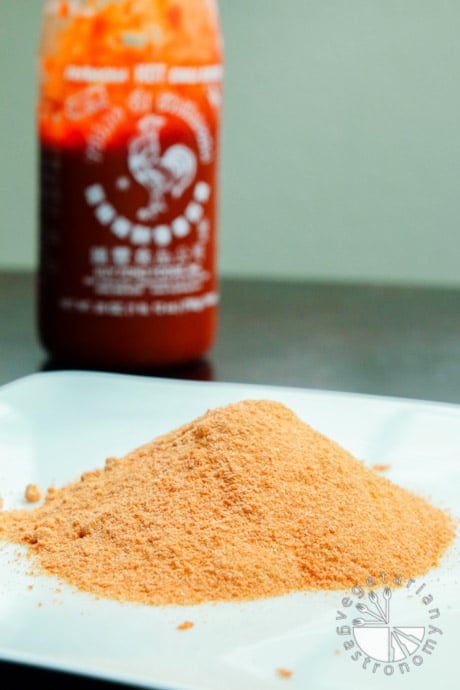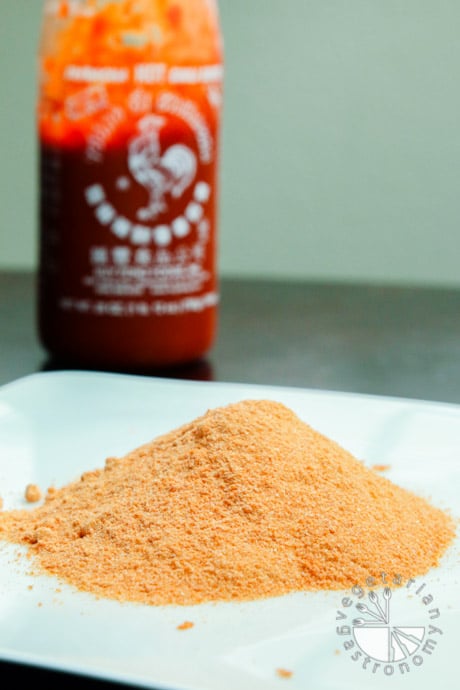 When you think of a versatile hot sauce that is deliciously addictive, one word comes to mind… Sriracha! It's one of the most popular hot sauces out there. I frequently use a few drops to many food items to add that extra spicy kick, such as pizza, soups, sandwiches, popcorn, any Thai or Chinese dish, sushi, breakfast potatoes, etc (the list could go on and on).
Knowing how versatile the liquid form of Sriracha is, wouldn't it be great if there was a dry form of it you could sprinkle onto anything to give it that additional spicy flavor without making it soggy? Try Sriracha salt.
Sriracha salt contains all the great flavors minus the liquid. I was first exposed to this delicious concoction at our first Eat Omnivore dining experience back in 2012. The meal had started off with a truly amazing appetizer – True Bloody Mary and "Chips & Dip", which consisted of the following:
House-made red beet juice bloody mary with a Sriracha salt rim and pickled tempura beets
Sweet potato chips with Sriracha salt
Beet tartare with avocado, maldon salt, and aberquina olive oil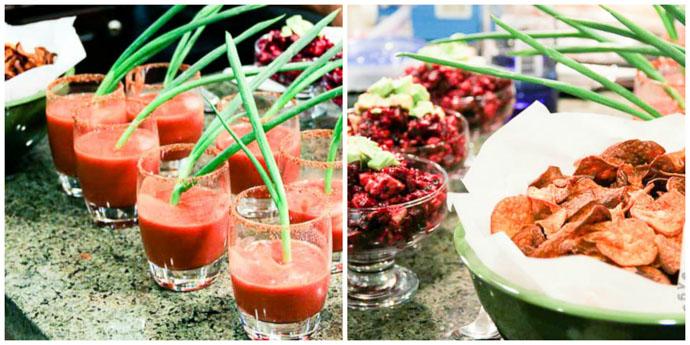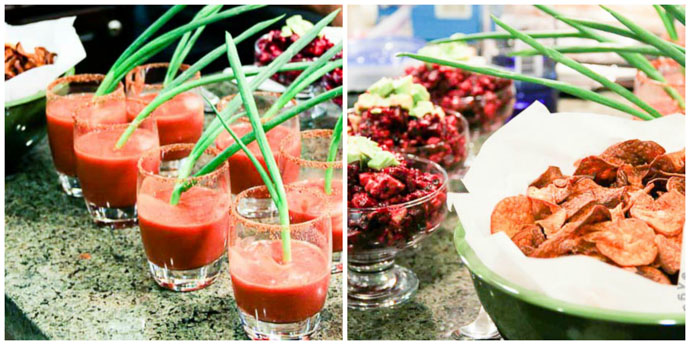 And YES, it ALL tasted just as amazing as it sounds! Although I'm not a huge fan of Bloody Mary's, by the end of the night, I had licked the entire rim of the glass which was coated with the Sriracha Salt. I also could not get enough of the Sweet Potato Chips sprinkled with Sriracha Salt.
One of the perks about hosting these dinners with Eat Omnivore is being able to keep some of the left over components they have prepared for the entire meal. That night, not only did our friends (the chefs) leave us some extra Basil Sorbet and Salted Caramel Ice Cream, but they also left us a small bag of the Sriracha Salt. Since there wasn't much remaining, I remember using it sparingly for the next few weeks until it was finally all gone.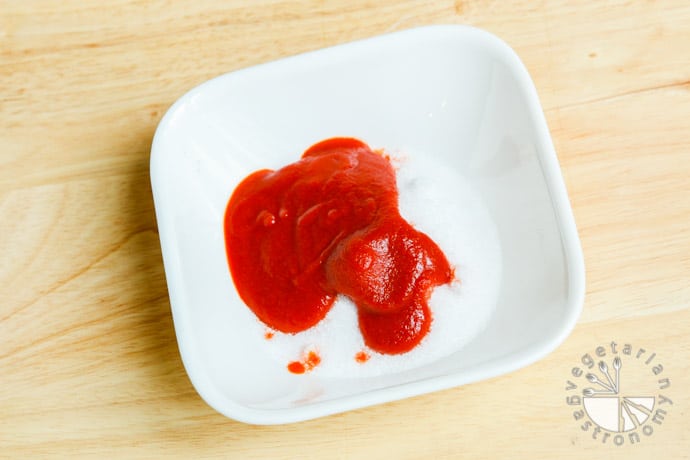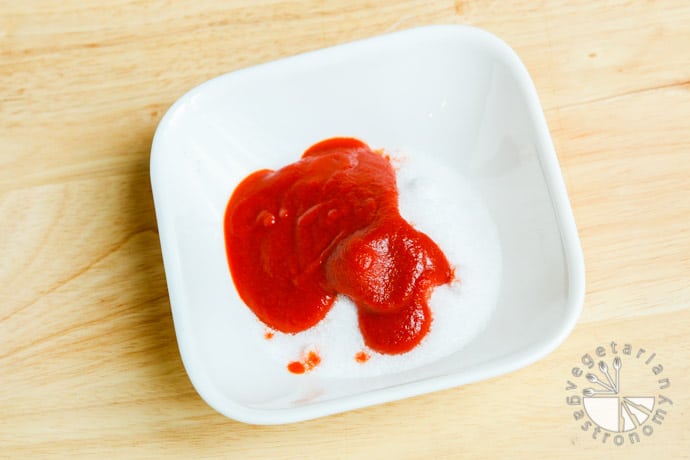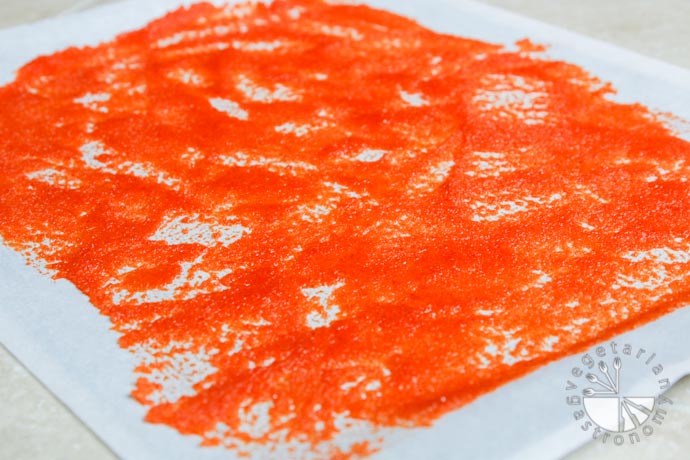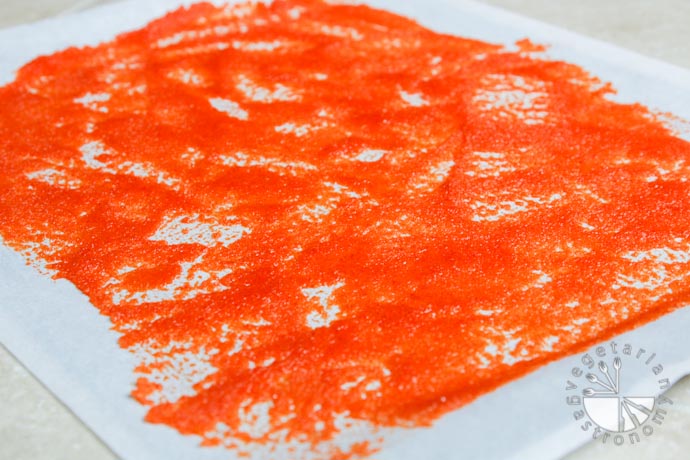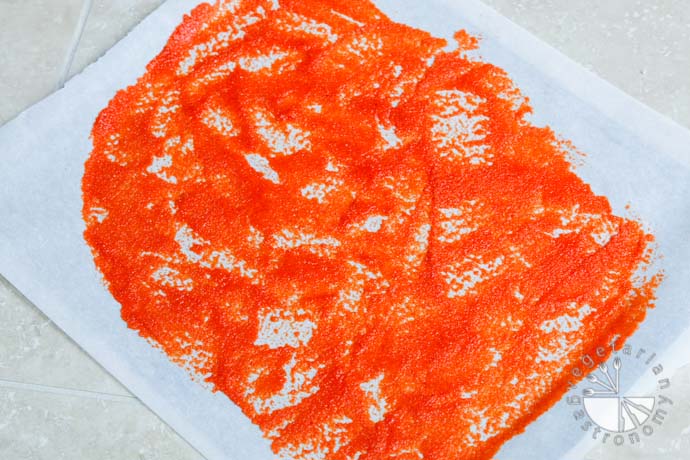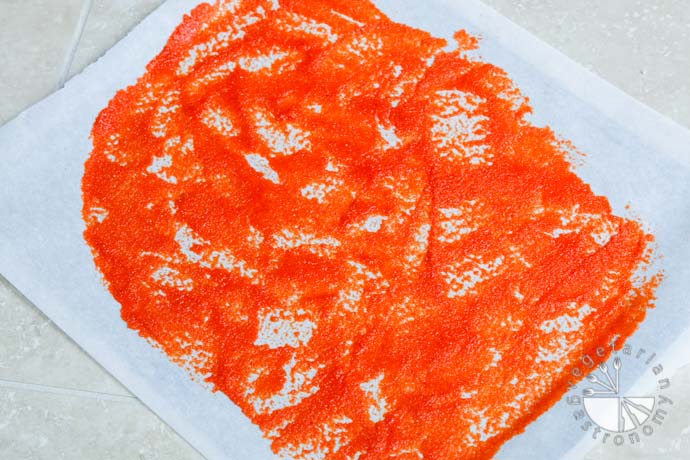 I realized how easy the recipe was and finally got around to making some (2 years later) and it was just as delicious as before. Now I don't have to use it sparingly. So far I've used it on roasted brussels sprouts, popcorn, avocados, avocado toast (recipe to come), fresh veggies, potatoes, and fries. When making Sriracha Salt, it takes little time to prep, but a few hours to dehydrate. So you can easily sit back, relax, and let your oven do most of the work. I'm excited to make more and prepare some fun jars as gifts to some of my Sriracha-Loving friends (you know who you are!).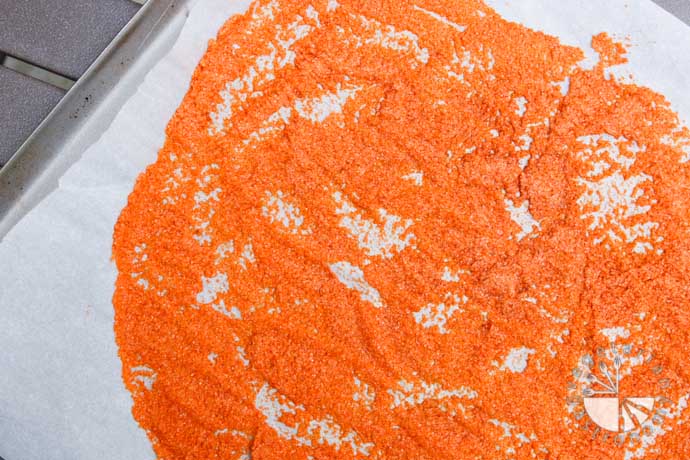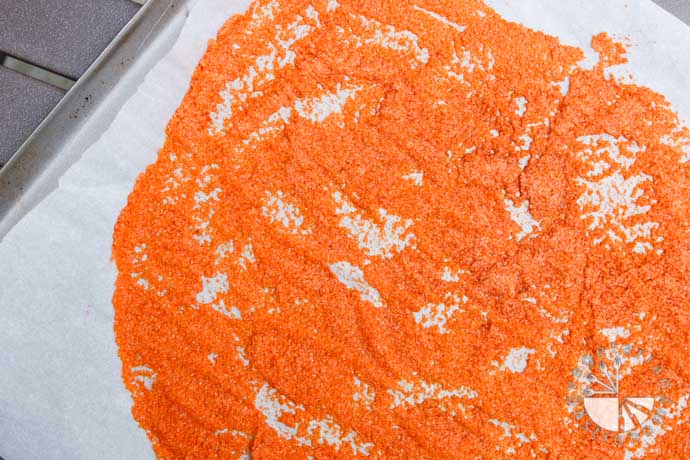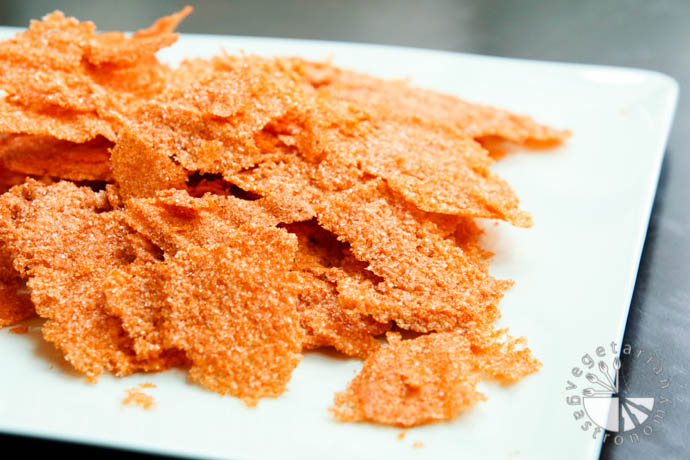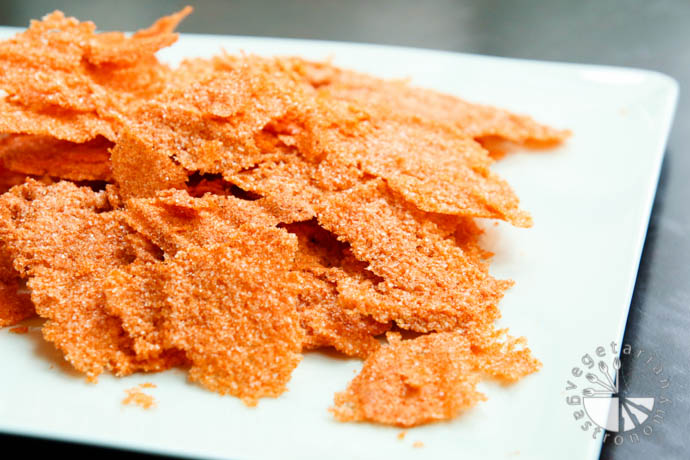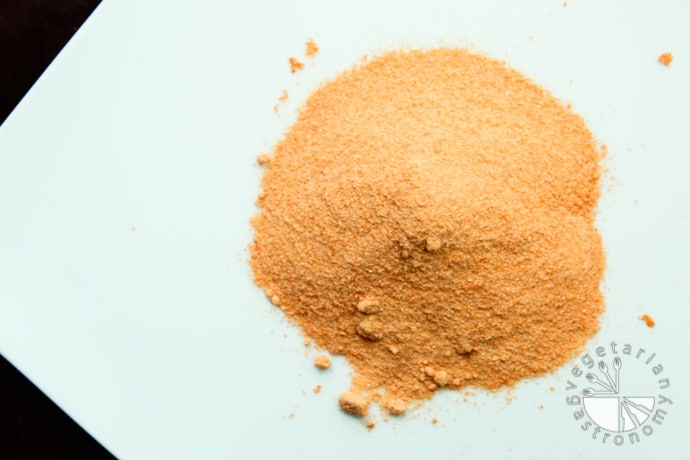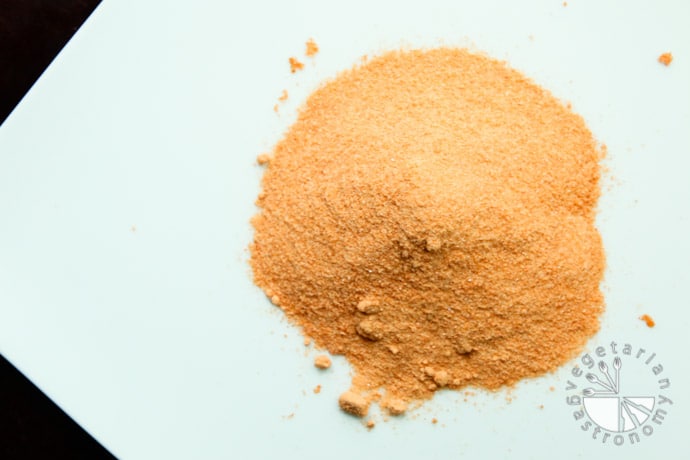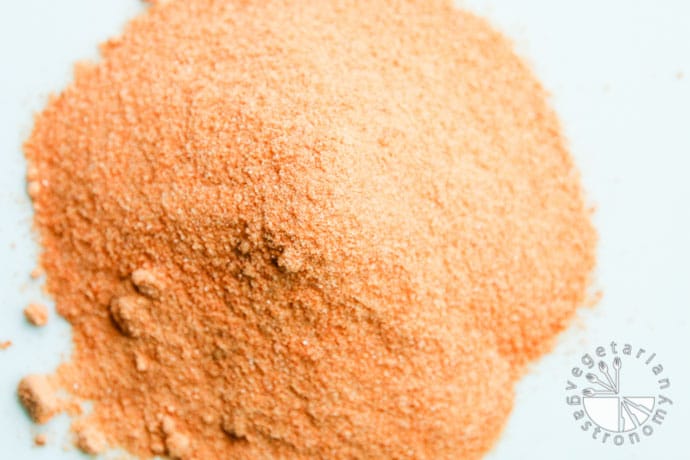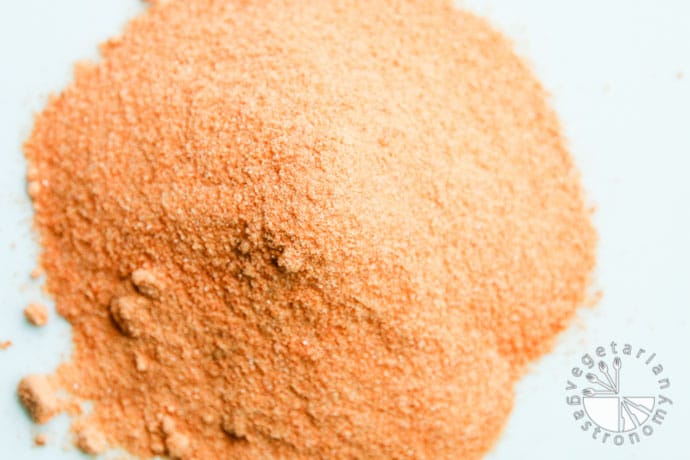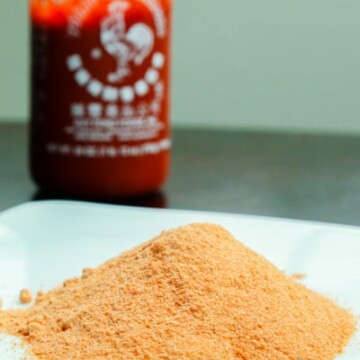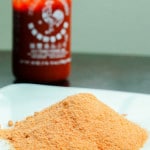 Print
Sriracha Salt (vegan, gluten-free)
This spicy dried sriracha is perfect to have on hand to sprinkle on veggies, toasts, and all sorts of dishes! It's easy to make, and a great seasoning to have on hand!
Servings:
12
servings (~3/4 cups total)
INGREDIENTS
1/2

cup

kosher salt

use Diamond kosher if possible

1/3

cup

Sriracha Sauce
INSTRUCTIONS
Heat the oven to the lowest setting it can go (for me, that temperature was 175 degrees).

Combine the Sriracha Sauce and salt and mix well.

Spread the Sriracha-salt mixture very thinly on a baking sheet lined with parchment paper with a flat metal spatula.

As the oven warms up, place the baking sheet in the oven and prop the oven door open slightly.

Let it dehydrate for a couple of hours until completely dry (about 3-4 hours depending on your oven temperature.

Remove the baking sheet from the oven and cool completely.

Peel the Sriracha-salt mixture off of the parchment paper and gently grind to a powder in a small mini food processor or blender (I used my bullet for this step). Be sure to pulse while grinding. You can also use a mortar and pestle to crush the mixture down to whatever consistency you prefer.

Store in the fridge in an air-tight container.
NUTRITION
Calories:
1
kcal
|
Sodium:
4891
mg
|
Potassium:
9
mg
|
Vitamin A:
10
IU
|
Vitamin C:
5
mg
|
Calcium:
3
mg
|
Iron:
0.1
mg
[subscribe_box]