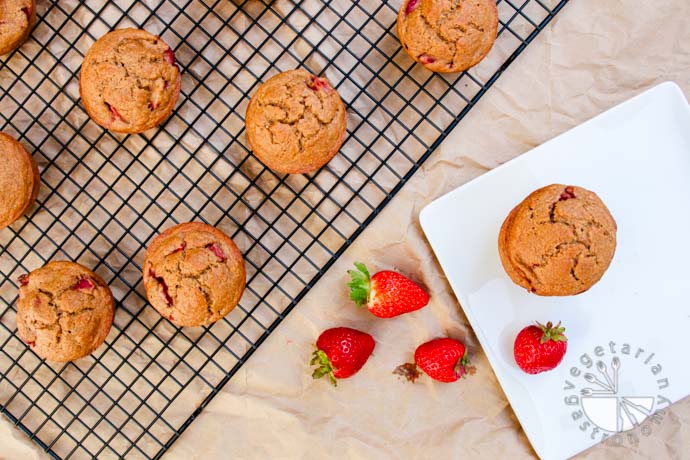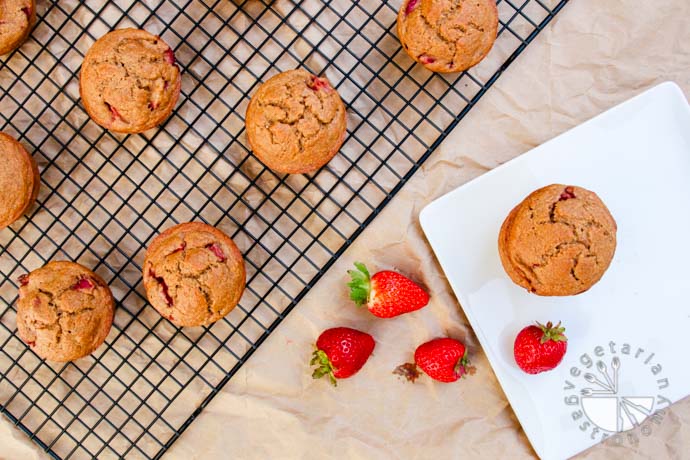 I had many wonderful recipes lined up to post, but I was very excited about this one and had to get it out right away. So today, I present to you, my Strawberry Breakfast Muffins!
We were suppose to go camping this past weekend. It was going to be our first family camping trip. Of course, my little one developed fevers a few days before and we had to cancel. Although we were bummed, it turned out to be an awesome weekend. Between my husband's work schedule, family obligations, friends, and other trips, it's pretty rare that we have an entire weekend to ourselves to enjoy the kids, each other, and the beauty of San Diego. We had lazy mornings, late breakfasts, eating ice cream, biking around the neighborhood, going to the waterpark, movie night, and time with some awesome friends. And to top it off, I even managed to bake with my two adorable kids who love helping in the kitchen.
Since our kids are early risers, my husband and I take turns sleeping in on the weekends. Usually I'm the one sleeping in, but this past weekend I woke up bright and early with my little ones. After reading a few books and a few art projects, I started to think about breakfast and really felt like eating something different rather than our typical cereal, oatmeal, pancakes/waffles, or PB-banana toasts. Muffins immediately came to mind. Truth be told, if muffins had come to my mind a few years ago, I would have been digging into my pantry for a boxed blueberry muffin mix. I was excited and determined to surprise my husband, who always loved the boxed muffins, with some home-made breakfast muffins that would taste better and were MUCH healthier!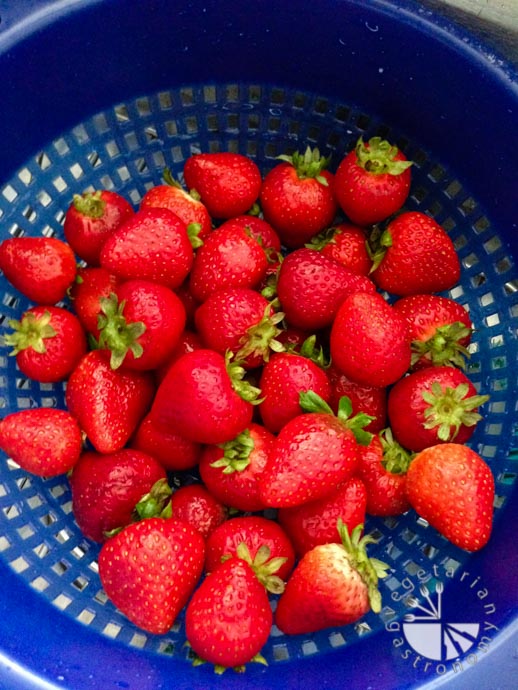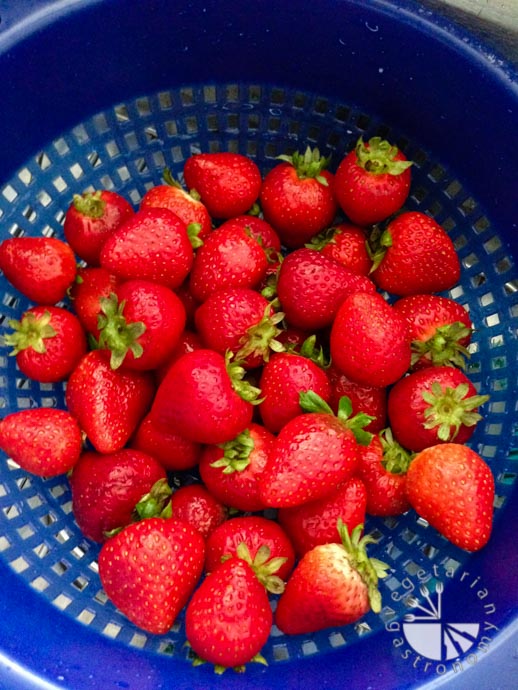 I propped up chairs for my kids to reach the kitchen counter, and the three of us started baking. When I opened my fridge, I saw the large box of fresh strawberries and decided to go with Strawberry Muffins since I've used Blueberries before in my baking (Blueberry Banana Breakfast Cookies). I initially intended on adding walnuts to the mix, but since my 4 yr. old is not a big fan, I decided to leave them out. For the base, I used a mix of Whole Wheat Flour & Organic Pastry Flour. For a gluten-free version, I'd recommend using Cup4Cup Flour. However, their original all-purpose flour, which I love and have used many times (to make Pumpkin Cookies or Banana Bread), is not vegan because it contains milk powder, but they just came out with a Vegan GF Wholesome Flour Blend, which I have yet to try. I've also been trying to limit refined sugar in my baking at home, especially when I need a larger amount. I've found that using natural sweeteners (such as unsweetened applesauce, bananas, or dates) or coconut palm sugar and maple syrup work well. In addition, with applesauce, you can avoid having to add a lot of oil to the mix. For this recipe, I used a few tablespoons of coconut oil, because I love the taste.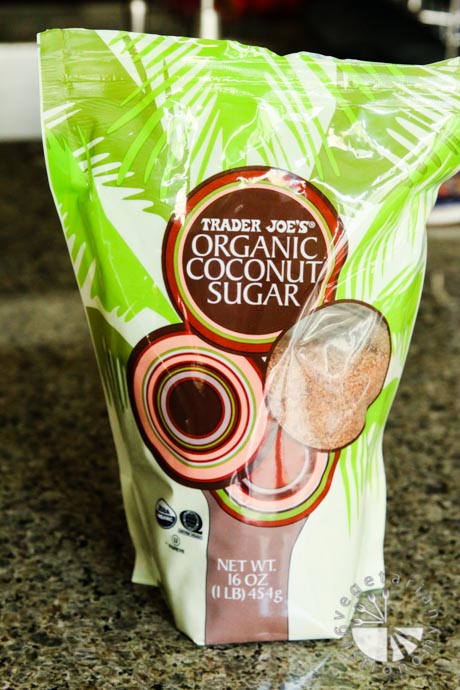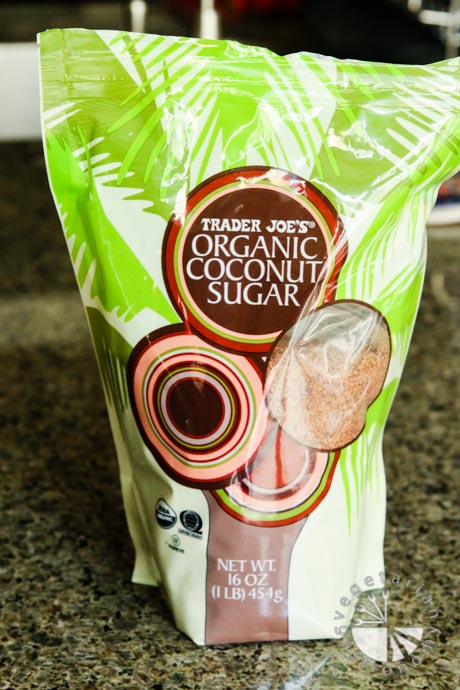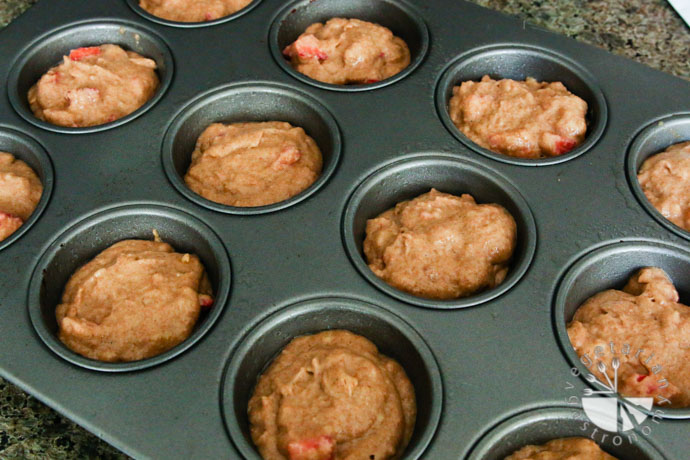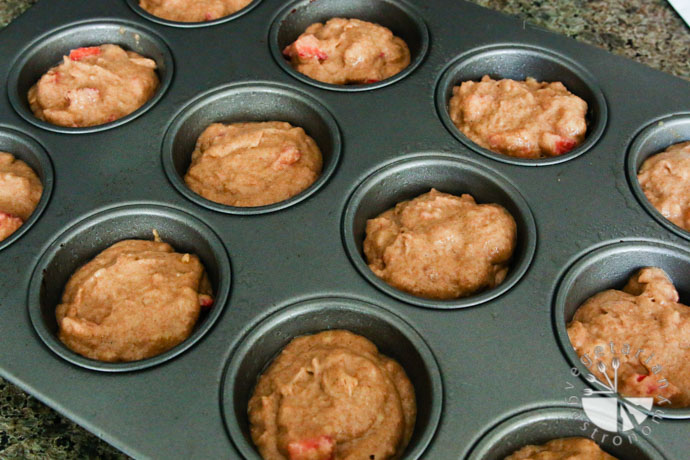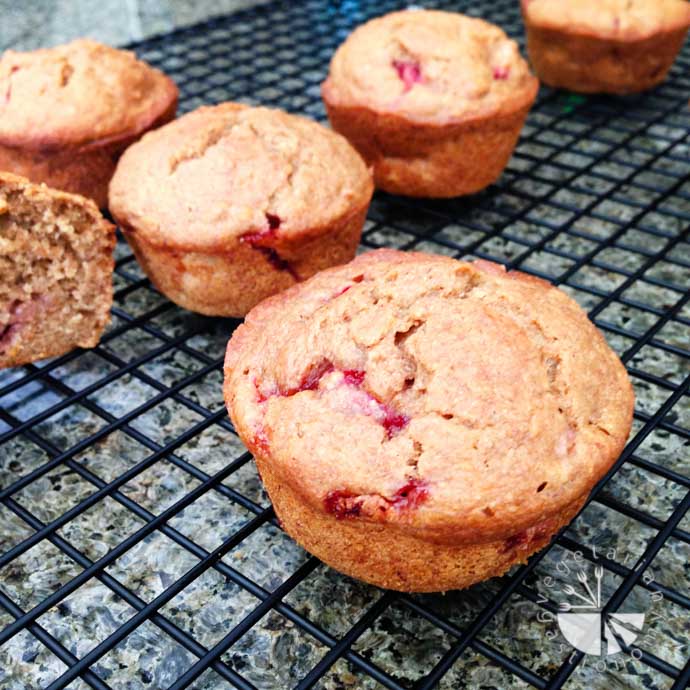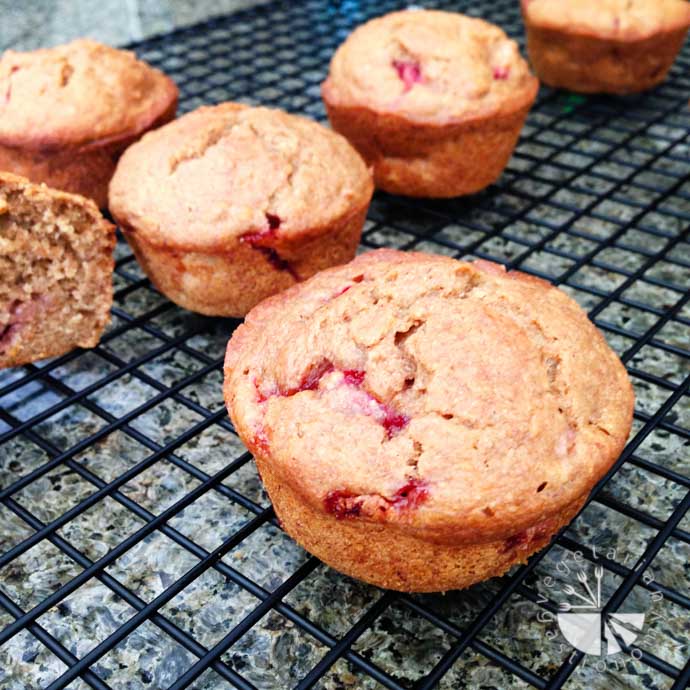 Surprisingly, these muffins came out perfect the first time around, with the perfect amount of moistness and sweetness. The small pieces of fresh strawberries made for a great surprise when taking a bite into them. These muffins are great for on-the-go breakfasts, snacks, or even to pack for your toddler's school lunch. They taste great either at room temperature or slightly warmed. You can eat them plain or spread some Vegan Earth Balance Butter on them, as we did that morning.
Even though my entire kitchen counter was covered in flour and other ingredients (the kids had a little too much fun), it was well worth it. Not to mention my husband devoured 3 (yes, THREE) of these muffins for breakfast (I had to stop him otherwise he would've ate a fourth)… that's how much he loved them. Watching my kids enjoy breakfast we made together and hearing my son say, "We made these Daddy" as he took a bite into his muffin, made my weekend even extra special!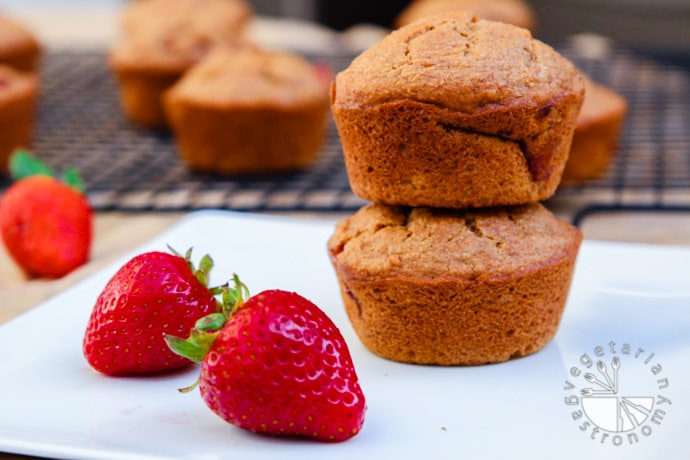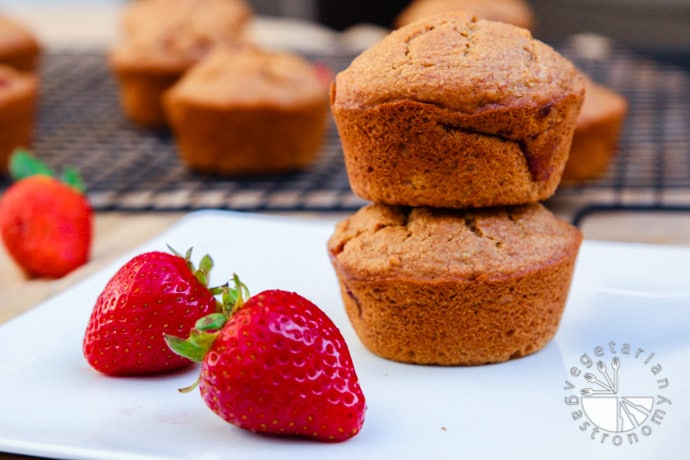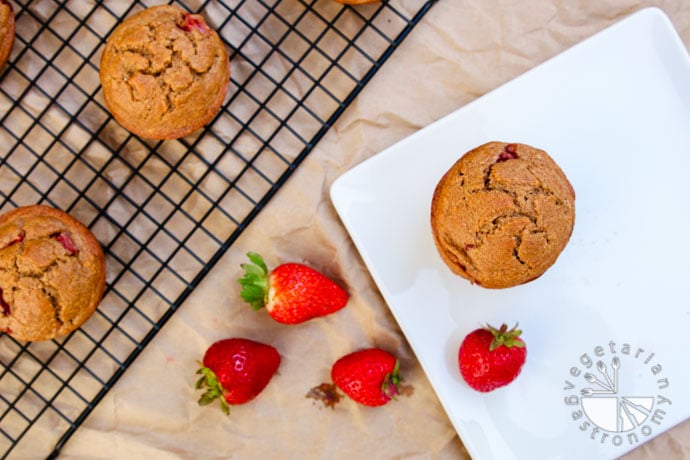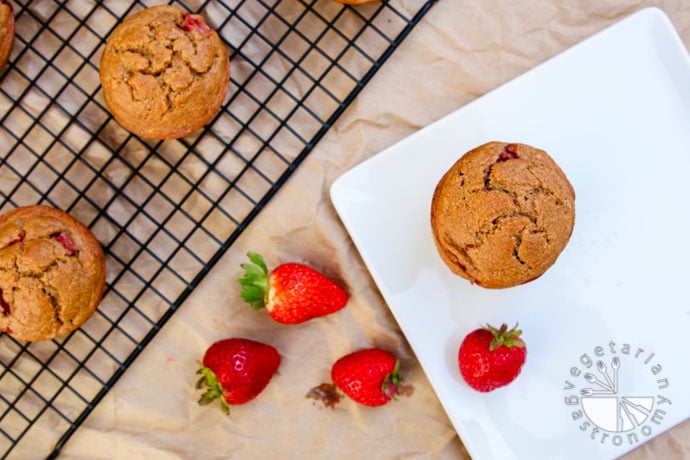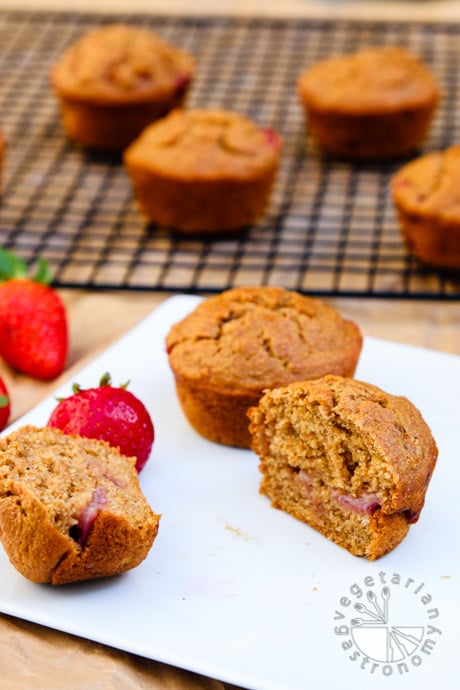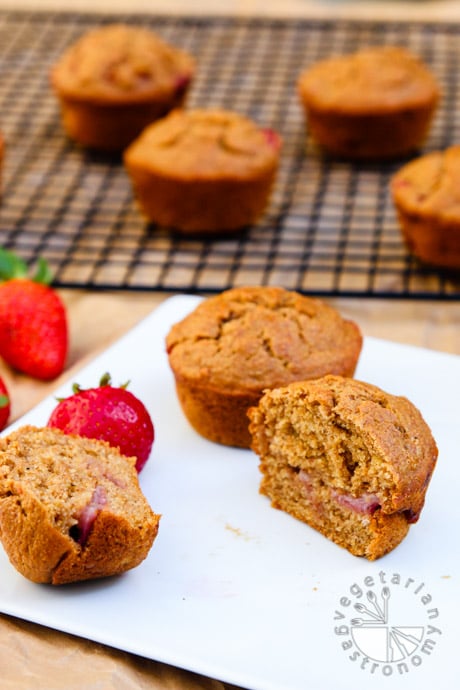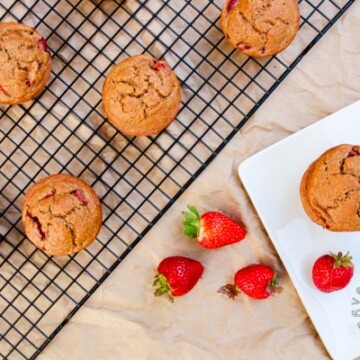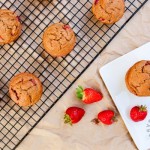 Print
Strawberry Breakfast Muffins
Vegan, free of refined sugar, and super moist! These fruit-filled breakfast muffins are the perfect grab-and-go breakfast, snack, or dessert! Make a batch and enjoy them throughout the week!
INGREDIENTS
1.25

cup

strawberries

, diced into small pieces

coconut oil spray

, or your favorite baking spray or oil
INSTRUCTIONS
Preheat oven to 350 degrees.

Whisk together all the Dry Ingredients in a medium mixing bowl.

In another larger mixing bowl, whisk together all the Wet Ingredients listed above.

Slowly fold the dry ingredients into the wet ingredients a few spoonfuls at a time using a mixing spoon until all the ingredients are completely combined, being careful not to over-mix.

Slowly fold in the freshly diced strawberries with a mixing spoon, being careful not to overmixl.

Lightly spray coconut oil onto the muffin pan to avoid the muffins from sticking in the pan once they are done. This method works great, and I highly prefer it to using muffin liners. Alternatively you can slightly grease the muffin tin with coconut oil.

Spoon the batter into each muffin tin so that each is about 2/3 full.

Bake in the oven for about 25-30 minutes until a toothpick inserted into the center of one muffin comes out clean.

Remove the muffin pan from the oven and cool for 10 minutes.

Slowly turn the muffin pan upside down and gently tap. The muffins should easily fall out. Place the muffins on a cooling rack.

Enjoy at room temperature, or slightly warmed, with or without some Vegan Earth Balance Butter.
NUTRITION
Calories:
135
kcal
|
Carbohydrates:
23
g
|
Protein:
2
g
|
Fat:
4
g
|
Saturated Fat:
3
g
|
Sodium:
105
mg
|
Potassium:
185
mg
|
Fiber:
2
g
|
Sugar:
8
g
|
Vitamin A:
5
IU
|
Vitamin C:
8
mg
|
Calcium:
51
mg
|
Iron:
0.7
mg
[subscribe_box]