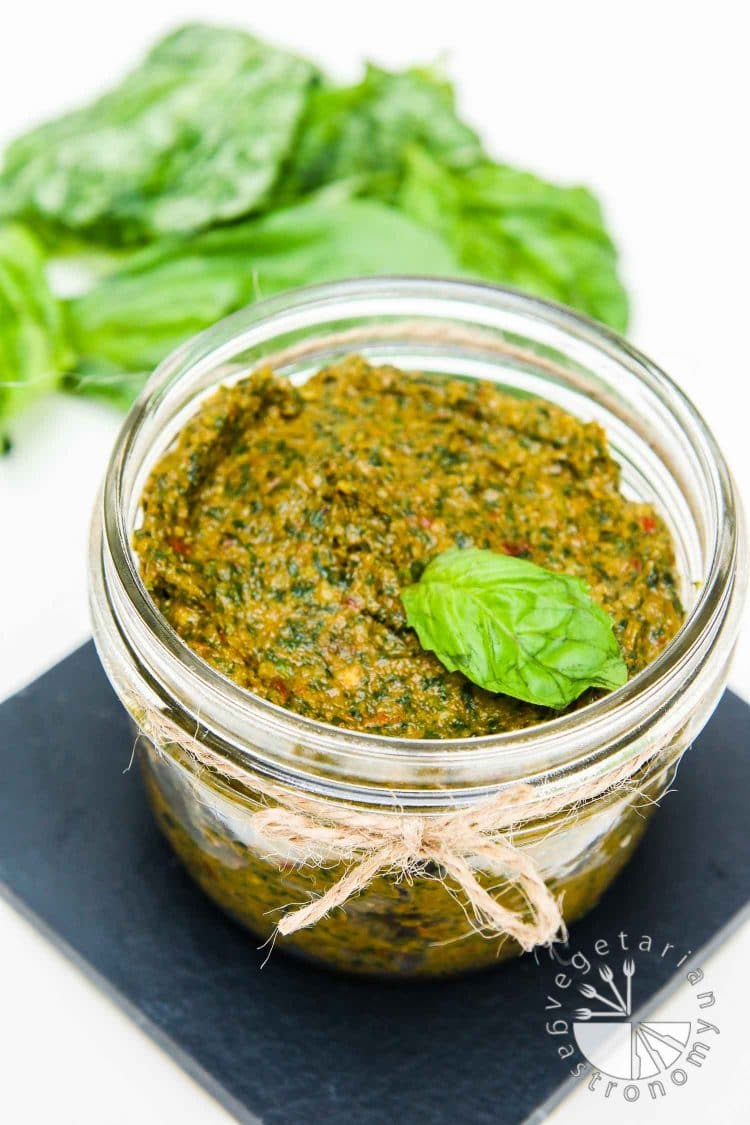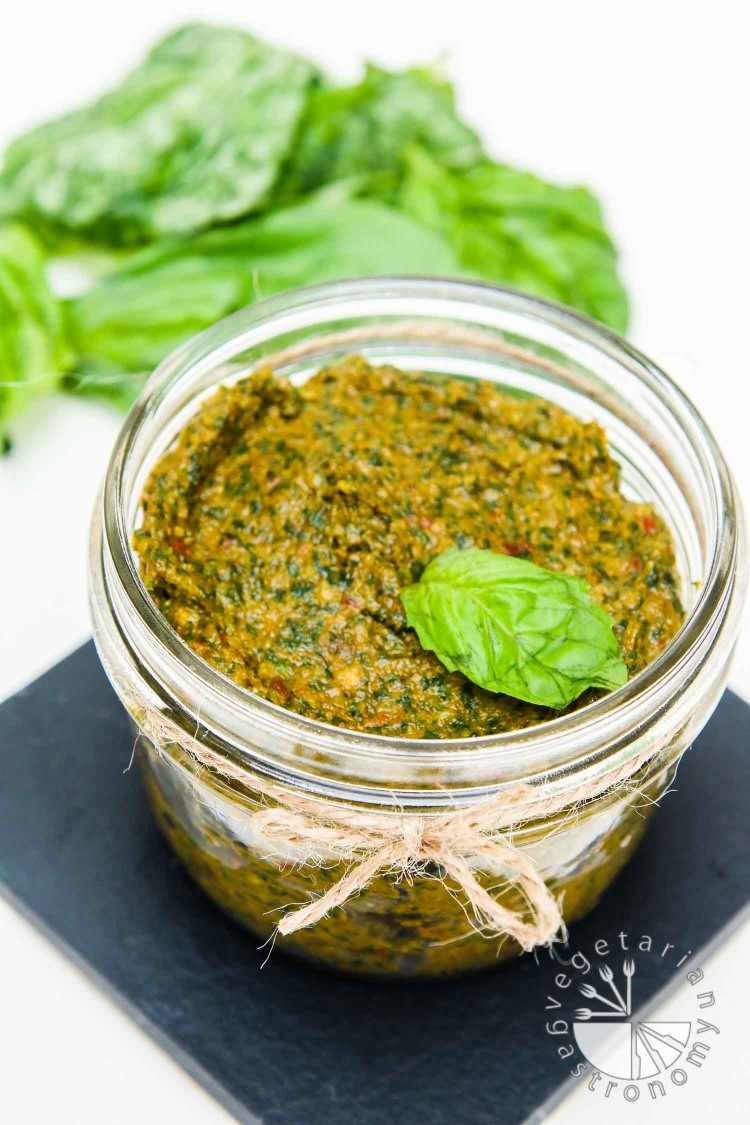 Happy New Year everyone! I hope you are having a great start to 2016. I have many awesome recipes lined up for the beginning of this year, all of which have already become a staple in our house, and I can't WAIT to share them with you. I am starting off with one of my favorites, Sun-Dried Tomato, Miso, and Basil Pesto!
Pesto has always been a staple in my house for years. You'll always find a few tubs of it in my freezer. I find it to be the perfect freezable ingredient and easy to pull out for various quick meals like sandwiches, pasta, pizza, salads, etc. Plus if you are making some anyway, why not buy a bunch of basil and make a HUGE batch of it all at once?! Then, you can freeze the leftovers in freezable containers and use as needed. Also, it's one of those ingredients that store-bought jars just don't cut it, at least not for me. I find them full of oil and lacking flavor.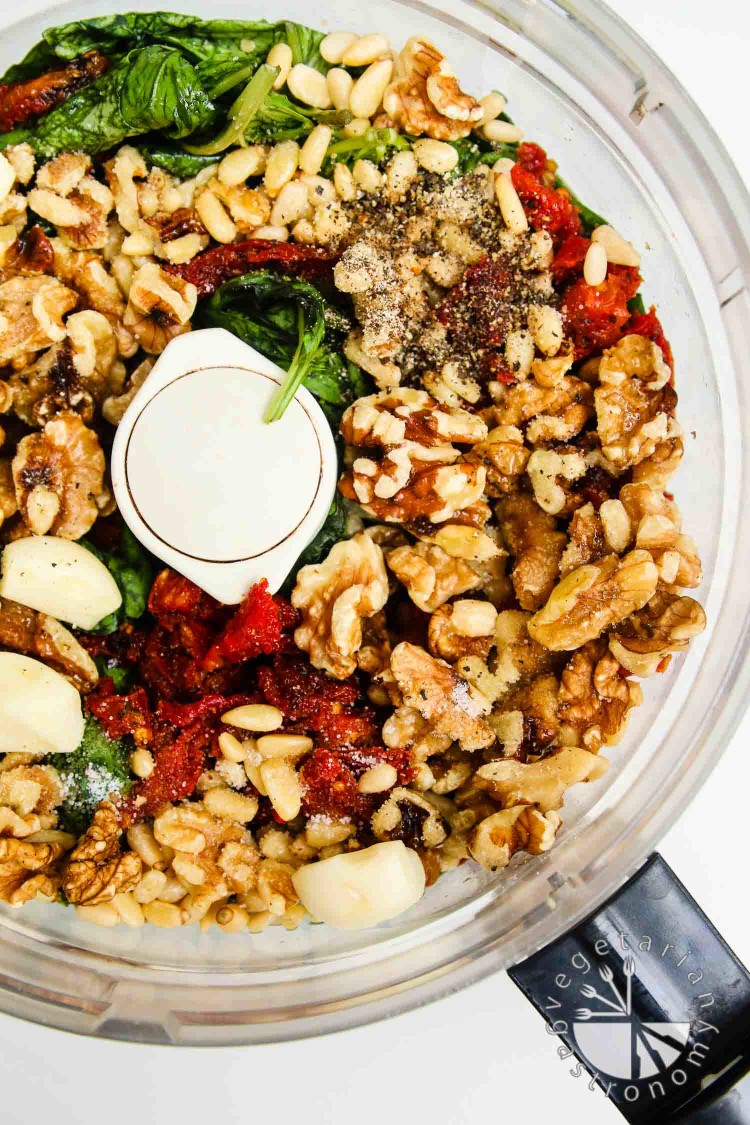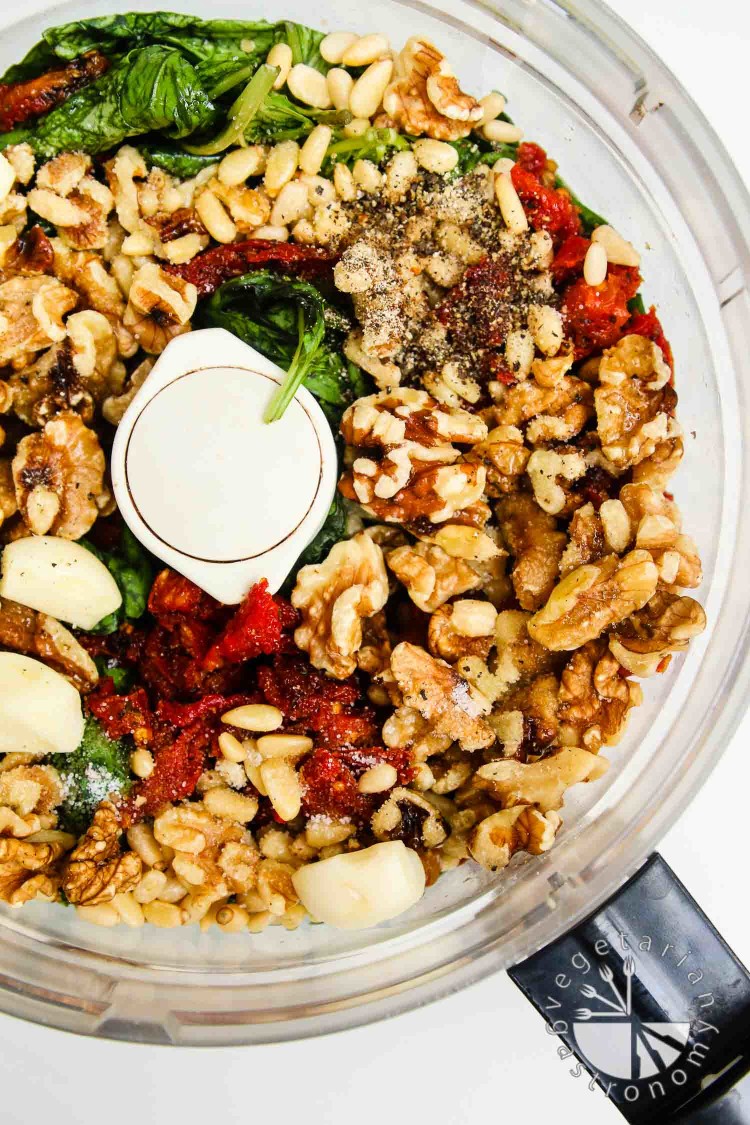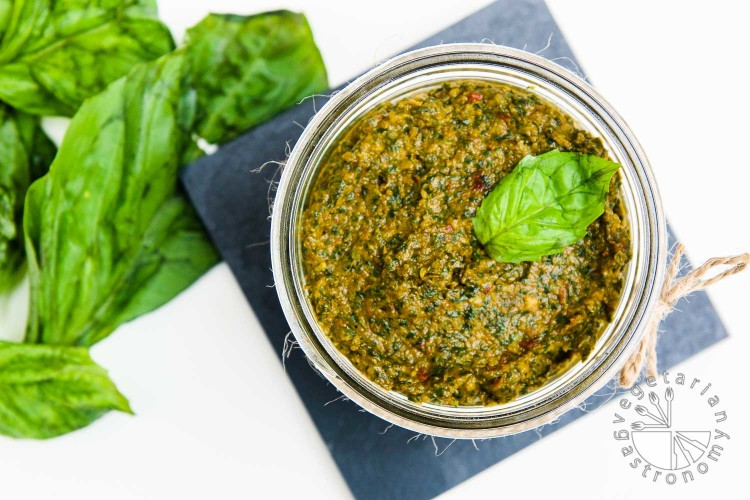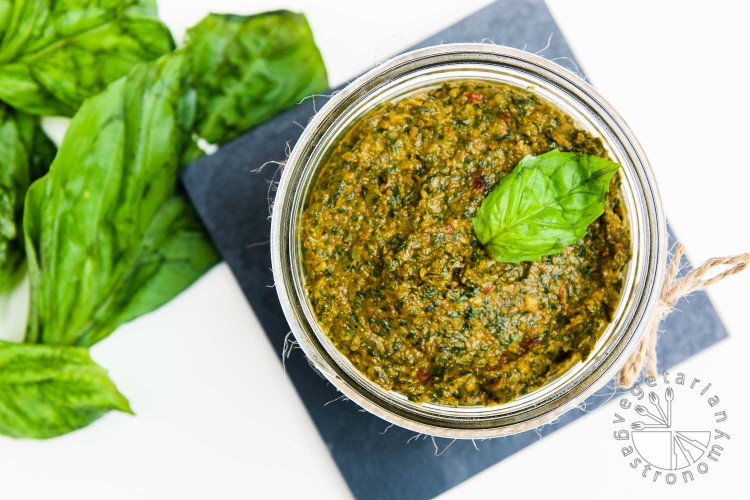 Now that you know how much I utilize pesto, let me tell you how this particular recipe has become my favorite. Don't get me wrong, I love the traditional recipe with simply basil, pine-nuts, olive oil, salt, and pepper, but after becoming vegan and omitting the Parmesan cheese, I was trying to come up with another formulation that tasted the same, if not better. There are a lot of recipes out there for vegan Parmesan and also vegan pesto using different combinations of nuts, nutritional yeast, etc. However, quite honestly, I'm not a fan of any of them, especially in a pesto recipe. Instead I prefer to omit the "cheese" component all-together and add a little extra salt. So I started playing around with combinations of ingredients until I arrived at this recipe.
The flavor of this Sun-Dried Tomato, Miso, & Basil pesto is rich, full, and complex. Simply put…it's SO good! Fresh basil, garlic, sun-dried tomato, a few different nuts, and Miso did the trick. The walnuts added a slight element of sweetness while the Miso added that perfect umami flavor I was trying to find. This combination of ingredients will have you adding pesto to everything, and that's exactly what I've been doing lately. I can even say that it's so much better than any cheese-version of pesto and my husband easily agrees! I have a few great recipes coming up using this Pesto, but until then, grab the ingredients, make a HUGE batch of this Pesto, use it on anything and everything, and freeze the leftovers. Trust me, when you see my recipes coming up, you'll wish you had some of this pesto ready to defrost.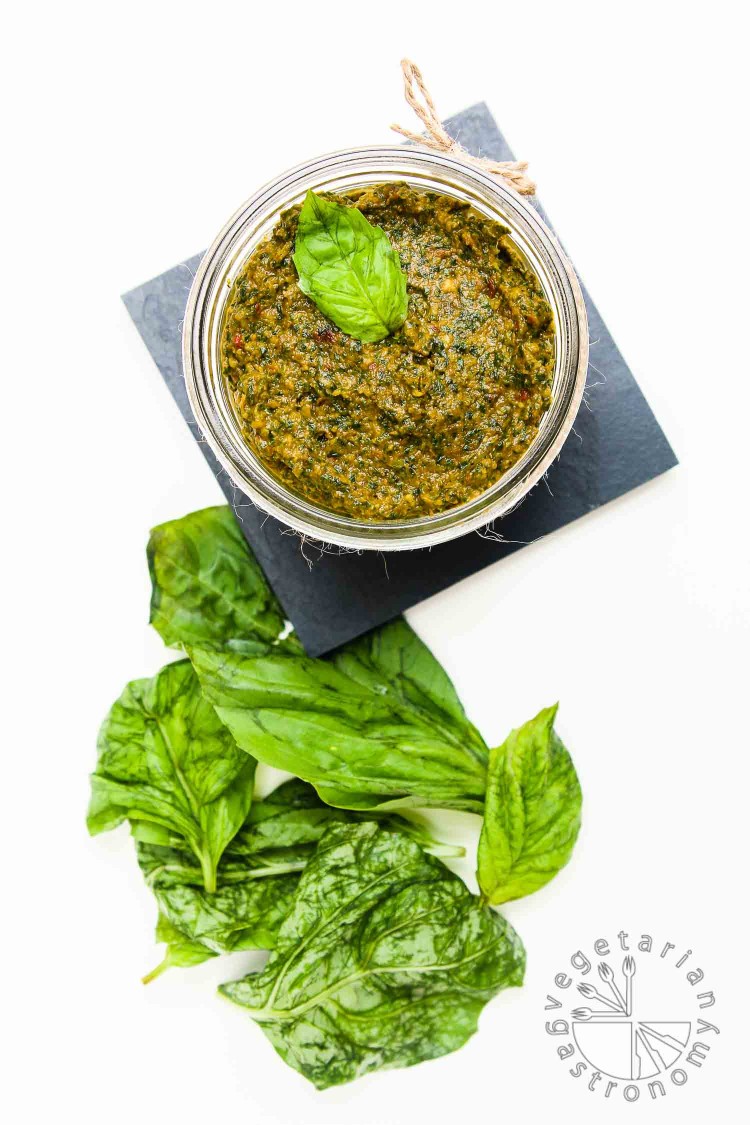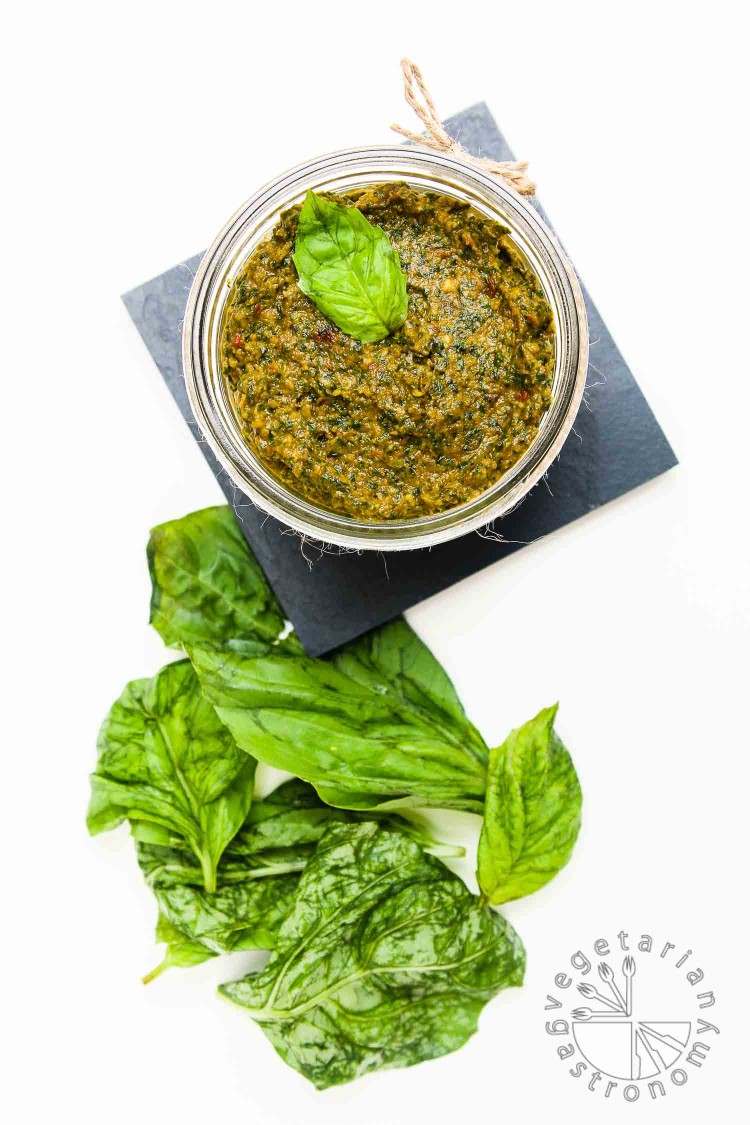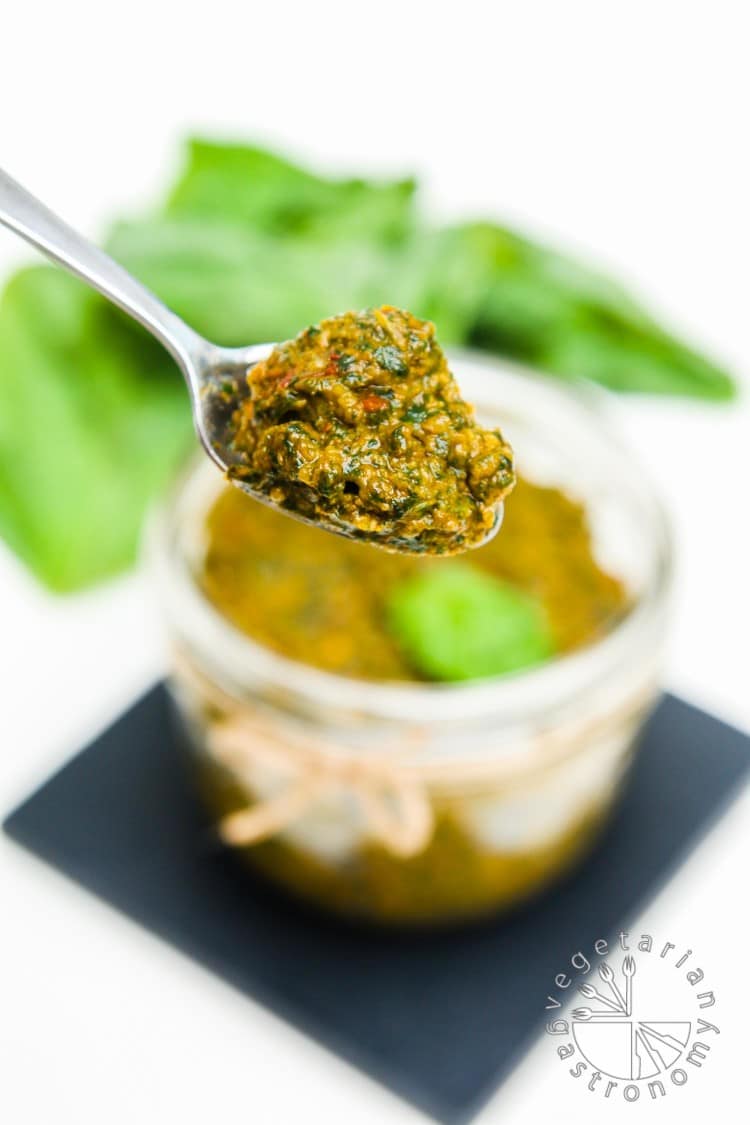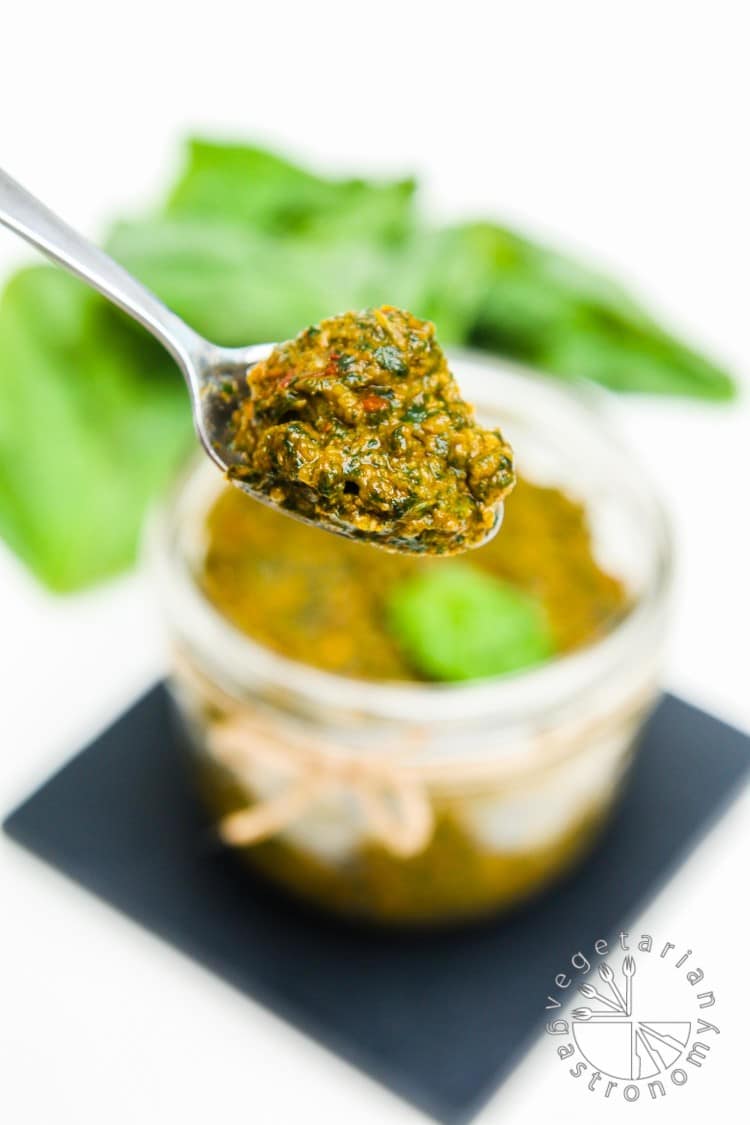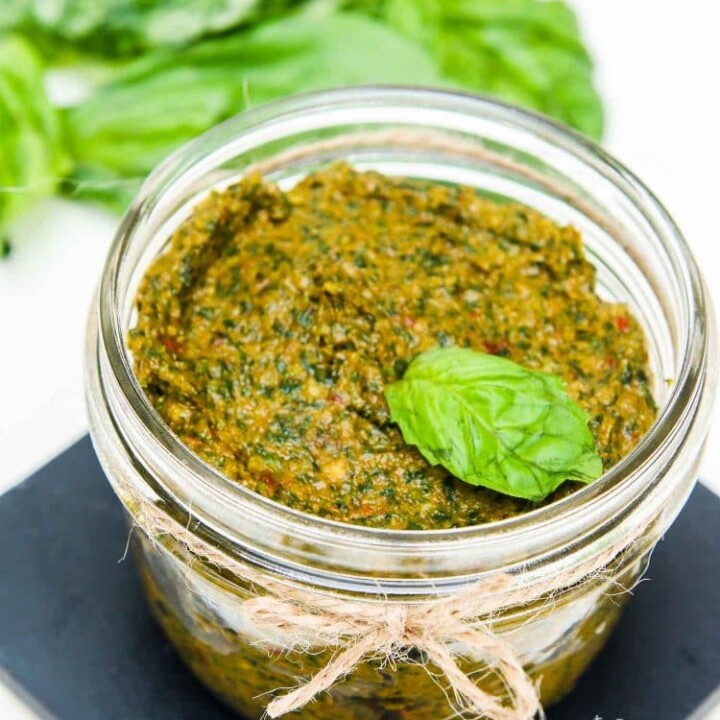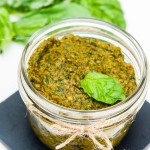 Print
Sun-Dried Tomato, Miso, and Basil Pesto
Miso is the key ingredient in this pesto recipe, making it "cheesy" and flavorful without all the dairy!
Servings:
3
servings (1/2 cup)
INSTRUCTIONS
Add all the ingredients to a

food processor

. Add more or less oil depending on desired consistency.

Process until smooth.

Season with salt and pepper to taste.
NOTES
Sun-dried tomatoes - I use the ones that come in a jar. If so, be sure to drain out the sun-dried tomatoes in a strainer as best as possible, then measure and add in with the rest of the ingredients.
Each serving size below is 1/2 cup prepared pesto.
NUTRITION
Calories:
898
kcal
|
Carbohydrates:
48
g
|
Protein:
22
g
|
Fat:
74
g
|
Saturated Fat:
8
g
|
Sodium:
2657
mg
|
Potassium:
1782
mg
|
Fiber:
12
g
|
Sugar:
19
g
|
Vitamin A:
2490
IU
|
Vitamin C:
23.9
mg
|
Calcium:
199
mg
|
Iron:
8.4
mg