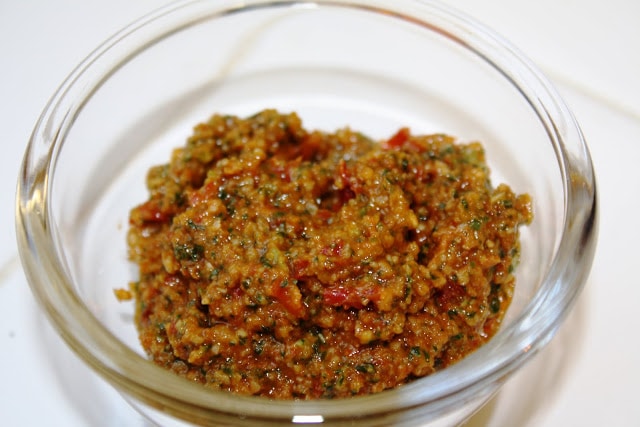 This variation to the traditional pesto recipe contains sun-dried tomatoes. The tomato taste combined with basil and Parmesan cheese makes for a great combination.
You can use this pesto for just about anything. My favorite is to toss it with penne pasta, crumbled goat cheese, roasted red bell peppers, olive oil, salt and pepper.
For the vegan option, omit the Parmesan cheese or use vegan Parmesan cheese.
SUN-DRIED TOMATO PESTO: (gluten-free, vegan option)
Ingredients:
2 cups fresh basil leaves
3-5 garlic cloves, chopped finely
1/2 cups pine nuts
1/2 cup Parmesan cheese, grated (omit for vegan option)
5-6 T cup olive oil
6 oz. sun-dried tomatoes
salt/pepper
Directions:
Blend all ingredients together in a food processor.
Add salt/pepper to taste and enjoy!
[subscribe_box]