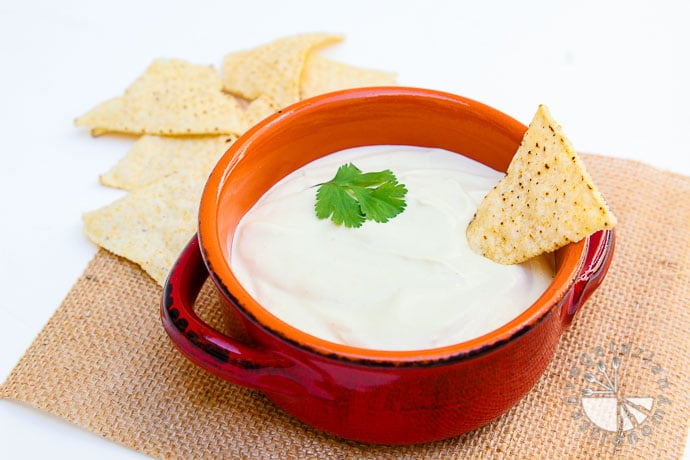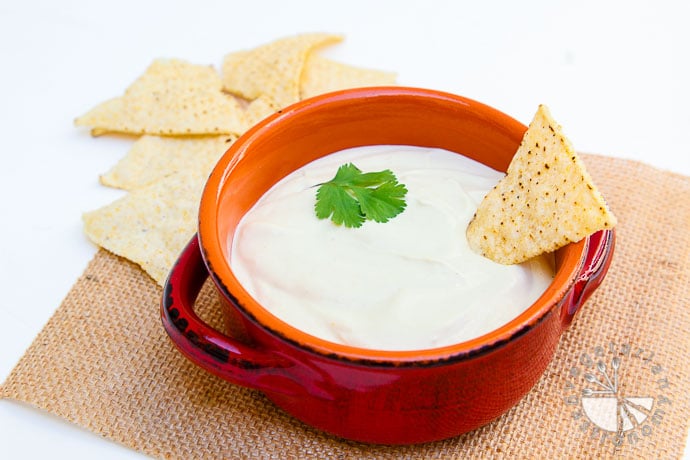 Ever since I became Vegan this past January, many people have been asking me if it's been difficult, especially since the rest of my family is still Lacto-Vegetarian. Before I changed my diet, I'd say about half of our meals were inherently vegan anyway since we make a lot of Thai and Indian food (Gujarati food to be specific, which traditionally does not contain much dairy). The dairy mainly came into play when we made Italian and Mexican. At first, I thought I would have to make different meals for myself, but quite honestly, I've been able to enjoy most (if not all) of our favorite recipes by simply omitting the dairy, which is what I've done with my Pesto sauce, Breadcrumb pasta, and Roasted Cauliflower Mushroom Soup. Omitting the dairy completely instead of finding a vegan alternative works well the majority of the time. In fact, I had my husband do a blind taste test of my vegan pesto vs. traditional pesto and even he couldn't tell the difference.
Although I have found some great vegan cheese brands out there, which I use on occasion for things such as grilled cheese, crackers spread with cheese, or sprinkling some shreds on my pizza or nachos, I have mostly been enjoying my typical meals by simply omitting the dairy. As a side note, if you're looking for a guide to vegan cheese, Kathy from Healthy Happy Life just posted an awesome BIG Vegan Cheese Guide on her site of the top vegan cheese brands out there.
All that being said, from time to time, I still miss and crave that added creaminess to some meals. I am sure everyone would enjoy a little cream sauce in their life, whether it's a pasta sauce or cheese sauce you can drizzle on Mexican food. I've made a delicious vegan version of my favorite pasta dish, Vodka Tomato Cream Sauce, by simply using cashew cream instead of heavy cream. My entire family can't even tell the difference, and since it's a healthier alternative (especially since I'm always trying to sneak nuts into my 5 yr old's diet), we now typically make the vegan version. Since I became vegan, I've been experimenting with different vegan creamy sauce recipes I can use for a variety of different dishes and cuisines.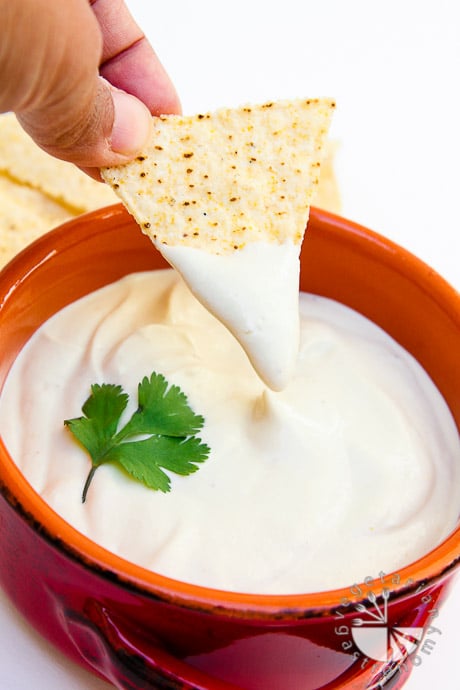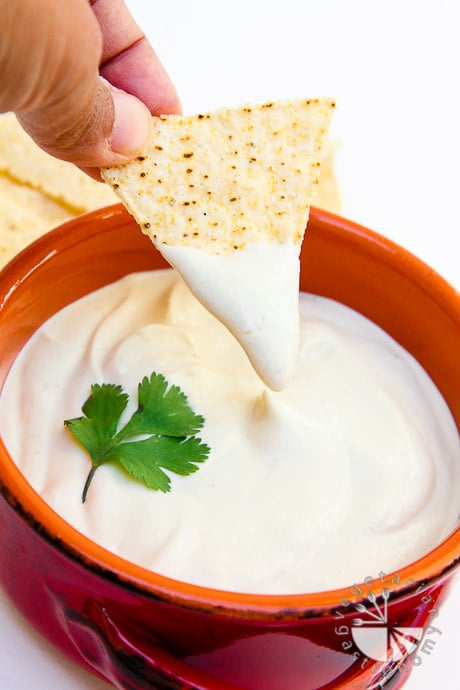 About a few months ago while visiting my brother, he made me dinner. It was his version of a quick Mexican Pizza. Without getting ahead of myself, let's just say his version was DELICIOUS, and I loved how QUICK it was to make! So much so, that I had to recreate my version of it at home so I could post the recipe for all of you (coming soon!). Even though the version without cheese was amazing, I really wanted to add an element of creaminess to this mexican pizza. At first, I whipped up a quick avocado sauce. It turned out delicious, but I still felt it could use more flavor and creaminess. I wanted to create a sauce that was slightly on the sweet side, yet still tangy and one which had an element of spice. I used cashews as the base, roasted some garlic and fresh jalapenos, added lots of fresh lemon juice, and used SILK brand original soy milk to thin down to sauce consistency and introduce a little sweetness. I threw everything into my Vitamix, and was left with this awesome sauce!! Next comes the part where I tell you that I sort of went crazy, drizzling (or melting) it on everything as you will soon see in up-coming posts (some of them have already been posted on Facebook and Instagram). It also tastes great even as a simple dip with chips or as a cheese sauce slightly melted on nachos. My husband even loved it and used it to replace the cheese on his Mexican Pizza. When that happens (and by THAT, I mean my husband using a vegan alternative), I know it's perfect!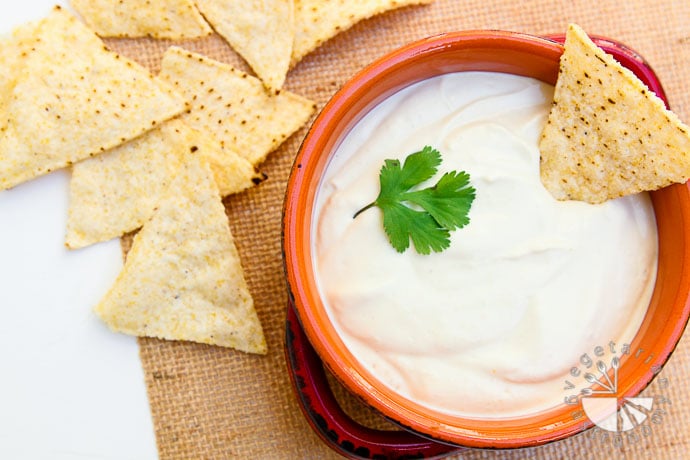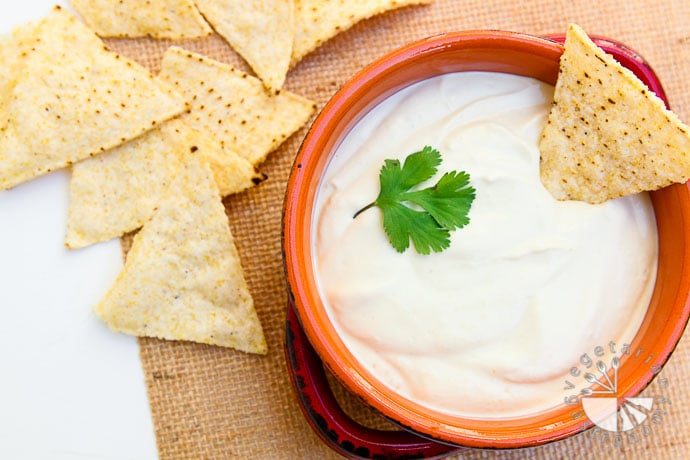 It's always wonderful to hear from my readers and followers in the comment section below. So if you make this recipe or even simply like the idea of the recipe, I'd love to hear from you. It's also a great way for me to get feedback so that I know how you like the recipes, whether you are eating or making them. You can give any feedback below, or you can also tag me on Instagram if you make one of the recipes @vegetariangastronomy , #vegetariangastronomy, so I don't miss it.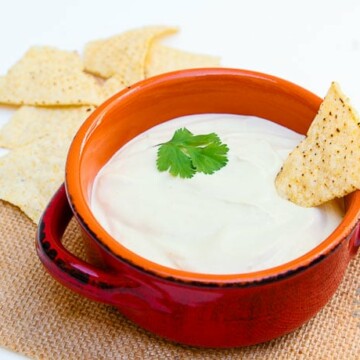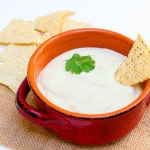 Print
Sweet Jalapeno Lemon Cream Sauce
This will become a go-to cream sauce for just about anything! Use it as a dip, drizzle it on some pizza, or make some nachos!
Servings:
3
servings (~1.5 cups sauce total)
INGREDIENTS
3/4

cup

raw unsalted cashews

, soaked in water for 2-4 hours

1/2

teasp

lemon zest

5

tbsp

lemon juice

1

fresh green jalapeno

2

cloves

garlic

, skin on

1/2

tbsp

olive oil

1/2

cup

Silk Brand Original Soy Milk

, see notes below if using another non-dairy liquid base

1/2

teasp

salt
INSTRUCTIONS
Preheat oven (or toaster oven) to 400 degrees.

Remove the stem from the jalapeno. Cut in half and discard most of the seeds. On a lined baking sheet, place the garlic cloves (skin on) and jalapeno halves. Roast for about 15 minutes. Continue with the recipe while roasting.

Drain the soaked cashews and add to a

Vitamix

(or other high powdered blender) along with the lemon zest, lemon juice, olive oil, silk brand original soy milk, and salt.

Once the oven is done, peel the garlic cloves, and add the garlic cloves and jalapeno halves into the blender.

Blend until completely smooth. Add more soy milk to reach desired consistency if needed (the consistency should be similar to a cheese dip).

Taste and adjust the amount of lemon juice/salt if desired.

Store in an air-tight container in the fridge until ready to use.

Drizzle this sauce on top of nachos (microwave to melt it slightly), quesadillas, pizza, or simply use it as a dip along with some chips!
NOTES
Non-Dairy Milk - I used SILK Brand Original Soy Milk (sweetened) in this recipe because it adds the perfect amount of sweetness to the sauce. If you use unsweetened soy milk, or another non-dairy milk (such as cashew milk or almond milk), you can account for the sweetness by adding a tiny bit of maple syrup to the sauce if needed. Otherwise you will get different results in terms of taste.
NUTRITION
Calories:
224
kcal
|
Carbohydrates:
13
g
|
Protein:
7
g
|
Fat:
17
g
|
Saturated Fat:
2
g
|
Sodium:
412
mg
|
Potassium:
288
mg
|
Fiber:
1
g
|
Sugar:
3
g
|
Vitamin A:
85
IU
|
Vitamin C:
10.7
mg
|
Calcium:
66
mg
|
Iron:
2.3
mg
[subscribe_box]