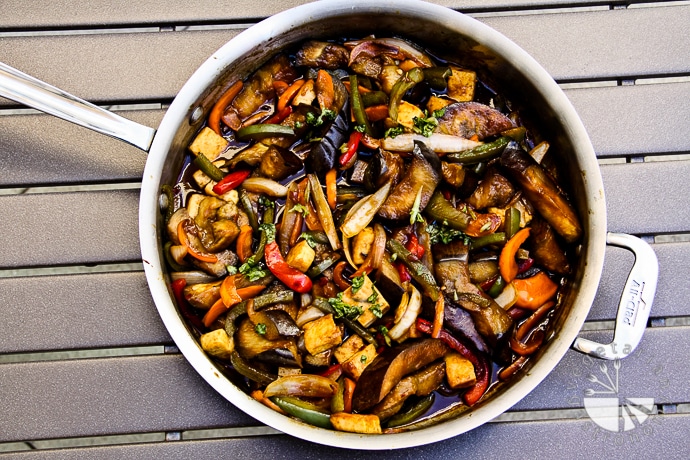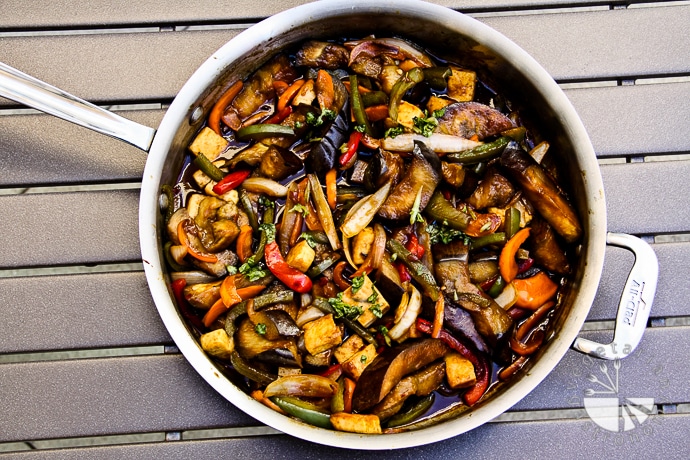 I don't mean to gloat, but I do think I've perfected this dish! This is hands-down one of my all-time favorite Thai dishes and it's extremely simple to make! The key to this recipe is the brand of Hoisin sauce I use. I've tried many different brands available but the only one I really like is Koon Chun Hoisin Sauce
. I've originally found this brand at 99 Ranch (they do not carry it at common grocery stores such as Ralphs or Vons), but recently I also found it on amazon (in packs of two) which is very exciting (buy now)…saves me a trip to 99 Ranch! If you have another favorite brand of Hoisin Sauce let me know!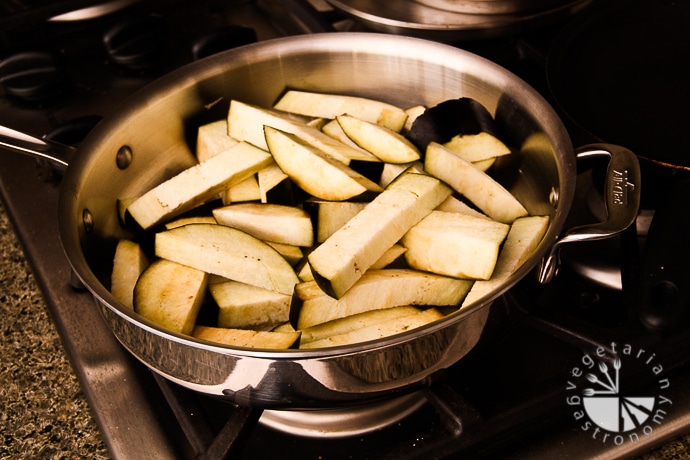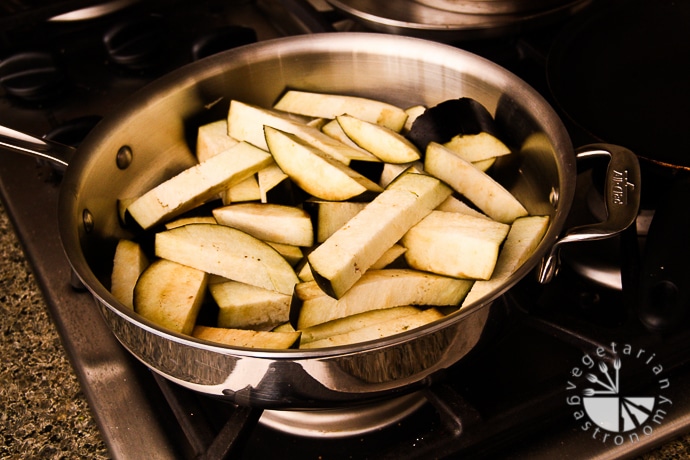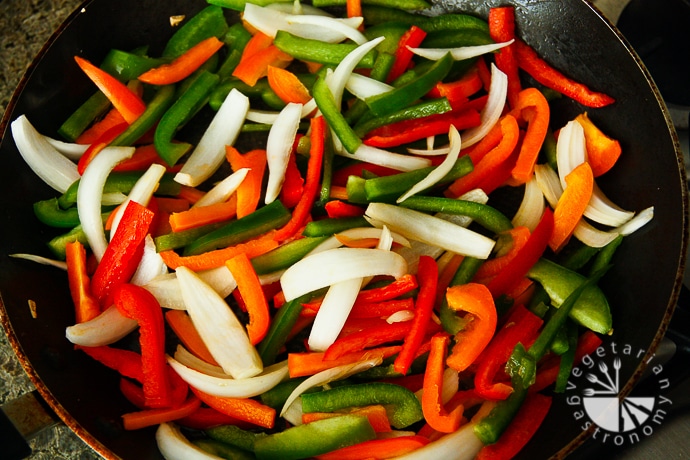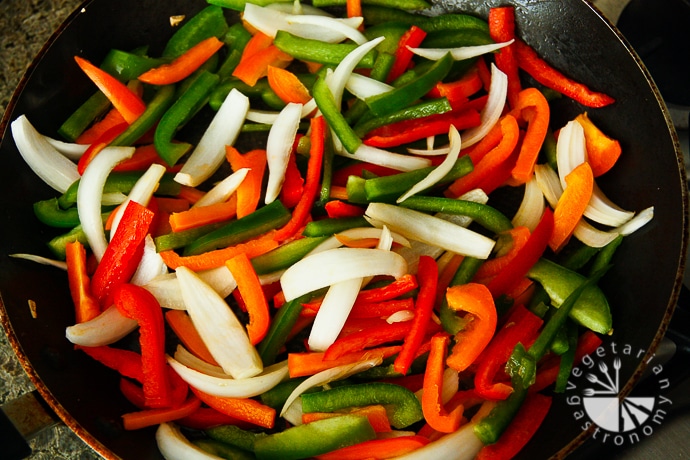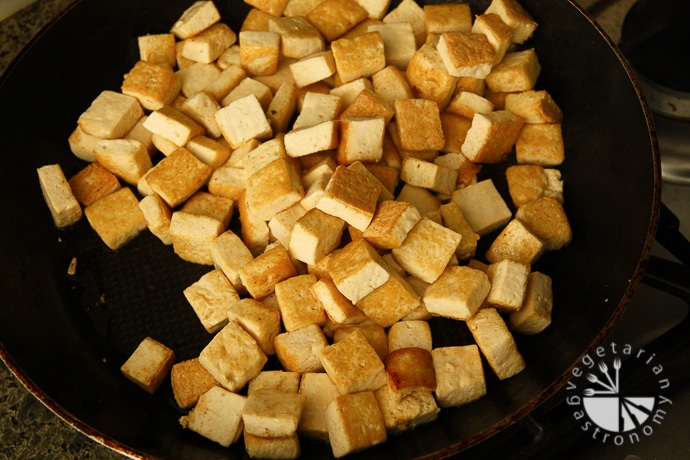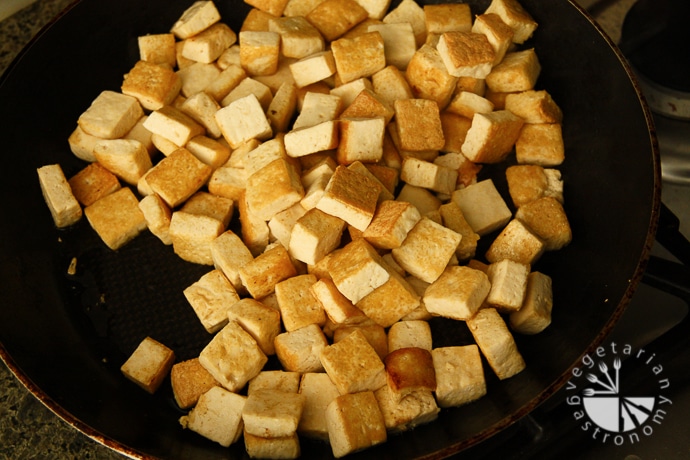 If you make this dish alongside some Sweet Chili Lime Tofu or Garlic Pepper Tofu, and brown rice or quinoa, I promise you will not miss going out for Thai Food!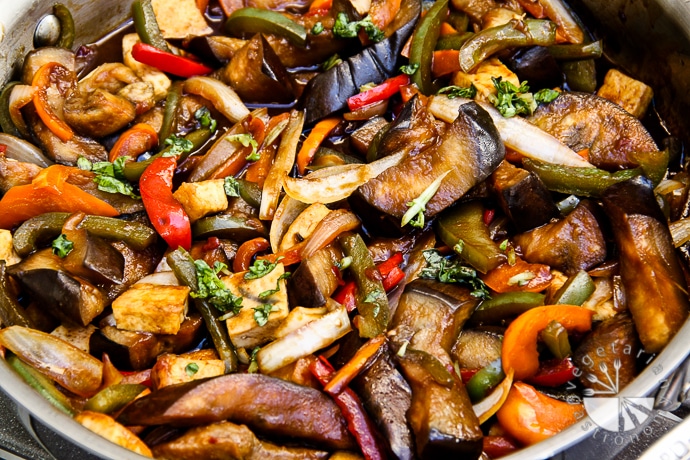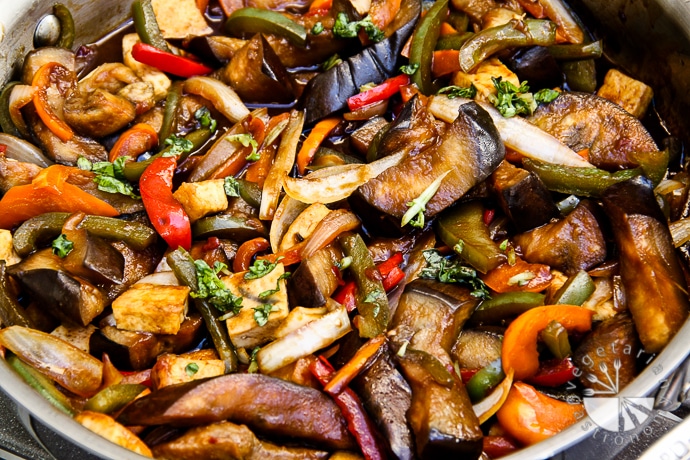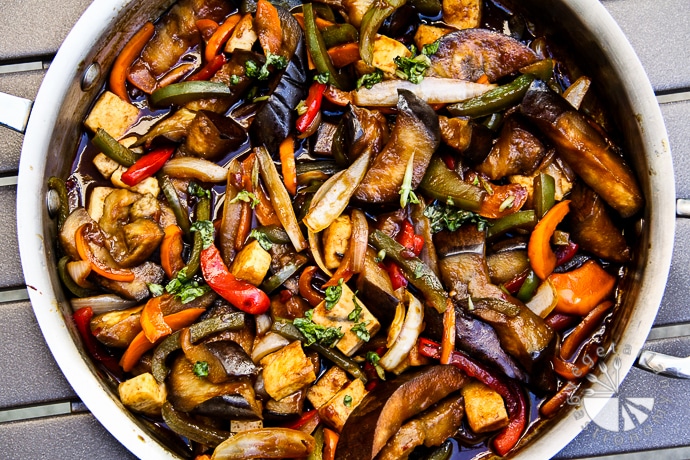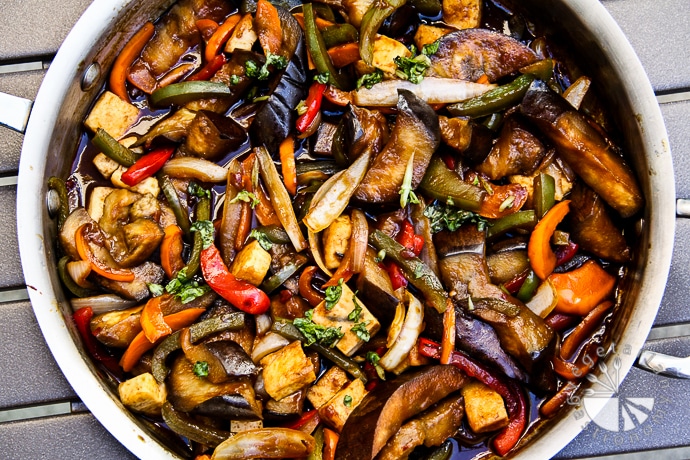 Unfortunately the Hoisin Sauce I recommend in this recipe is not gluten-free. For a gluten-free option, I recommend Sun-Luck Hoisin Sauce. I've found it at my local Ralphs Grocery Store. It also tastes great and is very similar to the Koon Chun Hoisin Sauce I recommend above!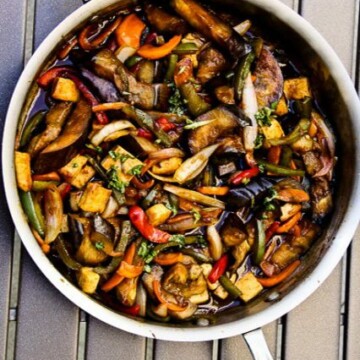 Print
Thai Basil Eggplant
This Thai Basil Eggplant is a vegan, gluten-free, healthy dish based on a popular restaurant-favorite! No frying necessary, easy 5 minute sauce, and full of flavor!
INGREDIENTS
1

large

Italian eggplant

, or 2 medium Japanese or Chinese eggplants

1

green bell pepper

, thinly sliced

1

red bell pepper

, thinly sliced

1

yellow bell pepper

, thinly sliced

1

white onion

, halved and thinly sliced

14

oz

firm tofu

, block

2

cloves

garlic

, minced

4

tbsp

cooking oil

, such as coconut, grapeseed, or avocado

basil leaves
INSTRUCTIONS
To Prepare the Eggplant:
Cut off the top and bottom tips.

If you are using Italian eggplants: Slice the eggplant lengthwise into 3/4-inch slabs. Then cut each slice lengthwise into 3/4-inch slices. Cut each slice into 2 or 3 pieces diagonally (see picture above for an example of how the eggplant pieces should end up looking).

If you are using Chinese or Japanese eggplants: Slice the eggplant in half lengthwise. Then diagonally cut small sections about 3/4-Inch thick all the way down both halves.

In a large non-stick pan or stainless steel pan, heat

2 or 3 Tbsp

of cooking oil on medium heat.

Add the eggplant pieces and toss to coat them in oil. Add a little amount of water, turn the heat down to low-medium, cover, and let the eggplant cook.

Stir the eggplant pieces every few minutes. Add a little more oil or water to help cook the eggplant and keep it from sticking to the pan if needed (if adding water to help cook the eggplant, be sure to add a small amount each time so that you don't end up with watery mushy eggplant). While the eggplant is cooking continue on to preparing the rest of the dish.

The eggplant is done once it is tender, but still firm so it holds shape. Turn off the heat and set aside in the pan.
To Prepare the Tofu & Veggies:
Cut the tofu block in half. Place each half in a clean paper towel one at a time and squeeze gently to remove excess storage liquid (without breaking up the tofu).

Cut the tofu into 1/2-Inch cubes and pan fry on medium-high heat with

2 Tbsp

cooking oil (in another

non-stick frying pan

).

Turn the tofu frequently until all the water is burned off and the tofu is lightly golden brown on most sides (be sure not to burn the tofu).

Once the tofu is done, add it to the eggplant.

In the same non-stick frying pan, add

1 tbsp

cooking oil and heat on medium-high. Add the thinly sliced onions and bell peppers. Saute until they are cooked but still crispy. Add the minced garlic half way through and saute it into the onions and bell peppers.

Once the veggies are done, add it to the eggplant and tofu.
To Prepare the Dish:
Whisk all ingredients listed under sauce above. Mix until all the cornstarch has dissolved. Add more chili sauce if you prefer additional spice.

Heat the pan containing eggplant, tofu, and veggies once more.

Once the pan is hot, add the sauce, turn down the heat to low-medium and mix frequently until the sauce slightly thickens and coats the eggplant and veggies. This should only take a few minutes.

Turn off the heat and add some freshly chopped basil. Mix once more and serve hot with some cooked quinoa or brown rice!
NOTES
Koon Chun Hoisin Sauce does contain gluten, so for a

gluten-free

option, I recommend using Sun-Luck brand Hoisin Sauce.
I've found that all store-bought hoisin sauces very considerably in taste. Depending on the brand you use, feel free to adjust the amount of tamari or soy sauce as needed.
To make this dish faster, be sure to cook the tofu/veggies at the same time as the eggplant using 2 different non-stick pans.
NUTRITION
Calories:
185
kcal
|
Carbohydrates:
14
g
|
Protein:
7
g
|
Fat:
11
g
|
Saturated Fat:
8
g
|
Sodium:
1382
mg
|
Potassium:
328
mg
|
Fiber:
1
g
|
Sugar:
6
g
|
Vitamin A:
735
IU
|
Vitamin C:
79.4
mg
|
Calcium:
39
mg
|
Iron:
1.5
mg