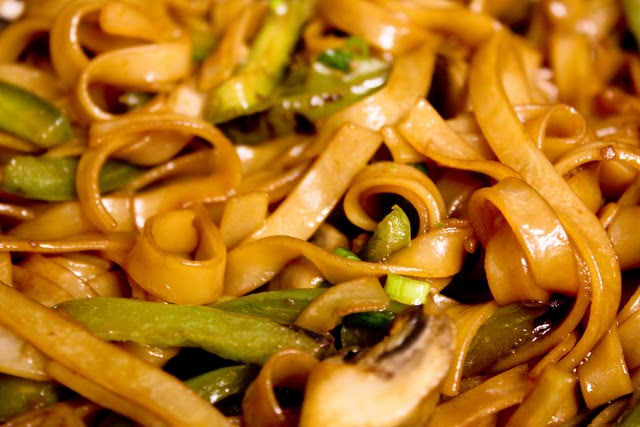 Brown sugar, soy sauce, and corn starch…three of the most basic ingredients I use in many of my Thai dishes. Here is a simple yet tasty rice noodle dish with some veggies and basil. The best part of this recipe is that you don't need any special ingredients for the sauce.
I made this dish with my Garlic Pepper Tofu & some quinoa. Enjoy!
THAI RICE NOODLES w/VEGGIES:(gluten-free, vegan)
Ingredients:
(6-8 servings)
8 oz. rice noodles
1 small onion, halved, then thinly sliced at an angle towards the center
1 red bell pepper, medium cubes
1 green bell pepper, medium cubes
1 yellow squash, medium cubes
5-10 white button mushrooms, cut in quarters
5-8 broccoli florets, cut in half
3 cloves garlic, finely chopped
vegetable oil
fresh basil, chopped
(sauce)
4 t vegetable oil
1/2 cup soy sauce (gluten-free: San-J gluten-free soy sauce)
4 t corn starch
4-5 T brown sugar (or coconut palm sugar)
1-2 t chilli sauce (Huy Fong Chili Sauce or Sriracha)
1/4 cup water
Directions:
Cook rice noodles according to directions. Be sure not to over-cook the noodles.
Rinse noodles in cold water, add some vegetable oil to make sure they do not stick together and set aside when done in a strainer.
To Prepare Vegetables. Add a few teaspoons vegetable oil to a large deep non-stick skillet or wok. Heat on medium. Add garlic and onions. Fry till fragrant and onions are just translucent. Remove in a bowl and set aside.
Heat another few teaspoons on medium-high heat in the same wok and add the rest of the vegetables. Cook, mixing frequently to keep the vegetables from burning or sticking to the pan. Add some more vegetable oil if they start sticking to the wok. Saute the veggies until they are cooked, but not completely soft (in other words, they should still have a "crunch" to them).
To Prepare Sauce. Combine all the sauce ingredients in a measuring cup. Stir until the cornstarch is dissolved. Feel free to add more chili sauce if you prefer more spice.
To Prepare Dish. Add the onions and rice noodles into the wok with the vegetables. Add the sauce and heat the dish on medium. Mix the noddles frequently.
Cook until the sauce has thickened, reduced, and soaked into the noodles and veggies. Be sure not to cook too long otherwise the rice noodles will be over-cooked.
Feel free to add more brown sugar or soy sauce if you prefer depending on your taste.
Top the dish with chopped fresh basil and enjoy!