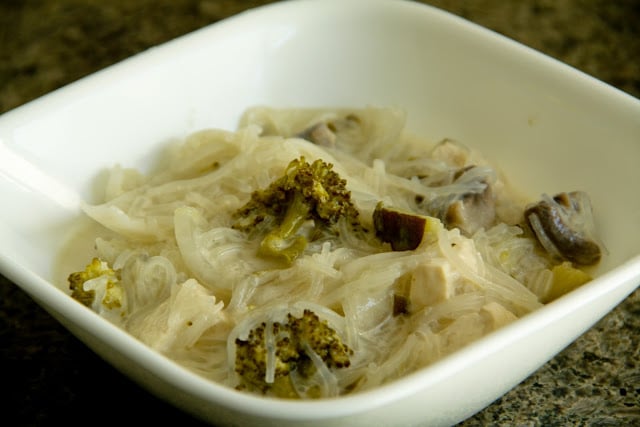 My mom brought this vegetarian paste from 99 Ranch the last time she visited. Normally I shy away from pre-made thai pastes or cubes, but after looking at the simple ingredients on the container, I decided to give it a try since my mom raved at how great it tasted and how easy it was to make.
I basically followed the instructions on the side of the box and added some of my favorite vegetables. To make the soup a little more filling, I added some vermicelli rice noodles at the end. This soup gives that warm feeling to your body and soul and has become one of my favorite thai soups…a trip to your local 99 Ranch is definitely worth it!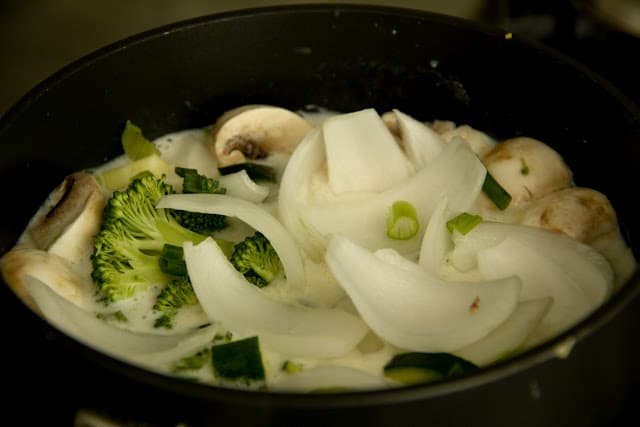 THAI VEGETABLE TOM KHA SOUP: (vegan, gluten-free)
(makes 5-6 servings)
Ingredients:
14 oz. coconut milk
1 1/2 cup water
2-3 small spoons AROY-D Tom Kha Paste (from 99 Ranch)
7 oz. soft or firm tofu, cut into cubes (1/2 of a block)
(optional) vermicelli rice noodles
Assorted Mixed Vegetables (cut into large pieces):
onions
broccoli
mushrooms
zucchini
bok choy
(note: in my opinion bell peppers do not go well with this soup)
Combine the coconut milk and water in a pot.
Heat on medium until boiling. Reduce heat to a low simmer.
Add 2-3 small spoons of the Tom Kha Paste (more or less to taste). Mix well and simmer for a few minutes to let the flavor blend in.
Add any assortment of vegetables and cubes of tofu. Be sure not to cut the vegetables too small otherwise they will be over-cooked.
Continue to boil for 5-10min or until the vegetables are tender but not over-cooked.
(optional) Add some uncooked vermicelli noodles and boil for 1-2 min (they will cook quickly).
~ Anjali