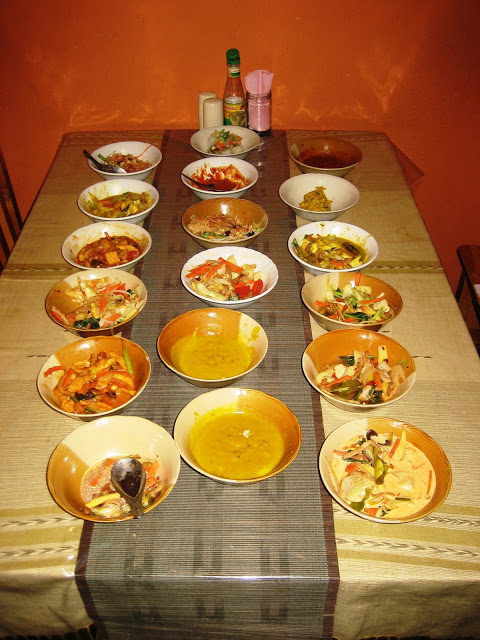 Even though I've made my version of thai food several times in my own kitchen, I still have yet to recreate the exact authentic thai flavors. And where best to learn how to make great Thai Food than from Thailand itself!
My husband and I recently came back from a trip to Thailand/Cambodia and had an amazing time. There are many vegetarian/vegan thai food options, but unfortunately, almost all standard thai food resturants use both oyster sauce and fish sauce as staples to thai cooking. Therefore, one of my goals while i was out there was to take a vegetarian/vegan thai food cooking class.
I found a restaurant which teaches cooking classes called May Kaidee's Thai Vegetarian & Vegan Restaurant, located in both Bangkok & Chiang Mai. We signed up for the morning session in Chiang Mai and luckily we were the only people there. We went to the local street market with the owner of the resturant (May's sister) and picked out all our veggies, herbs, and tofu/noodles. I WISH we had similar markets available for us to shop at in the US. We cut all the veggies, roasted any seeds/nuts we'd need, fried some tofu, and laid out all our sauces. We were ready to cook some yummy thai food with woks in hand!
If you're ever in Bangkok or Chiang Mai, visit the resturant to take some cooking lessons or just have a meal – they're food is great! I'll post the recipes we learned once i'm able to recreate the dishes in my own kitchen in case they need slight variation based on what's available in the US!