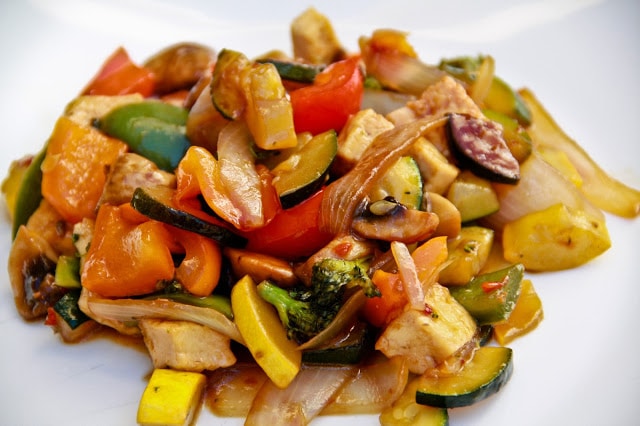 This dish is composed of one of my most basic Stir Fry or Noodle sauce recipes and a bunch of fresh veggies and tofu. The sauce is extremely simple to make and coats the vegetables and tofu perfectly with the addition of corn starch to help thicken the sauce. I usually serve this stir fry with some quinoa or brown rice. It's healthy, easy to make, and tastes great…my type of dish!
I also make a variation of this dish for my toddler. Basically just use those veggies that your toddler likes and cut all the the veggies and tofu into smaller pieces. I also omit the chilli sauce because my son cannot tolerate spice. If your child likes rice, you can also mix in some cooked rice! See the recipe notes below for the toddler variation to this recipe.
Gluten-Free Note – the only reason this dish is not labeled as gluten-free is because of the soy sauce. I usually just state to substitute San-J for the soy sauce but since I have not tried this yet myself, I will have to post another update to this recipe to make sure the proportions of GF soy sauce, brown sugar, and chilli sauce are correct since the different sauces are slightly different. So be sure to look out for an update on this recipe soon!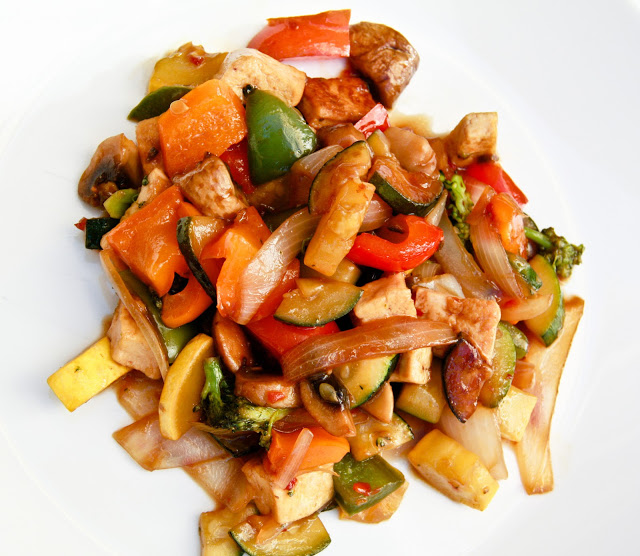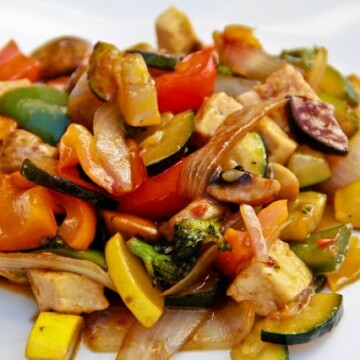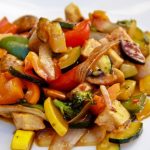 Print
Tofu Veggie Stir Fry
This is the perfect dish when you need to use up a bunch of veggies! Healthy, filling, and the perfect family meal!
INGREDIENTS
1

green bell pepper

, diced into 1-inch cubes

1

red bell pepper

, diced into 1-inch cubes

1

orange bell pepper

, diced into 1-inch cubes

1

medium

zucchini

, cut in half lengthwise 2x, then 1/4-inch slices

1

small

yellow squash

, cut in half lengthwise, then 1/4-inch slices

1/2

medium

white onion

, diced into 1-inch cubes

5

large

white button mushrooms

, cut into 3rds both directions (9 pieces)

1

small bunch

broccoli

, cut into florets

6-7

oz.

firm tofu

3

cloves

garlic

, finely minced

fresh basil leaves

, chopped

cooked quinoa or brown rice
INSTRUCTIONS
To Prepare Tofu:
Cut tofu in half. Place each half in a clean paper towel one at a time and squeeze to remove excess storage liquid (without breaking up the tofu). Cut the tofu into 1/2-inch cubes and pan fry on medium-high heat with

2 Tbsp

cooking oil, mixing and turning frequently until all the water is burned off and the tofu is lightly golden brown on most sides (be sure not to burn the tofu). If you find that the tofu is sticking to the pan, add more vegetable oil. Set aside.
To Prepare Stir Fry.
In a large wok or skillet, heat

3 Tbsp

vegetable oil on medium heat.

Add the garlic and saute until fragrant (30 seconds).

Turn the heat up to medium-high.

Add all the vegetables (bell peppers, onions, mushrooms, broccoli, squash, zucchini). Saute on medium-high heat until they are cooked (some may slightly blacken), but still semi-crispy. Mix frequently. If you find that the vegetables are sticking to the bottom of the pan, add some more vegetable oil and mix. While they are cooking, continue on to prepare the sauce.

Combine all the sauce ingredients in a bowl and whisk together.

Once the veggies are tender but crispy, turn the heat down to medium. Add the prepared tofu. Add the prepared sauce.

Toss the vegetables and tofu with the sauce until well coated. There should be extra liquid.

Simmer on medium or medium-high heat and mix frequently until the sauce starts to thicken and coat the vegetables and tofu. Do not burn off all the liquid but be sure to keep simmering until the sauce is thick. Feel free to add more chilli sauce if you prefer extra spice.

Turn off the heat and add the freshly chopped basil leaves.

Serve hot with some cooked quinoa or brown rice! Enjoy!
NOTES
Feel free to change up/add any veggies below. Keep in mind that the amount of sauce fits the amount of vegetables listed below.
Toddler Variation -
Omit any veggies your toddler does not like (i.e. onions, etc.).
Cut all the veggies into smaller pieces, and cut the tofu into smaller cubes.
Omit the chili sauce if your toddler does not handle spice well.
Add brown rice or quinoa if your toddler enjoys those grains.
NUTRITION
Calories:
89
kcal
|
Carbohydrates:
16
g
|
Protein:
5
g
|
Fat:
1
g
|
Sodium:
833
mg
|
Potassium:
417
mg
|
Fiber:
2
g
|
Sugar:
9
g
|
Vitamin A:
1420
IU
|
Vitamin C:
77.5
mg
|
Calcium:
27
mg
|
Iron:
1.1
mg
~ Anjali