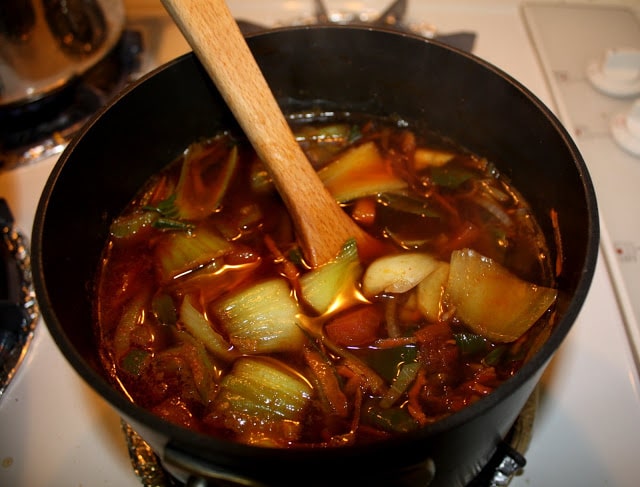 Tom yum soup is one of my favorite starters at Thai restaurants because it's simple, light, and flavorful. This soup is the perfect blend of the 3 main simple flavors which include lemongrass, ginger, and kafir lime leaves, boiled in water. This soup is one of the first dishes we learned how to make in Thailand, and I've recreated it at home many times since we've been back.
One of my favorite aspects of making this soup is that you can add almost any combination of vegetables you may have in the fridge. Lemongrass and kafir lime leaves can be obtained at most Asian grocery stores. Kafir lime leaves can be dried outside and stored in the fridge for a long time..
TOM YUM SOUP: (gluten-free, vegan)
(makes 1 serving)
Ingredients:
1 soup bowlful water (slightly more than 1 cup)
2 inches lemongrass, cut
2 kaffir lime leaves, crushed
2 slices galangal (thai ginger) or ginger
1/2 t chili (or red curry paste)
1 1/2 t tom yum paste (get this at any asian market store)
1/2 T dark soy sauce (gluten-free option: use San-J tamari)
1 T light soy sauce (gluten-free option: use San-J tamari)
1/2 T brown sugar
1 t lemon juice
1/2 bowl mixed vegetables, cut
1 T green onions, chopped
3-5 cubes tofu (optional)
milk or coconut milk (optional)
Mixed Vegetables (any combination of the following depending on availability):
white onions, sliced
tomatoes, sliced
cabbage, chopped
carrots, shredded
baby bok choy, chopped
mushrooms, cut into 4 sectgions
green bell pepper, sliced
baby corn, sliced
Directions:
Prepare mixed vegetables by washing and cutting them.
In a pot or wok, boil 1 soup bowlful of water.
Turn the gas to medium heat. Add kaffir lime leaves (torn at the edges to release flavor) + ginger + lemon grass + chili (to taste). Boil for ~3-4min to bring out the flavor.
Add all mixed vegetables + tofu. to the pot and boil.
Once boiling, add dark soy sauce + light soy sauce + brown sugar + tom yum paste.
Simmer the soup until the vegetables are tender and before water is all gone (not too long).
Turn the heat off, add green onions + lime juice.
The above directions make a clear soup, which is the one I personally prefer. Below are two other variations of the soup:
– Variation 1: Add 1 T of milk or coconut milk (vegan) for additional flavor at the end.
– Variation 2: For Tom Kah soup, reduce the water even more and add more coconut milk.
(Notes: (1) to make the soup more flavorful or spicier, add a little more chili or tom yum paste, (2) for the gluten-free option, you may need to adjust the amount of brown sugar depending on the exact flavor of the GF tamari sauce used)
[subscribe_box]