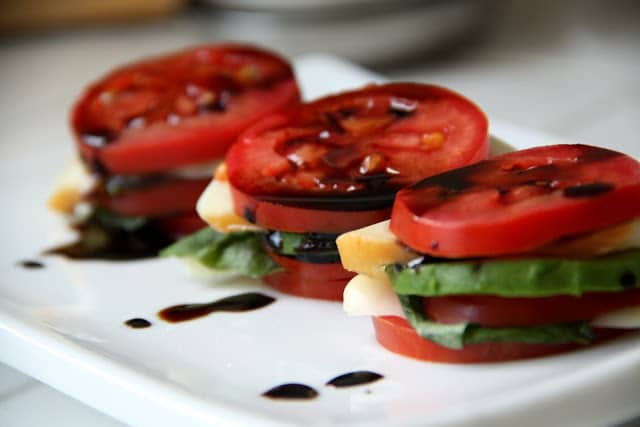 My mom recently gave me a bag of home-grown tomatoes which were AMAZING! I wanted to use the tomatoes and make something fresh and uncooked to savor their taste. When I saw the basil and mozzarella in the fridge, I decided to make stacks for lunch as a side along with the Balsamic Marinated Tofu.  I usually drizzle balsamic vinegar, but decided to make a reduction sauce instead with garlic. I also added some slices of avocado to make the dish more filling.
If you're in the mood for a light, fresh, and satisfying lunch or side, this dish is perfect!
Tomato-Basil-Mozzarella-Avocado Stacks w/Balsamic Reduction Sauce (vegan option, gluten-free)
---
Yields ~4 servings
Ingredients:
1-2 avocado, peeled, pitted, and thinly sliced width-wise
3-4 tomatoes, thinly sliced
mozzarella cheese, thinly sliced (omit for vegan option)
basil leaves, washed and dried
1 cup balsamic vinegar
1 clove garlic, crushed
freshly ground black pepper
Directions:
To Make the Balsamic Reduction:

Poor the balsamic vinegar into a saucepan and add the crushed garlic. Bring to a boil over medium heat.
Turn the heat to low and simmer until the liquid has reduced from 1 cup to about 1/3 or 1/2 cup. The vinegar will thicken as it cools.

To Assembly:

You can pretty much assemble anyway you want, but here is what I did for each stack starting from the bottom layer: tomato slice, mozzarella slice, basil leaf, tomato slice, mozzarella slice, avocado slice, tomato. For a vegan option, add another slice of avocado in between the first two layers of tomato.
Sprinkle the top with freshly grounded black pepper.
Drizzle on the balsamic reduction sauce just before serving. The amount will vary depending on your taste.
7.8.1.2
268
https://vegetariangastronomy.com/tomato-basil-mozzarella-avocado-stacks/
www.VegetarianGastronomy.com
[subscribe_box]