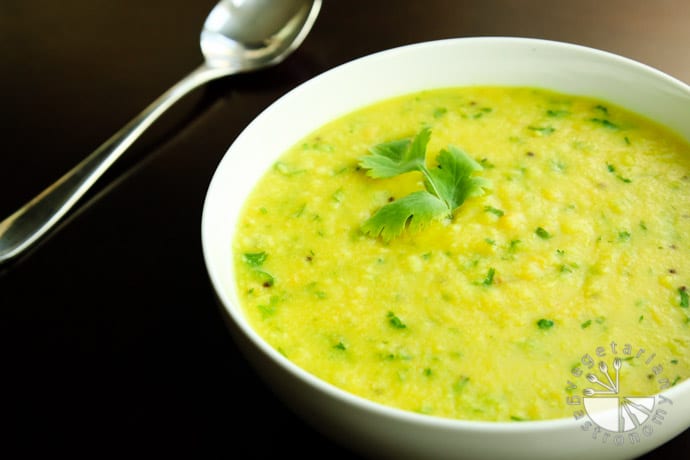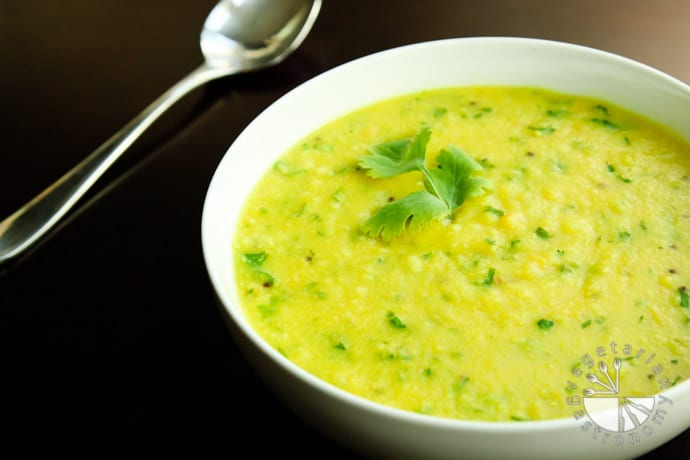 Growing up, my mom would cook traditional Gujarati Indian meals for dinner 3-4 times a week. That meal generally consisted of a variation of the following components:
Curried Vegetables
Cooked Lentils (dry or in the form of a soup)
Roti (whole wheat tortilla)
Rice
Salad
Yogurt
Looking at this list, I'm thankful to my mom for well-balanced, nutritious, and yet delicious meals growing up! When she would make hot rotis (which she now makes with tofu instead of oil) with a side of cilantro chutney (recipe to come), she would have to kick me out of the kitchen otherwise I would quickly ruin my appetite for dinner.
I now have a family to cook for of my own. Although we love eating other cuisines, my husband and I still need our weekly fix of Gujarati food. I also want my kids to enjoy and appreciate the flavors we had growing up. These dishes are not only second nature for me to prepare, but are healthy, tasty, and well-balanced. They also allow me to introduce new vegetables and lentils to my kids every week.
As I was browsing through the Indian recipes on my site, I realized that I've only posted a few of these recipes. Given how often I make traditional Gujarati meals, I figured it's about time to add some more of these dishes.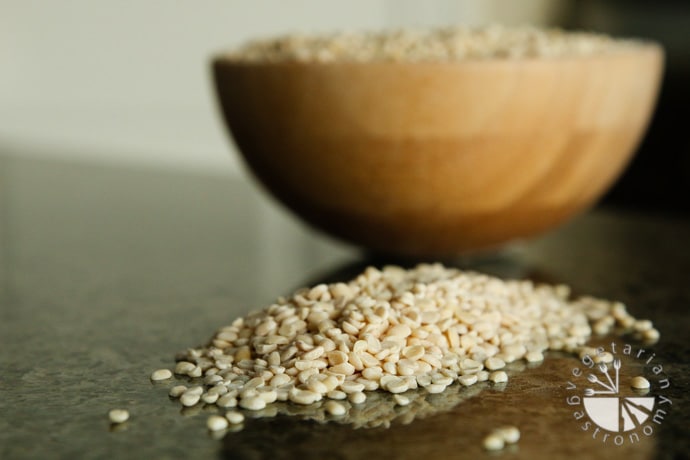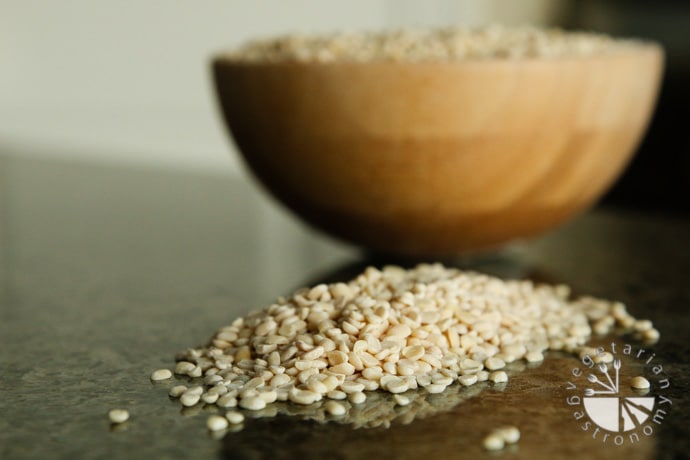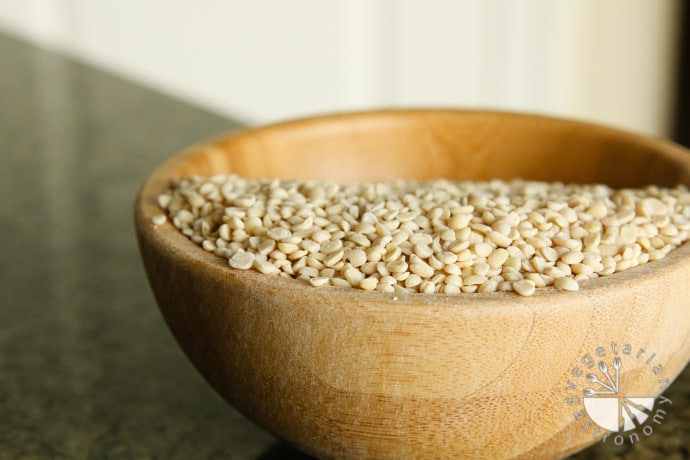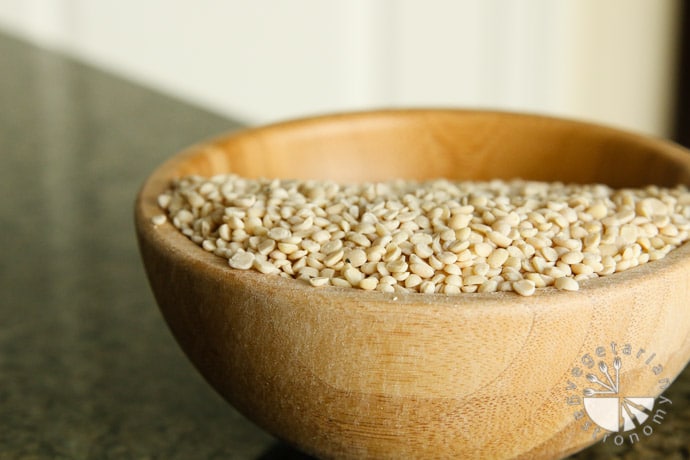 A few weeks ago my daughter and I were enjoying this Urad Dal Soup with Onions and Garlic, and I felt it was the perfect recipe to share.
This recipe makes use of two lentils: Urad Dal and Chana Dal (also known as Split Bengal Gram). The major component is Urad Dal, which is skinned and split black lentils. These lentils are milder than their unskinned counterpart and have a creamy, white interior. They have great health benefits, including one of the richest sources of protein and Vitamin B. They are also a great sources of iron, folic acid, calcium, magnesium, fiber and potassium. I typically use Urad Dal when making my own Dosa batter (South Indian crepe, recipe to come) or soups such as this one.
Urad dal, when skinned and split, makes for a great soup base because of is unusual moist and sticky texture. Most of the flavor in the soup comes from the lentils themselves cooked with onions, garlic, and a few common spices and herbs. If you're looking for something easy and satisfying to make, try a bowl of this comforting soup!
What is your favorite lentil?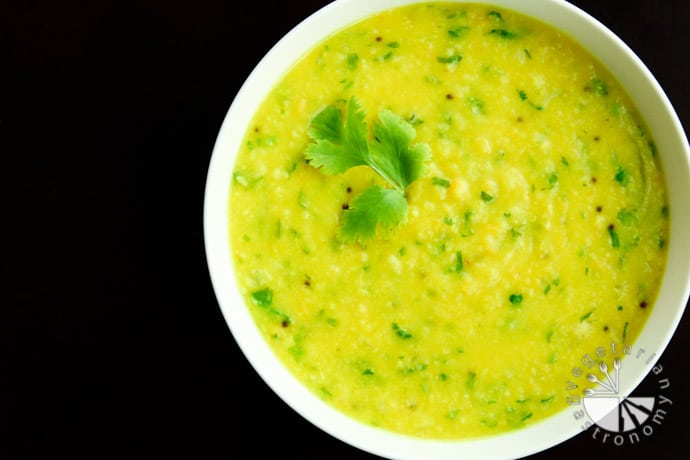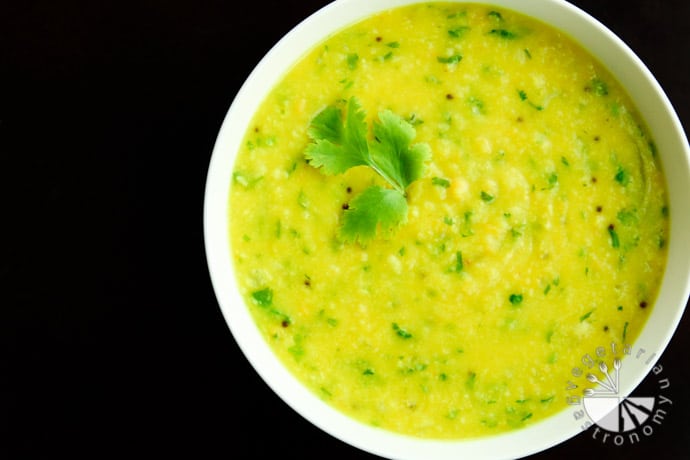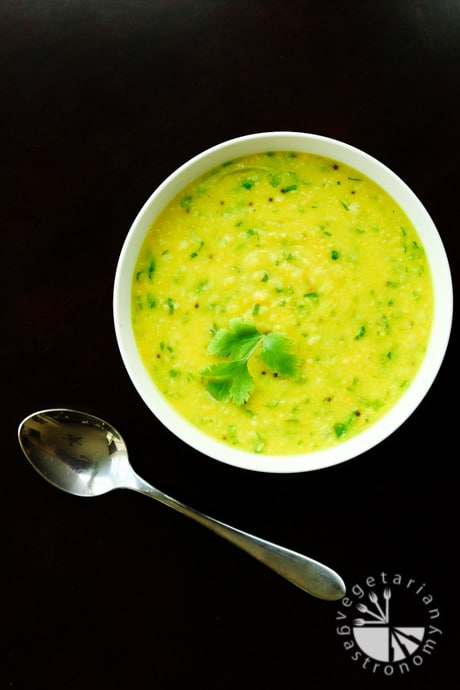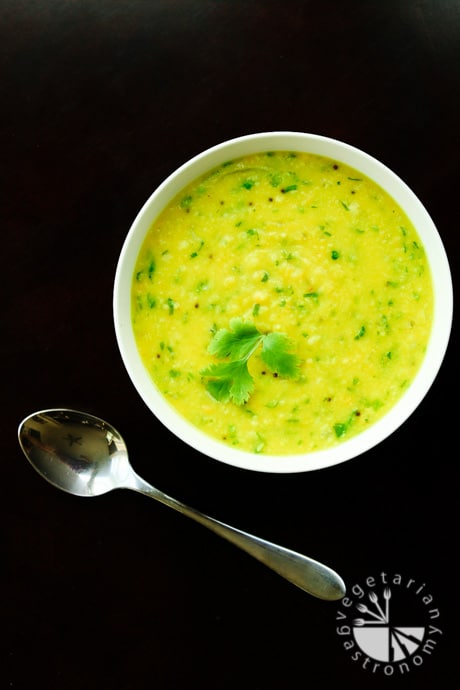 Five years ago: Seared Tempeh Wraps w/Peanut Sauce
Three years ago: Peanut Butter Puffs
Two years ago: Dark Chocolate Peanut Butter Cups
One year ago: Product Presto Hot Air Popcorn Popper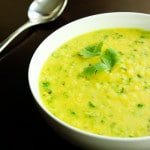 Print
Urad Dal Soup
This lentil-based soup is the perfect protein-packed side to any vegetable dish!
INGREDIENTS
3

cups

urad daal skinned and split

, cooked (see notes below on how to cook)

3

tbsp

chana daal

, cooked (see notes below on how to cook)

1/2

medium

white onion

, finely chopped

1/2

green fresh jalapeno chili

, de-seeded and finely chopped

3

cloves

garlic

, minced

1/2

teasp

black mustard seeds

1/4

teasp

red chili powder

, optional

1/2

teasp

ground turmeric

3/4 - 1

teasp

salt

pinch

asafetida or hing

, may need to omit for gluten-free , see notes below

1/4

cup

fresh cilantro + extra for garnish

, finely chopped

1.5

tbsp

cooking oil

, or your favorite cooking oil

2

cups

water
INSTRUCTIONS
In a large non-stick pot, heat the oil on medium heat.

Add the black mustard seeds and asafetida and fry for a few seconds until fragrant.

Immediately add the garlic, onions, and green jalapeno chili. Saute until fragrant and the onions start to become translucent. Be sure not to burn the mixture. If you find this happening, either add some more oil or turn down the heat.

Add the cooked urad dal, cooked chana dal, turmeric powder, and salt. Saute with the onion-garlic mixture for a few minutes, mixing frequently.

Add the water and the bring the soup to a gentle simmer. Once simmering, turn down the heat to medium-low.

Continue to simmer on low heat until some of the water boils off and the soup becomes thick in consistency (about 10-20 min). If you start to feel the soup becoming too thick, you can add a little more water.

Add the chopped cilantro. If needed, season once more with salt to taste. Simmer for additional 3-5 minutes.

Garnish with some fresh cilantro and serve warm with roti, naan, or toasted french bread.
NOTES
Urad Dal

- These are black lentils (or urad dal) that have been split and skinned.
Chana Dal

- Chana Dal is also known as Split Bengal Gram. Be sure not to confuse it with Yellow split peas, as they are not the same. You can find this Dal at any local Indian market in bulk for cheap, or online.
To Cook Dal

- Combine both the Urad and Chana Dal in a bowl. Wash and soak in water for about 20-30 minutes. Drain the water and cook using one of two methods: (1) Pressure Cooker , or (2) Pot of boiling water. Cook the Dal until soft, but not mushy. Drain the water after cooking the dal.
Asafetida (hing)

- Although this powder is naturally gluten-free, it is almost always manufactured by diluting it significantly with wheat flour. There are some brands you can find that make it with rice flour. If you are uncertain and have a

gluten-free

diet, then you can easily omit this ingredient.
NUTRITION
Calories:
363
kcal
|
Carbohydrates:
55
g
|
Protein:
25
g
|
Fat:
4
g
|
Saturated Fat:
2
g
|
Sodium:
13
mg
|
Potassium:
76
mg
|
Fiber:
21
g
|
Vitamin A:
80
IU
|
Vitamin C:
7.4
mg
|
Calcium:
71
mg
|
Iron:
8.1
mg
[subscribe_box]