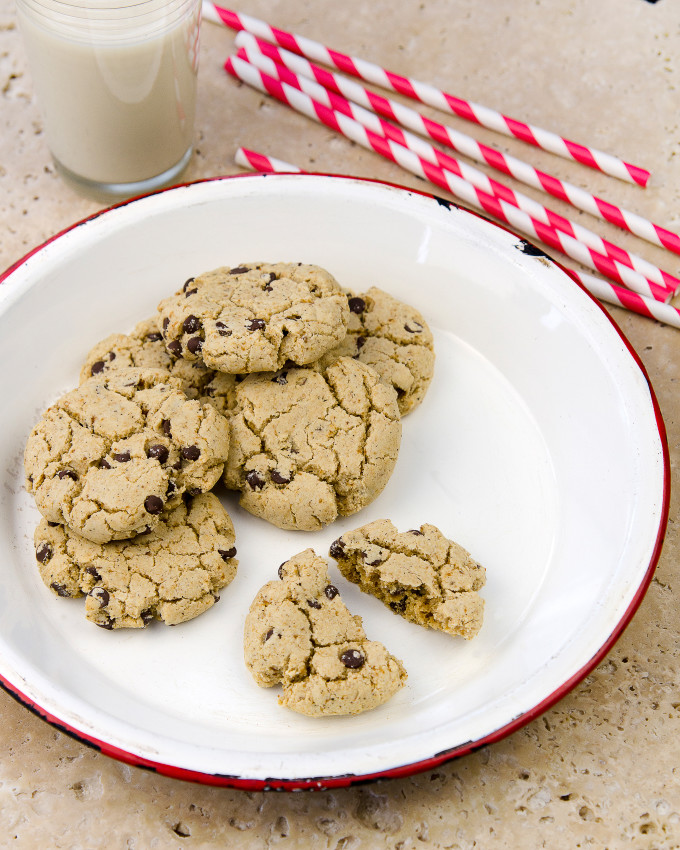 Photo from Plant-Powered Families, Copyright © 2015 by Dreena Burton. Used by permission from BenBella Books, Inc.
Dreena Burton, the best-selling cookbook author from the blog Plant Powered Families, released her newest cookbook, Plant-Powered Families: Over 100 Kid-Tested, Whole-Foods Vegan Recipes! Having just become vegan myself this past January, I've now slowly been transitioning my kids over to a more vegan, plant-based diet as well over the past few months, so Dreena's new cookbook could not have arrived on my door-step at a more perfect time. I'm excited to be reviewing this cookbook, sharing her Vanilla Bean Chocolate Chip Cookies recipe.
Plant-Powered Families is perfect for anyone looking to create healthy, plant-based, flavorful, easy, simple, and delicious meals for the entire family. We're all busy in our everyday lives, so I'm all about making one amazing meal the entire family can enjoy instead of having to create separate meals for the kids, and this book does just that. It offers a variety of recipes that will appeal to both kids and adults.
Whether you're a vegan or looking for some vegan inspiration, new to cooking, looking for ways to incorporate healthy delicious plant-based meals into your diet, or need new creative, yet easy, meals for your family or picky-eaters, Dreena Burton has developed 100 vegan, whole food recipes in this book that covers it all. The chapters in her book include Breakfast consisting of home-made cereals, pancakes, French toast, smoothies and milk, muffins, quick breads, and healthy snack bars. Lunch includes salads, sandwiches, small bites, dips and spreads. Dinner consists of soups and stews, pizza, pasta, burgers, casseroles, and stir-fries. Sweet treats include puddings, creams, cookies, bars, energy bites, frozen treats, cakes, and frosting. There's also a section on salad dressings, sauces, and toppers.
Check out this Mild Cheesy Dip of hers!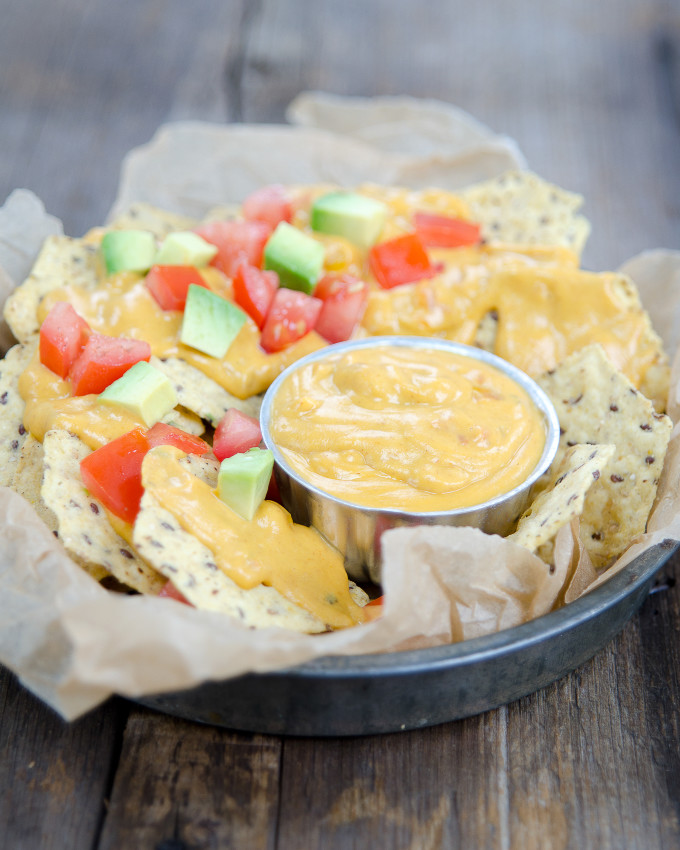 Photo from Plant-Powered Families, Copyright © 2015 by Dreena Burton. Used by permission from BenBella Books, Inc.
And that's not all! The book also covers great topics including sections on picky eaters, school lunches, and how to host kid parties. She has information on meal planning, nutrition guidelines on how to eat plant-based, and how to prep your kitchen. There are also many allergy friendly recipes included in every section. Not to mention, she has managed to veganize many basic everyday favorite recipes that are kid approved. AND she has a photograph for every single recipe which is always a plus for me since I eat with my eyes first! Dreena has used her years of expertise in raising a plant-powered family of 3 kids and written this cookbook to cater towards those new to raise plant-powered families or looking for some new vegan inspiration.
A few of her recipes include Apple Pie Smoothie (shown below, a favorite and weekly staple of ours!), Double Chocolate Orange Banana Muffins (shown below, my kids had a great time helping me make these, not to mention they were devoured by my entire family for Breakfast one morning), Motsa' Dip (vegan mozzarella), Zesty Raw Almond Sauce (to serve over noodles and veggies), Creamy Fettuccini, Hummus Tortilla Pizza, Chickpea N' Rice Soup, Sneaky Chickpea Burgers (great for picky eaters), Tofu in Cashew Ginger Sauce (I can't wait to try this one), Peanut Butter Pudding w/Berrylicious Swirl (this has after-school snack written all over it), Protein Power Balls (shown below, this was our morning snack for an entire week!), Chocolate Sweet Potato Cake, and many more.

Dreena has generously allowed me to share her Vanilla Bean Chocolate Chip Cookie recipe from her cookbook with all of you.
Before I leave you with the recipe, Dreena and the Publishers are giving away a FREE copy of the Plant-Powered Families cookbook. All you need to do to ENTER is SUBSCRIBE below via Email to Vegetarian Gastronomy and leave a comment on this post below stating your favorite vegan family meal (current or childhood), and that's it! See more details after the recipe. If you can't wait and need the book now, you can purchase your very own copy of Plant-Powered Families here.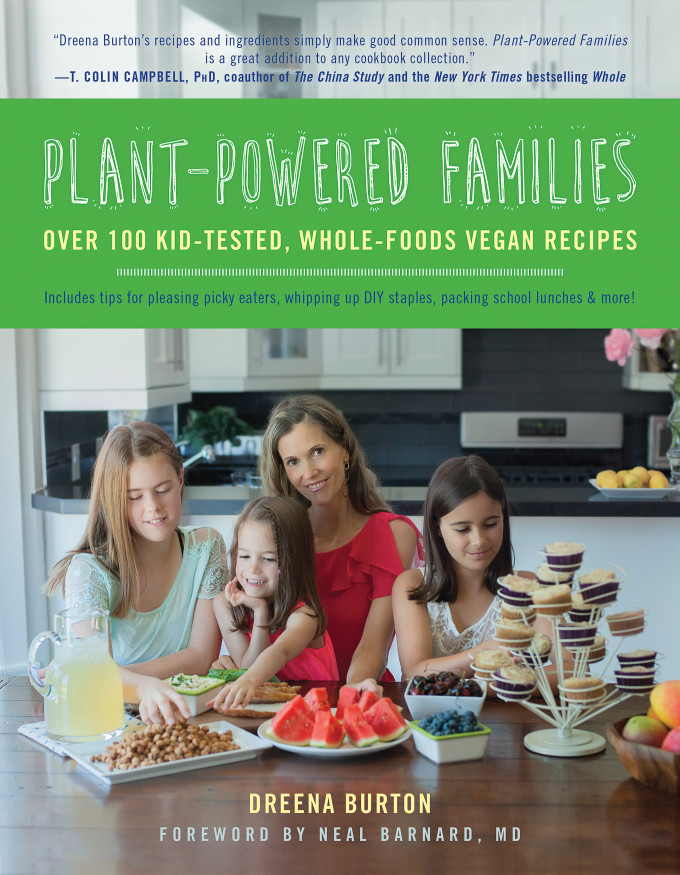 Photo from Plant-Powered Families, Copyright © 2015 by Dreena Burton. Used by permission from BenBella Books, Inc.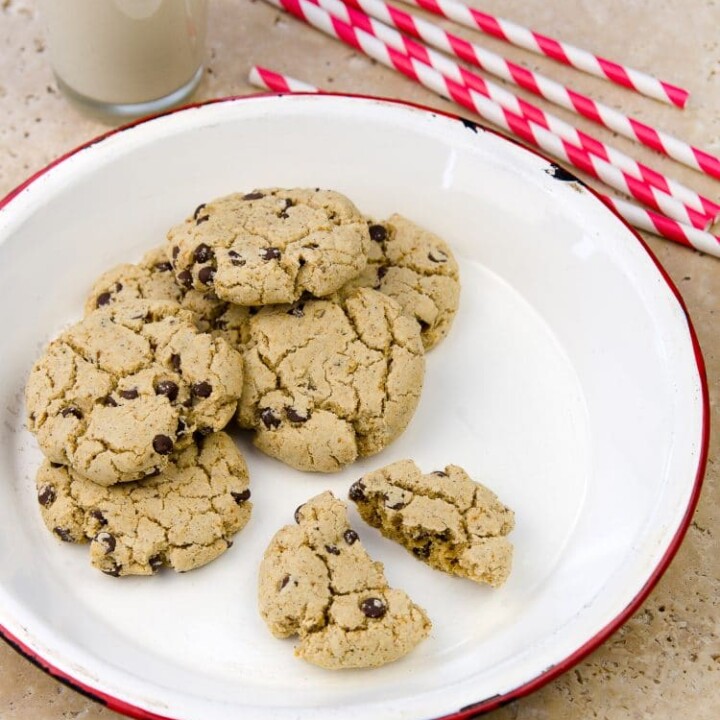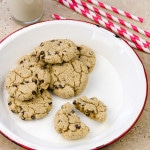 Print
Vanilla Bean Chocolate Chip Cookie
Dreena says, "This may be a new fave chocolate chip cookie recipe for you—it is for us! The flavor of the vanilla bean powder is really beautiful. Though somewhat expensive, a little vanilla bean powder goes a long way!" (Recipe from Plant-Powered Families Cookbook, Copyright © 2015 by Dreena Burton. Used by permission BenBella Books, Inc.)
INSTRUCTIONS
In a mixer fitted with the paddle attachment, add the coconut butter and maple syrup. Mix, slowly to start, then at a higher speed until smoothed out.

Add the oat flour, coconut sugar, vanilla bean powder, and sea salt to the coconut butter mixture, and sift in the baking powder and baking soda. Mix at slow speed (so the dry ingredients don't poof!), and then bring up to medium speed and mix until everything just comes together.

Add the chocolate chips and mix to just incorporate. The mixture should be a little sticky, not dry, but not too wet either. Scrape down the bowl with a spatula, then transfer to the fridge to chill for ½ hour.

Preheat oven to 325°F. Line a baking sheet with parchment paper.

Place 1 – 1½ -tablespoon scoops of the batter on the prepared baking sheet. Slightly flatten each cookie with a spatula or your hand. Bake for 11 minutes, then remove from oven and let cool for 2–3 minutes on the pan. Transfer to a cooling rack to cool completely.
NOTES
Coconut Butter Note:

It can be tricky to measure coconut butter when it is very hard. Use a butter knife to work out small chunks/slivers when hard. It's better to measure in small pieces than in larger chunks, so the actual measure is more accurate.
Idea:

Use this batter to make cookie dough ice cream! Save a little batter when making the cookies, maybe ? cup. Roll into tiny balls and mix through a pint of softened vanilla or chocolate nondairy ice cream!
NUTRITION
Calories:
91
kcal
|
Carbohydrates:
13
g
|
Protein:
1
g
|
Fat:
3
g
|
Saturated Fat:
1
g
|
Sodium:
48
mg
|
Potassium:
62
mg
|
Fiber:
1
g
|
Sugar:
7
g
|
Vitamin C:
0.1
mg
|
Calcium:
26
mg
|
Iron:
0.6
mg