Gourmet healthy meals delivered straight to your doorstep! Veestro provides non-GMO, preservative free, organic, delicious vegan meal delivery with many gluten-free options. What more could you ask for?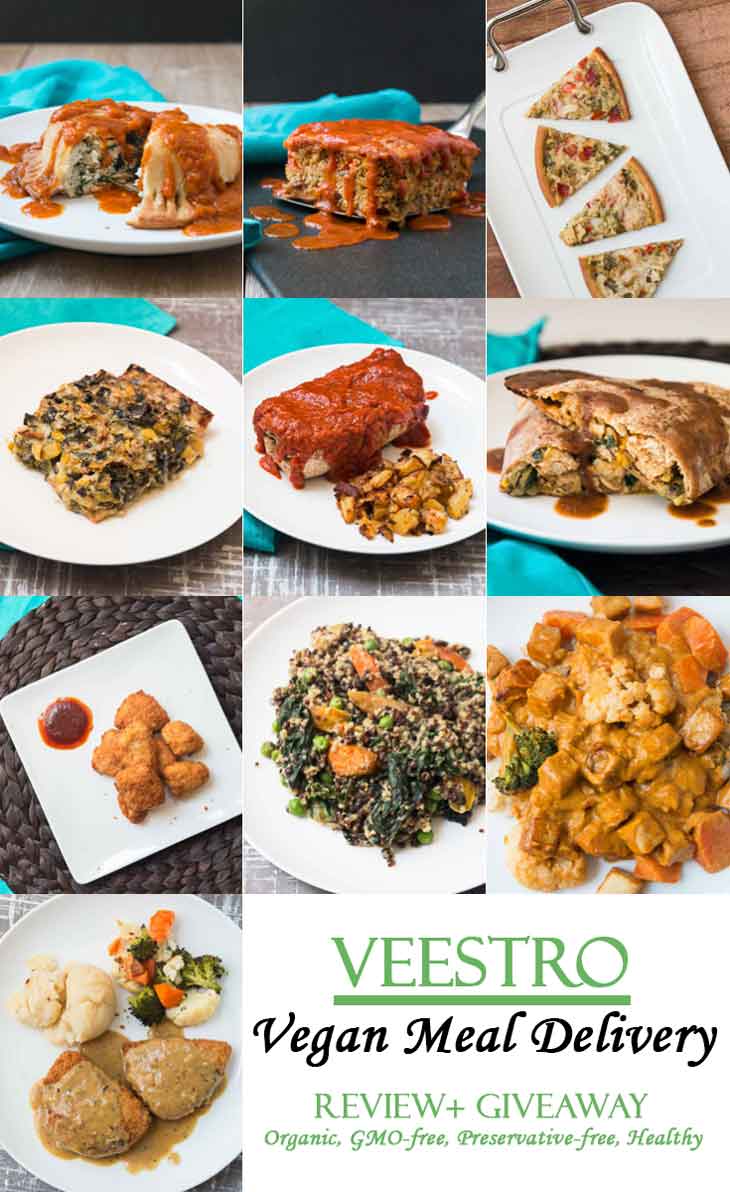 This post was sponsored by Veestro, but the opinions and text are fully my own.
Anyone else feel like this summer has gone way too fast? I can't believe it's more than half done. In anticipation of both my kids going into grade school this coming Fall, I only put my kids in camps for 2-3 weeks this summer, right after school ended, so that I could maximize my time with them. Of course, as expected, I'm already pretty burnt out ha! We've been traveling, visiting family, exploring new cities, hanging out at the beach and pool (enter my permanent sandal tan), and of course spending lazy days at home doing random things and allowing ourselves to get bored.
I hope all this also explains the lack of new posts the past 2-3 weeks.
All this being said, this Veestro Vegan Meal Delivery Review could not have come at a better time!! Their chefs create fully prepared vegan meals with organic ingredients. The meals are all preservative-free and they have many gluten-free options, so I couldn't wait to try them out.
I love the ease of having prepared, healthy meals for my family. Veestro plant based meals have been a lifesaver over the summer, especially at times when we've been out all day, after having come back from travel, or when I'm just lazy and don't feel like cooking (and yes…that happens all the time, even for a food blogger!).
I never grew up eating frozen meals. When I started college, I tried out a few for times when I needed something fast and didn't have time to cook. But I was turned off pretty quickly by how gross I felt after, all the unhealthy ingredients and preservatives, and their often chalk-board taste and flavor they left behind. So when I first heard about Veestro and their healthier, preservative-free Vegan Meals, I was intrigued and really excited to try them out!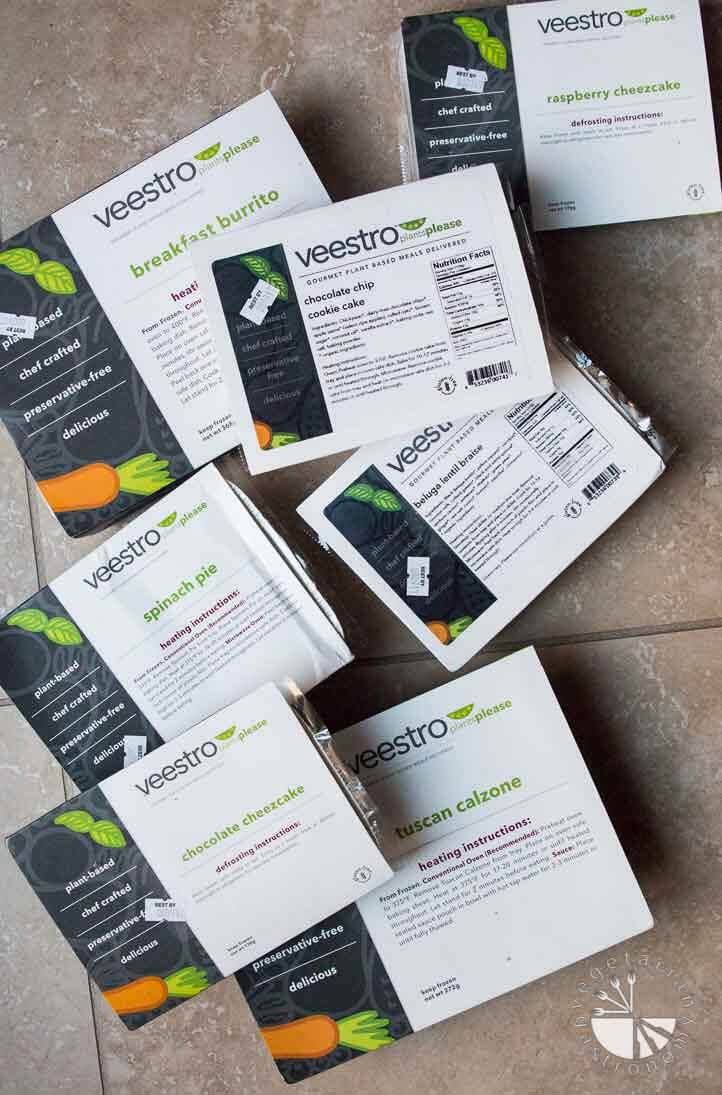 How It Works
Choose the meals. You can pick from a la carte (my favorite way of ordering), fixed meal plans, weight loss, or juice cleanse.
Veestro delivers. Fully prepared meals get delivered to your doorstep in eco-friendly packaging. The meals come frozen, with the help of dry ice in the package.
Enjoy the meals. Just heat up the meals in an oven (my preferred method), stove top, or microwave and enjoy. There's no cooking required!
My Veestro Meal Reviews
Red Curry with Tofu. This dish was one of my favorites! The ingredients were simple and healthy, with bold flavors, and the tofu/veggies had great texture. My only issue with this dish is that I would've preferred more of the curry and only one serving of the brown rice (instead of the two they included).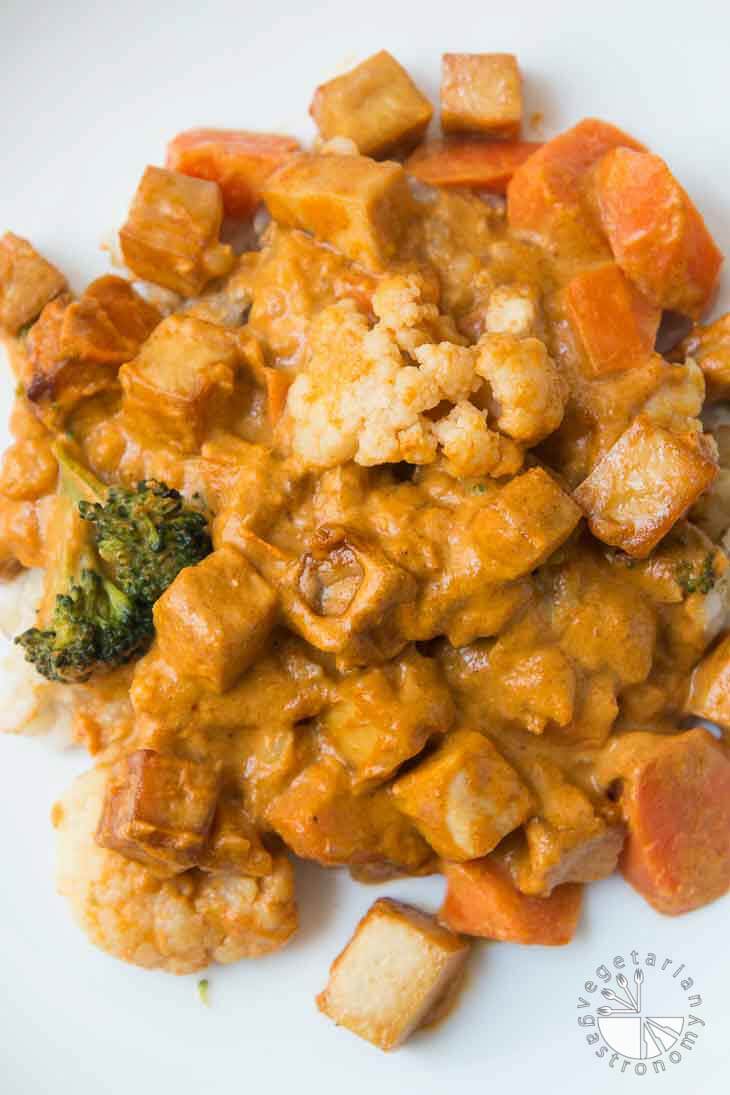 Enchilada Casserole. My husband and I enjoyed this casserole with the tofu crumbles. The sauce on top tasted great and was very flavorful.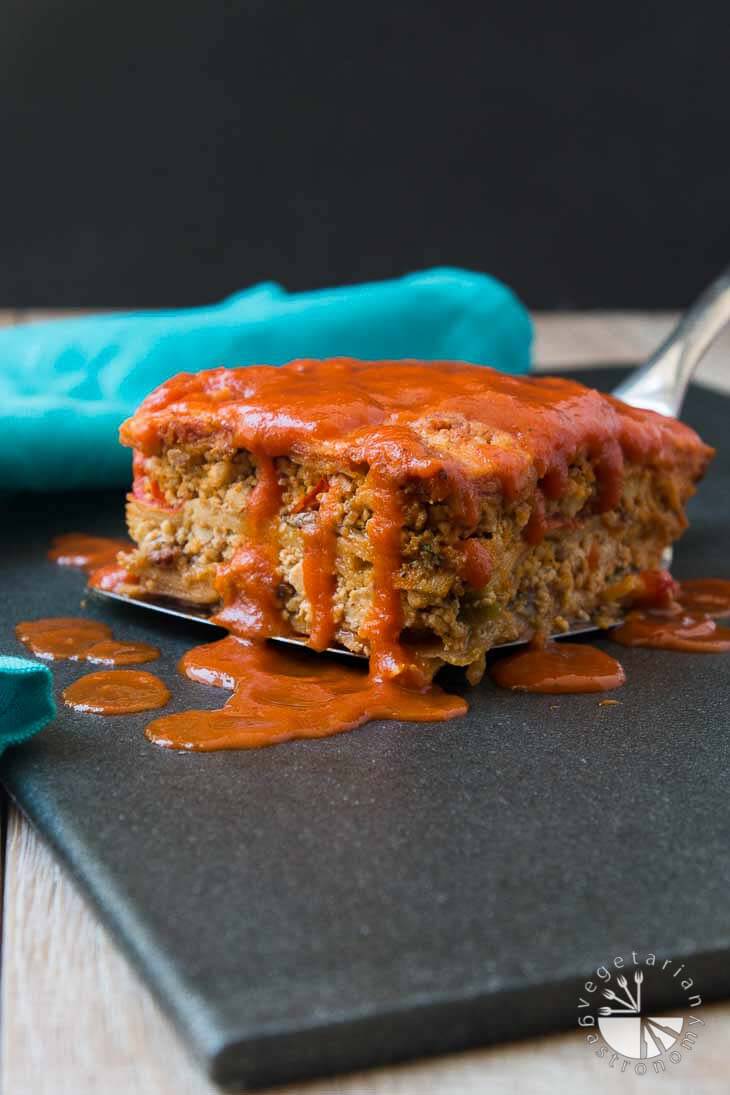 Tuscan Calzone. I love anything Italian and bread-y so I was excited to try out Veestro pizzas and calzone. I was initially skeptical of the flavor of their vegan cheese, but it tasted great! My only issue with this dish was that I had to bake it for much longer (similar to most other dishes), but I didn't find out until I had already cut through the calzone. The outside was crispy and hot, but the inside was still cold. Luckily I was able to place it back into the oven until the cheese melted through.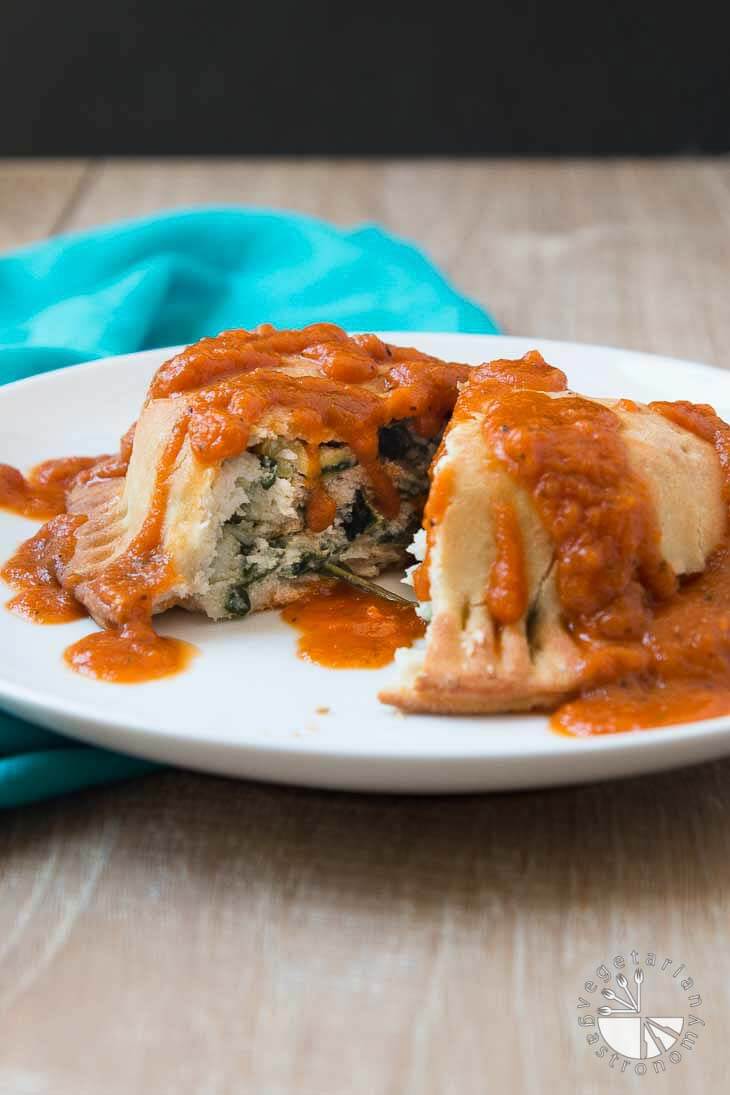 Chick'N Quesadilla. This quesadilla cooked up perfectly, the bean puree on top was delicious, and the overall flavor of the gooey-cheesy filling was great. But full-disclosure…my husband and I have never been huge fans of fake-meat products. For me, it honestly has nothing to do with the fact that they look like meat, but more so the texture and flavor (personal preference). If anything, I'll enjoy simple crispy breaded pieces of fake meat in salads from time-to-time (as you may have seen me do on Instagram), but since the pieces of fake "chick'n" inside this quesadilla were not crispy and breaded, I thought this meal was just ok. But for those of you that enjoy the texture and flavor of vegan chick'n, you'll love it.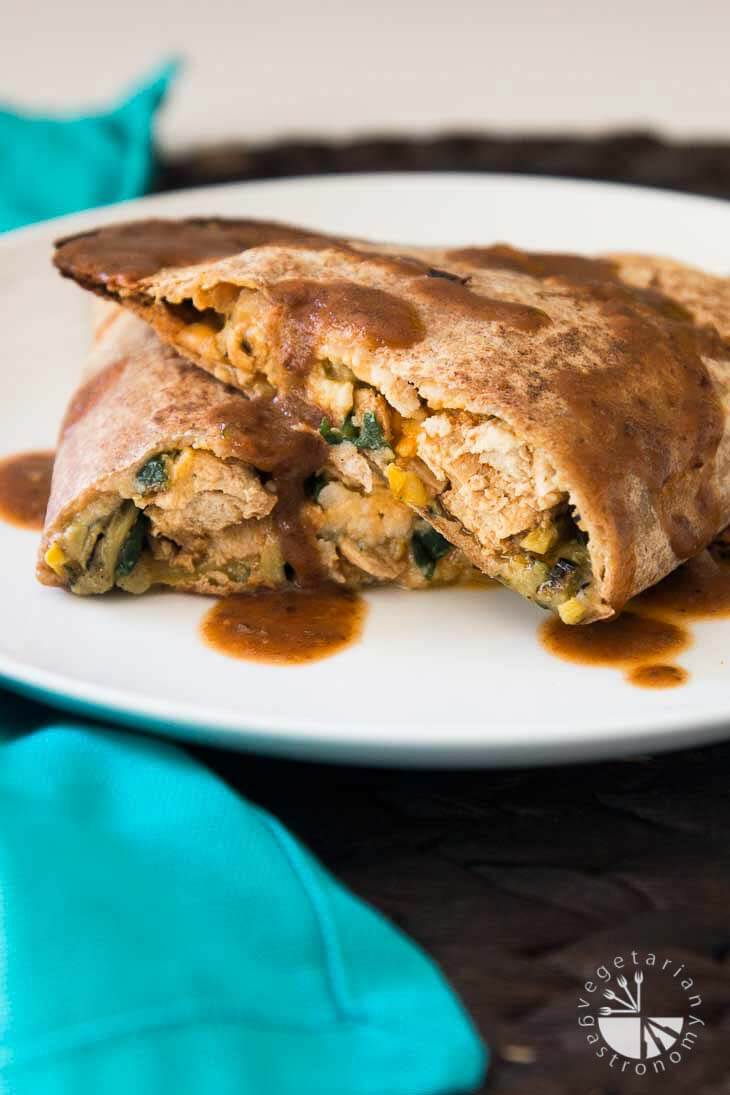 Breakfast Burrito. I love tofu scrambles for breakfast, so this dish was a natural fit. The sauce was very flavorful and the potatoes on the side were delicious and crisped up nicely in the oven.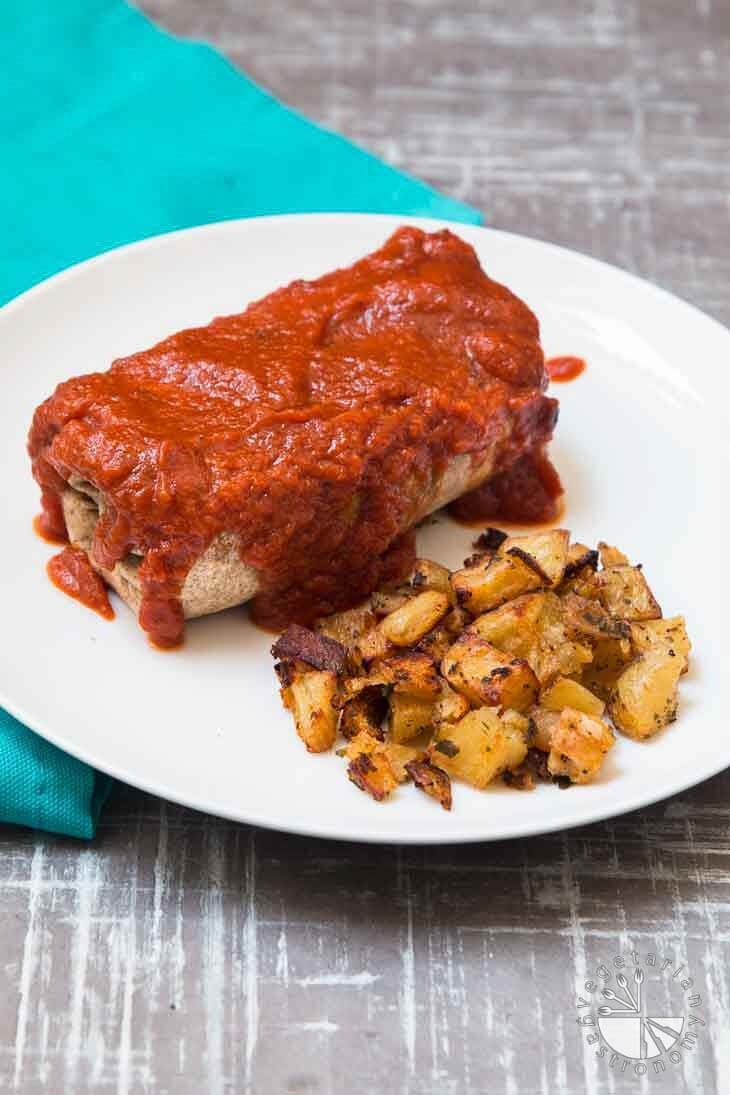 Chick'N Nuggets. As I mentioned earlier, I'm not a huge fan of fake meat unless it's simple in flavor, breaded, and crispy. Well that's exactly what these nuggets were. I ended up dicing them and adding them over a fresh kale salad with avocado, cucumbers, cherry tomatoes, and my vegan ranch dressing. One of my favorite meals. The BBQ sauce served on the side was tasty. My kids ended up enjoying them with some ketchup on the side.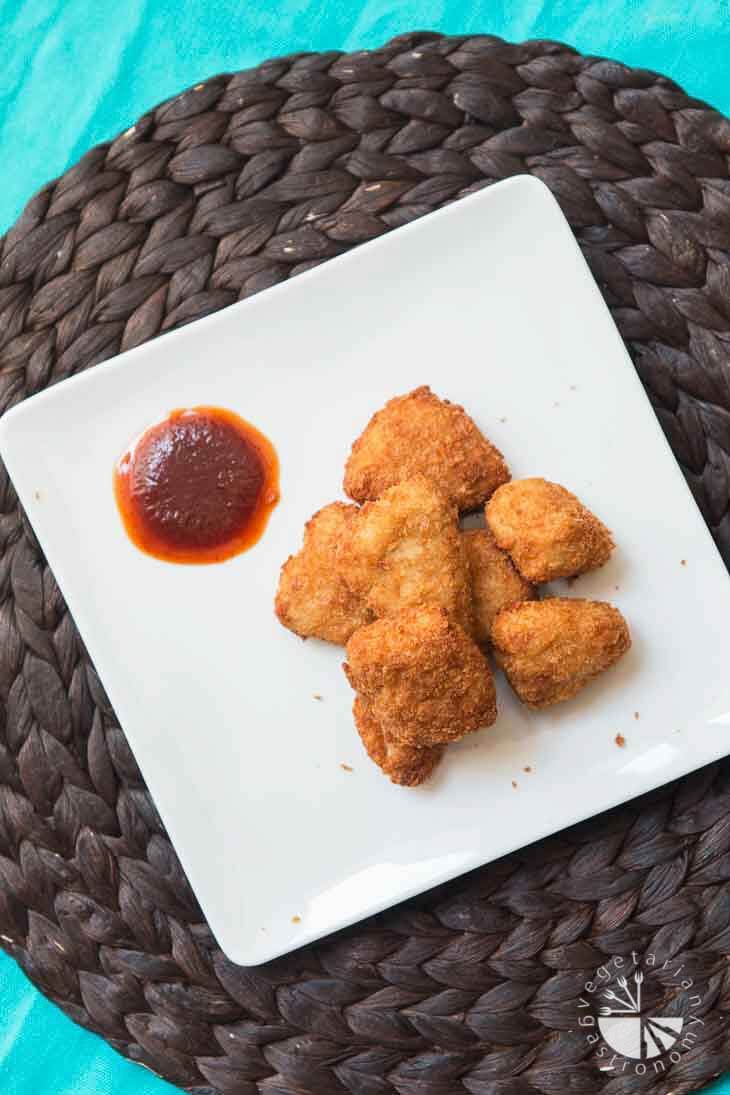 Veggie Pesto Pizza. Loved the flavor of the cheese, the veggies and pesto, and the portion size. You could easily eat the entire serving and not feel sick to your stomach, unlike most other frozen pizza out there. This is definitely a good frozen pizza option.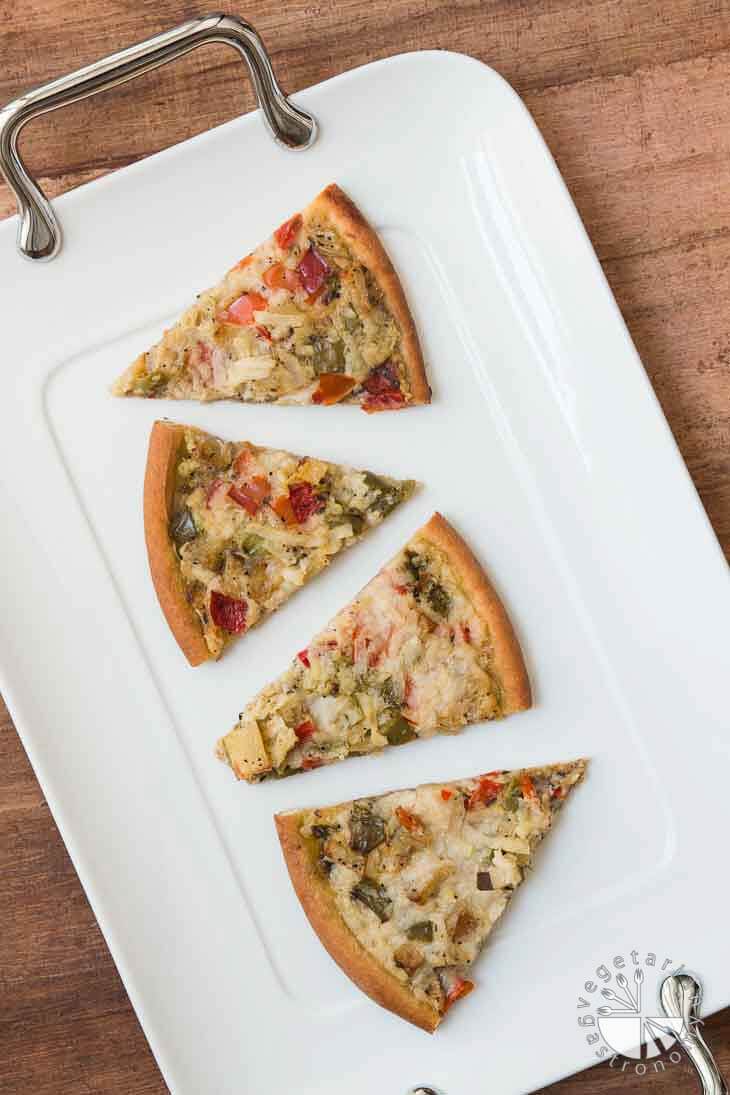 Spinach Pie. This was another favorite! It's flavorful, rich, buttery, and creamy.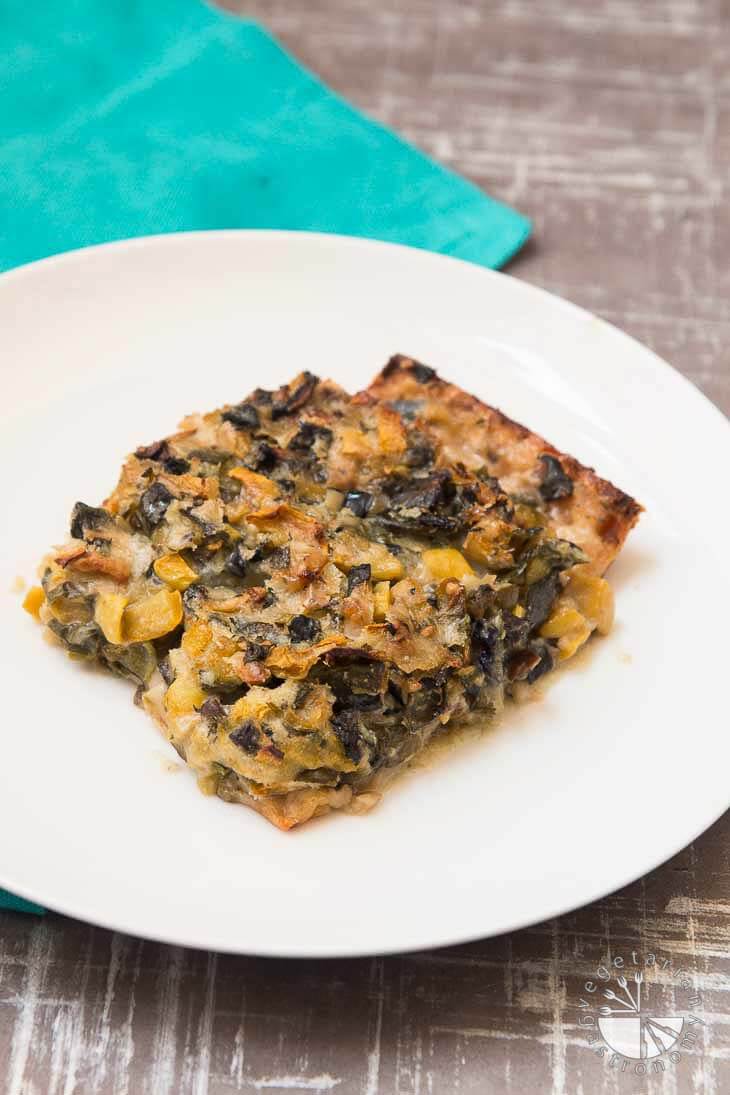 Mushroom Risotto. I had high hopes for this one, especially since I love mushrooms, but unfortunately it wasn't one of my favorites. It was the first meal I tried, and I cooked it stove-top as recommended. Perhaps I cooked it too fast, or not long enough, but it definitely lacked flavor and the texture of the rice was off. There have been many good reviews on the dish, so perhaps I'll give it a try once more. I did however enjoy and appreciate the kale and colored carrots on the side.
Chocolate & Raspberry Cheezcakes. Both of their cheesecakes had a nice creamy texture to them and I enjoyed the crust. Normally I'm a huge chocolate fan, but I actually preferred the Raspberry one.
Beluga Lentil Braise. This meal definitely did not disappoint. Super healthy, clean ingredients, very flavorful, and filling! I really enjoyed this dish.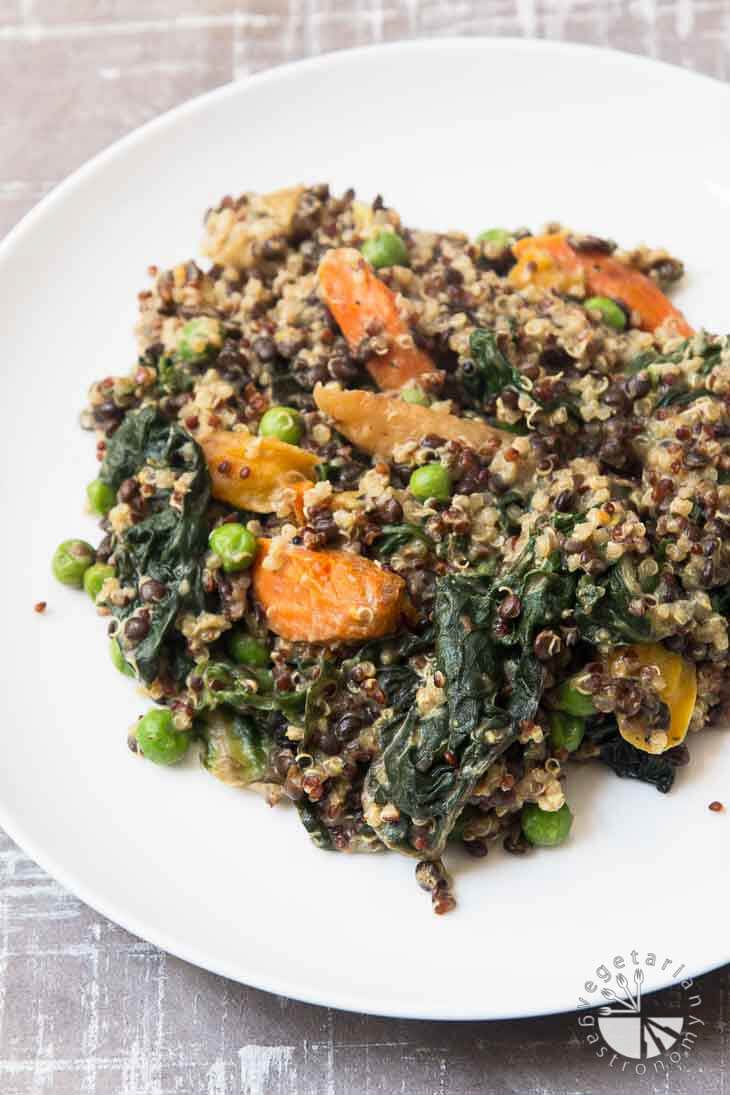 Thai Chick'N Stew. Although I enjoyed the flavor of the stew itself, I'm not a huge fan of fake meat in general (as you know). So if it wasn't for the vegan chick'n, I'd order this again.
Pizza Napoletana. Similar to the other pizza, I enjoyed this one as well. We topped it with a few other veggies and jalapenos prior to baking it in the oven.
Country Fried Chick'N. The main component of this meal is the vegan chick'n. Since it's breaded and crispy, along with the delicious gravy, it was a pretty good dish! The mashed potatoes and veggies were great as sides!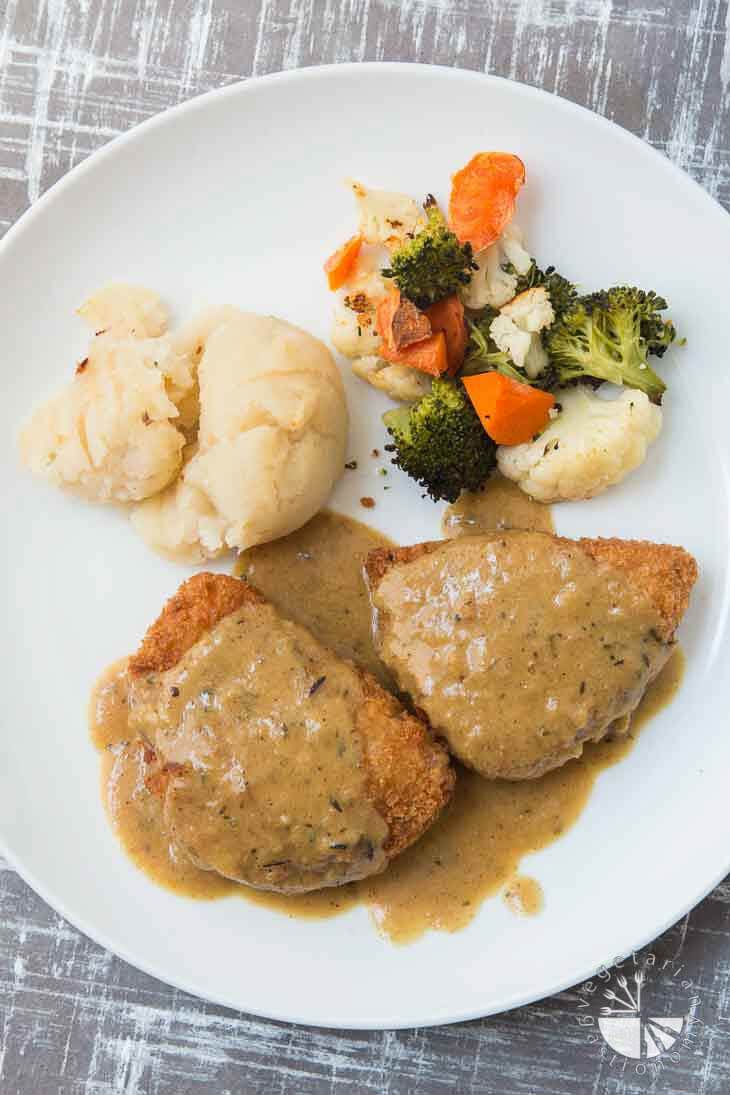 My Top 5 Favorite Veestro Vegan Meals
Red Curry with Tofu
Spinach Pie
Beluga Lentil Braise
Veggie Pesto Pizza
Enchilada Casserole
My kids enjoyed the pizza, calzone, crispy chick'n nuggets, spinach pie, red curry with tofu, beluga lentil braise, and of course the cheesecakes.
Why I Like Veestro Vegan Meal Delivery
No Cooking. Makes eating plant-based easy without having to cook.
Ease. They deliver frozen, single-portion prepared meals straight to your doorstep.
Preservative-free & Organic. The meals are plant, based, clean, healthy, preservative-free, non-GMO, and contain organic ingredients.
Flavors & Sauces. The food has a lot of flavor and feel like gourmet meals. Some of them even come with additional sauces.
A La Carte. You can order your favorite meals a la carte.
Variety. They have a variety of different meal options – breakfast, entrees, juices, soups, and dessert.
Packaging. Their meals come in 100% compostable carton trays or 100% recyclable BPA-free plastic pouches.
A Few Tips
Use the Oven. Aside from the Risotto and Beluga Lentil Braise, I cooked all other Veestro meals using my conventional oven. Although there's a microwavable option, I highly recommend using your oven when possible to get the best flavor and texture of the meals.
Cooking Time. For almost every meal, I ended up having to cook for 10-15 minutes longer than recommended. I learned the hard way after cooking a few of my first meals for the recommended time in the oven, only to take it out and realize that the insides were still cold after having cut through. Of course, all ovens are different when it comes to cook time, so just be aware when cooking.
Add a Simple Side. I enjoyed some raw veggies, 1/2 an avocado, or a small salad on the side of some of the meals. This was mainly for personal preference.
Why Veestro Is A Great Fit
Ideally, being comfortable cooking in the kitchen is the best way to bring healthy, clean, and well-balanced meals to the table. But realistically, not everyone likes to cook, and life can be very busy with work, kids, traveling, having a new baby, taking care of loved ones, or school. Sometimes we simply can't spend that time and energy in the kitchen to make satisfying healthy meals. In times like these, take-out, other store-bought frozen meals, and work or school cafeterias can be less wholesome.
Having a service like Veestro can come in real handy where you don't have to sacrifice flavor and health for quick ready-to-go meals.
For those of you who are new to plant-based eating, Veestro is a great place to start! Although vegan or not, their meals are great for someone looking for frozen healthier options.
I highly recommend Veestro for those of you who like having frozen meals on hand. When it comes to food for my family, I personally like a having a balance of home-made and eating out. We do a LOT more home-cooked meals because I enjoy cooking, know exactly what goes into them, and can cater them towards our diet. Seeing the nutrition labels and ingredients on each of the Veestro meals, and being able to recognize the items makes me feel good. They are so much healthier than other frozen meal I've come across.
I'm excited to order my next set of meals a la carte (based on my favorites above), and try out some of their soups and new recipes!
Want to give Veestro a try? Use "ANJALI20" for 20% OFF your first order.