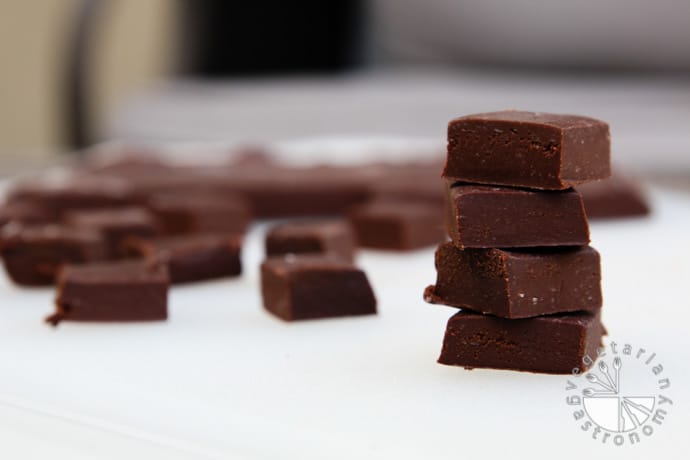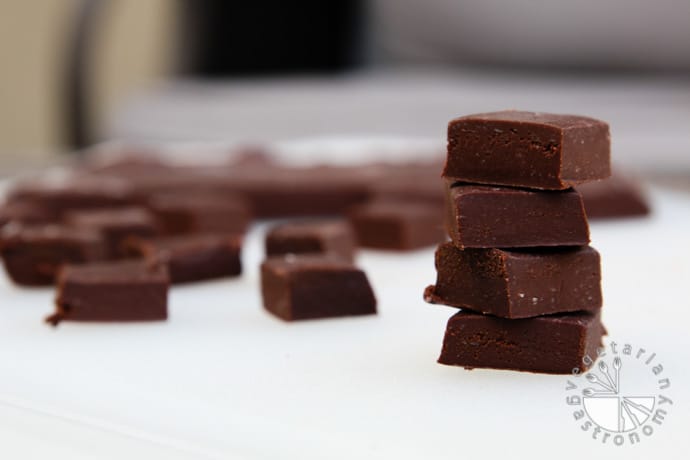 If you're looking at the recipe title and asking "vegan…I'm not vegan, so why should I try out this recipe?" Let me tell you why, because it's hands down one of the best tasting fudge I've had!
In college, fudge was sort of my go-to quick dessert or treat to make for people's birthdays or to have around the apartment. I made chocolate walnut fudge using condensed milk all the time. Since then, aside from the Andes Mint Chocolate Fudge I made last Christmas, I really haven't had the urge to make fudge in awhile, until I saw this recipe.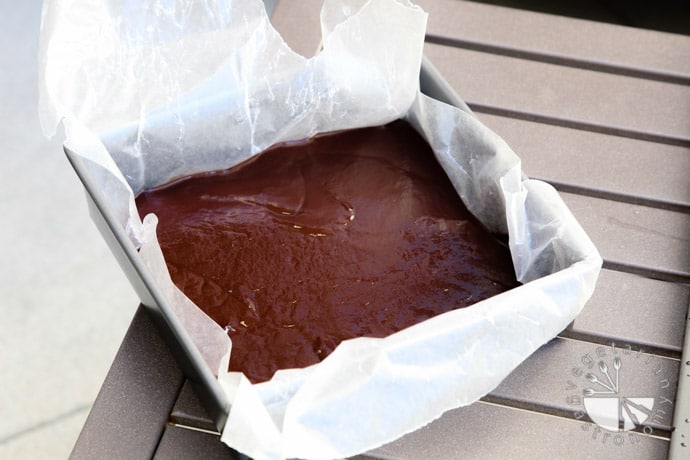 This recipe from Katy's Kitchen caught my eye for several reasons. First off, I had all the ingredients readily available in my pantry and it seemed easy to make =). Using coconut milk and coconut oil to make vegan fudge or mousse has also been on my radar as something I've been wanting to try for awhile now. I love the taste of coconut. But in the past, I've used coconut oil to make some vegan vanilla cupcakes and ended up tossing them out because I couldn't stand the strong taste and smell of coconut oil in the final product. So I'm always hesitant to use a large quantity of it in baking. But since this recipe has a lot of chocolate in addition to the coconut milk and coconut oil, I was curious to find out how much actual coconut flavor came through in fudge.
In the end, I've always wanted to have a great tasting vegan fudge recipe at hand to make for all my vegan friends and family! So when my cousins came into town a few days ago and wanted to make some dessert, I decided to give it a try!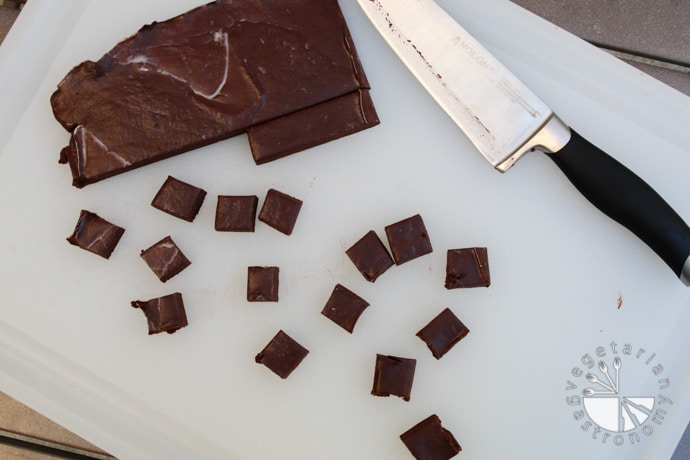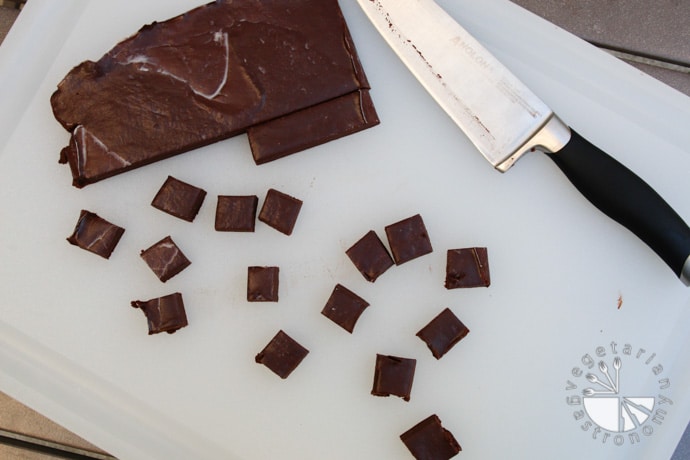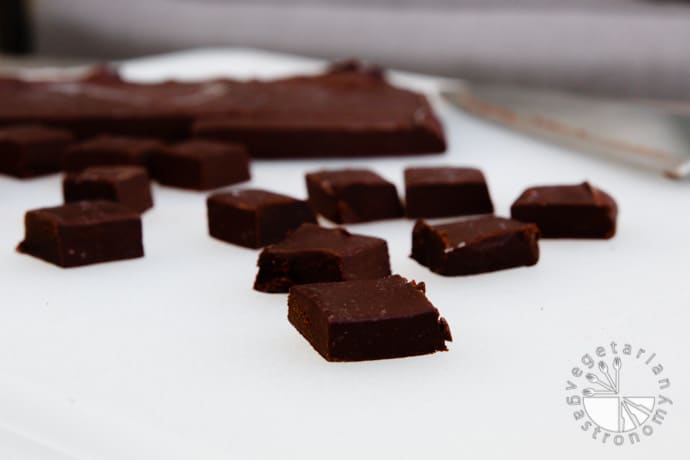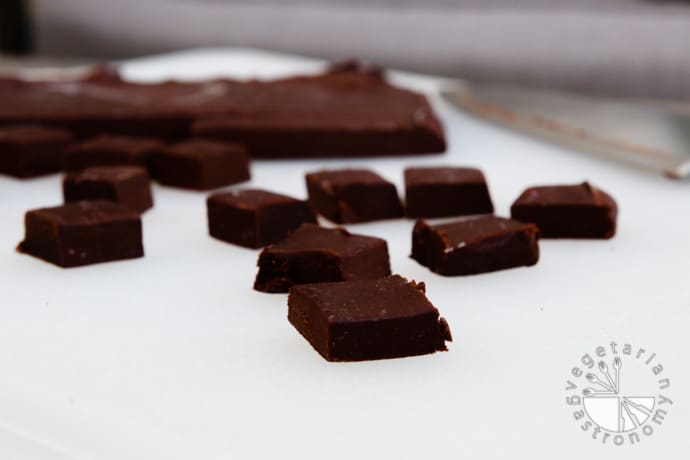 Thanks to this recipe, I once again have a craving for fudge! The only slight changes I made from the original recipe were to use dark chocolate and add some walnuts. I made two batches (it was that EASY!) using the following:
Semi-sweet vegan chocolate chips from Trader Joe's (following the recipe)
Chopped walnuts + 60% cocoa Ghiradelli chocolate chips (although these are not vegan, they were the only dark chocolate chips I had at hand in my pantry)
You can also just buy any vegan dark chocolate bar and chop it up into pieces to add to the fudge. All three versions tasted amazing and not too sweet! I'd have to say the dark chocolate and walnut one was my favorite!
To my surprise, I couldn't even taste the flavor of coconut in the fudge, nor could I tell it was vegan! It had the perfect fudge-like smooth consistency and just melted in my mouth! Even my husband, who chuckled and smirked when I told him I was making vegan fudge with coconut milk and coconut oil, couldn't get enough of it!
Vegan or not, I'll probably be using this recipe from now on to make fudge in my house! I'm excited to try making other flavors of fudge using this base! I'm assuming depending on the type of chocolate chips I use (reese's peanut butter chips, andes mint chocolates, etc.) I may need to adjust the amount of coconut milk and coconut oil to get the right fudge consistency…keep an eye out for more variations of this fudge recipe!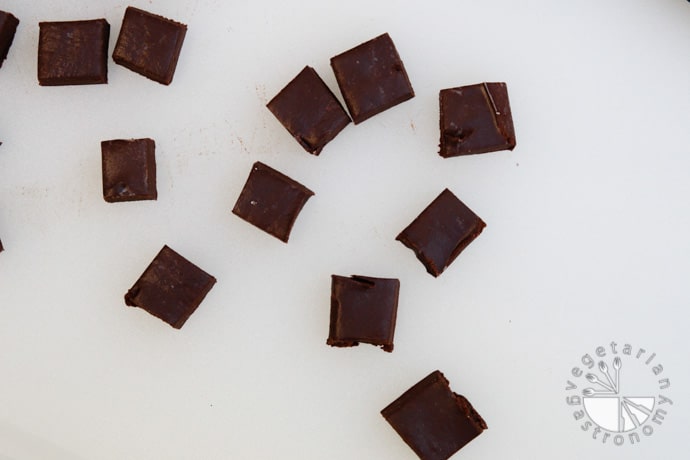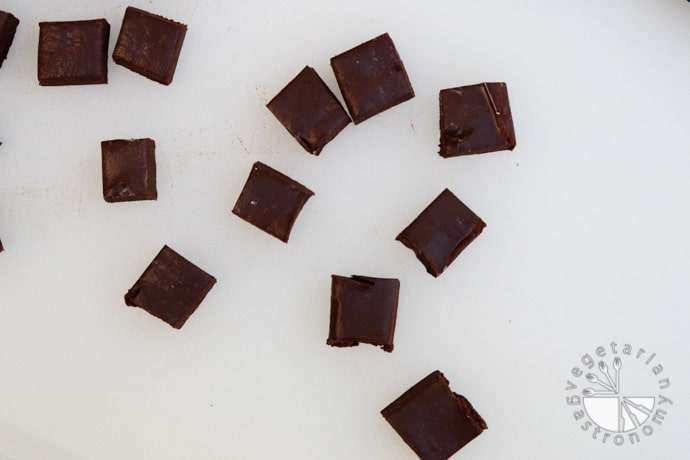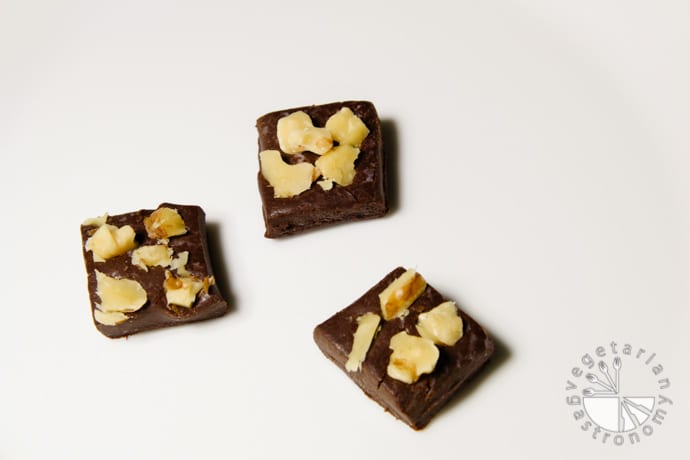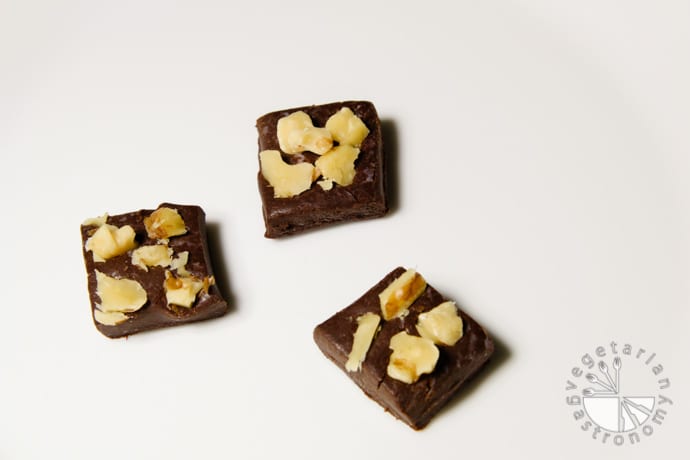 For the recipe, head on over to Katy's Kitchen – Easy Vegan Fudge (gluten-free, vegan). I used enjoy life dark chocolate chips and added walnuts on top.
[subscribe_box]