These vegan pumpkin spice muffins are fluffy, moist, and super soft! They're perfect to have on hand for a quick breakfast, healthy snack, or dessert! Check out the recipe and review of The Vegan 8 new cookbook!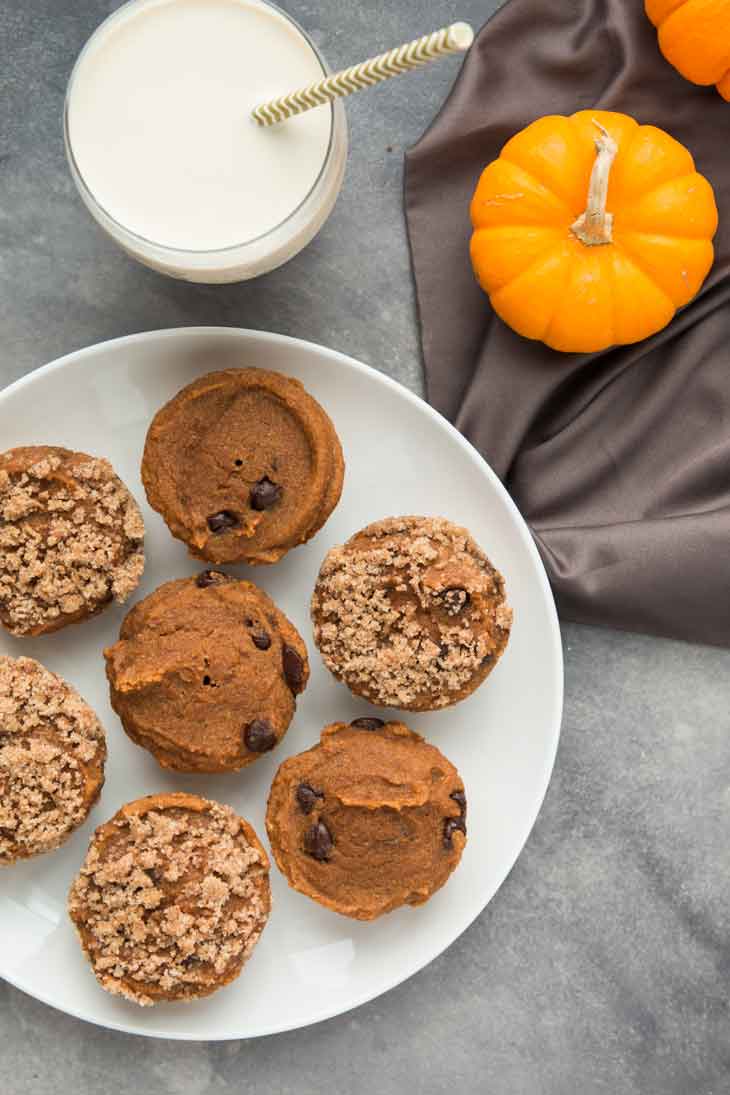 If there are two baked goods that disappear as fast as I place them out, they'd be MUFFINS and DONUTS! So easy to just pick one up as you're passing by.
Not to mention you can eat them all day long! Breakfast, snack, lunch, dessert…there's never a wrong time to grab one!
Especially when they're made from one of my favorite cookbooks! Brandi, the extremely talented blogger behind The Vegan 8, just came out with her very first cookbook!
I'm excited to be sharing her Baked Pumpkin Spice-Chocolate Chip Donuts! I ended up turning them into muffins, as her recipe indicated as well because I don't have a large donut pan. Although I'm heading out this weekend to get one now and make the original donut version.
Check out the review of Brandi's The Vegan 8 cookbook, make the recipe, and order your own copy here!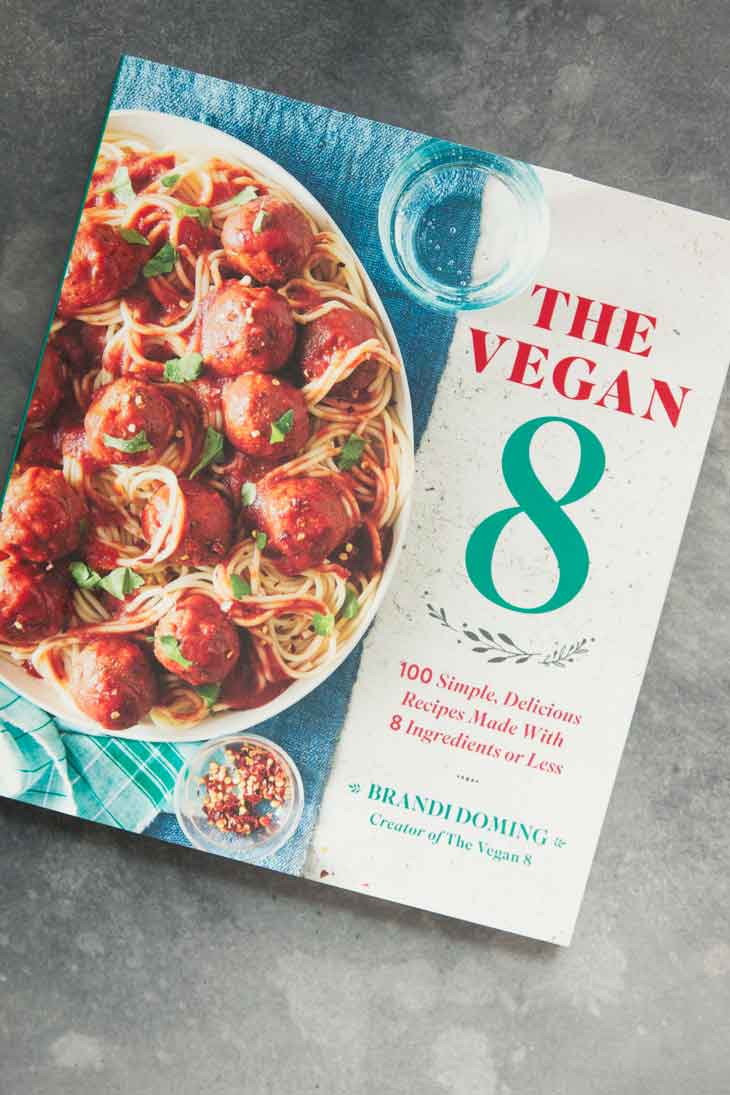 The Vegan 8 Cookbook
Brandi's site was one of the first vegan blogs I came across, and I've been hooked ever since. Not only is she is a sweet, genuine, down-to-earth person, but her photography skills are unbelievable, and all her recipes are delicious!
Just like the recipes on Brandi's blog, her new cookbook contains 100 recipes that are:
Simple & not complicated
Vegan
Contain 8 ingredients or less
Gluten-free, or can be made gluten-free
Oil-free
While all of her recipes are simple in terms of ingredients, none of them skimp on flavor. Her dishes are bold, tasty, clever, unique, and allergen-friendly! The notes section in each recipe is awesome. She has great tips for each recipe and ingredient substitutions in case you need.
This cookbook focuses on classic dishes and comfort foods made easy that satisfy any diet and for any occasion. Dishes like Baked Mac n Cheese, super creamy Artichoke & Spinach Dip, cakes, brownies, and sauces and dips you can use throughout the week!
Each recipe has a mouthwatering photograph and is meant for the entire family to enjoy.
Just take a look at the Chapters in The Vegan 8 Cookbook
The Vegan 8 Kitchen
Breakfast
Scrumptious Snacks & Appetizers
Time-Crunch Lunches
Sauces & Dressings
Easy Entrees
Comforting Soups & Stews
Sides & Dips
Crowd-Pleasing Desserts
Staples
I've already dug into her book and made several recipes, all delicious and family-friendly!
Especially on those weekends where I had no urge or time to cook…I headed straight for Brandi's Time-Crunch Lunches section and made her Elevated Avocado Toast and Mexican Tahini Chickpea Tacos! Both of which took no time at all, left my family satisfied, and contained pantry-staple ingredients!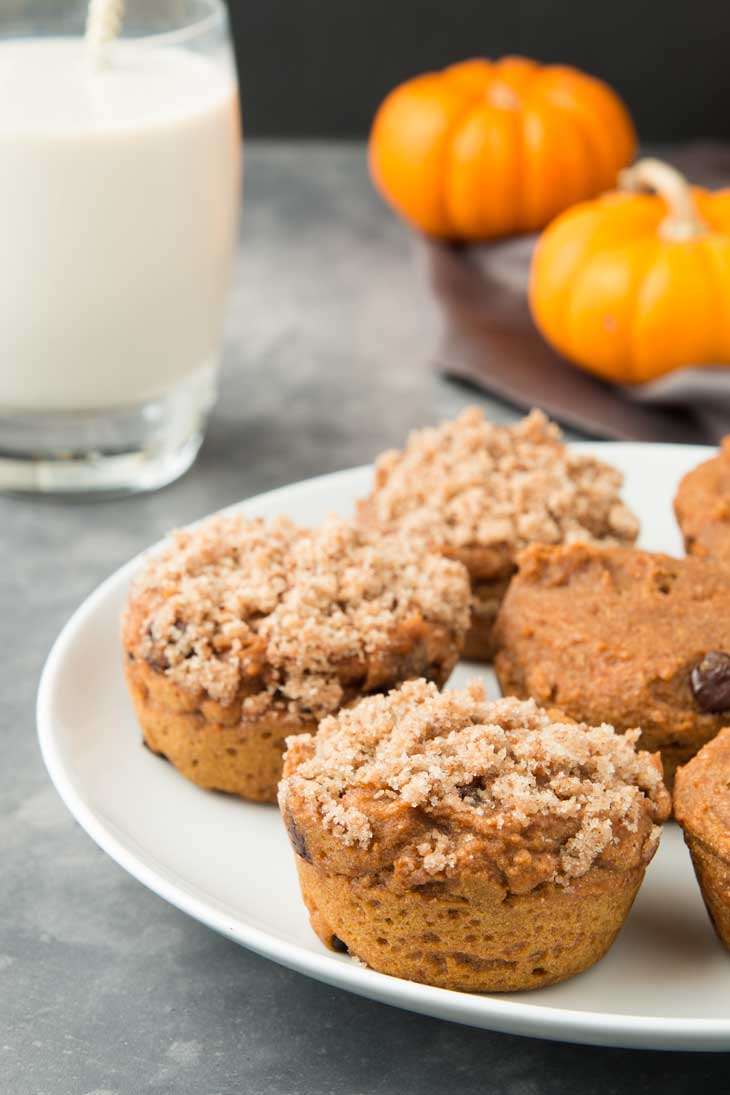 Vegan Pumpkin Spice-Chocolate Chip Muffins
The original recipe was for baked donuts…which was what attracted me to it in the first place. Of course, I had all the ingredients on hand, but only a mini donut pan. Brandi's notes for the recipe state that they can also be turned into muffins…so that's exactly what I did!
The first back was gone within half a day…after school snack, after dinner dessert, and of course then there's me who grabbed one almost everytime I walked by (oops!)!
These vegan pumpkin muffins with chocolate chips are soft, fluffy, and super moist! I love that there's no oil in this recipe, and instead, it makes use of vegan yogurt!
Since then I've bought a large donut pan and made the donut version. Honestly speaking, I love the donut version of this recipe more. Perhaps it's because they're donut- shaped ha, not sure what it is, but regardless…muffins or donuts…this recipe is perfect!
How To Make Vegan Pumpkin Muffins – Step by Step
This recipe is really straightforward.
Whisk together all the dry ingredients, then add the wet ingredients and chocolate chips. Mix once more and your batter is done!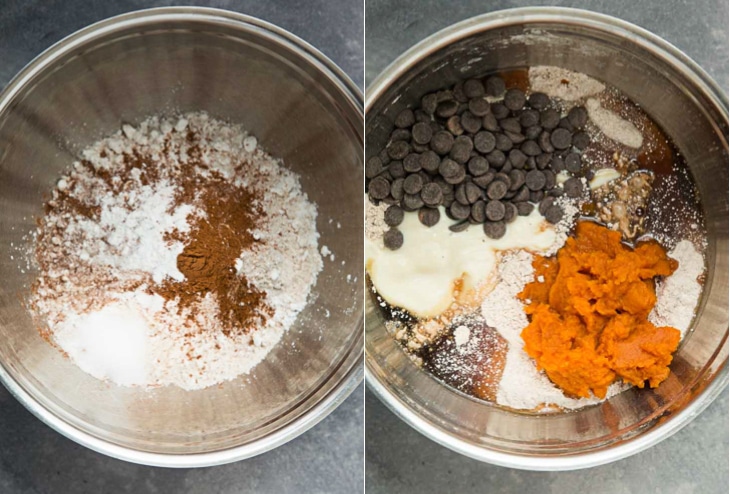 Once the oven is preheated, fill a large donut pan (or muffin pan), and pop it in the oven!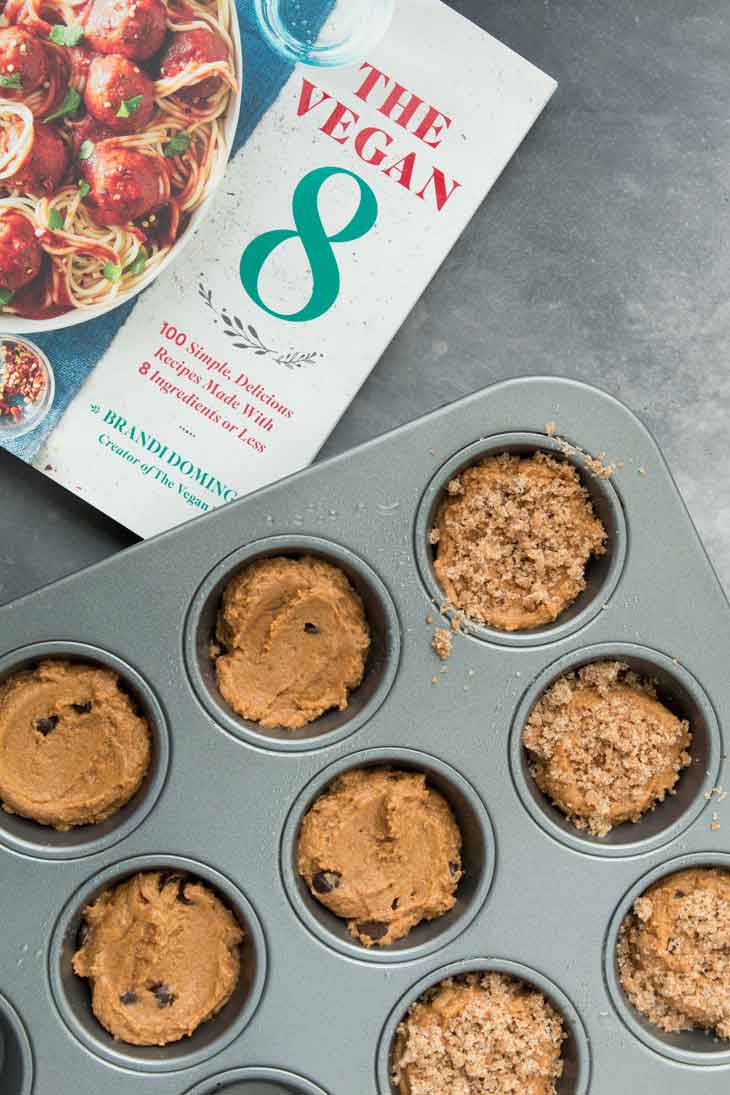 Let them cool completely before devouring! You can even add a chocolate glaze on top, or a sugar-spice mixture or crumble as I did on some of the muffins.
If you like this recipe or post, be sure to leave a comment and use the rating field! You can also tag me on Instagram with any re-makes, @vegetariangastronomy so I don't miss it, as I love sharing them on Re-Make Fridays! Or you can help me spread the word about my recipes on Pinterest and Facebook!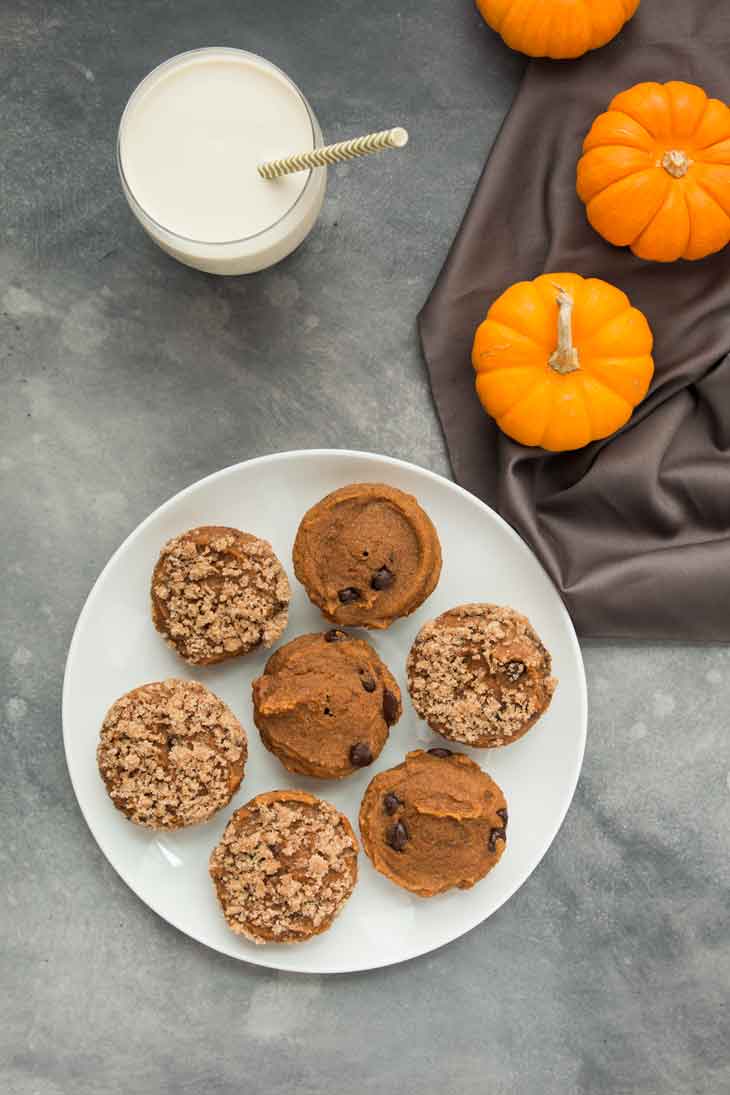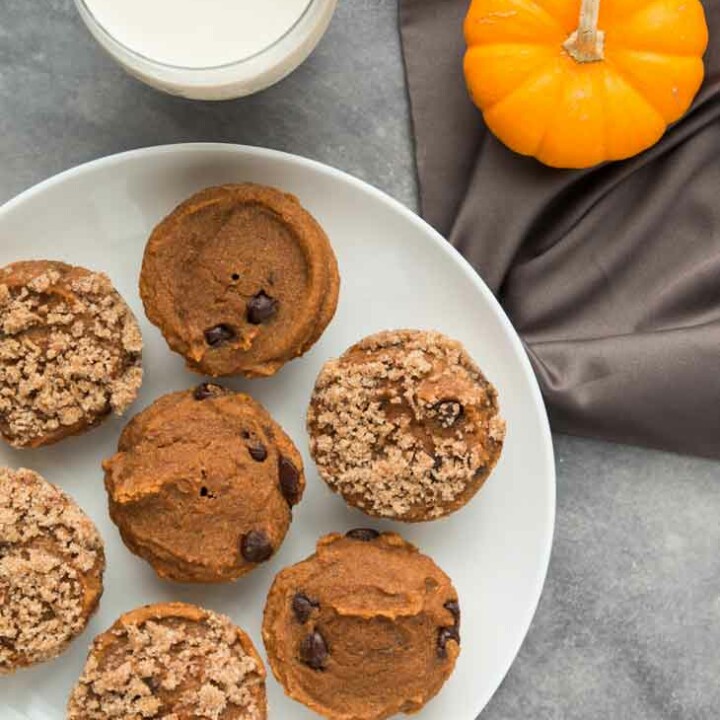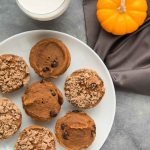 Print
Baked Pumpkin Spice-Chocolate Chip Donuts
Just because you crave a donut doesn't mean you need to resort to a greasy fried one. These pumpkin spice ones are fluffy, moist, and super soft. Reprinted with permission by Oxmoor Press and Brandi Doming/The Vegan 8 © 2018.
INGREDIENTS
1 1/4

cups

spelt flour

, (160g)

2

tbsp

cornstarch

, (16g)

2.5

teasp

pumpkin pie spice

, (7g)

1.5

teasp

baking powder

, (9g)

1/2

teasp

fine salt

, (3g)

1/2

cup

+1 tbsp pure maple syrup

, (180g)

1/2

cup

pumpkin pure

, (120g)

1/4

cup

vanilla dairy-free yogurt

, (60g) room temperature

6

tbsp

dairy-free semisweet chocolate chips

, (90g)
INSTRUCTIONS
Preheat the oven to 350 F (177 C). Spray a regular size 6-donut pan with nonstick spray. You can also make these in a regular-size muffin pan.

Add the flour, cornstarch, pumpkin pie spice, baking powder, and salt to a large bowl, and whisk well.

To the same bowl, add the syrup, pumpkin, yogurt, and chocolate chips. Stir the ingredients well until a smooth batter is formed. The batter will be on the thick side. Be careful not to overmix.

Spoon the batter evenly into the prepared pan. Using the back of a spoon, smooth and flatten out the tops of each donut. If you don't do this, they will bake up really lumpy and ugly. if you're making muffins, I find using an ice-cream scoop gives a nice rounded top.

Bake at 350 F for 15 minutes or until the donuts have risen beautifully, are fluffy, have a golden-brown top, and lightly spring back when touched. Muffins may take closer to 20 minutes. Look for a clean toothpick when it's inserted in the center.

Let the donuts cool in the pan for about 5 minutes and then carefully flip them over onto a cooling rack. Let them cool completely. Once cooled, store any extras in a large, sealed container or ziplock bag so they don't dry out.
NOTES
If making muffins, you should get about 8 total.
Be sure to use regular spelt flour, not sprouted.
To make these gluten-free, you can sub the spelt flour with superfine gluten-free oat flour (160g). Please keep in mind that the oat flour does make these more dense, but the flavor is just as good. Baking times are basically the same. Check for a clean toothpick.
For the yogurt, I use soy but any will work. If you can't find vanilla-flavored yogurt, add 1 teasp vanilla extract to the recipe.
I topped a raw sugar, spelt flour, pumpkin pie spice, vegan butter mix crumble on top of some muffins prior to baking.
NUTRITION
Calories:
279
kcal
|
Carbohydrates:
55
g
|
Protein:
5.3
g
|
Fat:
6
g
|
Saturated Fat:
5
g
|
Sodium:
169
mg
|
Potassium:
203
mg
|
Fiber:
5.1
g
|
Sugar:
26.8
g
|
Vitamin A:
3175
IU
|
Vitamin C:
2.3
mg
|
Calcium:
140
mg
|
Iron:
4.1
mg