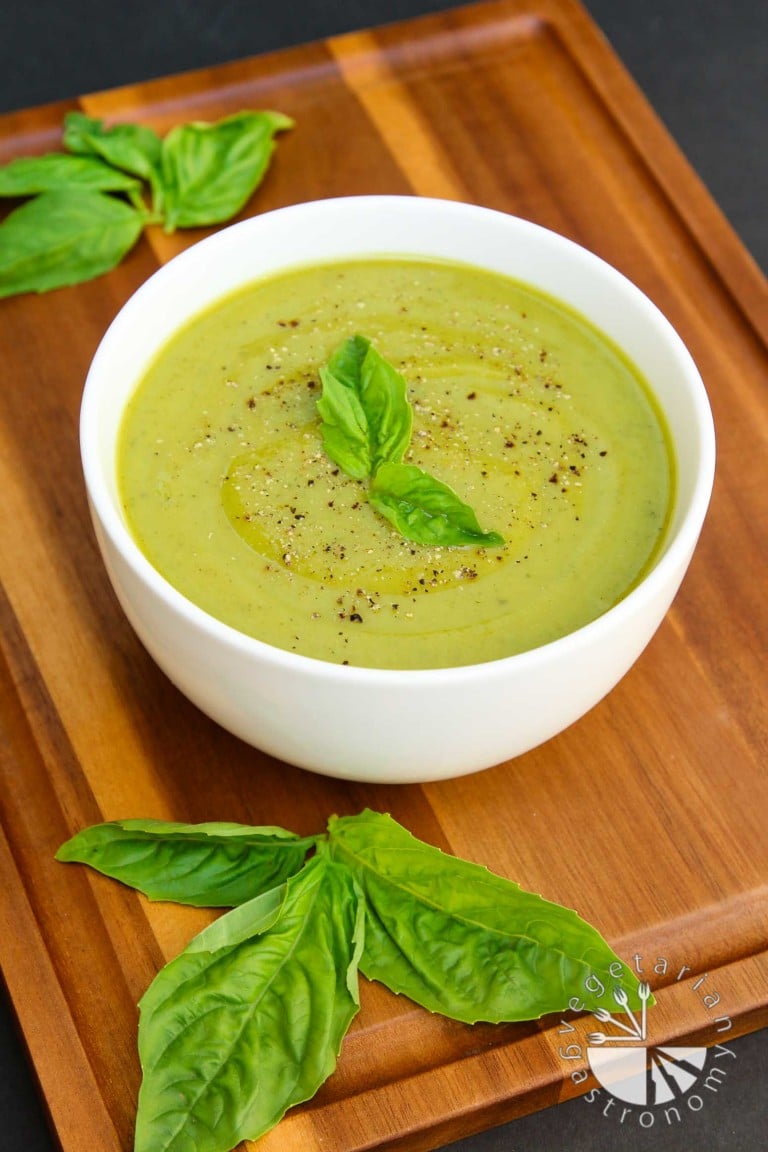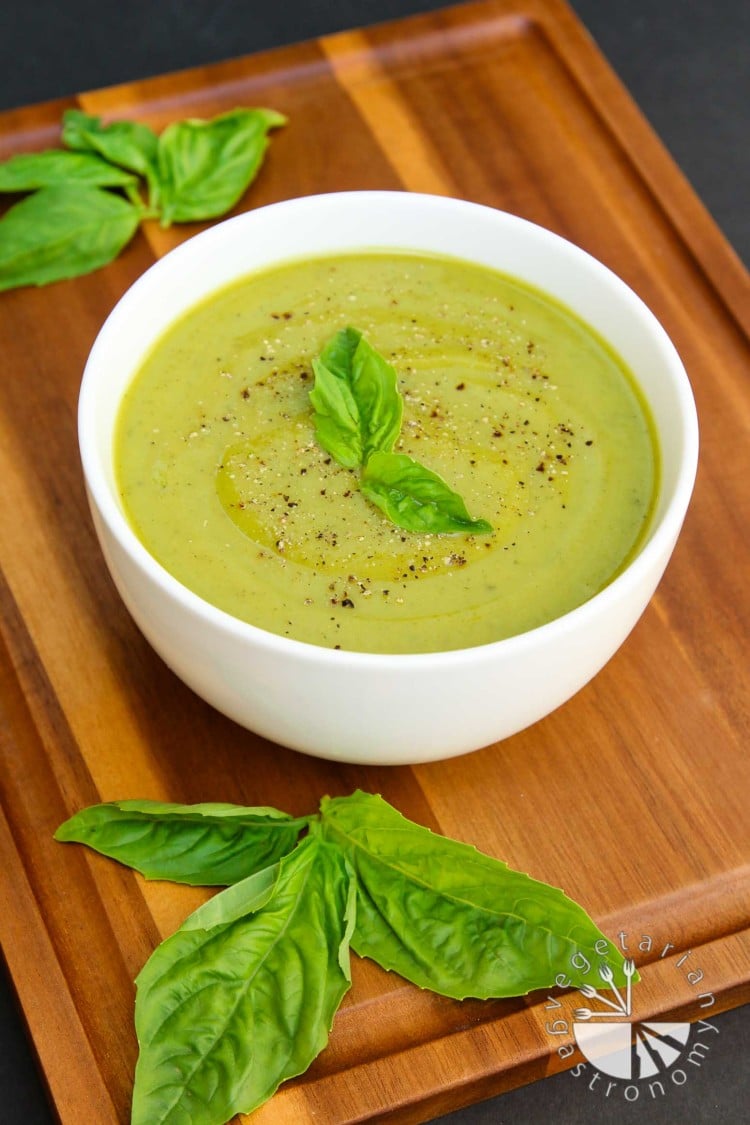 One spoonful of this soup and you'll be BEGGING for the entire pot! This Velvety Zucchini Basil Soup is a wonderful surprise. All the subtle flavors, the velvety texture, vegan, gluten-free, and only 5 ingredients. It may seem like another zucchini soup, but is really so much more. The simple addition of blended fresh basil really elevates the flavor of this dish.
This recipe was inspired by one of my favorite Italian restaurants in Little Italy, San Diego. After becoming vegan, I ended up dropping a few of my favorite Italian restaurants, because most of the dishes I previously enjoyed contained dairy and their vegan options were limited and nothing special. However, in some instances, I actually ended up discovering new dishes at my favorite restaurants, such as this Velvety Zucchini Basil Soup. I would often crave this soup, which happened to be one of their vegan options. So, I knew I had to re-create it in my own kitchen.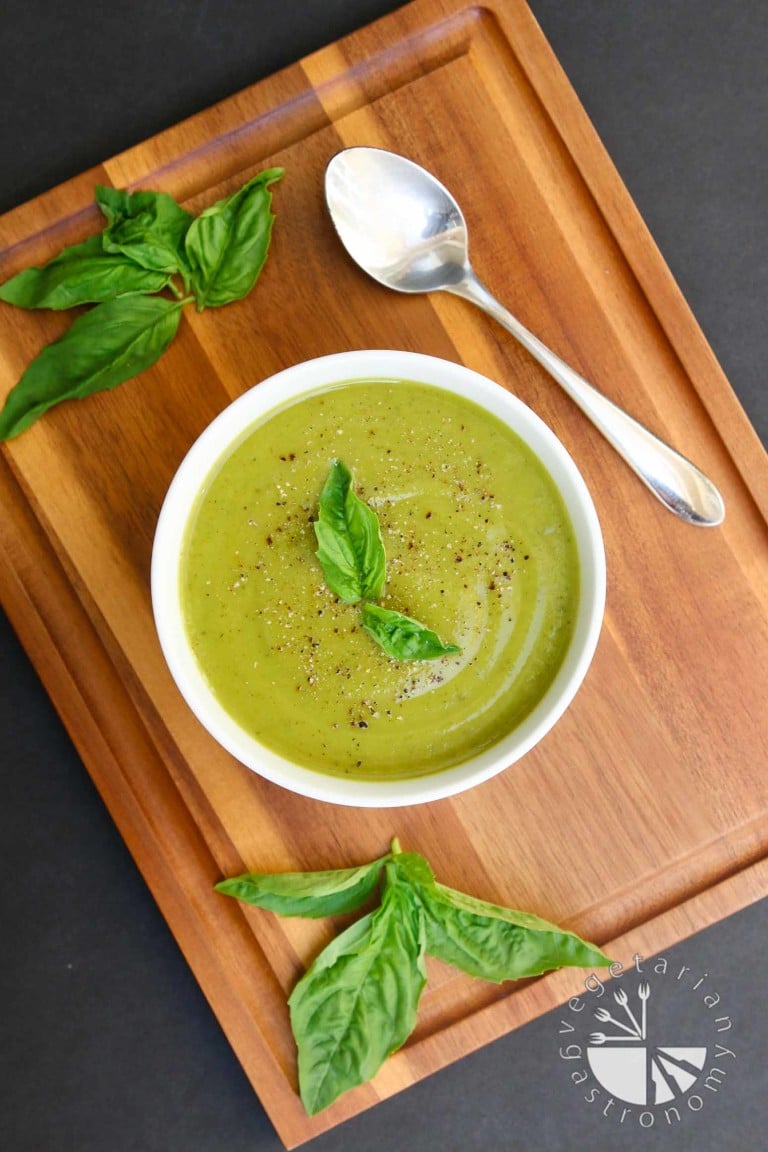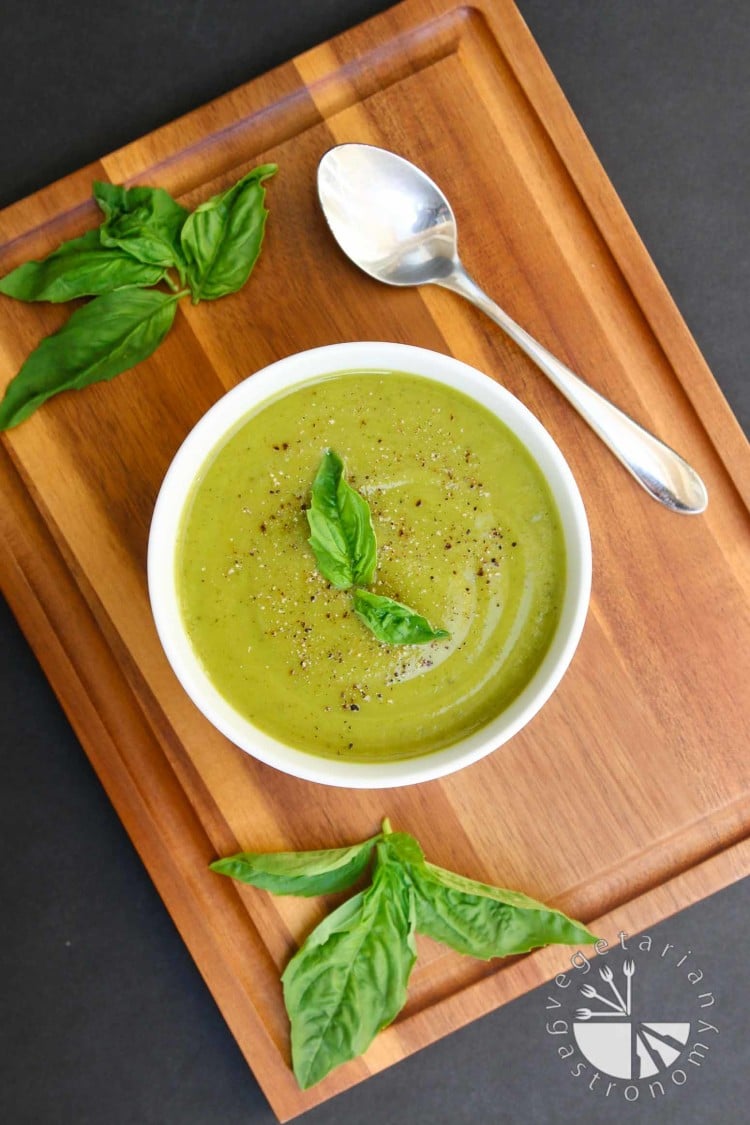 Of course I wasn't sure as to all the ingredients that went into the soup at the restaurant, but I knew I wanted my version to be very fresh and focused on getting the flavor of the zucchini and basil to come out. While you're making this soup, I encourage you to try it before and after the addition of blended basil… it's a wonderful element of surprise.
Try it…literally just 5 ingredients and so easy to make. I promise your entire family will love it. I can't wait to hear what you think and see your creations on Facebook and Instagram, so don't forget to tag me @vegetariangastronomy #vegetariangastronomy!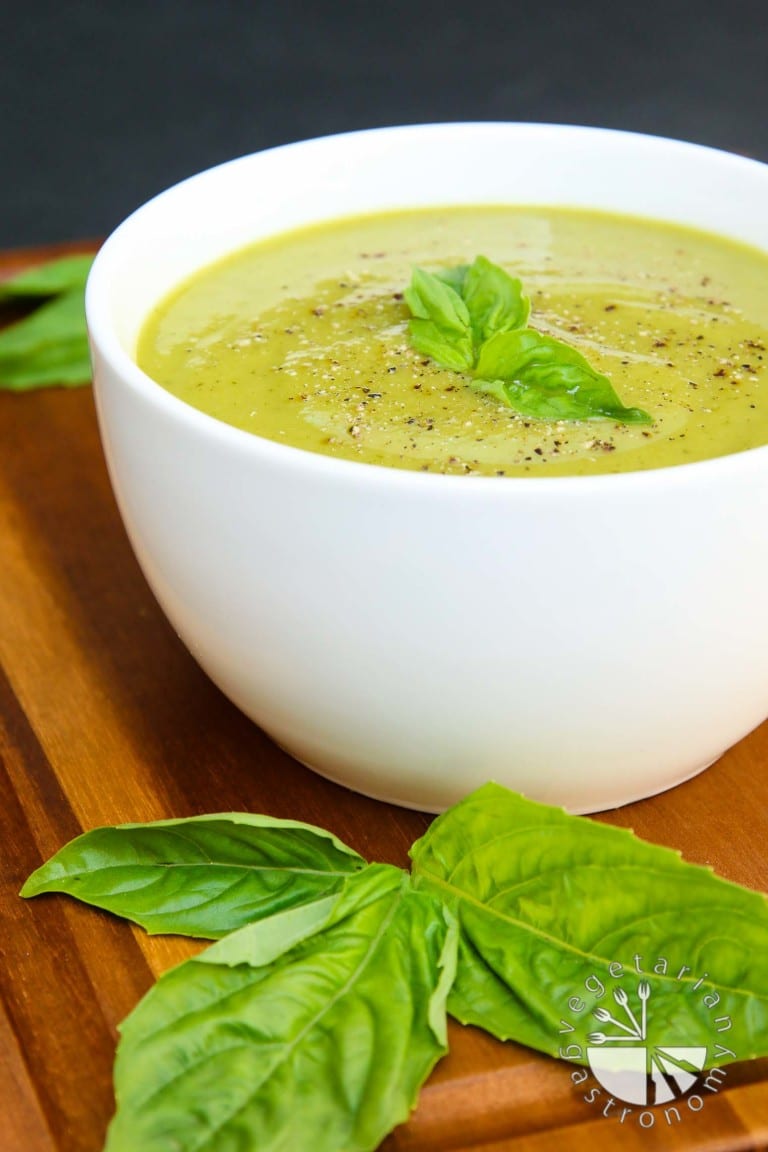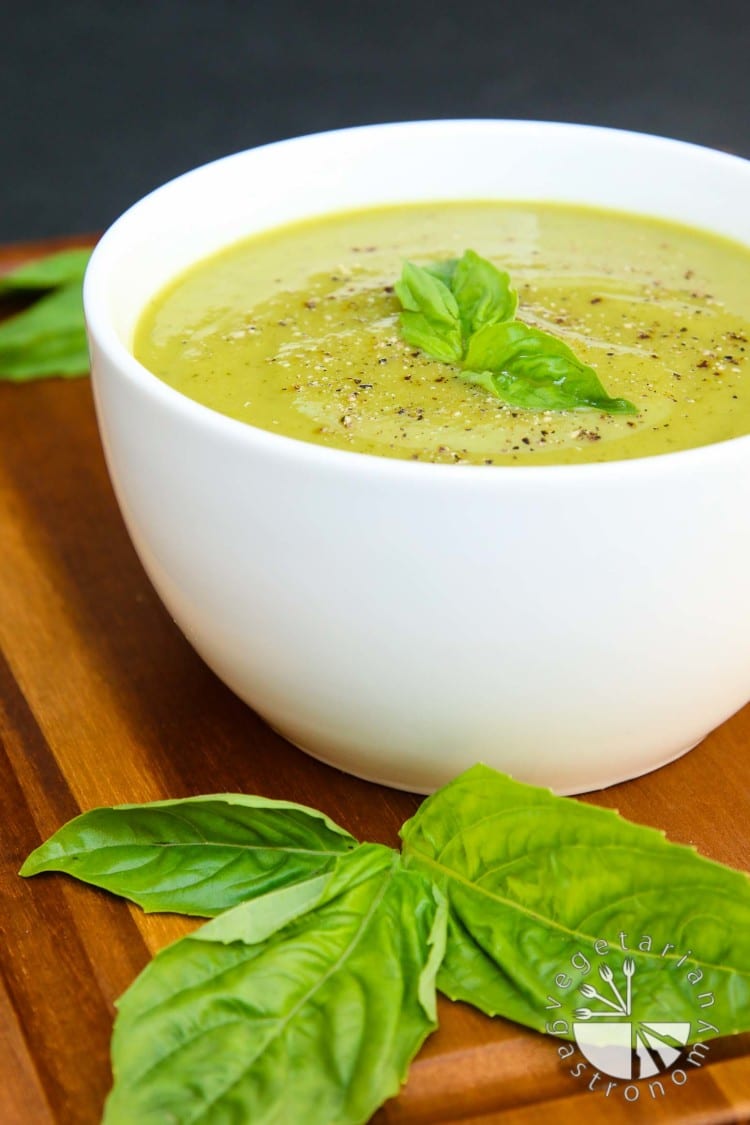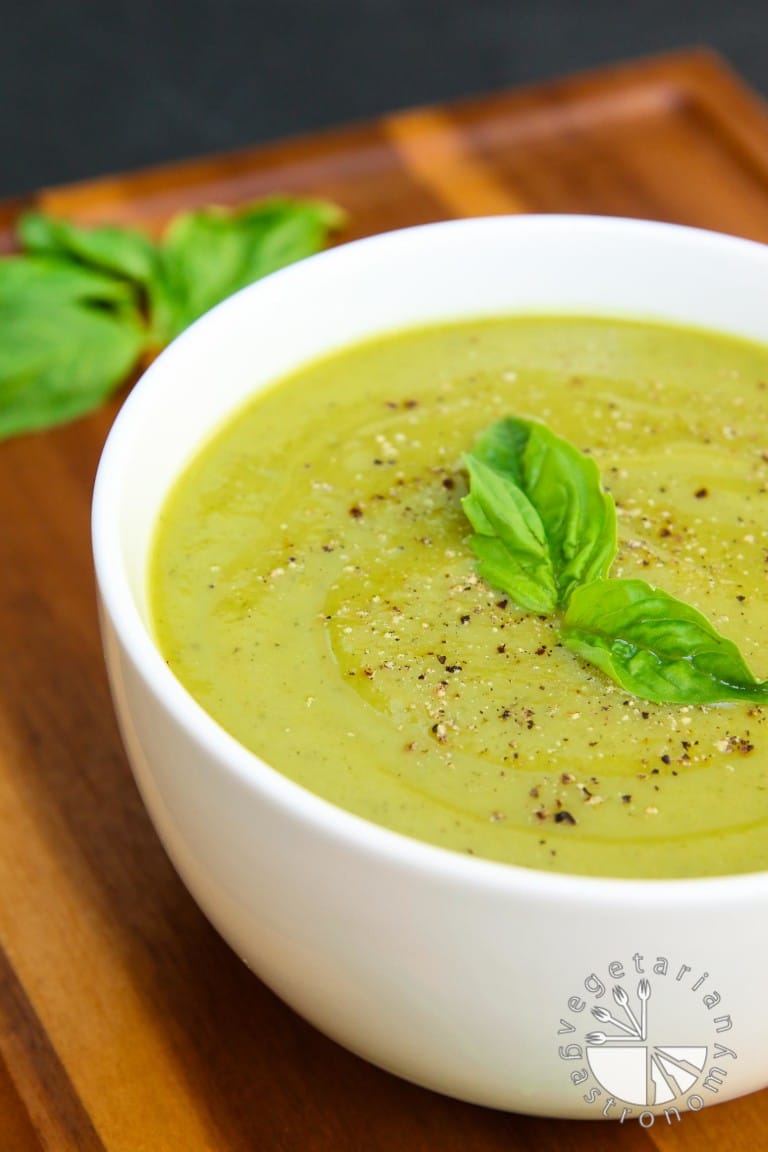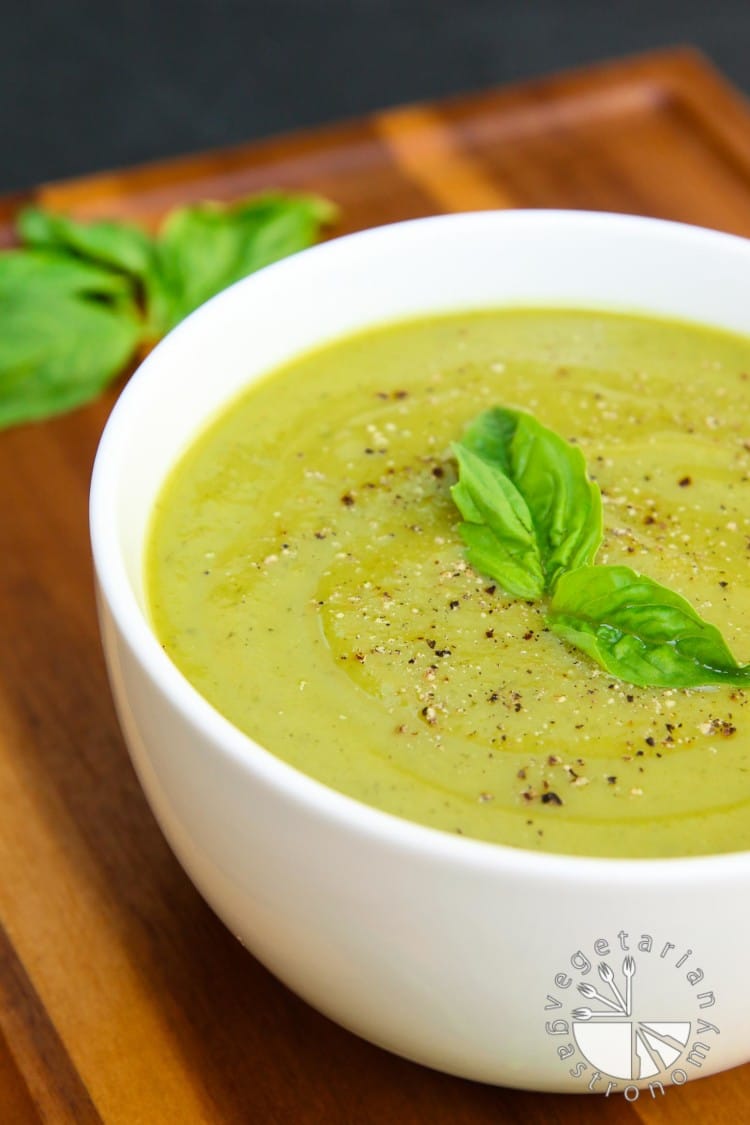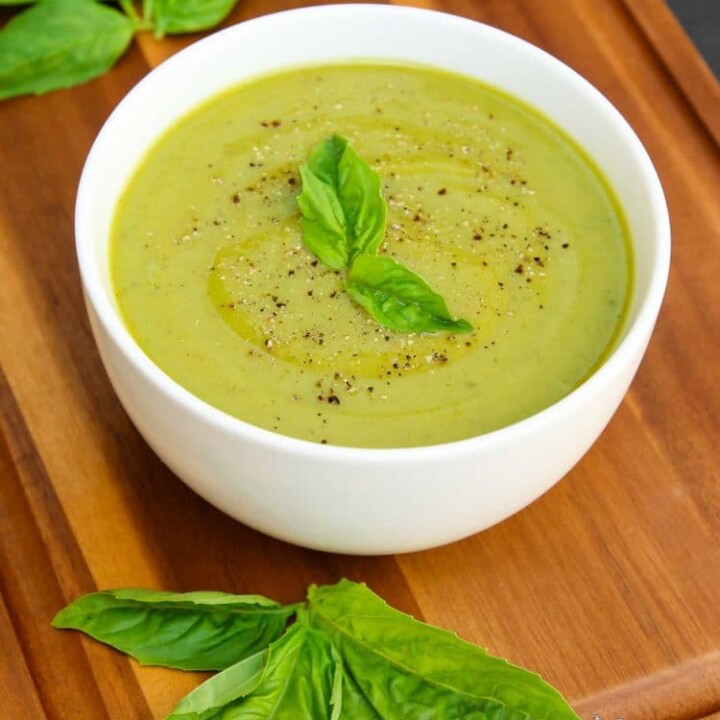 Print
Velvety Zucchini Basil Soup
This Velvety Zucchini Basil Soup is a wonderful surprise. All the subtle flavors, the velvety texture, vegan, gluten-free, and only 5 ingredients!
INGREDIENTS
9

cups

zucchini

, diced (~5-6 zucchinis)

2

cups

white onions

, diced (~1 white onion)

4

cups

vegetable broth

(see notes below)

8

cloves

garlic

, minced

1

cup

packed fresh basil leaves

2

tbsp

olive oil

salt
INSTRUCTIONS
In a large non-stick pot, heat 2 tbsp olive oil on medium heat.

Add the minced garlic and diced white onion. Saute, mixing frequently, until fragrant and the onions start to become translucent.

Add all the chopped zucchini and saute for 1-2 minutes.

Add the vegetable broth and 1 teasp salt and combine.

Bring the soup to a boil. Reduce heat to keep a gentle simmer, and cover. Let the soup simmer until the zucchini is tender and cooked (to test, simply see if the zucchini easily mashes against the side of the pot).

Blend all of the soup until completely pureed. I used my Vitamix, but any blender should do just fine. Most likely you'll have to blend in two batches because of the volume of the soup.

While blending one of the batches, add 1 cup packed fresh basil leaves and completely blend/puree into the soup.

Add all of the pureed soup back into the large pot and bring the soup to a gentle simmer, uncovered. Cook for an additional 5-10 minutes.

The soup should already be at the desired consistency (on the thick side), but for some reason if it is too thin, simmer the soup until you reach the the thickness you prefer.

Season with salt to taste and freshly ground black pepper.

Serve hot with a side of your favorite toasted bread.
NOTES
For the vegetable broth in this recipe, I used Imagine Brand low-sodium.
NUTRITION
Calories:
93
kcal
|
Carbohydrates:
12
g
|
Protein:
2
g
|
Fat:
4
g
|
Sodium:
552
mg
|
Potassium:
506
mg
|
Fiber:
2
g
|
Sugar:
7
g
|
Vitamin A:
785
IU
|
Vitamin C:
33.6
mg
|
Calcium:
48
mg
|
Iron:
0.8
mg